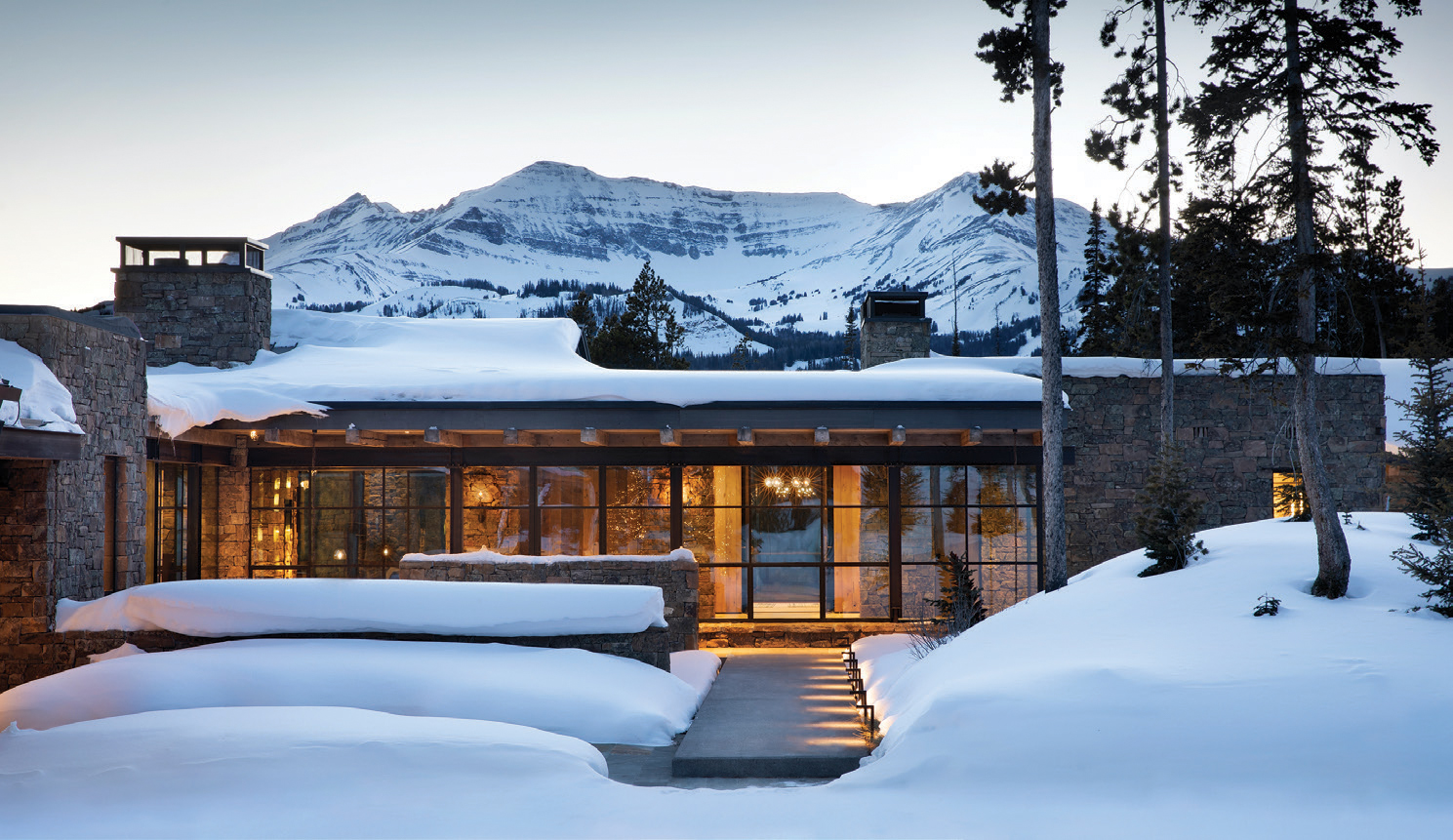 Annual snowfall and weather patterns are elements to consider before building.
16 Apr

Design Elements: Home Building Basics

in

While building a new home — and bringing all of your design dreams to life — may sound like an exciting venture, there's a lot more to it than some might imagine. Popular design shows and magazines tend to make the process look fairly simple, however significant preparation and a few extra steps can make all the difference for a new project's success.

For Todd Thesing, a founding principal of the Bozeman, Montana-based custom home building company Highline Partners, the Greater Yellowstone area presents unique building opportunities that, like those in any location, should be considered in the construction plan. Before building, he and his team consider things like annual snowfall and geology, as well as the availability of building resources in more remote mountain towns. And Thesing — whose company specializes in sustainable building practices — typically capitalizes on the use of local materials and the skills of local artisans and tradespeople, often including these specialists in a project's construction team.

With 30-plus years of experience in the building industry, Thesing also helps educate his clients on the overall home-building process to ensure that they know what to expect along the way. Here, Thesing outlines his top recommendations for success:
Choosing the Design and Build Team
Thesing suggests an integrated approach to building custom homes, beginning with the selection of your team. Ask around for the names of quality builders and designers, and during the vetting process, he recommends looking at their past projects and the typical building styles of each firm to make sure they align with your taste. Meeting prospective team members in person can also ensure that your personalities and goals match with theirs. Thesing says it's important to select an architect and contractor simultaneously and right out of the gate, so they can collaborate from the get-go. This also gives homeowners a better understanding of costs and functionality.
Understanding the Landscape
Thesing recommends working with a build team that's prepared to assess the geologic features of an area. For instance, in the region he works in, close to Yellowstone National Park's geothermal features, small earthquakes are common and are taken into account. "Local knowledge, or an understanding of what's going on locally, is really important," he says. Thesing suggests requesting a report to assess your lot's soil stability and type, also taking into account whether it's located in a wetland or low-lying area. Understanding the land, he says, means that future homeowners can also understand how nature might affect the design of the structure and the building process.
Siting the Home
For those building a home in this area, views are a priority, but Thesing says it's also imperative to consider the home's orientation and aspect in relation to the sun, both in the summer and winter. "This allows you to maximize passive solar heat in the winter, minimize sun exposure in the summer, and ensure views of dramatic sunrises and sunsets," he says. In addition, Thesing recommends thinking about the placement of the driveway and how that affects the experience of coming home and leaving. This involves considering how quickly you want to arrive, what feelings you want to conjure on your approach, and how things like snow might affect accessibility.
Managing Expectations
Thesing encourages homeowners to adopt a craftsman's eye and embrace the beauty of the creative process. Some homeowners desire absolute perfection, but he explains that, in reality, humans are designing the architecture and putting the home together by hand, which can lead to slight imperfections. While build teams work to create a home that is on point, he explains that the elements that remind us it was made by hand are the signatures of a custom home. "We don't live in a perfect world," he says, "so the assumption that everything is going to be perfect can lead to unrealistic and unmet expectations."
Avoiding Trends
Among the top mistakes that Thesing sees is the tendency for homeowners to succumb to the newest fads. In some instances, they might try a new trendy style or product, then a year later, after living in their home, realize it wasn't a good choice. "Know your own style and think about timelessness," he says.
Books Modern Americana
Designer Max Humphrey's hipster-meets-grandma style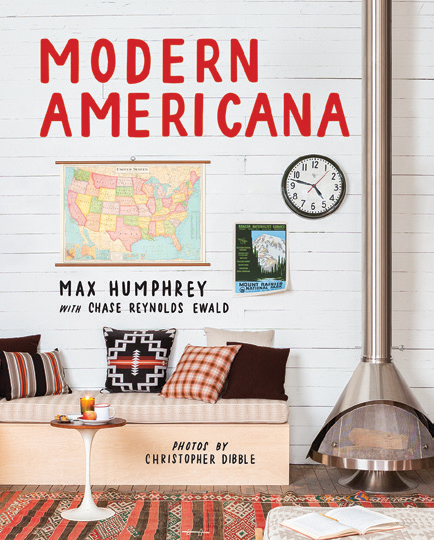 "Any good collection has to start somewhere," says Portland, Oregon-based interior designer Max Humphrey. His started when he wandered into an antique store in Ohio and couldn't leave without first buying a bunch of rolled-up, yard-long photographs from the 1920s and '30s. "That was the start of my years-long collecting crusade of these panoramic portraits," he adds. "I didn't know whether I would use them in a client's home or my own; I just knew I had to have them."
Nowadays, Humphrey collects a number of things, including antique thermoses, needlework, baskets, and vintage paintings by anonymous amateurs. Along the way, he has become the go-to source for a lived-in, layered look that puts a fresh spin on classic Americana style. From a modern-retro knotty pine sitting room with a built-in daybed to a wood-paneled wall hung with tramp art (a style of wood carving), in Humphrey's hands every room shows signs of life and personality. "For me," he says, "design is nostalgia."
Humphrey's style, coined "Modern Americana," is accessible. It's not about expensive light fixtures, custom-made furniture, and museum-quality antiques; it's about thinking creatively and reinterpreting classic elements, from bandanas to flea market finds. It's about layering with texture and color, showcasing objects with meaning, and celebrating the thrill of found treasures.
The newly released book Modern Americana explores Humphrey's design approach and reinterprets it for those who have a DIY spirit or simply love the joy of discovery. Seventy elements — from fabrics, patterns, flags, and banners to wall treatments, fixtures, and painted furniture — are organized into chapters with titles like "Stick 'em Up," "Bricks and Mortar," and "Educate & Illuminate."
Humphrey's love for collectibles, like pottery and baskets, whimsical items, like indoor swings and dice, and vintage textiles, like trade blankets, grain sacks, and quilts, are all explained, while barn doors, canvas tents, antique coolers, and retro furniture each has its moment to shine. Iconic American brands, like Pendleton Woolen Mills and Old Hickory Furniture, are also spotlighted in the book, alongside newer Made-in-America companies, such as Schoolhouse, Lee Industries, and Loll Designs.
Humphrey grew up in Northern New England, and he didn't know anything about interior design until after college when he worked in TV and movie production in Los Angeles and spent a few years on the road playing bass in a punk rock band. It was during that time that he discovered he had a knack for pulling a room together. Humphrey absorbed any literature he could find on the subject, and then worked for a Los Angeles-based design firm for eight years. Since 2016, when he moved with his young family to Portland, Oregon, he's designed a number of interiors, including a beach house in Oregon and a traditional home in Boston, along with mountain lodges and urban lofts. Commercial projects include a hotel, a winery, retail shops, and a food truck. He's even designed an Airstream trailer.
The designer sees Modern Americana as a resource that will build confidence, whether readers are gathering natural materials from their own backyards, exploring neighborhood estate sales, visiting antique malls when traveling, finding new uses for things they already own, shopping locally, or discovering regional artisans.
And Humphrey's main piece of advice for DIY decorating? "When it comes to decorating your own home, don't overthink it," he says. "If you buy things you love, you'll always find a place for them."
The Perfect Kitchen  Written by Barbara Sallick
Known as the heart of the home, kitchens have likely been getting extra attention and use during the COVID-19 pandemic. So the recent release of The Perfect Kitchen came at a fortuitous time. Featuring tips and exploring the elements and the process of designing a kitchen, the book was written by Barbara Sallick, co-founder of Waterworks, which specializes in luxury bathroom and kitchen fixtures and accessories. Along with Sallick's informative and engaging narrative, it also features photos of extraordinary custom culinary spaces that are both inspirational and aspirational, including three standout examples from the Jackson Hole, Wyoming-based interior design firm, WRJ Design.
"The kitchen touches on realms of memory and intimacy, elements much more challenging to get right than hardware or paint color," writes Sallick, who emphasizes the importance of the kitchen as an experiential space — functionally, aesthetically, and emotionally. And by making a kitchen truly personal, all three of those boxes get checked, the author explains.
This same philosophy is shared by WRJ, and the firm starts each design project with a detailed questionnaire that "lets us understand all the extensive and different uses and needs the client will have for the kitchen," says Rush Jenkins, creative director and co-owner of WRJ Designs with partner Klaus Baer. "And we love to customize our clients' kitchens by incorporating pieces or collections that are meaningful to them."
While the three WRJ kitchens selected for Sallick's book look very different — one features a Mid-century Modern vibe with sleek wooden surfaces; another combines ultra-contemporary, antique, and rustic elements; and the third revolves around a standout range with a custom hood — all three take cues from their stunning Rocky Mountain settings and are as functional as they are beautiful.
"With today's open floor plans leaving kitchens prominently exposed to other rooms, there's definitely the trend that envisions the kitchen as a work of art in addition to a functional space," says Jenkins. "That idea fits with our belief that a kitchen is never a sequestered room, but always intimately connected to other parts of the home. And when it comes to the finishes of tile, stone, and hardware, we make sure that each works with the others to create a feeling of harmony in the kitchen as a whole. Ultimately, we're known for serene, beautiful kitchens that are functional when they're being used, and artistic statements when they're not."
Elevated Living
Big Sky, Montana's Moonlight Basin offers two new developments
Set on the northwest side of Big Sky, Montana's iconic lone peak, the Moonlight Basin community features direct access to the 5,850 acres of world-class ski terrain at Big Sky Resort, a Jack Nicklaus-signature golf course, fine dining, a private trail system, and a location that's convenient to Big Sky and Bozeman area offerings, and to Yellowstone National Park. Two new Moonlight Basin developments offer a variety of dwelling options.
LakeLodge
The 59,000-square-foot contemporary LakeLodge, located at the base of Lone Peak, opens in June 2021. Featuring 16 residences, with open-concept floor plans, large windows, and ski-in/ski-out access, they range in size from studios to five-bedroom penthouses. LakeLodge residents also have full access to lodge amenities, which include a restaurant and bar, retail outlets, a fitness center, a kids' club, and a 3,000-square-foot outdoor pool and hot tubs, among other things. A new ski lift will link the lodge to Big Sky Resort.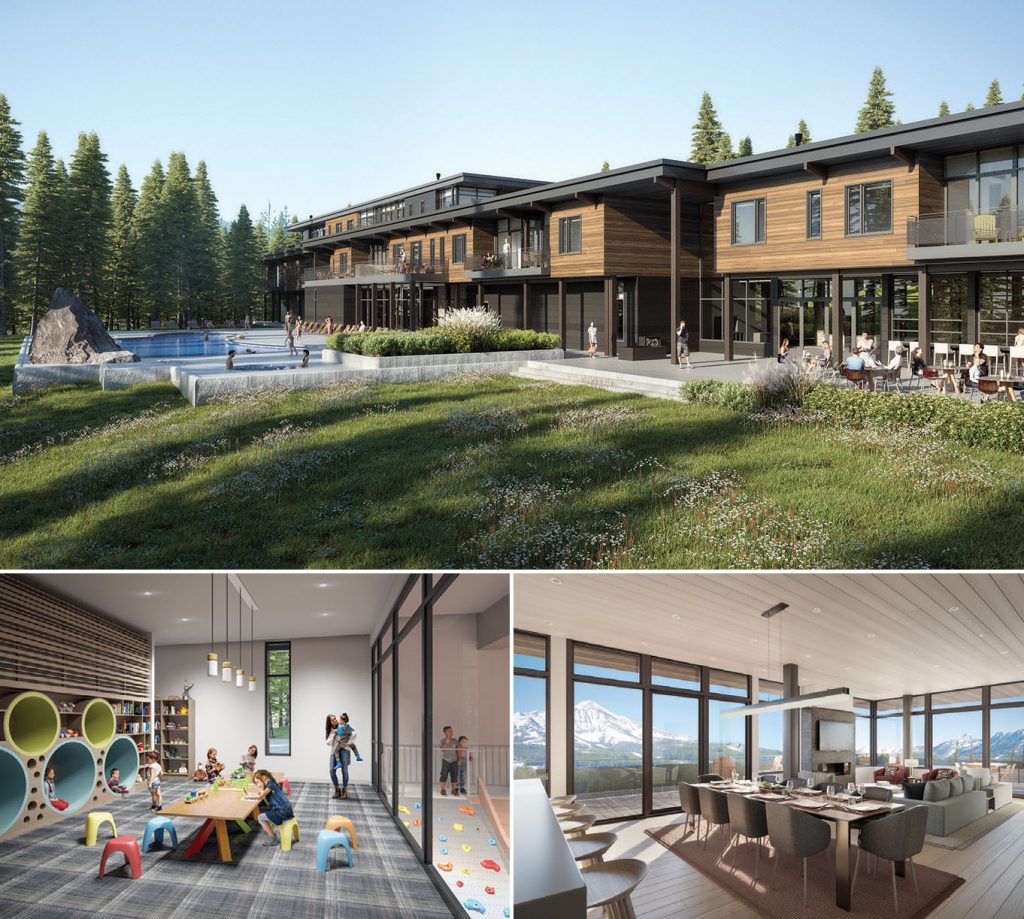 Jack Creek Cabins
Designed by Reid Smith Architects of Bozeman, the 13 new Jack Creek Cabins offer access to Moonlight's private trail system and Ulery's Lake, ski-in/ski-out access to Big Sky Resort, and the use of all LakeLodge amenities, which is just a short walk away. These four-bedroom, four-and-a-half-bath mountain homes are available in three floor plans that range in size, and each features covered patios and decks for year-round outdoor living, attached two-car garages, and an option of two finish packages to establish the interior ambiance.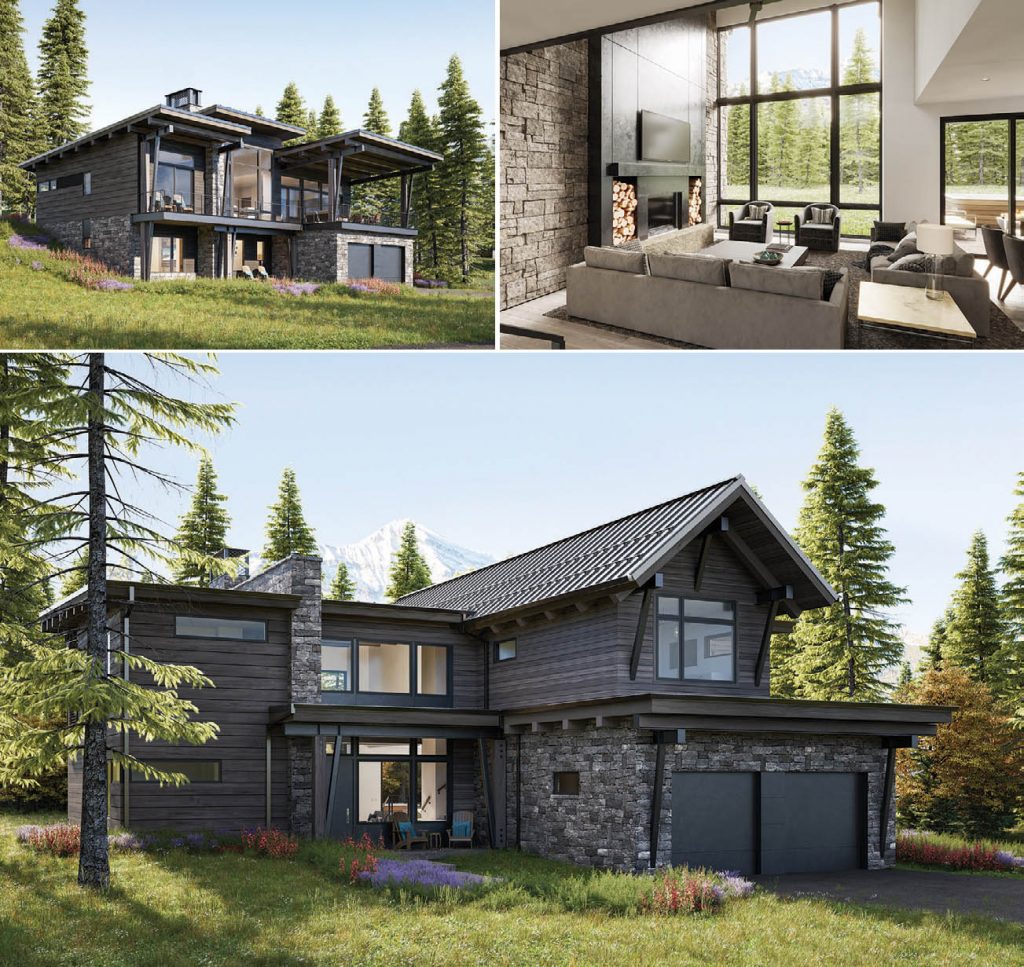 Montage at Spanish Peaks Opens this Fall
Nestled within the 3,530-acre Spanish peaks mountain club in Big Sky, Montana, Montage Big Sky is slated to open year-round in November 2021, offering 150 guestrooms and suites and 39 Montage Residences. Designed by Hart Howerton and BraytonHughes Design Studios, this ultra-luxury resort in the Big Sky area is designed in a mountain modern style with aesthetics that are inspired by the natural setting. Amenities include a restaurant, along with a bar and lounge, a market, outdoor grill, gastropub, and a recreation room with a bowling alley, indoor lap pool, family swimming pool, fitness center, signature spa, ski lockers, skier services, meeting and event space, and more. The resort also features ski-in/ski-out access to Big Sky Resort in the winter and use of the 18-hole Tom Weiskopf-designed golf course in the summer, which is just steps away.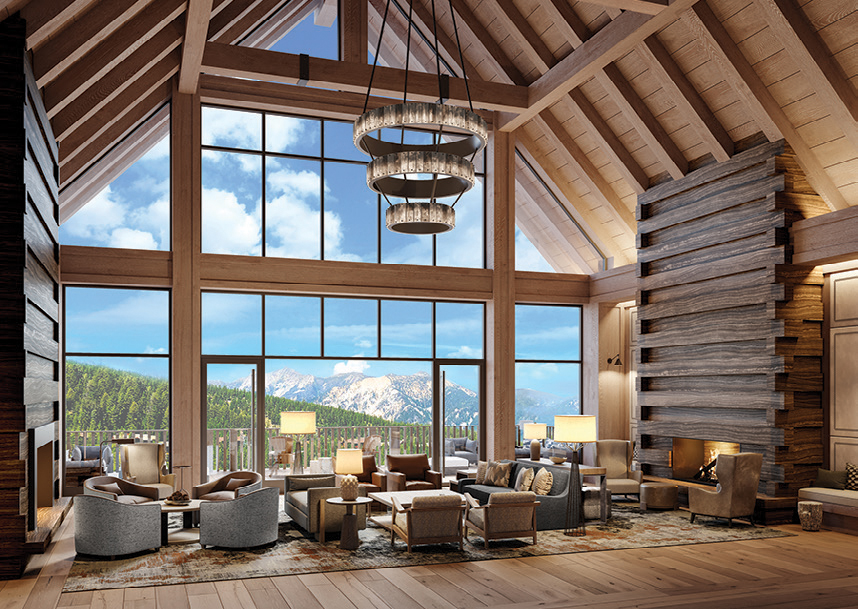 The Western Design Conference Returns This Fall
The 29th annual Western Design Conference Exhibit + Sale (WDC) is back in action in Jackson Hole, Wyoming, as an in-person event September 9 through 12. Showcasing handcrafted items that celebrate the spirit of the West, artisans display and sell their wares in the 28,000-square-foot Snow King Events Center. The jury selection committee accepted a record number of artists for 2021, jumping at the chance to unveil new trends in furniture, fashion, leather, interior design, jewelry, and metalwork, among other things. "Tickets to the opening night and fashion show are selling earlier than ever," says executive director Allison Merritt, adding that they will adapt to any and all local health guidelines to ensure a safe environment.
Kicking off the four-day celebration is the Thursday evening Opening Preview Party, where guests sip specialty cocktails and enjoy catered bites as they explore the showroom and watch the live fashion show, as cowboy couture comes to life. During the following three days, guests can browse the showroom from 10 a.m. to 5 p.m., along with the Designer Show House, in which interior designers display their styles and talents by curating full-sized rooms; westerndesignconference.com.
Design News The Spa at Sun Valley Makes a Spash
For the perfect pairing of world-class skiing and world-class pampering, look no further than Idaho's Sun Valley Resort. Along with being voted by SKI magazine as the Number One Ski Resort in the West for 2021, Spas of America — the largest spa and wellness travel website — recently named The Spa at Sun Valley the number one spa in Idaho, and number 39 overall on their list of the Top 100 Spas, an annual award that recognizes spa-goers' favorite destinations in North America. Established in 1936 as the first operating ski resort in North America, Sun Valley has a rich and storied history. Celebrating its 85th season this year, it's become known for high-quality ski conditions and terrain, accommodations, and off-the-ski-hill activities, among which The Spa at Sun Valley is a leader.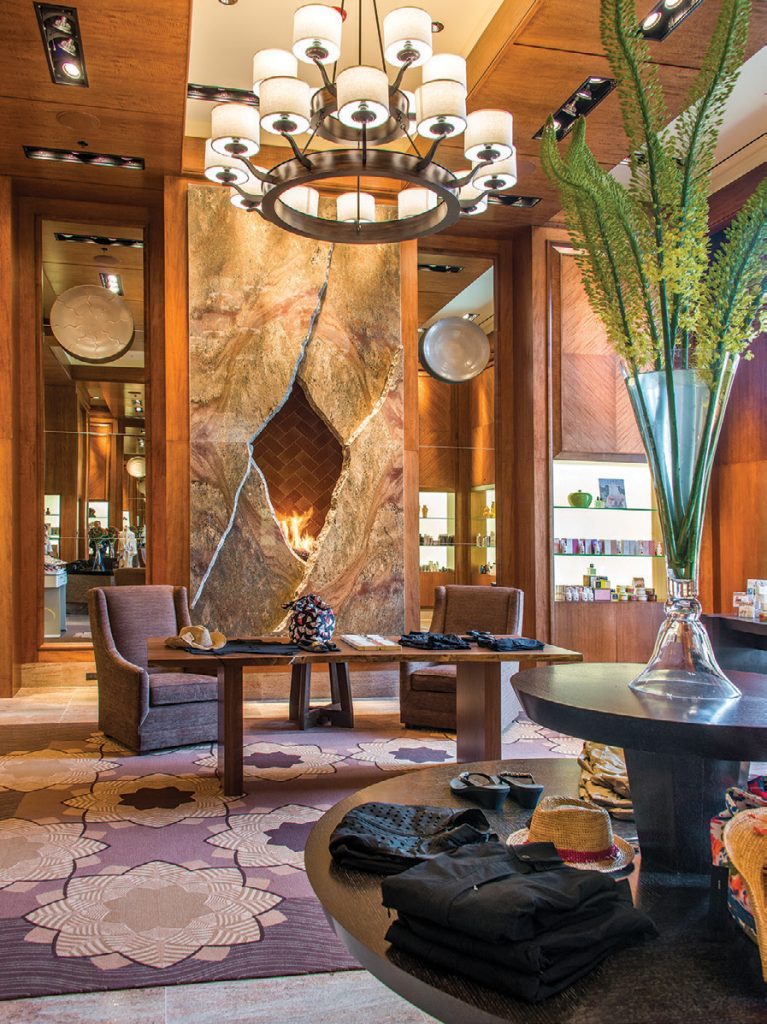 Pantone's Color of the Year
The Pantone Color Institute, known as a global color authority for the design community, typically chooses one "Color of the Year." This year, however, they chose two: "Ultimate Gray" and "Illuminating," which — used together — create an aspirational pairing. Illuminating is a bright, cheerful yellow in a warming shade that the institute says is "imbued with solar power." Ultimate Gray is a solid and dependable shade that provides a firm foundation and emulates colors found in natural elements that they say encourages "feelings of composure, steadiness, and resilience."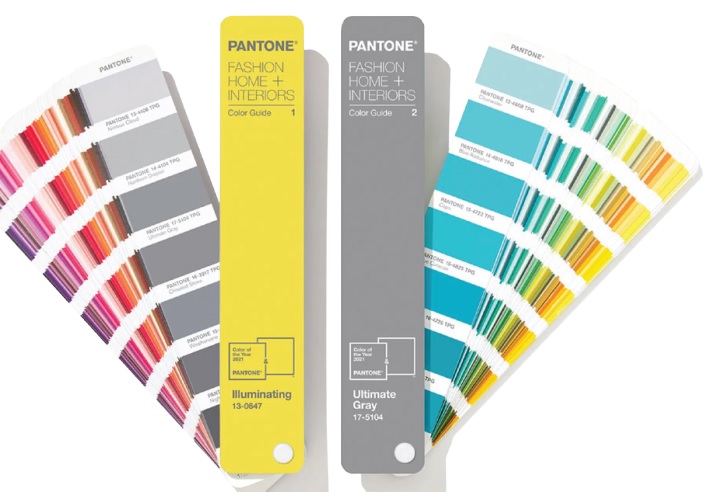 For home decor, the colors don't have to be used in equal proportions; either can take precedence. However, the combination can set the mood in any room, adding a dose of sunshine and positivity. Pantone also recommends juxtaposing Illuminating with Ultimate Gray in offices and commercial space, table linens, bedding, and home accessories to infuse vitality and liveliness. "The union of an enduring Ultimate Gray with the vibrant yellow Illuminating expresses a message of positivity supported by fortitude," says Leatrice Eiseman, executive director of the Pantone Color Institute.
CLB Architects Contributes to Magazine Identity
CLB Architects, a multi-disciplinary architecture and design firm based in Jackson Hole, Wyoming, and Bozeman, Montana, was recently selected as the winner of Architectural Record's redesign contest, which called on those in the industry to submit logo designs as part of the magazine's rebranding efforts. Architectural Record is a monthly U.S. magazine dedicated to architecture and interior design. With a strong belief in the intersection of graphic design and architecture, CLB Architects' submission, by creative director Allison Bryan, was selected out of 275 entries for its "simple elegance." In addition to their award-winning architectural and interior designs, the CLB design studio also creates public artworks and offers object design services. The firm's holistic, unified approach to design accentuates details — weaving rich layers of meaning, material, and history to create visual and physical identities for their clients.
2021 Art & Home design Shows
Find these other design showcases around the Northern Rockies this summer and fall:
May 7-9
Cheyenne Home & Patio Show
Cheyenne Ice & Events Center
Cheyenne, WY
cheyennehomeshow.com
With a focus on gardening, landscaping, and outdoor living spaces, this show features new home designs and products from local and national vendors.
July 9-11
Ketchum Arts Festival
Festival Meadows
Sun Valley, ID
ketchumartsfestival.com
This outdoor festival showcases the works of more than 100 Idaho-based artists, along with food, live music, and a kid's activity tent.
July 23-25
Art Fair Jackson Hole
Jackson Elementary Field
Jackson Hole, WY
artassociation.org/art-fair
The 56th annual Art Fair, the largest fundraiser for the Art Association of Jackson Hole, is a juried show featuring the works of local and national artists who are on-site selling their fine arts and crafts.
August 13-15
Sun Valley Arts & Crafts Festival
Atkinson Park
Ketchum, ID
sunvalleyartsandcrafts
festival.com
This outdoor juried event showcases the handcrafted works of local and national artists, and features activities for kids, a picnic area, and live music.
August 19-22
The Great Western Living
& Design Show
ExpoPark
Great Falls, MT
thegreatwesternshow.com
Featuring the handcrafted work of 90 different vendors, this event highlights the best of the West, from boots and clothing to jewelry and home furnishings.
September 9-12
Western Design Conference
Exhibit + Sale
Snow King Events Center
Jackson Hole, WY
westerndesignconference.com
In celebration of the spirit of the West, this annual event brings craftspeople, collectors, interior designers, architects, and fashion designers together with works on display in an open showroom, along with a fashion show and rooms curated by some of the best interior designers in the region.
September 10-12
Cheyenne Fall Home Show
Cheyenne Ice & Events Center
Cheyenne, WY
cheyennehomeshow.com
This event features new home technologies, design trends, remodeling displays, live demonstrations, and food samples that are all aligned with fall trends.
September 17-19
By Western Hands Invitational Design Exhibition
Buffalo Bill Center of the West
Cody, WY
bywesternhands.org
Showcasing the work of more than 35 top-tier artisans, this exhibition and sale features fine woodworking, craftsmanship, presentations, and demonstrations, and coincides with the museum's Rendezous Royale, a week-long celebration of Western art.