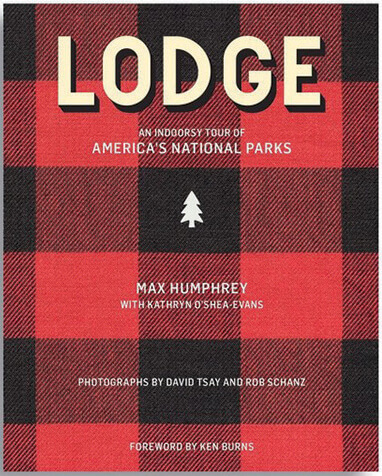 12 Apr

Design Elements: Books

in
Lodge: An Indoorsy Tour of America's National Parks
Written by Max Humphrey, with Kathryn O'Shea-Evans;
Photography by David Tsay and Rob Schanz; Foreword by Ken Burns 
Lodge: An Indoorsy Tour of America's National Parks is a delightful collection of stories and dramatic photos showcasing some of the most popular historic lodges in our nation's national parks. Co-authored by renowned interior designer Max Humphrey and journalist Kathryn O'Shea-Evans, Lodge features striking images from photographers David Tsay and Rob Schanz. Both timeless and timeworn, the lodges' interior spaces offer reflections on historical happenings, architectural and design shifts, and the people and pastimes that shaped them all. The book highlights lodges in 10 national parks: The Ahwahnee Hotel in Yosemite National Park in California, Crater Lake Lodge in Crater Lake National Park in Oregon, Curry Village in Yosemite National Park in California, El Tovar Hotel in Grand Canyon National Park in Arizona, Lake McDonald Lodge in Glacier National Park in Montana, Lake Quinault Lodge in Olympic National Park in Washington, The Oasis at Death Valley in Death Valley National Park in California, Old Faithful Inn in Yellowstone National Park in Wyoming, Paradise Inn in Mount Rainier National Park in Washington, and Zion Lodge in Zion National Park in Utah.
After a decade designing homes in Los Angeles and throughout the country, Humphrey relocated to Portland, Oregon in 2016 to open his own design firm. He has been featured in Architectural Digest, Dwell, and The Wall Street Journal, among others, and is the co-author of  Modern Americana. Denver, Colorado-based O'Shea-Evans is a design and travel journalist for The New York Times and The Wall Street Journal. She has co-authored numerous design monographs for publishers Abrams, Monacelli, and Rizzoli New York. 
$40  |  224 pages  |  April 2023  |  Gibbs Smith
Rocky Mountain Modern: Contemporary Alpine Homes
Written by John Gendall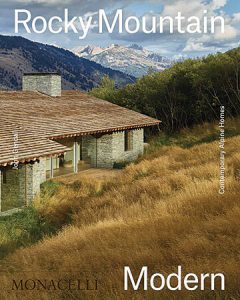 In this anticipated collection celebrating and exploring the rich history of regional modernism, Rocky Mountain Modern: Contemporary Alpine Homes, John Gendell features some of the most remarkable mountain homes designed by architectural leaders such as Selldorf Architects, Olson Kundig, and Allied Works, in locations ranging from Aspen and Vail to Sun Valley, Telluride, and Jackson Hole. Defined by clean lines, open volumes, and an organic vernacular, regional modernism employs natural materials, an abundance of glass, and informed siting to make the most of the varied drama unique to the Rocky Mountain landscape.
A journalist and communications consultant specializing in architecture, Gendall has been featured in The New York Times, The New Yorker, Artforum, and Architectural Digest. He teaches architectural communication at Pratt Institute and holds a master's degree from Harvard's Graduate School of Design.
$50  |  224 pages  |  April 2022  |  Monacelli
Yellowstone Collectibles: An Illustrated Introduction to the Park's Historic Souvenirs, Books, Art, and Memorabilia
Written by Michael H. Francis and Bobby Reynolds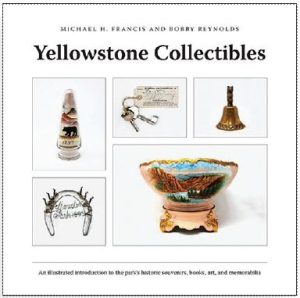 Featuring exhibition-quality photographs and descriptive text from 14 industry experts, Yellowstone Collectibles: An Illustrated Introduction to the Park's Historic Souvenirs, Books, Art, and Memorabilia offers a nostalgic jaunt through nearly 600 Yellowstone National Park collectibles and souvenirs. A unique resource for collectors and an inspiring reference for park aficionados and enthusiasts, Yellowstone Collectibles includes items ranging from rare books and photographs to historic curios, jewelry, toys, and knickknacks. 
A retired Billings, Montana wildlife photographer and author of 36 books, Michael H. Francis worked in Yellowstone National Park for 15 seasons and has been collecting park photographs and souvenirs since 1974, many of which will be shared with the public in this volume for the first time. Bobby Reynolds grew up in Montana and has, like Francis, been a collector of Yellowstone paraphernalia for most of his life. He is also the co-author of Saddleries of Montana: Montana's Makers from Territorial Times to 1940.
$32.95  |  216 pages  |  July 2022  |  Riverbend
Olmsted Trees: Stanley Greenberg
Written by Tom Avermaete, Kevin Baker, and Mindy Fullilove; Photography by Stanley Greenberg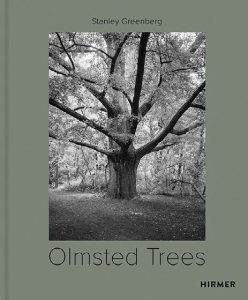 Widely considered the father of American landscape architecture, Frederick Law Olmstead [1822 – 1903] designed some of the most popular and widely visited urban parks and park systems throughout the United States, including Central Park in New York City and Boston's Emerald Necklace Conservancy. Trees, in particular, held a central position in Olmstead's work.
Olmsted Trees: Stanley Greenberg — written by Tom Avermaete, Kevin Baker, and Mindy Fullilove — marries a series of exquisite black-and-white photographs capturing Olmstead's trees by Guggenheim-Award-winning photographer Stanley Greenberg with three essays that delve into the depth and breadth of Olmstead's vision and impact. 
A professor at ETH Zurich, Avermaete is the co-editor of several books, including Acculturating the Shopping Centre. An established novelist, journalist, and historian, Baker has authored America the Ingenious: How a Nation of Dreamers, Immigrants, and Tinkerers Changed the World, The Fall of a Great American City: New York and the Urban Crisis of Affluence, and Luna Park, among others. Fullilove is a social psychiatrist, professor at The New School, and author of Main Street: How a City's Heart Connects Us All. 
$40  |  160 pages  |  August 2022  |  Hirmer Publishers
An Authentic Montana Voice: The Architecture and Art of Phil Korell
Written by Mark Gelernter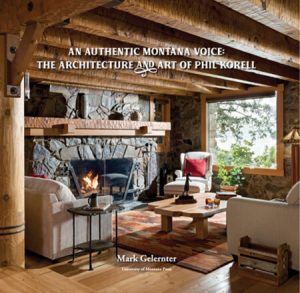 A celebrated Montana architect and fine artist, Phil Korell spent over 60 years employing traditional design methods to create buildings infused with a distinctive Western ethos. In An Authentic Montana Voice: The Architecture and Art of Phil Korell, author Mark Gelernter discusses Korell's process, design concepts, and unrivaled body of work.
Raised on a ranch outside Utica, Montana, Korell ​was formally trained at Montana State University and the University of Washington College of Architecture and Urban Planning. Heavily informed by the Arts and Crafts movement, Korell shaped those influences, customizing every detail to reflect an authentic design vernacular that worked in concert with the West's unique landscapes and culture. 
Gelernter is an American architectural historian and writer. He's the author of Sources of Architectural Form: A Critical History of Western Design Theory and A History of American Architecture: Buildings in Their Cultural and Technological Context, and the former dean of the College of Architecture and Planning at the University of Colorado, Denver.
$39.95  |  136 pages  |  July 2022  |  University of Montana Press