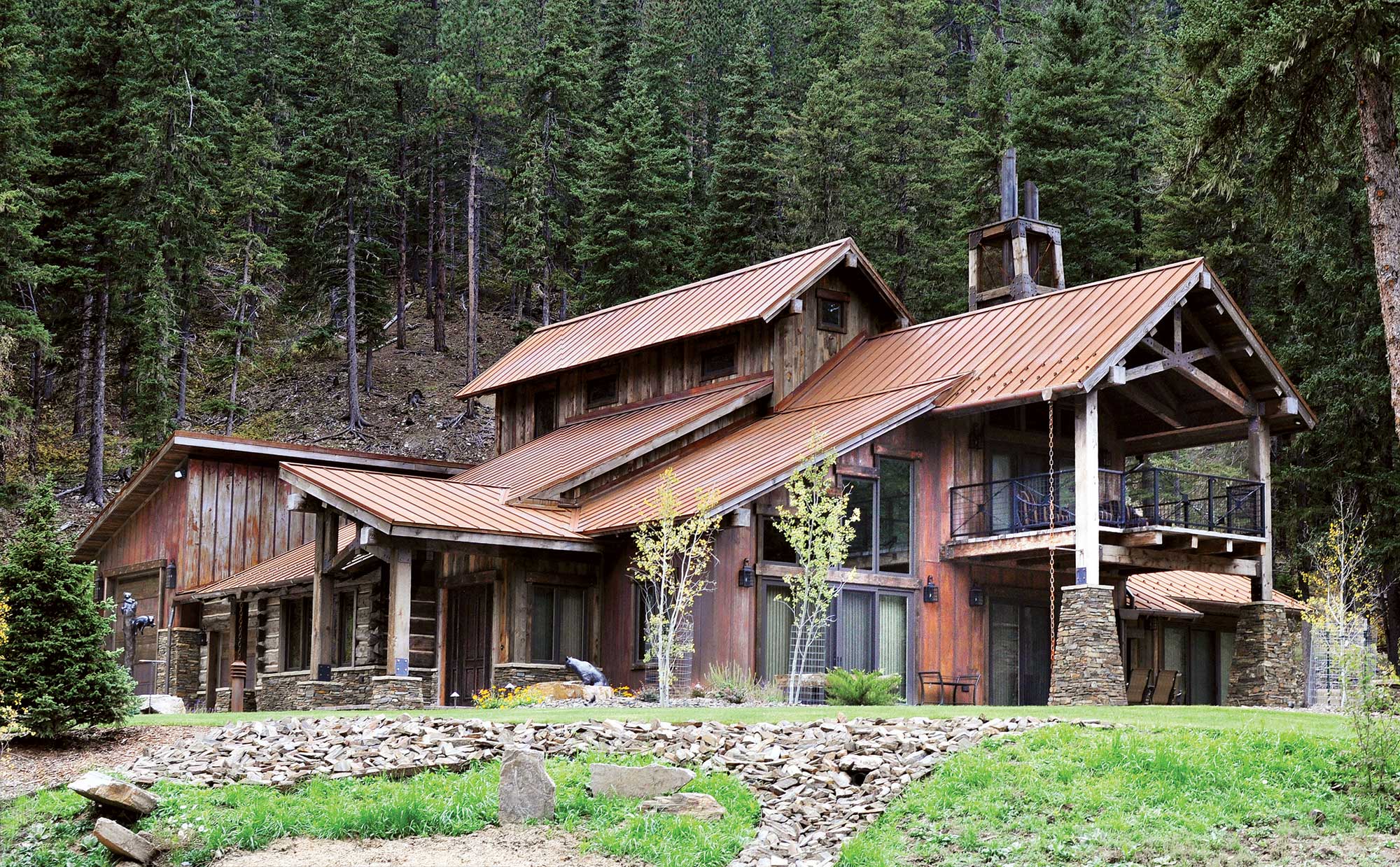 14 Apr

Defining Rocky Mountain Rustic

in
---
When Dennis Johnson started Bridger Steel in the mid-'90s, he never imagined that he would one day be filling a niche in the Western design world. Initially, the focus of his business was on a process called roll forming, bending long strips of metal for use in agricultural structures, barn roofs, and shed siding — although he did supply some home builders. Fast forward 20 years, however, and Bridger Steel has become a crucial part of residential design in the West.
Opening the doors of his first shop in Bozeman, Montana, Johnson was the only roll former in the state; the next closest was in Spokane, Washington. Not long after, the Rocky Mountain rustic trend started gaining traction, and it was quickly embraced and embellished by architects, builders, and interior designers throughout the Northern Rockies and beyond. For Johnson, business started to boom, and it hasn't stopped since.
"The Rocky Mountain rustic look really caught on in the late-'90s, so we became one of the main sources for that product in the West," Johnson explained. "A few architects around the country were starting to use steel in different ways, and the evolution of our niche came about with the unique customers in this area, including a lot of really creative custom builders."
Although steel can be more expensive up front, according to many builders, its durability is more suited to the rugged environment of the Northern Rockies, which means that it offers a bigger payback in the long run. Longtime Bridger Steel customer Shaun Marshall-Pryde, owner of the Bozeman, Montana-based Dark Horse Contractors, explained that steel roofing and trim goes on twice as fast and can be installed year round. "It's good, clean, fast, safe, and a lot easier to work with," he said. "Once it's done, you walk away. When you put wood up anywhere, you're going to be painting trim every two years because eventually it rots. Using steel on the exteriors cuts labor and maintenance in half."
Corrugated or metal siding now often complements other materials, such as reclaimed lumber, adding an industrial aesthetic to a home's exterior. In more sophisticated, less-is-more approaches to design, architects often leave the steel exposed. "Wood is no longer the dominant material, it's been replaced by metal," Marshall-Pryde explained. "It's a good modern look that intermixes with everything, especially with the different colors, textures and profiles that are available now; it gives an architectural style that's modern but rustic, old looking, like it's been there for a while."
Steel has become a mainstay material for interior design as well. No longer used solely for functionality, it now adds a modern, industrial, or rustic decorative touch, depending on the finish and how it's used. "I would never have thought that steel would be a backsplash, line a kitchen island, or be used as a bathroom wall covering," explained custom builder and Bridger Steel client Casen FitzGerald, owner of the Helena, Montana-based FitzGerald Construction. "It's trendy, but the patterns and colors allow it to be trendy."
The trend toward the use of steel in all facets of new construction has allowed Johnson's business to grow into six locations in Montana, South Dakota, and Wyoming. And he went from one machine that he fabricated with his own two hands to almost 50 in the different store locations.
The fact that Johnson built his own roll former — he will modestly tell you that this large, complicated-looking contraption wasn't as difficult to build as one would think — says a lot about his business ethic. If a builder, architect, designer, or homeowner comes to him with a design idea in mind, he will figure out a way to get it done, whether he has to bend it by hand or build a machine to do so.
"We learn from our customers all the time because they're so creative," Johnson explained. "They may want steel that looks like granite, or want a certain color, something different, something that's going to last, or they may want to see how different combinations work to create different textures. It's a very cool thing to be a part of, and we try to let everyone understand that 'no' is not an option; let's try to figure it out. Our culture is centered around that."