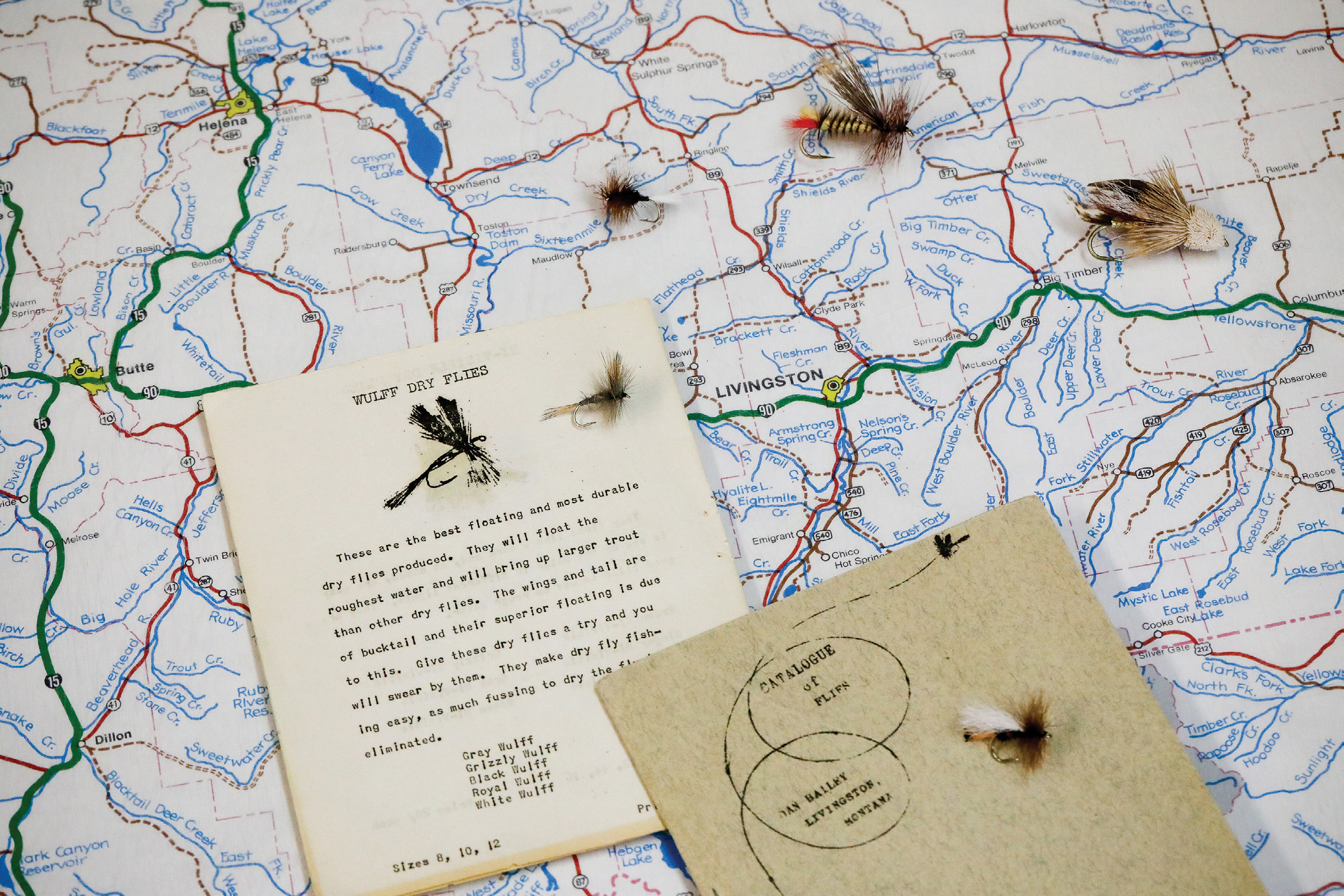 Flies tied from Dan Bailey's well-known patterns are scattered on early-edition pages of the shop's catalog and a classic "Montana Waters" map that the legendary fly fisherman created.
04 Feb

Dan Bailey's

in

There are few man-made landmarks in Southwest Montana as recognizable as the statue of swimming trout that's been perched above Dan Bailey's Fly Shop in Livingston since 1996. And the large bike that now hangs off to the side signifies a new direction for the legendary fly-fishing business.

On April 15, 2020, after three years of discussing a potential deal, Dan's son, John Bailey, sold the fly shop that he'd come to own. The new proprietor is Dale Sexton, who's no stranger to the community; not only did he once work at Dan Bailey's and as a fishing guide on local rivers, but he's also owned and operated the outdoor store Timber Trails in downtown Livingston since 1996. "It was time, and I've known Dale for a long time," John says. "The store needs a much broader base since the fishing world is getting smaller."

Sexton and his business partner and former guiding client, Mark Gurley, have merged the two operations, creating Dan Bailey's Outdoor Company. "We've combined everything," Sexton says, "so we're not just fish, and we're not just hike, bike, ski. Now we're hike, bike, ski, and fish."

To make room for the new inventory and the ski and bike part of the shop, the interior is getting a makeover. When finished, a museum-like area will display memorabilia that reflects the history of Dan Bailey's original shop. And what a deep-rooted history it is.
Go west, young (fisher)man
Dan Bailey grew up in Kentucky, where most of his childhood days were spent fishing for bass with flies he tied himself. After graduating from The Citadel, a military college in South Carolina, he earned a master's degree in physics from the University of Kentucky. He taught science in Missouri and then in Central Pennsylvania, and it was during these years that he developed an affinity for trout.
In the late 1920s, Bailey moved to New York to pursue a Ph.D. in physics at New York University, while also teaching high school science in Brooklyn. On the weekends, he'd venture up north to fish in the Catskills, where he met like-minded anglers and shared a cabin with Lee Wulff (after whom Bailey named many of his fly designs) and journalist and editor of Fortune magazine, John McDonald. In the cabin, Bailey started the tradition of tracing the outline of the big fish they caught for the "Wall of Fame," something he later recreated in his Livingston shop, where the silhouettes of trophy trout still cover the walls. Bailey and Wulff eventually started a fly-tying school in a room behind the historic Chumley's pub in Greenwich Village, where they also sold their original flies.
Things changed for Bailey, and for the rest of the fly-fishing world, when he met his future wife, Helen. "He married my mother in 1936, and they drove out to Montana to spend the whole summer camped on the Madison [River]," John says. "They came back in '37, and, though he was looking around Bozeman, he found half a storefront in Livingston for $25, so he rented it." The space was in the Albemarle Hotel on Main Street, and he moved the shop to its current location on Park Street in the 1950s.
The decision to set up shop in Livingston turned out to be an important factor that contributed to his later success. Since the town was growing more slowly than Bozeman, Bailey quickly realized he needed a wholesale and mail-order operation (which he started in 1941) to survive. It did indeed increase his revenue stream, and it also made Dan Bailey a household name in the fly-fishing world. "Livingston also turned out to be a much better choice because, not only is the river right there, but so is the railroad station," John explains. "Everyone took the train to Yellowstone and came to Livingston before taking the train up to Gardiner."
One of those tourists happened to be Bailey's old buddy John McDonald, who by then had become a celebrated journalist. In 1946, McDonald wrote a now-iconic piece for Fortune that was accompanied by striking images of flies tied by "crack Montanan, Dan Bailey," giving the shop national publicity. "Then Joe Brooks came out and wrote about it," John says, "and everyone else followed."
destination montana
Soon baseball legend Ted Williams, politicians, and other well-known people, including the Fonda family of Hollywood fame, moved into the area. In the 1960s, a young writer named Thomas McGuane also made the pilgrimage to Montana and never left, "an accident based on fishing," he says. Living in downtown Livingston, McGuane made Dan Bailey's his first stop in a town that wasn't yet angling-obsessed. "This was 50 years ago, and fly fishing was far less popular, more like falconry would be today," McGuane recalls. "But for people who were passionate about fly fishing, especially trout fishing, Bailey's was a legendary crossroads where everyone from the fishing world — Joe Brooks or Charley Waterman or A.J. McClane or Ted Trueblood — our gods would meet."
McGuane often took Bailey's advice, fishing the spring creeks and floating the Yellowstone River in his jon boat with pals, such as writer Jim Harrison and artist Russell Chatham. And during his off-time, he would hang around Bailey's shop. "Dan was an august person; sitting at his desk smoking his pipe, he looked like everything we thought a hardcore old trout fisherman was supposed to look like," McGuane says.
At that time, the shop employed more than two dozen fly tyers, "mostly local women," McGuane notes, to create the 750,000 flies they were selling through their catalog and wholesale business. "You'd talk to these highly-skilled tyers… who would carry on a conversation with you while tying a Royal Wulff or Adam's without even looking at what they were doing," he says.
like father, like son
Around the time McGuane discovered Dan Bailey's, John was beginning to have a profound impact on the family business. Born in 1947, he grew up in the shop, and after a stateside stint in the Army during the Vietnam War, he came back to Livingston in the early 1970s and worked side-by-side with his dad. "The first big project I did was take the black-and-white catalog to color," John says. "It was expensive, but now that people could see what they were getting, it made a huge difference in selling flies." After Bailey died in 1982, John inherited the business and continued to work toward furthering the reach and popularity of the sport.
John had a big impact on the film "A River Runs Through It," working as an advisor. "The production came to Livingston, and producer Patrick Markey came to me and said, 'We want you to teach the actors how to cast,' so I helped them out," John recalls. Once they started filming and John saw the dailies, he was appalled at the "lines going in waves across the screen." Luckily, director Robert Redford agreed, and he had John stand camera-side during the fishing scenes and come to Los Angeles to help them through the editing process. Though most of the footage ended up on the cutting room floor, the movie introduced a whole new generation to fly fishing and to Montana, boosting sales for Dan Bailey's and other area outfitters.
Lessons learned in livingston
Sexton worked at Dan Bailey's for two different stints, and it was a natural fit since he grew up in a fishing family (although his parents were worm-and-spin "fisher-people.") He bought his first fly from Bailey as a youngster. "Fly fishing has been in my veins for a long time. When I was a senior in high school, John hired me, and I worked here for about a year and a half," he says. "I would always stand in the background, listen to the stories the guys would tell, and gather what tidbits I could from the likes of [Charley] Waterman, Chet Marion, Jack Ward, George Radel, Tom Travis, Don Williams, and Ray Hurley."
After guiding in Alaska during his summers off from Montana State University, Sexton returned to Livingston after graduation and worked as the retail manager for Dan Bailey's, then later as the vice president of sales, a job he held until 1994 when he left to guide around Livingston with some of the legends he used to eavesdrop on. Not long after, he decided to start Timber Trails.
"In 1993, I got a wild hair, bought a building a block down the street, and a few years later opened an outdoor store," Sexton recalls. Timber Trails was small in comparison to the big-box stores in Bozeman, and he soon developed a cult-like following. Sexton's connection to the local community was an important element in building his business, evidenced by the annual Backcountry Film Festival hosted by Timber Trails, which has raised thousands of dollars for the local soup kitchen, Loaves and Fishes, and became a tradition that will continue under the Dan Bailey's brand.
Like the Baileys, Sexton has also been involved in local conservation efforts. While Bailey, along with Bud Lilly and other legends, formed the Madison-Gallatin Chapter of Trout Unlimited in 1968 and served on the organization's board for many years, Sexton has also served on the board of the local chapter and for other environmental nonprofits, such as the Invasive Species Action Network and the Gallatin National Forest Avalanche Center.
Bailey's biggest conservation effort was helping to thwart the Allenspur Dam proposed by the Bureau of Reclamation in the mid-1970s. The 380-foot-high earthen structure, designed to provide water for Montana's coal industry, would have blocked the Yellowstone south of Livingston and flooded nearly all of Paradise Valley. Similarly, Sexton was a founding member of the Yellowstone Gateway Business Coalition, which helped secure protection from large-scale mining for 30,000 acres of public land. The organization's mission states: "community is more important than selling," which is the basis for the Dan Bailey Foundation that Sexton plans to start, with a focus on conservation and educational initiatives in the area.
still a family fly shop
Sexton understands the importance of what and who came before him, and he intends to build on it. "The historical foundation is really important for what we're doing, which is why part of the deal with John was that the bulk of the archives remain here," Sexton says.
After buying the shop, Sexton received an image on Instagram of Bailey's old ride, a 1957 Volkswagen with the original shop's logo painted on the side. "After Dan sold the bus, because it kept breaking down, it ended up in Colorado and is now owned by a VW bus collector in Sacramento," Sexton says. "We didn't even know it existed, and now we hope to get it back home to Livingston at some point." The bus is now featured on many of the shop's new products.
If there was any question about Sexton being the perfect new owner of Dan Bailey's, another uncanny connection presented itself when, as he was going through the archives, Sexton found a book of fishing license receipts from the 1980s. "I opened it up, and my parents' names were on the very top," Sexton says. "It was magical, and it made this feel very much like kismet."