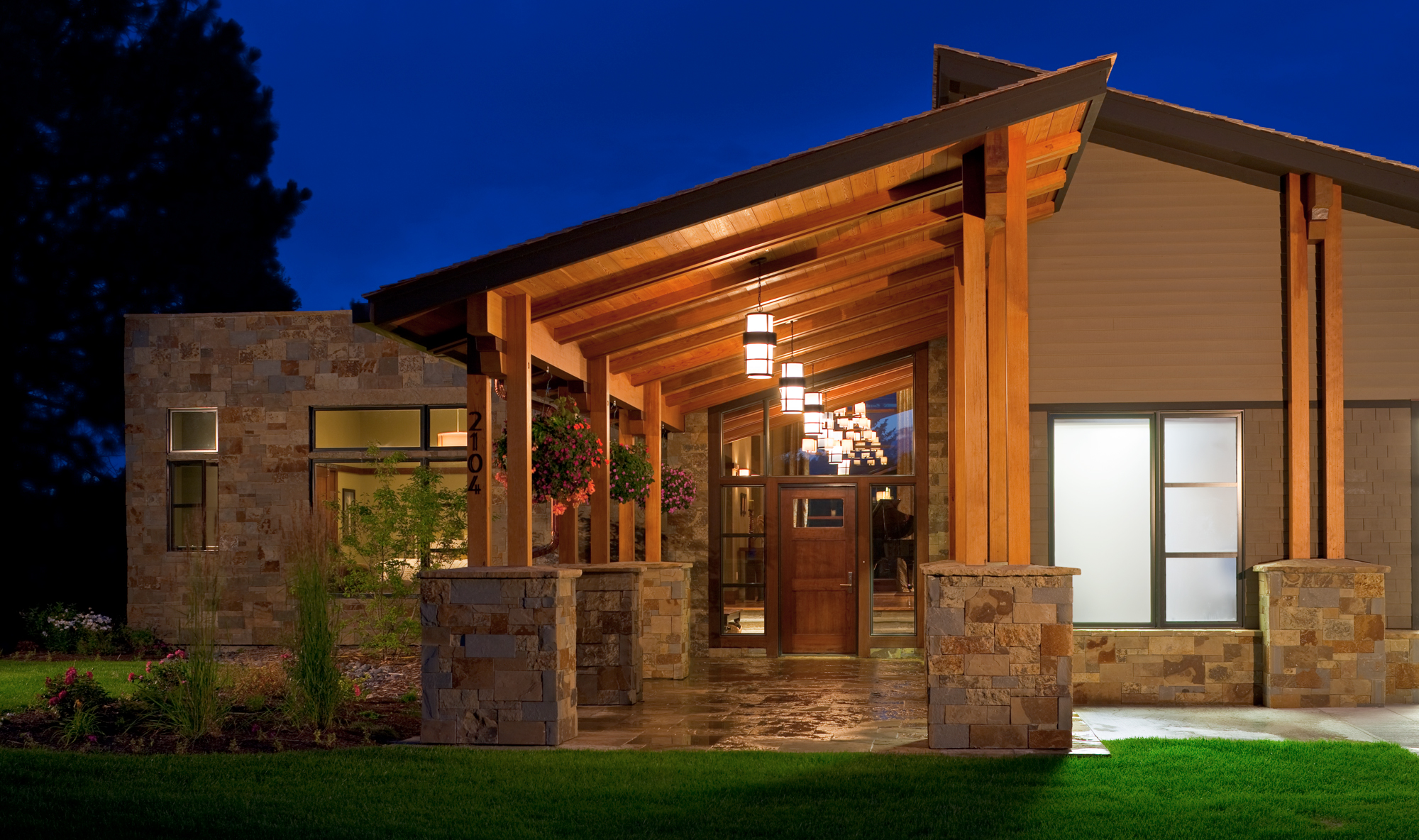 23 Jul

Contemporary Comfort

in

RING THE DOORBELL of Jason and Shelly Martel's newly rebuilt home, bordering Valley View Golf Course on Bozeman's south side, and the jingle that follows opens a floodgate of family memories. Aside from a few walls and a towering rock fireplace, it's about all that's left of the original structure. But the house that's taken its place has a way of keeping the family history alive.

"We always enjoyed coming over here for family gatherings," Jason recalls. Originally designed by his uncle, the brick, ranch-style home was perched on a hill overlooking the sprawling backyard and his grandmother's garden. It served as a venue for gatherings and the spot Jason and Shelly wed in 1989.

Jason's grandmother wanted family members to have first dibs on the property when she and her husband were gone. And in 2006, the Martels bought it with a vision: to give new life to a property steeped in family history, reviving the structure for the family of six to enjoy for years to come.

The Martels appreciated the home's original layout, but the small rooms and outdated décor — paneling, popcorn ceilings, small windows and old appliances — were due for a change. They also wanted to add a loft and square footage. They went back to his uncle's original plans. "We took his drawings and redrew floor plans and elevations," Jason says.

With Jason's extensive background in Bozeman's building industry, as the vice president of Martel Construction, he's an expert in this field. But the Martels also had experience building for themselves, with one new build and a remodel under their belts.

Together they chose inspirations from other homes and threw new designs into the mix. "We never wanted to repeat things we had done," Shelly says. "We always wanted to do things differently."

The vision they handed to architect Christopher Yearick, of Pilari Architects, was essentially created by the couple, opening the small spaces and adding on where needed. "They wanted to turn the closed in feeling of the house into a more open layout," Yearick explains. "Basically the whole ensemble of rooms is the same. We called it a major redecoration."

The end result is what interior designer Michele Varda, of Varda Interiors, describes as "Rocky Mountain contemporary." It's elegant enough for hosting gatherings, yet comfortable enough for a large, busy family, melding contemporary style with durability.

"The great room is perfect for entertaining, but they also needed some other spaces to be more intimate," Varda explains. "They other rule was to compliment the larger family." She explains that not only do they have four kids, but each child usually has friends over. "We kept maintenance in mind, like the hardness of the floors for a lot of traffic," Varda says. "We tried to use a lot of natural products, natural stones and mixed in some contemporary lines."

What was once a dark entryway is now a bright portal opening to the whole main floor, with a clerestory skylight and a clear view out back. "I wanted to walk in the front door and see into the backyard," Jason says.

The great room mixes sophisticated, darker colors with clean-lined furniture, and a towering rock-lined fireplace sits where it always has. The wide-open kitchen has custom cabinets built by Bozeman-based McPhie Cabinetry. Off to one side is a long wood table that serves as the dining room, big enough to accommodate the family and then some.

What used to be two tiny bedrooms on the main floor now make up the master bedroom, with tall windows overlooking the backyard. An old pantry is now the marble-lined master bath, and another main floor bedroom was added on to the front.

The basement feels more like a main floor, with floor to ceiling windows at the back that offer enough light to keep it bright and open. The game room revolves around the original pool table, an item that they worked around during construction. A movie room off to the side has a full theatre screen and comfy couches.

The hallway leads to three bedrooms for the remaining kids, one that used to serve as a canning room for Jason's grandmother. Accompanying the bedrooms are twin boy and girl bathrooms, both leading out to the hot tub and yard.

The Martel's backyard is a recreational oasis, just as it was during Jason's childhood. "We used to have Sunday picnics after church, play kickball, and run through the sprinkler," Jason says.

A small bridge crosses the creek, leading to a paddle tennis court turned hockey rink come winter. A custom built warming cabin sits alongside, with a wood burning stove and a kitchen for hot chocolate on cold winter days.

From the outside, the Martel's new home looks nothing like the family gathering spot from Jason's childhood. But through small, poignant touches, it does manage to keep the Martel family legacy intact, while perfectly accommodating the lifestyles of this active, modern family.

"My grandmother would have been proud of the end result," Jason says.