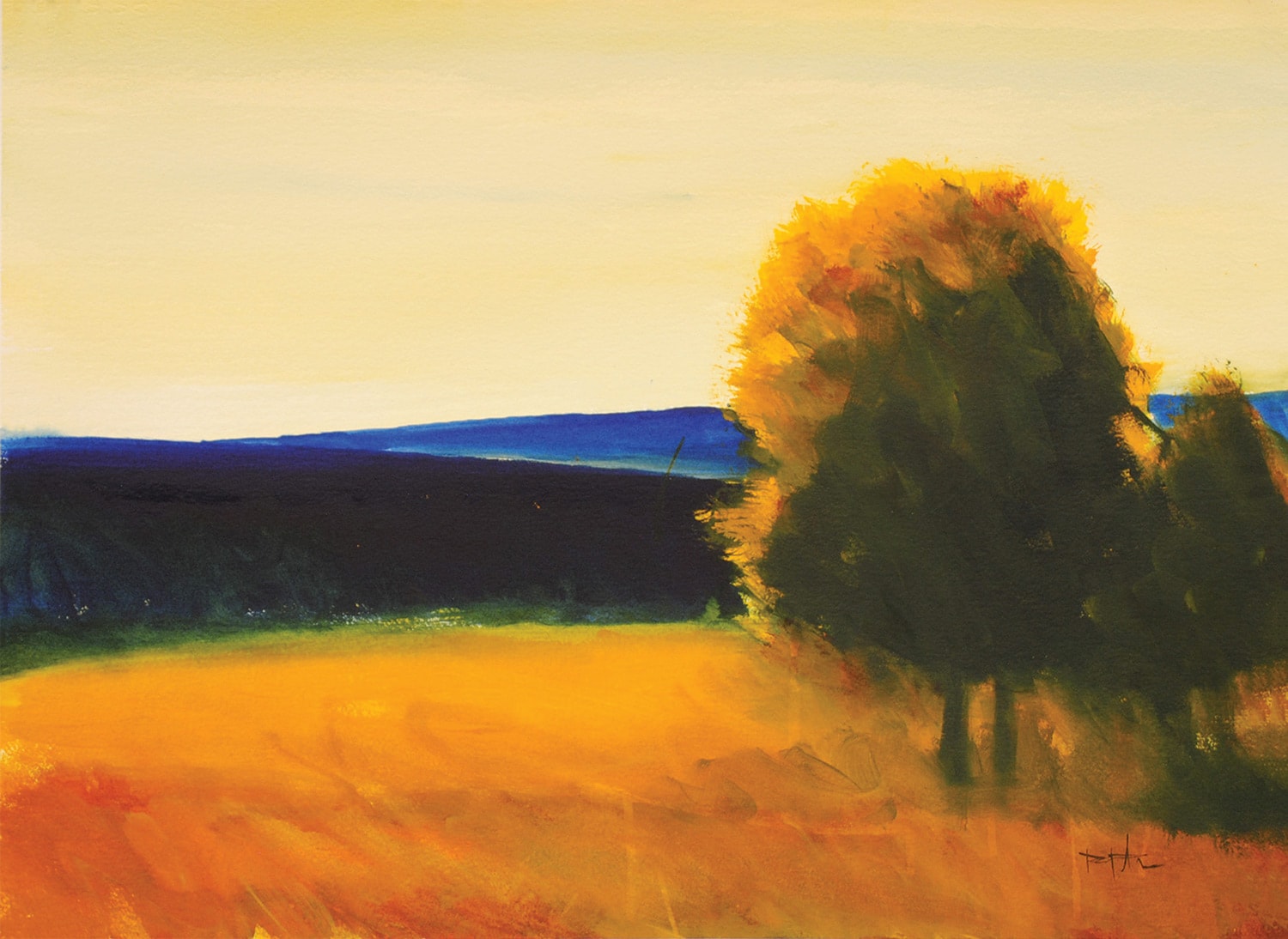 "Dusk" | Watercolor | 21.5 x 29.25 inches
12 Aug

Complexity in the Moment: the watercolors of Richard Pence

in

Smooth bands of soft light, in the language of landscape, whisper calmly against the unembellished contrasts of a dark subtext. Richard Pence's watercolors speak to the inevitability of nature, as well as to the medium itself, exploring the boundaries of color and form. With stark simplicity, Pence conveys the complexity of a single moment.

"My paintings are a collection of everything," Pence says, "my whole life really. The application of the paint is the sum of every moment condensed into a single space. I'm trying to get to that place where everything makes sense."

His every brushstroke conveys movement. The white of the paper reads like water. Bands of blue, green, and yellow speak to the horizon. But these single aspects cannot be separated into distinct parts. Standing before one of his larger watercolor pieces, one has an overwhelming feeling of an experience. Although the place may be unfamiliar, in that moment it is the entirety of all late afternoons spent thinking about days past, absorbed by the intensity of the sun before it slips away, leaving behind the ghost of acceptance.
"Paradise Valley" | Watercolor | 21.5 x 29.25 inches
Despite the narrative of landscape, of horizons and finely clouded skies, Pence doesn't paint en plein air. He finds that if he tries to capture the light of a specific place, he ends up painting too realistically. "I found that what I wanted to express was being held down. Each time I went back to the easel, what I was trying to depict was totally different from the second before, because the moment had changed."
As a painter, Pence pursues the medium to find the extent of his parameters. "I really push the watercolor," he says. And his paintings, although transparent in the traditional sense of watercolors, tend to be dark and opaque in nature. "Watercolor is difficult, and accidents are part of the whole experience. I've done it enough that I now have a plan before I begin a painting, and I know the pitfalls. But I like to challenge myself. I also like how the pigment bounces off the white paper underneath, to get that luminosity."
Another aspect of Pence's work is his series of acrylic abstract paintings. Whereas the watercolors carry Pence's voice, his abstract paintings reflect his intellect, his constant interior dialogue with a world he's attempting to understand. Also based on landscapes, the abstracts speak with a wide array of colors. What he looks for is the relationship between form and shape, color, line, and texture.
"I want my work to be a sturdy board for the viewers' thoughts," he says. "I'm proposing images as something the viewer can speak to. People tell me a painting has changed but really it's the people that have changed over time."
Avid art collector and architect Frank Cikan has known Pence for more than 30 years, and owns several of Pence's paintings. "When I first met Richard he was doing art along the lines of Russell Chatham, but then over time, he's developed his own palette and voice," Cikan says. "He went more abstract with it, and explored that side of the art. I like the direction he's going."
Watching someone like Pence, who uses the landscape as a means to search for deeper answers about life, is exciting. "In abstracts you have to explore color to express yourself," Cikan says. "Whereas the watercolors are a more defined and immediate medium. You can't go back and change it."
There is no room for mistakes in watercolor. It is an unforgiving medium. But there are always the happy accidents that can turn an average painting into something sublime.
"He reflects on Montana, the light, the open spaces," Cikan says. "His ultimate goal is to discover the meaning of everything. Like Einstein putting together a unified theory, Pence is trying to put it all into one painting."
Maybe this is why each of Pence's paintings feels like a snapshot of his path toward self-discovery.
"Summer Fields" | Watercolor | 21.5 x 29.25 inches
"If I can compare it, what he's trying to do is peel an onion," Cikan says. "There are all these layers he's pulling away, trying to get to the core. But the core is elusive — the further you get the harder it is to find. But the journey, the personal exploration into his soul, is the most important aspect of his work. The longer I know him, the more introspective he gets."
Pence's studio is sparse: one easel and a one-gallon bucket that holds four large, flat paintbrushes. Most of his work is at his gallery, but there are a few pieces scattered around. He works with a limited palette, mixing most of his colors as he goes. "Normally, I paint every day. Whether or not I make any money from my work is irrelevant. I have to paint. But it is nice to sell them."
In his abstract piece Untitled VIII, he again uses the motion of his brushstrokes to impart a sense of movement. In this piece there is the infinite edge of the ocean spreading horizontally across the surface with a lidded chaos undermining the calm. Quick strokes of color bloom, taking the eye around the canvas. It is loud yet comforting. The piece relates the instance that understanding can settle like a blanket across your lap and, at the same time, the epiphany that can strike you in the chest like thunder.
Old Main Gallery director Linda Brown represents Pence's work and has watched him progress during the course of 20 years. "He's probably one of the few artists I've worked with who is constantly pushing himself," Brown says. "When he gets to the next level, he doesn't look back. He doesn't keep doing the same things because it sells."
Brown watched Pence go through progressive changes, bringing in more color, and in 2010 she saw his first abstract paintings. "Wow, they were really vivid, full of color and form," Brown says. "I don't know if I've ever fully understood abstracts but I get the difference between a good abstract and one that isn't good. He doesn't just throw paint on the canvas — he has a solid base — the colors go where they're supposed to go and it all makes sense."
Wherever Pence travels, whether through France, the Czech Republic, or just over the hill to Paradise Valley, he always comes back with more tools in his painter's box than he had before. It's as if his visual vocabulary expands with new landscapes and colors.
"He's kind of got a Zen personality and it comes through in his paintings," Brown says. "They are quiet and introspective, and the abstracts push the limit a bit, but because he knows where they're going, it doesn't feel loud or dissonant. It's an honest approach to painting. His work resonates with who he is and how he lives."