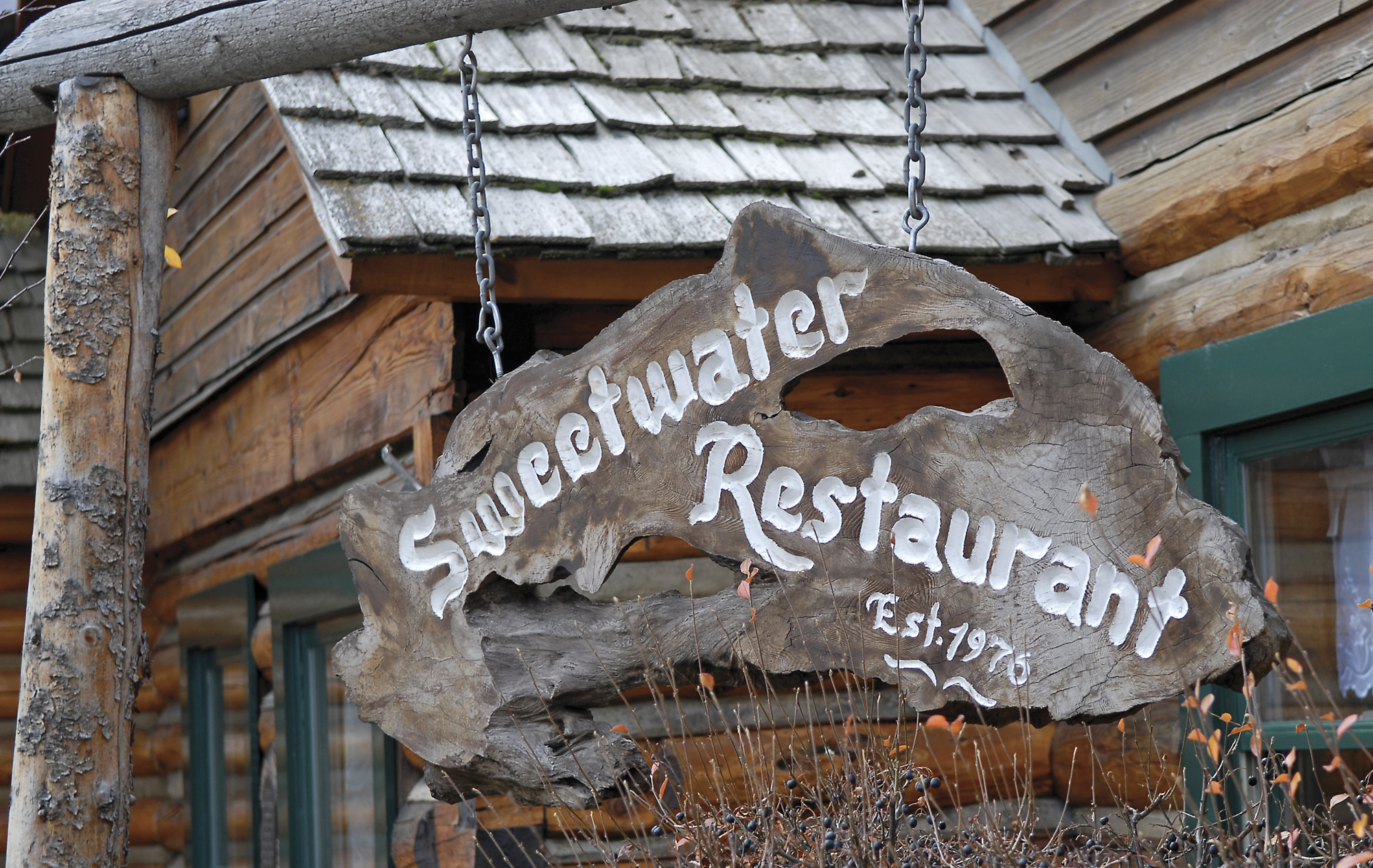 23 Jul

Dining Out: Comfort Food

in
---
There are few things as lovely as savoring a glass of sweet tea, leamonade and vodka over lunch on the patio of Sweetwater Restaurant in the summer. The atmosphere is made better by the fact that this longtime eatery is just off Jackson, Wyo.'s main square, out in back of the log cabin and, therefore, a little quieter. Sun filters through the trees and warms the picnic tables making it the ultimate place to linger over a meal.
But a close second to the summer experience at Sweetwater is winter, when the fire in the wood burning stove rages and the warmth of the pioneer cabin greets you like an embrace from a good friend. The woodsy interior is accented with antique turned-leg wood tables, sturdy chairs and landscape paintings of the West. The tables are set with handmade cloth placemats; water is served in mason jars and the food is served on Heath Ceramics stoneware. The lacey white curtains let the pale winter light filter in and the overall ambience sends a message to cozy-up, settle down and dig in to dinner.
Open since 1976, Sweetwater Restaurant is a Jackson tradition. Set in one of the valley's oldest buildings — Coe Cabin was built by a pioneer family in 1915 and later became the home of Ed and Emily Coe, the town blacksmith — the building is recognized by the Teton County Historic Preservation Board and retains its classic Western style.
With reverence for the cabin's early beginnings, executive chef and owner Trey Davis keeps things simple. Named for the Sweetwater River, the fare at the restaurant reflects the abundance of wild game, beef, fish and seasonal vegetables available in the Jackson area. The menu is approachable, affordable and hearty — think Idaho-raised trout, Wyoming elk and Montana bison. During the colder months a favorite is the elk sausage trio with green chili mac and cheese. The innovative menu changes seasonally, but a longstanding entrée is the mustard-marinated pork tenderloin with Jack Daniels au jus.
Having frequented Sweetwater on visits to Jackson since 1988, I have noticed changes over the years. The wait has gotten longer on a summer night, for instance (Davis confirms that the waiting list often stretches out for more than an hour), and the food has a hint of a Southern flair now. But what has stayed the same is the feel of the cozy cabin and the consistently good service. It's not a glitzy place, and that's what most folks love about the cabin: This is a place where you settle into your table as easily as you would at home (but the food is undoubtedly much better).
"It's just comfy," says Davis in his Louisiana drawl. He became part-owner of Sweetwater nine years ago, eventually bought out the original owners and has now partnered with Dennis Friedlander. The two work hard to maintain Sweetwater's laid-back style. But don't be fooled by the easygoing approach, Davis is a professional whose resume is loaded with challenging stints as a chef at large resorts including Vail's Oriental Express, The Phoenician in Scottsdale and the Arizona Biltmore Resort and Spa. Davis grew up cooking at home in Louisiana, attended LSU and graduated from the Louisiana Culinary Institute. An avid angler and outdoorsman, Jackson became Davis' retreat from the politics of big, corporate kitchens. Eventually, his permanent move to Wyoming and involvement in this small, well-loved restaurant was the right thing to do.
Today at Sweetwater chef Davis can't help but throw a little spice into the menu, but he is quick to add that gumbo and po boys are not regular offerings (though if you are lucky, they will be served up as occasional nightly specials).
"You'll see a little of my southern flair, but it's by far not a southern restaurant. I call it sophisticated comfort food," reports Davis.
That might translate to buffalo pot roast served with Jack cheese grits or slow-roasted lamb with baby red smashed potatoes.
No matter the season, whatever is on the menu, a meal at the Sweetwater Restaurant will stick to your ribs and bring you back time and again.
---
Tequila-Glazed Salmon with Pico de Gallo and Red Pepper Grits
Ingredients:
Six 8-ounce salmon fillets
Tequila Glaze
1 cup Tequila
½ cup honey
¼ cup fresh lime juice
Mix all ingredients in saucepan and cook slowly on medium heat until reduced by half, about 15 minutes. Let cool slightly until the mixture thickens.
Pico de Gallo
5 tomatoes, diced
½ red onion, diced
½ jalapeño, minced
½ bunch cilantro, chopped
Salt and pepper to taste
Combine all ingredients into a bowl and gently mix.
Red Pepper Grits
2 cups whole milk
6 cups chicken stock
5 roasted red bell peppers, deseeded
2 ½ cups grits (polenta)
½ cup Monterey Jack cheese, grated
Salt and pepper to taste
Method: In a blender puree milk and bell peppers until smooth. Transfer to a stockpot, add stock, stir until combined and bring to a boil. Slowly whisk in grits and bring back to a boil. Turn to low and simmer for 20 minutes, whisking often until soft. Whisk in cheese, add salt and pepper to taste.
Preheat oven to 450 degrees F. Grill salmon on flesh side until it is marked, about 10 minutes, then place in an oven pan. Spoon or brush on Tequila Glaze with a pastry brush. Place salmon in preheated oven and finish cooking for approximately 15 minutes.
To serve, place salmon atop grits and arrange two generous spoonfuls of Pico de Gallo over top. (Shot of tequila served with dinner is optional!)