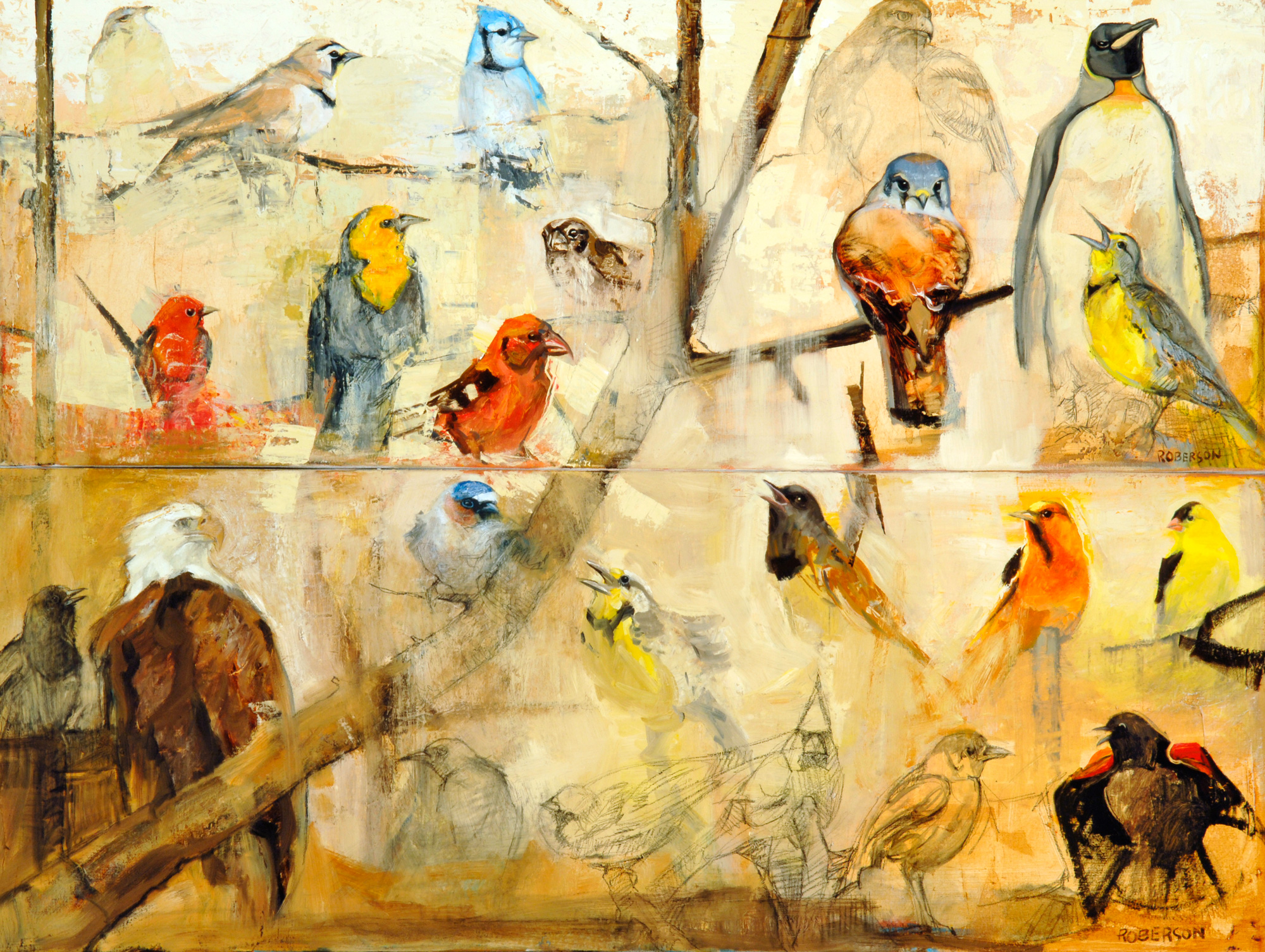 14 Jul

Artist of the West: Celebrating Nature

in
---
MARY ROBERSON IS AN OBSERVER first and a painter second.
"First I need to know my subject, not only know it, but love it," she says. "It takes a lot of watching and sketching and studying."
But even beyond her firm beliefs and dedication Roberson has a deep affection for the wildlife she portrays. So deep that it runs through everything she does. She approaches her work as a means to express that love.
"By the same token I love to paint," she says. "It's hard for me to stop when I'm so inspired. Wildlife to me is symbolic of … " she struggles to find the right words " … the universe that is in the center of us. I don't believe that anything is separate, there's no separation of anything or anyone. And wildlife to me is a symbol of how everything in the universe works."
Her thick strokes, like dense underbrush, give her paintings a sense of wilderness, of the heavy woods or the earthy forests where she finds her subjects.
Her approach to painting is to allow the animal to be itself and flow with the creativity.
"I try not to let my brain interfere," she says. "That's the ultimate state of creativity. Some of my paintings reflect that kind of total lack of restriction — and those are also the most effortless pieces."
Roberson's style, simple and direct, built up by layers of paint, contemporary yet not abstract, allows the viewer to see the world as Roberson sees it — as a place of wonder and freedom, of texture and movement. With the fewest brush strokes possible, she expresses nature, as is.
"I have such a strong love for wildlife, I feel as if it chooses me," Roberson says. "Some artists look for composition or light but what inspires me is a kind of love of nature, more so than any artistic element. I just had to find a way to express how I felt about wildlife and the environment. I'm blessed in that I can express that through painting."
Recently, Roberson took a trip to Africa with a group of photographers to experience the wildlife across the globe.
"It was remarkable," she says. "It was so overwhelming that I ran into trouble by trying to sort out what I wanted to paint in my head. I have so many images in my head, that's where I run into difficulty. Not for lack of inspiration."
When she was in Ndutu she and her group came across some elephants and one had just given birth.
"The placenta was there and the other elephants were surrounding the baby to protect it," Roberson says. "We watched for a while from a good distance — to respect the wildlife — and once the placenta came up they started beating it over their backs to deter predators from knowing that a young baby had been born. Some artists would look at [the elephant] and say 'look at those colors, in that light,' but that's not what inspires me."
At another point in her trip they were in Tarangire where they happened onto a pride of starving lions.
"It was so heartbreaking, one of the cubs dropped right in front of us," she says. "I could see their ribs. The two lionesses couldn't leave to follow the prey because they had cubs. We watched for a couple of days. It was really hard to see and I don't believe that creativity is about painting beautiful things — so I want to do a painting of these starving lions and I doubt it will sell. And I don't care. I have to do it."
Since she's been back she's continuously working in her Hailey, Idaho studio. Paint and paintings everywhere.
"I always think I know what I'm going to do but my paintings never end up the way I thought they would," she says. "To me it's a blessing."
Judy Anderson, of Sun Valley, Idaho, and Spokane, Wash., has been collecting Roberson's work for more than a dozen years.
"First we bought her painting of the wolves," Anderson says. "We had it delivered in our home in Hope, Idaho. We had all that wildlife in our backyard. So Mary came up and observed the elk herd that lived with us in the winter. We commissioned her to do a good-sized painting of those elk. It's very ethereal, mystical."
After that, she continued to collect Roberson's paintings.
"I love her approach — she really caught it with the wolf paintings, they're just coming out of the mist with a raven looking on," Anderson says. "Her background in portrait painting shows in the way she brings life and personalities to the animals she paints. You can tell who the alphas are and who the betas are in the wolf paintings."
Anderson, who has an art degree, admires the way Roberson's brushwork lends itself to a sort of abstractness, but not so much so that she can't recognize the subjects.
"I personally appreciate it when I can see something I can relate to," Anderson says. "I also love the way she's able to grasp the animals; you don't see the whole thing, so there's this contemporary approach and I like it. I have photographers in the family but I don't want photographs all over my house."
For Roberson, her path to simplification is the toughest part of her journey.
"I've always wanted to simplify my work, and with the diptych of the elephants in Amboseli National Park I feel as if I did," she says.
Her approach to the two 42- by 42-inch canvases was to keep it as basic as possible, building up the layers one at a time.
"In between I have to let the layers dry or get tacky," she says. "At other times I approach the painting in one sitting. The more direct and the more simplistic a painting is the more creative the piece is for me. Approaching this isn't about painting; it's about the artist allowing it to just be … and that's been a long road for me."
It's also important to Roberson not to push the painting in a direction but to allow the painting to change, to go where it needs to go.
"A painting is more about the artist than the painting itself," she says. "I paint what I would buy. That's my only criteria. Sometimes I run into trouble with color, I use a lot of sepias and muted tones. I won't add color unless it I feel comfortable with it."
The Altamira Gallery in Jackson, Wyo., has been representing Roberson since they opened their doors in 2009.
"Mary comes to her work, fully enthralled with making art and nature and animal life," says Altamira's owner and Gallery Director Mark Tarrant. "A perfect day for her is when she is free to be outside where she can observe wildlife and sketch. When she comes to the gallery in Jackson, she often will go to the Grand Teton National Park for days and go hunting … that is hunting for the opportunity to see bear, or moose or wolves to make drawings up close."
He sees her love for her work show up on the canvases she paints and that love for drawing shows up as a bonus on many of her canvases.
"On the borders of her compositions, on her signature-wooded scenes with multiple figures blended in to the organic woodlands, will be numerous sketches, as if she was working out the composition as she is applying the paint," he says. "I believe she just wants to share her joy of making art and her dance of creating."
Recently, Tarrant had a quiet moment to stand in front of Roberson's painting, The Entertainers.
"It hit me that her paintings are love stories, the expression of her connection with the natural world," he says. The titles of her one-woman shows are telling: Nature is Life in the Dream and Celebrate the Surreal. "Mary Roberson is gifted and original. No doubt about it, she is one of the most significant and influential wildlife artists of her generation."