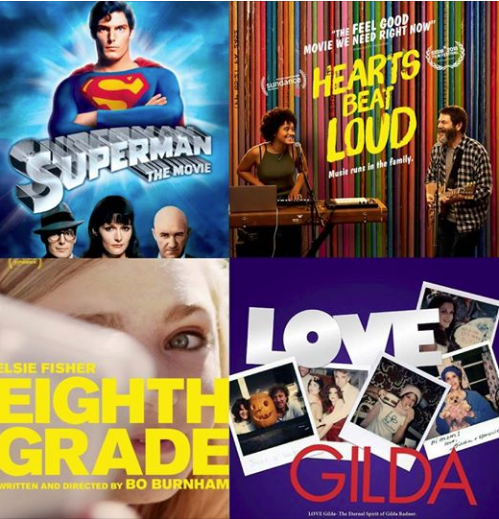 24 Aug

Bozeman Film Society Celebrates 40 Years of Bringing Independent Film

in

This fall, The Bozeman Film Society (BFS), originally known as the Bozeman Film Festival (BFF), celebrates its 40th anniversary with the launch of a landmark season.

Founded in 1978 by local film lovers and Montana State University English and film professors, BFS originally screened classic, foreign, and arthouse films in various venues around Bozeman, first at the Ellen Theatre and MSU's Linfield Hall. With a rise in popularity and attendance, BFS extended their event venues to the Rialto Theater for 26 years, and to the Emerson Art Center's Crawford Theater for 10 years. Returning to their roots at the Ellen in 2016 with a new digital projection system, the organization now screens up to 35 first-run films in downtown Bozeman each season, focusing on highly acclaimed films that may not typically be screened in Bozeman's standard multiplex theater.

One of the Gallatin Valley's longest running art non-profits, BFS strives to garner the transportive power of independent film to bring global cultures, ideas, conversations, and perspectives to our small mountain town. BFS is also passionate about bringing the art of film to Bozeman.  Innovative collaborations with filmmakers and industry insiders connected to BFS' featured films enhance screenings and the audience's connection to and understanding of the works. Past guests include actors Bill Pullman, Michael Keaton, and Lily Gladstone; Directors Marni Zelnic (Druid Peak), Jacob Young (The Dancing Outlaw) and Jared Moshe (The Ballad of Lefty Brown); celebrity chef Tom Collichio (A Place at the Table); Paleontologist Jack Horner (the Jurassic Park series) science writer David Quammen (Walking Out); Executive Producer Patrick Markey (A River Runs Through It; The Horse Whisperer); The Bozeman Jazz Collective (Miles Ahead; The Cabinet of Dr. Caligari); and many more.

"As an independent film society, we are able to collaborate with individuals and local groups to add that extra 'wow' factor to our showings," says Executive Director Lisa McGrory. "Unlike a multiplex movie theater, our audience develops personal connections with each other, sharing a passion for the kind of programming that the Bozeman Film Society offers. Our film screenings are a vibrant gathering of friends and acquaintances, as well as a way to share important ideas and causes with our community."

Recently, most Bozeman Film Society screenings take place at the historic Ellen Theatre in downtown Bozeman, with some films also shown at the re-invented cabaret-style Rialto, and the Emerson's Crawford Theatre.

To kick off its 40th season, the BFS hosted the 9th annual Story Under the Stars on Friday, August 24, 2018, featuring the 1978 Oscar-winning mega-hit, "Superman: The Movie" starring Christopher Reeve and Margot Kidder. Other special 40th anniversary events will take place throughout the year at movie screenings and will include ticket giveaways, BFS sponsor promotions, and fun pre-film events. The new season officially kicks off at the Ellen Theatre with Love, Gilda on Wednesday, September 19, and will feature special giveaways, including gift certificates and items from BFS sponsors.

Local business sponsors make up a large portion of the funds needed to operate the Bozeman Film Society each season, and those who support BFS are recognized before the start of each film with the wildly popular animated sponsor reel. Sponsorship spots are still available, with information available on the organization's website.

For more information about the 40th year of the Bozeman Film Society, along with a schedule of upcoming films and sponsor information, check out www.bozemanfilmsociety.org. For any questions, contact Lisa McGrory at 406-599-9069.