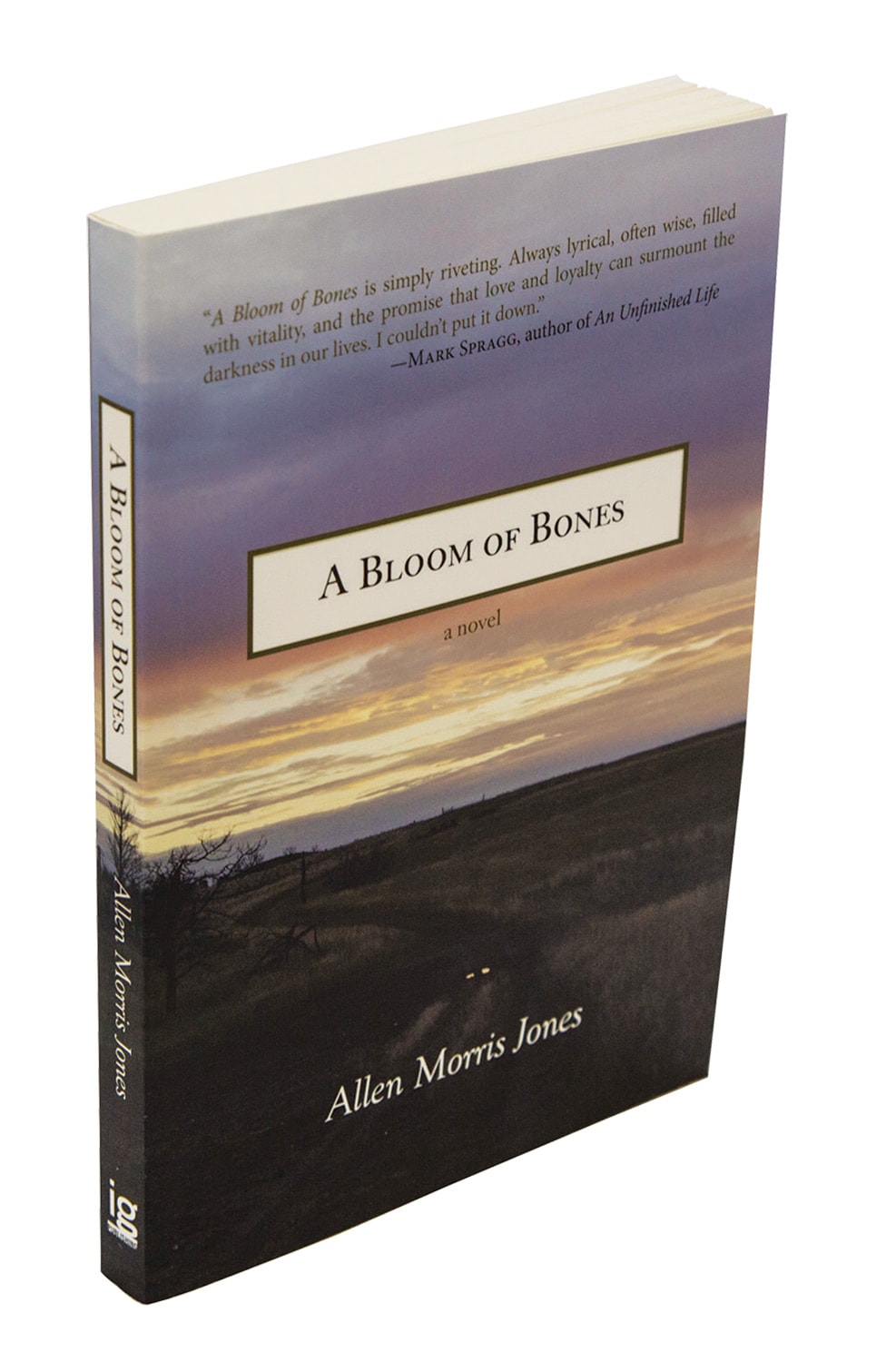 12 Aug

Books: Reading the West

in

Allen Morris Jones knows how to show you what's in his characters' heads even while letting them hide secrets small and large. More than that, Jones knows how to show you the worlds that his characters inhabit — from the lonely Wyoming cabin in his first novel, Last Year's River, to the railcar-wide living room of rancher and poet Eli Singer outside of Jordan, Montana, in his latest book.

In Jones' new novel, A Bloom of Bones (IG Publishing, $16.95), Chloe, a 28-year-old literary agent from New York, arrives in Jordan, with its two bars, five churches, six aisles in the grocery store, and dry, brown landscape, seven years into a 12-year drought. From that moment, you already know that there are dark secrets at the center of the story that unfolds after her arrival on the scene. Chloe's self-absorption is exposed through her inner dialogue, and this serves as a useful device in defining just one of the many perspectives that Jones uses to shape this mystery-filled novel. While it turns out to be just a coincidence that she's there when the headline of the Billings Gazette announces, "Body Found on Poet's Land," she becomes at once an integral part of the story, and an outsider with an outsider's perspective on the events to come.

Jones explores the story of a murder and subsequent investigations within the context of outsiders and their interactions with the small-town world of grudges, grievances, and gossip. When the poet, Singer, points out to his young visitor that he's still "from Billings" even though he's lived on the ranch since he was 12, Jones divulges a truth about small towns beyond the number of residents or institutions. Everyone who is truly from the area assumes they know who was responsible for the bones with a clear bullet wound that eroded out of the cliffside. And they have strong opinions about the deceased and the murder suspects. When it turns out that a local son-of-a-bitch didn't just run out on his estranged wife and kids 30 years prior, as some assumed, no one asks why he was killed, and most barely even question who did it. But for those involved in the center of the mystery, the discovery is a life-altering event.

While this book is a mystery, Jones pokes holes in the tropes of the genre. He introduces readers to the murder victim, and one of the men who seems to be responsible, in the prologue of the book, then shifts through the perspectives of the murderers, and the rancher-poet Singer. He uses flashbacks to relate scenes from the poet's youth on what is now his ranch. He manages to let you know just enough to keep you wondering, before making the big reveal.

There is a spark between the young literary visitor from New York and the 50-something Singer, which walks right up to the edge of stereotype and then skitters away as he allows both their turn with the narrative. The drama that unfolds through the internal monologues of the characters keeps you guessing until the secret comes out. Even then, there's no tidy ending, but you are left with a mature understanding that life is messy and complicated, and it doesn't follow a straight set of clues from start to finish.

Mysteries are at the heart of Montana writer Jamie Ford's new novel Love and Other Consolation Prizes (Ballantine, $28). As he did in The Hotel on the Corner of Bitter and Sweet, Ford explores the experiences of Asian Americans, choosing this time the world of early 20th century Seattle at the time of the city's first world's fair in 1909. The ways in which the fair changed the life of a young half-Chinese orphan boy and shaped a family's future come to light more than 50 years later during the 1962 Century 21 Exposition, when a journalist investigates her father's past and uncovers hitherto unsuspected truths about her mother.

Based on an incident that actually happened during the 1909 fair, Ford's book tells the story of a boy who is rejected in China because his father is white, pulled away from his mother, and then undertakes a harrowing boat journey to the New World. He lives off the charity of well-meaning but narrow-minded and misguided patrons. At first, the boy sees the fair as a chance to see Ferris wheels and exotic exhibits. It's a thrill and a treat. However, for the 12-year-old now known as Ernest Young, his next great life-changing event is — horrifyingly — part of the spectacle. He is raffled off, advertised as "a healthy boy to a good home."

The tale of Ernest's adoption as coachman into a brothel owned by a famous and eccentric madam — who is known for educating her girls, and for the fantastic parties she throws for Seattle's political elite — is both fantastical and filled with ringing truths. The friendships he makes there among the other employees and the owner's daughter, is at once laugh-out-loud entertaining and heartbreakingly poignant. There is a richness of detail in the descriptions of the business, the neighborhood, and the hypocrisy rife in the social mores of the time that creates a whole world for the reader to explore. And Ernest's success and freedom in his new life (until the owner of the brothel succumbs to illness contracted in her work and the carefully orchestrated world of the brothel comes crumbling down) is extraordinarily heartwarming.

The shifting timelines between the "present" of the book — the 1962 fair — and the original fair  create the mystery in the book. Ernest's wife's failing health and compromised memory add to the suspense. When the stories of the infamous 1909 raffle at the fair come out as part of the promotion and publicity around the Century 21 Expo, Ernest's journalist daughter becomes determined to uncover the story — and she wants more than her father is willing or able to give at first. Ernest's wife's fragile mental health adds to his struggles as he decides what to share and what to conceal about the past. As all of the secrets are exposed, so is half-a-century of love, respect, and a world of interconnected relationships all set against the backdrop of a city on the cusp of change and the spectacle of a great world's fair.
OF NOTE:
Ballet at the Moose Lodge: Stories by Caroline Patterson (Drumlummon Institute, $17.95) is a collection of prose explorations of what it means to be a woman in the West. Patterson's stories take you from Alaska to Montana's Bitterroot Valley through the decades of the 20th century, and introduce backpackers, homemakers, teachers, and dancers — all women navigating the balancing act of life. Patterson often chooses to relate the women's stories through the eyes of observers. In the story "Wedlock," for instance, we encounter the young cousin of an unwed mother who initially views girls through her mother's lens, labeling them "good girls" or "bad," but then slowly understands that they're all just making choices and decisions. The narrator of another story, who is selling the lakefront house she's been left and wants her real estate license, is both the main character in her own tale as well as a conduit for examining the life of the wealthy client to whom she's offering the property. Details of radio programs and medical treatments and ranch life put you in times and places where you meet the women who shaped the world around you. The constructs of the short story make this a book you can dip into and enjoy at any point.
Painter, sculptor, and rancher Theodore Waddell's abstract expressionist landscapes, mixed media, stainless steel reliefs, and three-dimensional works are the subject of Rick Newby's Theodore Waddell: My Montana — Paintings and Sculpture, 1959 – 2016 (Drumlummon Institute, $29.95 in paperback, $45 in hardcover). Context and contrast bring the Montana artist's work and life into focus. Waddell's impressions of cattle, horses, bison, and iconic Western scenery are featured extensively in the book, but the septuagenarian's life is given richness and color through its juxtaposition to works by Thomas Moran, Charles M. Russell, and Diego de Velázquez. Drawing on Waddell's letters and journals, and using family photos, Newby reveals the story of Waddell's life and traces his influences, including his mentor Isabelle Johnson. Interspersed throughout the volume are essays celebrating his work, written by Montanans who have known and appreciated Waddell. Contributions include pieces by the former U.S. Rep. Pat Williams, Robyn Peterson, Bob Durden, Gordon McConnell, Mark Browning, Donna Forbes, Greg Keeler, Patrick Zentz, Scott McMillion, William Hjortsberg, Paul Zarzyski, and Brian Petersen.
Wonderlandscape: Yellowstone National Park and the Evolution of an American Cultural Icon by John Clayton (Pegasus Books, $27.95) offers new and interesting perspectives on more than 150 years of human interpretations of the world's first national park. Clayton posits that the artists, naturalists, entrepreneurs, politicians, and other colorful characters who have commented on and interacted with the scenic beauty, wildlife, and geographic oddities of Yellowstone have all shaped our idea of the park, and that their interpretations are reflective of personal biases and the eras in which they lived. The book includes more than 35 archival and color images that underline Clayton's thesis. From Thomas Moran's glorious interpretations of the colors of the canyons, to the lighthearted Yogi Bear, to the architecture of the Old Faithful Inn and its influences on parkitechture nationwide, Clayton uses entertaining anecdotes, thorough research, and vivid storytelling to emphasize the ways imagery and language have been used to shape our impressions of Wonderland.
Ralph Beer's new book, Afternoon Light (Casey Peak Press, $14.95), is a memoir that reads like fiction, even while it treads over fairly well-worn ground. The story of Beer's life is part of Montana literary legend. His Vietnam War-era flight north to Canada with Sheila Malone is a quintessentially American story of loss, starting over, and redemption. Beer, who is a gifted, award-winning novelist and former contributing editor of Harper's Magazine, wields his words with a soft nostalgia and sharp accuracy that brings the early 1970s and the dreams of two foolhardy kids to life. This tale of leaving home and family behind, driving north in an El Camino, staking out a placer claim, and building a cabin is riddled with sharply rendered details, such as the time they went shopping in the one supermarket in St. George, Alberta, for peanut butter and sardines, and how pine pitch found its way into blisters when Beer wielded an unfamiliar ax. And it's full of self-doubt, youth, love, and literature. Fans of Beer's other work will find much to uncover and discover. Newcomers will want to revisit his earlier books.
North of Crazy, by Wyoming abstract impressionist painter Neltje (St. Martin's Press, $25.99), is a traditional memoir: the story of a life lived and roads taken. And Neltje's story is one worth recording. Born into wealth, privilege, and glamour in New York, Neltje (the daughter of publishing magnate Nelson Doubleday) attended private schools, hobnobbed with the great artists and writers of the era, and took her place as a society doyenne. But hers was not an easy or happy childhood. There were dark secrets and heartbreaking abuses underneath the gilding. Still, her adult life initially did follow the path expected of her, including a conventional marriage. Then came a divorce, after which she struck out with her children for rural Wyoming. Today she lives by the Little North Fork of Crazy Woman Creek, where she hikes with her dogs and feels all the luck of her life around her, working on her art in the ever-changing light. This is not an easy story to read nor was it likely an easy story to write, but through its revelations there still is hope.