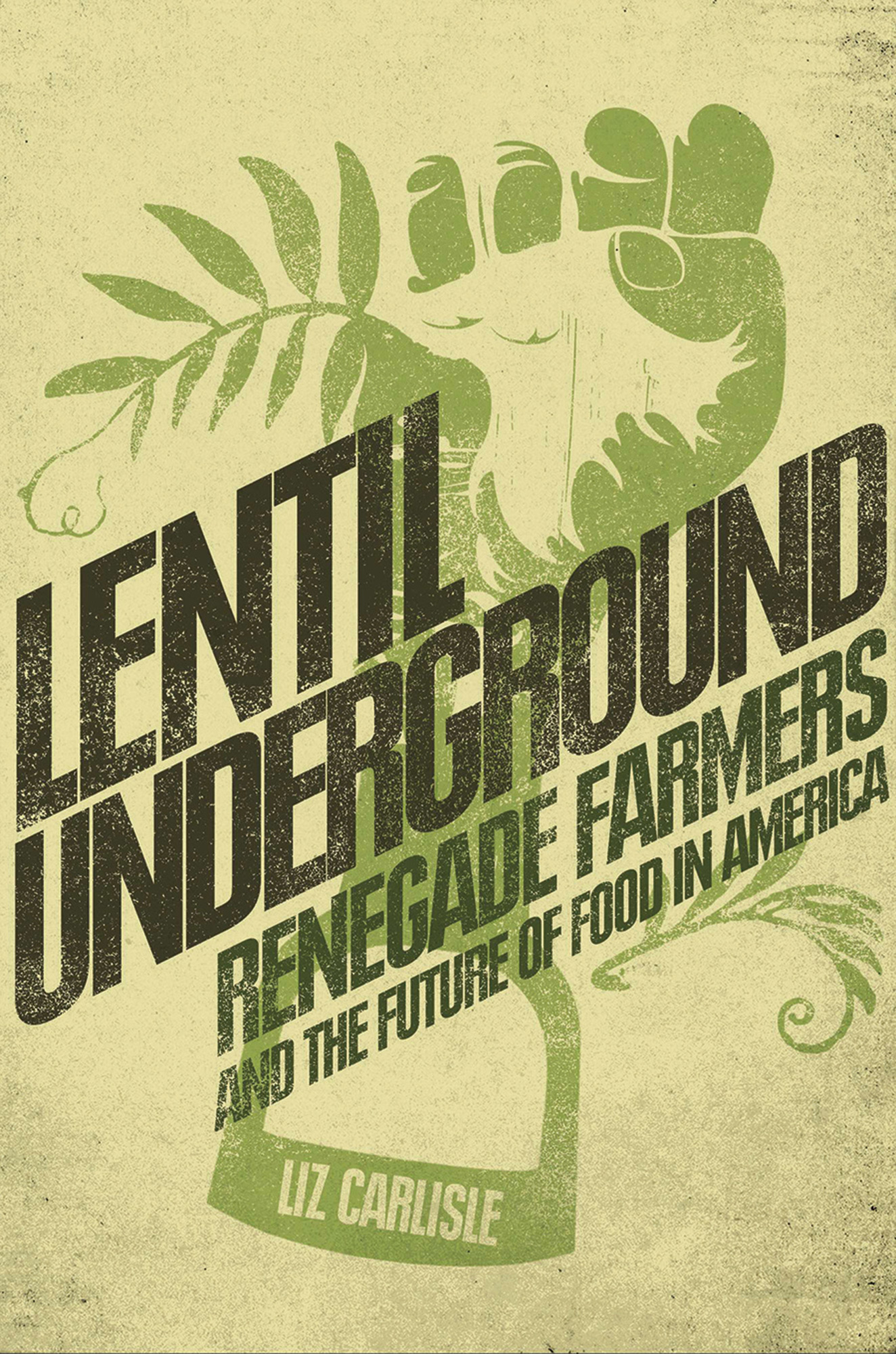 08 Jun

Books: Reading the West

in
---
Lentil Underground (Gotham Books, $26.95) is an entertaining, moving and thought-provoking portrayal of a group of renegade farmers and ranchers in Montana who, for the past 40 years, have been ridding their land of synthetic fertilizers and pesticides, turning instead to crop rotation and alternative crops in a revolutionary return to sustainable agricultural practices. Author Liz Carlisle, who is now a doctoral candidate at the University of California in Berkeley, found herself in the middle of this story while working as a legislative correspondent for agriculture and natural resources in the Sen. Jon Tester's office. She was fascinated by the story of Dave Oien's struggle to save his family farm in the 1980s, and the resulting transformation that his evolution has had on 21st century farming.
Carlisle's character-driven portraits start with Oien's search for a new way to farm. He wanted to plant a crop that would be less reliant on synthetics and chemicals, and for which he could find a market outside of Montana. His quest, in the midst of the 1980s drought years and national farm crisis, is deserving of her fascination and not just a little inspirational. Who would have thought it would take a family farmer near Conrad, Montana, to buck the conventional wisdom? Oien resisted the notion that wheat and barley were the only crops that could be commercially grown in Montana. He began planting lentils.
The story behind this story, however, is that Oien's quest to build the company now known as Timeless Seeds grew out of a larger movement for sustainable agriculture. He was part of a small but growing group of farmers who felt stonewalled by the list of tried-and-true "sustainable" options suggested by extension agents at Montana State University, and were begging for help in building a program that would explore the benefits of more ecological farming.
Then Jim Sims, a scientist at MSU, presented the results of his 22 years of research into crop rotation and self-fertilizing plants in front of a small group in Lewistown, Montana, in December 1988. It was the moment those farmers had been waiting for. Sims believed it would take decades to change farming practices and ruefully stated, "Farmers don't just try something on the recommendation of the guy from the University."
And that's what makes this book — which touches on issues of healthcare, government, economics (the second and third jobs held by farming families as they try to hold on to farms while keeping food affordable), the family dynamics of farming, the politics of food production, and the vagaries of big business — such an important read for the 21st century.
Carlisle covers this quiet decades-long revolution by composing portraits of the community that makes up the Lentil Underground. She includes the gun-rights libertarian, the Red-Ants-Pants-wearing farmer/metrosexual, and the family homeschooling their six kids. She constantly reminds us in beautiful and subtle ways to look beyond the stereotypes evoked by the eastern Montana pesticide-spraying farmer and the religious-studies-major hippie types, who might otherwise be set on a collision course in a story about change of this magnitude. Instead, they are portrayed as neighbors with commonality. Carlisle's analysis of Sims' approach to more sustainable agriculture, which was already being tested on the ground by Timeless Seeds producers, is a perfect metaphor: "… soil fertility was also a matter of biology. Soil was alive. Or at least it once had been. By now, industrial agriculture had systematically killed off much of the diverse community of microorganisms in the living fraction of the soil — soil organic matter — which was just as essential to crop health as N, P, or K. To restore the fertility of their land, farmers would need to bring this community back."
And that's what they did. But it was much more than the organic components of soil that came together. What this book demonstrates is that we're all in this together, hopefully for the long haul.
---
Prolific author Jim Harrison brings back retired Michigan State Police Detective Sunderson in The Big Seven (Grove Press, $26.00) his second "faux mystery" that demonstrates why the word "great" should be used in any discussion of Harrison's qualifications as an American writer. Sunderson has purchased a cabin in the woods with the intention of getting some serious fishing accomplished. His neighbors are the Ames family, a clan with enough sordid misbehavior among them to keep any investigator and a pack of psychologists busy for years.
Sunderson ostensibly is spending time at the cabin (purchased with ill-gotten gains from a bribery scam), recovering from breaking his back during a trip to New York to try to find and bring home his runaway adopted daughter. His plan is to cut back on drinking and do a lot more fishing. He hires one of the Ames girls, Lily, to clean the cabin. After she's killed in what amounts to a shootout with her brother Tom, he finds himself pulled into their tangled web. When he hires her sister Monica to pick up where Lily left off, Sunderson discovers a startling extent of abuse in these women's lives. Shortly after the shootout, Tom and two more of the Ames men are poisoned; Sunderson suspects a woman's hand. Local law enforcement is too intimidated to take the Ames family on. To complicate matters, the strange and mysterious Lemuel Ames opts to make a friend of Sunderson, asking him for advice on his "crime novel," blurring the lines between reality and fiction.
There's something endearing about the way Sunderson bumbles through his investigation of the Ames family. At the same time he, examines his own life and his complicit indulgences in the "seven deadly sins." As a narrator of events, Harrison's character gives the impression of being completely reliable, the sort who would admit to his own less-than-savory behavior while hiding that of his neighbors'. Sunderson's earnest exploration of his own character — his analysis of how he embodies wrath, greed, and all the rest — comes off as honest. Harrison paints a portrait of these characters and their small world in the Upper Peninsula with strokes that give broad impressions of a dreamlike state, providing a contrast with the more solid and rational world inhabited by Sunderson's ex-wife. The solution to the mystery is less important than the exploration of the gray areas behind the mystery. Overall, it's another masterful, entertaining and thought-provoking book full of flawed and engaging characters.
---
On a train trip to her family home in eastern Montana on the Hi-Line, taking a breather at one of the stops between San Francisco and the family ranch, Riley, the lost-girl protagonist of Marian Palaia's wonderful debut novel, lies back on a picnic table, "realizing that I have not looked at the sky, yet — that famous Montana one; the one they brag on in all the brochures. I know that they've also taken to talking about the state as the 'Last, Best Place,' whatever that means."
The Given World (Simon and Schuster, $25) is the story of a young woman who has a highly romanticized view of her perfect rural childhood, but who has been deeply wounded by the loss of her beloved older brother in Vietnam, the poverty and despair of both rural life and city life, the drug-fueled excesses and national lurching from crisis to crisis of the 1970s and 1980s, and by the emotional abandonment she feels from her parents, particularly her mother. What The Given World is not is a story about how going home and returning to those big, beautiful skies will redeem Riley and end her ambivalence about life and her quest for redemption.
From the dirty playground where she meets a boy while she's high on mescaline to the grim realities of her parents' efforts on their ranch, Riley's view of her home after losing her brother has the flavor of the first 10 minutes of The Wizard of Oz. It's a bleak world and her place in it is characterized by risky behavior, and etched in her memories of her possessive grasp on her older brother. While she can't seem to shake off the bleakness as she makes her way from Missoula to San Francisco, to Saigon and back, there are beautiful moments of grace amid the squalor of her life and there is still something fervently hopeful about her. As she heads west, away from home and away from her responsibilities, she embarks on her quest first to find her brother and then to find a way to live with herself.
Palaia's The Given World as seen through Riley's eyes is both crushingly familiar and remarkably fresh. The tragedies of everyday life are highlighted by some of the most critical and defining events of the '70s and '80s, from Vietnam to the AIDS crisis, and Riley's views of the people and places she lurches between could easily have been weighed down by the circumstances she leaves behind in Montana. Instead, though the characters who come along on her personal journey are all broken in some way, they make a kind of new family for Riley. Her wry observations of them and interactions with them highlight her vulnerabilities, when she's not turning her laser beam vision on herself. But it's her interactions with the world around her — outside of her home in Montana — that put her on a trajectory toward adulthood that allows her to return to Montana fully formed. In spite of her desire to experience life at home as it was before her brother's death, when the illusions of childhood still held, she isn't going back so that home can save her or because it is the "Last, Best Place" for her. She's going home because she's figured out how to save herself and can finally face the realities that await her. There's no heart-wrenching or tidy conclusion to her story. People die, people are rediscovered, relationships are rebuilt, tentative steps are taken toward reconciliation, and in the end, Riley realizes what she wants, and it's not that simple. This is a great Montana novel, but also a story that reaches far beyond its borders.
---
Boxer Marvin Camel's life story is the stuff Hollywood movies are made of. Helena author Brian D'Ambrosio's new biography of the Native American world champion boxer, Warrior in the Ring (Riverbend, $29.95) will keep readers turning the pages as they discover the story behind one of Montana's greatest athletes, a charismatic and complex man who proudly represented his state and his people.
Born on the Flathead Reservation to a Native American mother and African American father, Camel's physical talents became obvious early in his life — and point to a path that could take him away from the poverty and isolation and racism that shape his childhood. D'Ambrosio looks at Camel's early life, the departure of his father, and the place the Camel children had as mixed-race residents on the reservation. He examines the constructs of identity and takes them as a starting point for his story, built from years of interviews with Camel, his friends and family, and members of the boxing community.
Twice crowned world champion in the cruiserweight division, Camel proudly appeared in his eagle-feather headdress to represent his state and his mother's people when he boxed. D'Ambrosio makes the point that Camel's Montana heritage influenced his story — and perhaps his tenacity — as much as anything else. In reflecting on his career and marveling at what takes a young boy from Montana and makes him a world champion, Camel said of himself, "The hills and fresh air of Montana made Marvin Camel."
But Camel's story isn't just a feel-good, "boy from a small state and a rough background makes good" tale. The trajectory of Camel's career brought him into contact with some of the greatest names in the sport — and with some of the biggest conmen and villains trying to make money off the drama and danger. D'Ambrosio doesn't flinch away from the ugliness of life on the reservation as a mixed blood, the brutality of life in the boxing ring, or disillusionment about life after a career has slipped away. Nor does the story end with regret. Camel now lives with his second wife in Florida where he works in landscaping. But he will live on forever in the lore and history of Montana.
---
OF NOTE: Books, Music, Movies & More
---
Undiscovered Country: Dispatches from the American West (The Frontier Project, $14.95) brings together portraits of more than two dozen artisans, craftsmen, organizations, musicians and businesses that define and shape the modern West. Collected from the published work of writer and photographer A.J. Mangum, these essays deepen our appreciation of contemporary cowboy culture and values, while revealing the resilience of the independent and ambitious streak that drove 19th-century pioneers and settlers West in the first place (traits that clearly haven't disappeared from the landscape). But there are still surprises to be found in these portraits, accompanied by evocative black-and-white photography. In Robert Raber's Oklahoma saddle shop, we meet an Amish leatherworker who followed his fascination with the American West into a career that combines his heritage with his passions, turning them into functional art. On the Las Madres Ranch in New Mexico, the Riggins family struggles to find balance between the burdens of their horse-and-cattle operation and the demands of the local high school sports seasons. At Wyoming's T Cross Ranch, painter Jim Rey finds the same inspiration in working cowboys as his Western art antecedents, using paint strokes to convey what he calls the "ambience of the West." Mangum's approach to these documentaries and essays isn't romanticized. His work reflects the more than 20 years he spent discovering the stories that comprise this authentic portrait of a vibrant community, stretching across the West, tied together by respect for the past and a view of the future.
Montana's state parks sometimes feel overshadowed by the two premier national parks in the state's backyard, but Erin Madison and Kristen Inbody's Complete Guide and Travel Companion Montana State Parks (Riverbend and Great Falls Tribune, $19.95) demonstrates comprehensively that these diverse and natural areas and historic sites are rightfully treasured by the thousands of visitors who camp, hike, fish and explore them every year. Madison and Inbody bring together the most thorough and up-to-date information about recreational opportunities and facilities in all of Montana's state parks, including stories gleaned from park managers, historians and visitors. The interviews add a human face to areas defined by their natural beauty, ecological importance, and their historical significance. While this is a guidebook — attractively packaged and perfectly sized for travel — it has timeless appeal in its celebration of these special places. Featuring a foreword by Gov. Steve Bullock and an essay on the Smith River by novelist Maile Meloy, this book, which was created to honor the 75th anniversary of the state park system, feels somehow both long overdue and like an instant classic that will be on the shelves and in the glove compartments and consoles of Montana residents' cars and trucks for years to come.
The lyrics to a famous song about a particular weekend night in Livingston, Montana, may immediately play in your head when you open Carla G. Williams' Livingston Roundup Rodeo, part of Arcadia Publishing's Images of America series ($21.99). Featuring archival and historic photos, posters and essays commemorating the event from its start in 1926 into the 21st century, this book offers documentary evidence for and explanations of the fun tradition that draws more than 5,000 spectators each night from July 2 to July 4 every year when the roundup is rockin' and rollin'. These pages feature the images of rough-stock riders, rodeo queens, trick riders and barrel racers, along with the people who come out to watch and cheer them on. This is the kind of book that captures the experience and will be treasured by locals and rodeo fans from all over the world for its depiction of an iconic Western experience.
On the Water: A Fishing Memoir (Lyons Press, $25.95) is Guy de la Valdene's look back at his life of adventure in the outdoors from Normandy to the Florida Keys. In many ways a companion to his essays/memoir on hunting, The Fragrance of Grass, these stories of big game fishing in the Caribbean and fly fishing on small streams are also stories about the cycles of flood and drought and the experience of growing older. De la Valdene's writing has inspired generations, and this is a fitting midstream review of a fishing life.
These Living Songs: Ready Montana Poetry, edited by Lisa D. Simon and Brady Harrison, brings together 20 essays on the vast and varied poets and poetry that makes up part of the cultural mat that covers Montana and which is woven from the humanities and political science and even outdoor pursuits that make up the character of the state. These essays cover contemporary poets and subjects, as well as a historical overview, featuring names well-known and deserving of more attention. Cowboy poets get their due alongside Native American voices and the "great names" like Richard Hugo, and familiar themes are highlighted and insights are offered into different ways of looking at those themes. This is a very readable and interesting collection that becomes an advocate for Montana voices in poetry both through the introduction and reintroduction of the poets featured and through the very practical suggestions made for readers, teachers and humanities advocates to help increase readers' exposure to poetry.