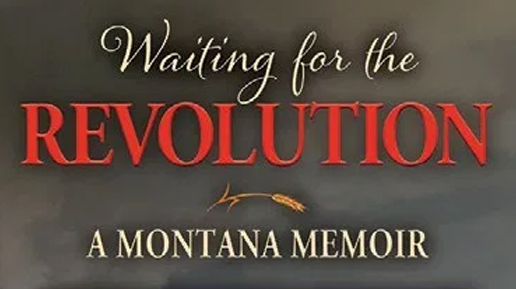 02 Jun

Books: Reading the West

in

"To write a meaningful memoir, I have been told, you must have interesting people living in interesting times," writes Jo Anne Salisbury Troxel in Waiting for the Revolution: A Montana Memoir (Sweetgrass Books, $17.95). By recounting the lives of her parents, Troxel — a distinguished writer and vivid storyteller — has assembled just the right ingredients for such a memoir. But she pushes beyond that formula to paint a portrait of an extraordinary and little-known slice of Eastern Montana history during its nascent existence in the homesteading era. She uses a wider lens to describe what life was like in rural, populist America, and how the world was changing in the first decades of the 20th century.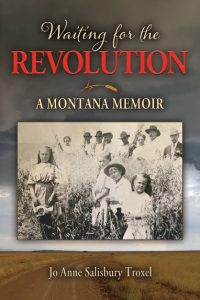 Troxel, who grew up on the Flathead Reservation in Arlee, Montana, is a Bozeman-based writer and a renowned educator who taught English and creative writing throughout the state, but most significantly spending a 23-year tenure at Bozeman High School. Through Troxel's recounting of her mother's memories in this new book, readers can trace the influences that led to her vocation. And from the stories of her parents' social activism — her father was known as the communist sheriff of Plentywood — it becomes clear how and why she was steered toward a life that was dedicated to community service, progressive ideals, and the promotion of the arts.
Troxel's parents, Marie Chapman Hansen and Rodney Salisbury, created a world where family members all existed in the same small sphere but also distanced themselves from each other due to suspicion, fear, and anger. Troxel doesn't shrink away from these stories, which contain both darkness and light. Instead, she offers a retrospective gaze that is relevant and moving, going beyond just the story of a family and diving into a deeper realm, one that depicts how Montana shaped this family and how they, in turn, shaped the history of the state.
Willa's Grove (Blackstone Publishing, $26.99) is a novel by Montana author Laura Munson. In it, she tells the story of the idyllic town of Willa, Montana, which has been put up for sale by its recently widowed owner. In response, unhappy locals — most of whom have generations of history tied to the area — post signs on trees outside of town saying, "Please don't buy us." As the locals express their despair over losing the place where their roots are planted, it becomes clear that only the town's owner, the eponymous Willa who founded the community with her late husband Jack, understands that this seemingly idyllic town also has many faults.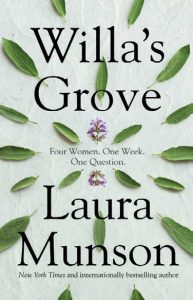 While Willa grieves the loss of Jack, she is also dealing with the fact that her sons recently left for college in California, her beloved saddle horse and mules have been sold off, the family dog has died, and her financial situation is bleak. Distraught about leaving and unsure of her future, she invites three old friends from out of town — women who also happen to be searching for "what's next" — to spend a week with her in order to figure out their next steps. The women — Bliss, Harriet, and Jane — and their personal stories are portrayed with authenticity and poignancy, providing a contrast to the tale of Willa and Jack.
Willa is blunt about her situation with these friends in a way that she can't be with the townspeople. "The long and short of it is, like most things in Montana, it comes down to money," she says, knowing that she's been hiding her financial troubles from others.
Willa's fear of burdening people keeps her from explaining her true situation to local friends and neighbors, and because she won't talk about her crisis, she's heartbroken by being misunderstood. The irony, she discovers, is that she just might find understanding and assistance if she'd only ask. While this story is fiction, the well-thought-out details of place and personality, and the surprising ending, leaves the reader with a sense of authenticity.
Eden Mine (Farrar, Strauss and Giroux, $27), a new novel by S.M. Hulse, revolves around the story of the dying town of Prospect, Montana, and the ranch house that characters Jo Farber and her brother Samuel are about to lose due to eminent domain. This modern Western tale, like Hulse's previous award-winning book Black River, gets its momentum from the richly imagined and beautifully written narrative of Jo, the protagonist, as the twisted plot propels her story and turns her life upside-down. Jo was hit by a stray bullet at age 9, when an ex-boyfriend shot and killed her mother. As a young woman with a disability, she continues to ride her mule named Lockjaw, work at the local convenience store, and make a reputation for herself as a talented landscape painter.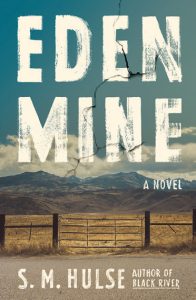 In the aftermath of a domestic terror attack in a nearby town, Jo is forced to come to terms with her brother Samuel's involvement and her longtime idealization of him. As a teenager, Samuel was Jo's primary caregiver after their mother's death, and she ignored his radical, militant, and racist behavior in the years that followed.
The beauty of the Montana landscapes that Jo paints and sells in the failing convenience store offers an apt metaphor for her relationship with Samuel. Jo says, "I am good at painting what people want to see, good at rendering this corner of the West the way visitors and residents alike often expect or wish it to be. My brushstrokes are sweeping, my hues vibrant. The elk and deer who populate my paintings are never mangy or scarred, the cabins always sturdy and lit warmly from within, the mountains unscathed by mines, and on the rare occasions winter descends upon my scenes, there's always a fire crackling in a corner of the canvas."
A book about both a woman and a town in crisis, Eden Mine is also about faith, perseverance, forgiveness, and a quest for finding truth.