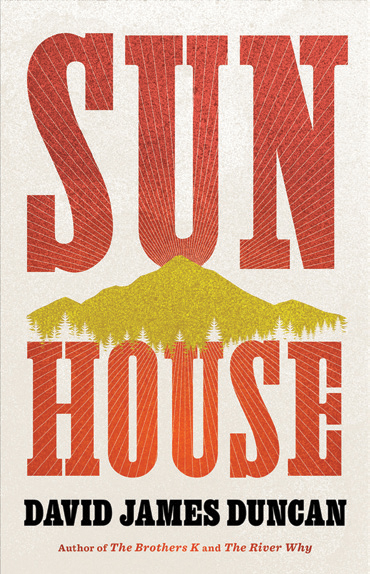 29 Sep

Books: Reading the West

in

To call Sun House (Little, Brown, and Company, $35), by David James Duncan, a novel is akin to calling the sun a decent-sized campfire. This book, coming in at nearly 800 pages, commands attention. But the caliber of writing, at any length, would cause the reader to utter words like "epic," "classic," and "magnum opus."

In Jimmy Watts' profile of Duncan in the Fly Fishing 2023 issue of Big Sky Journal ("The Hearth Light and Fire of David James Duncan"), Duncan says, "I tried to stick to a more practical length, but the state of a world in which problems are no longer political but epic, overwhelming, mythical, left me pining to pen an epic in what the praise poet Anne Porter called 'an altogether different language.' … I wanted this read to feel like walking El Camino in Spain, or the Pacific Crest Trail, or taking a month-long spiritual retreat in a place far from the nearest asphalt and fumes."

There is the feeling of taking a great journey in reading this book, accurately compared to the 500-mile trek of El Camino de Santiago, though the trip isn't just measured in distance (or pages), but also in spiritual and psychological progress. Many of the chapters could be excerpted and published alone as philosophical or theological treatises. As such, they could appropriately stand alongside those by Merton, Buber, Watts, or Dillard.

But beyond — or perhaps, in part, because of — all this high-brow rumination, reading this book is to fall in love with its myriad characters as they move through their own versions of walking a spiritual path. It's a rare novel that can hold up under the sheer weight of so many fully drawn and endlessly fascinating characters. Sun House doesn't just hold the weight, it floats and even soars with it. It proves a great joy to live for a time with these people — some brilliant, some bizarre, some angry, some attractive, some repelling, and every last one captivatingly authentic.

Duncan could have easily stopped after any one of his earlier books, say The River Why or The Brothers K, and his legacy as a vital contemporary American writer would have been cemented. But with this effort, he rises to a new level, and the qualifiers "contemporary" and "American" can safely be removed from that description: David James Duncan is a vital addition to the full breadth of the world's literature, now and ever.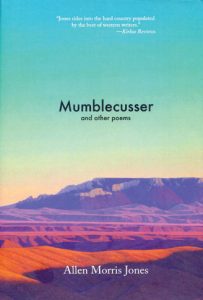 In his debut collection of poetry, Mumblecusser (Drumlummon, $28), novelist Allen Morris Jones reveals himself as a master of the subtle. His ability to discover the extraordinary within the ordinary — the profound within the profane — yet never be tempted to stray into hyperbole, is reminiscent of past pillars of Western poetry: Jim Harrison and Richard Hugo. Jones shares their deep-seeing eyes and deep-feeling souls, their ever-present grounding to this simple and fathomless world, obvious in poems like "Dog Star," where he replaces the constellation Leo with Henry, his old black Lab, and the Pleiades with his four-fingered grandfather. He reimagines the Chinese Year of the Rat as the year of "mortgage payments and construction paper… the year of standing in the backyard waiting for the dog to pee." But standing there beneath the night sky, his song swells to, "Staring up at the emerging stars / and thinking helplessly, again and again, they go on forever. / They just go on forever."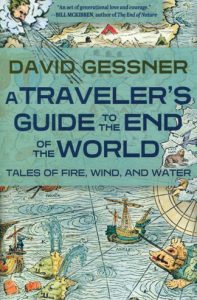 In the world of compelling road trip companions, David Gessner might be right up there with the best of them. Traveling with him — through the pages of his newest book — is a journey we'll not soon forget. A Traveler's Guide to the End of the World: Tales of Fire, Wind, and Water (Torrey House Press, $21.95) takes us there, but not necessarily back again, as Gessner crisscrosses the country to stare unflinchingly into the growing reality of climate-driven fire, flood, and storm. He's on the front lines and in the immediate aftermath of the weather disasters that are becoming all too common. And though he never pulls any punches in relating his findings, he still finds hope. He details the bright spots found at the end of the world and makes us realize that — if we keep fighting — the end just might be a new beginning.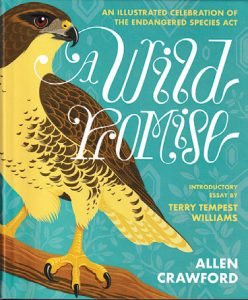 The 50th anniversary of one of our nation's most visionary laws gets a fitting tribute with Allen Crawford and Terry Tempest Williams' A Wild Promise: An Illustrated Celebration of the Endangered Species Act (Tin House, $35). Crawford's colorful depictions of numerous protected species leap from text-filled backgrounds as if demanding to be seen, remembered, and fought for, while informational blocks bring us up to speed on the status of these creatures. The introductory essay by Williams, an acclaimed author and activist, could stand alone as an important testament to our responsibility in working for a sustainable world, rich in biodiversity and healthy environments. But combined with Crawford's art — reminiscent of WPA and protest posters of the 1930s and '40s and with as much passion for a cause — A Wild Promise rises to being a clarion call as essential as the animals it celebrates.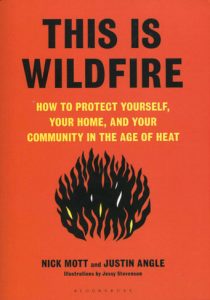 Nick Mott and Justin Angle present something of a biography of fire in This is Wildfire: How to Protect Yourself, Your Home, and Your Community in the Age of Heat (Bloomsbury, $27.99). With historic scope and detailed snapshots, the authors follow our dependence on and fear of the constructive and destructive power of one of nature's most life-altering implements — either a tool or weapon depending on one's point of view. The book is exceedingly readable, vastly informative, and — considering the sweeping range of its subject — manages to hold our focus to a force so often wildly beyond our control. In these days of undeniable warming, fire is becoming, especially in the West, a constant companion. Mott and Angle have provided a worthy manual to help see us through.
Marc Beaudin is a poet, theater artist, and bookseller based in Livingston, Montana. He has contributed to numerous publications, written two books — Life List: Poems and Vagabond Song: Neo-Haibun from the Peregrine Journals — and his work has been included in anthologies dedicated to environmental and social justice.