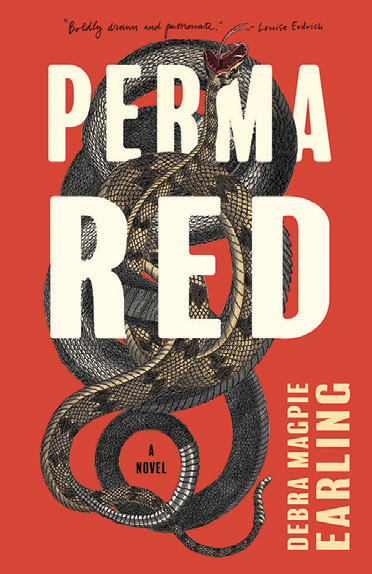 28 Sep

Books: Reading the West

in

Perma, Montana doesn't have a Wikipedia page. That's how tiny and insignificant the world-at-large considers this spot on the Flathead River, 30-some miles as the raven — or in this case, the magpie — flies, south of Niarada, population 27, also just as unknown to all but the locals. But in the world of Western and Indigenous literature, Perma stands larger-than-life — a Flathead Yoknapatawpha, a mountain Macondo — thanks to Debra Magpie Earling's stunningly elegiac novel, Perma Red (Milkweed Editions, $18).

Originally published 20 years ago by Blue Hen Books, and for far too long out of print, Perma Red is such a powerful and heart-rending story that fans have been begging for a reprint for years. Finally, this new edition by Milkweed, a publisher of many of our latest favorite poetry and fiction collections, not only satisfies that yearning, but exceeds expectations with compelling new cover art by Milkweed's creative director, Mary Austin Speaker. The entangled rattlesnakes on a striking red background not only hint at key moments in the plot, but also serve as an apt metaphor for the entanglement of the desperate lives struggling within these pages.

The tale of Louise White Elk is one that many women will, unfortunately, find all too familiar, especially those born into poverty and the painfully common abuses heaped upon racial minorities — in this case, Native Americans — living in this land of promised, yet undelivered, equality. Her entire existence is one of battling to free herself from the men who seek to possess her, and the institutions that try to control her. Louise's perseverance against all odds raises her to the status of heroine, though — as with the heroes and heroines of the best literature — she is a tragic heroine, and hers is seldom a happy tale.

Louise's story is unforgettable, but this novel is not a single portrait. Episodes shift like Western winds, from Louise to the violent and pathos-

ridden Baptiste Yellow Knife, to the love-struck and faltering Charlie Kicking Woman, to the quiet cowboy Jules Bart, to the flamboyant and wealthy outsider Harvey Stoner. These characters are a writhing of snakes, each of whom is drawn to the powerful beauty and compelling despair of Louise. They don't merely get under your skin; they get into your bones. They take up residency there and begin to induce an utterly new and completely familiar blood into your system — something akin to a welcome venom.

This is a novel that changes your body chemistry.

Yet, it's also a book of transcendent poetry, where the physical world becomes a main character. When Earling writes, "The moon was rosy, ruddy, and peculiar, bleeding like a bar sign on a rainy night," she takes her place among the finest poets of the American West, or anywhere else for that matter.

There's pain within this poetry, and Earling never lies to us about life. The characters refuse to do what we wish them to do. The good guys aren't good enough and the bad guys provoke our compassion, against our better judgment. Happiness is mostly a fragile memory, and despair and death are always close. As Charlie Kicking Woman puts it, "We are all just ghosts waiting to happen."

What we're left with, finally, is life in all its brutal and bloody reality. And 20 years after its first appearance, Perma Red proves to be the exact story that women and the men who claim to love them — albeit violently, greedily, and clumsily — need to hear in our current snake-ridden world.
OF NOTE:
In Wilted Wings: A Hunter's Fight for Eagles (Riverfeet Press, $18), Mike McTee makes an impassioned plea, tempered by solid science, to put an end to the pervasive poisoning of eagles and other animals — as well as hunters and their children — through the widespread use of lead ammunition. He details numerous examples and studies that highlight this problem, as well as demonstrating the effectiveness and safety of the alternative copper ammunition. McTee argues his case with precision and clarity, but this slim volume is never bogged down by pedantry. Instead, the book — built of personal experiences in both hunting game animals and rehabilitating poisoned eagles — thrills like an adventure story, engages like a novel, and paints images like our finest nature writing. Yet, at its heart, Wilted Wings is an undeniable argument by a hunter, for hunters to once and for all stop the unnecessary destruction wrought by the use of lead.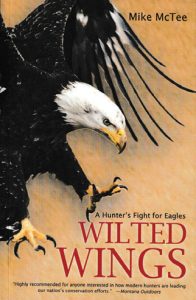 Paul Zarzyski is playing tricks on us in his latest collection of slight-of-hand poetry, Going It Alone (Bangtail Press, $19.95). On the surface of these neo-surreal, tangential, and feral poems, it may seem that he's merely riding yet another bucking bronc of language across the rodeo arena of his endlessly comic mind. However, to dig a little deeper is to find the thoughtful and necessary poetics of a man who has traversed the hard-scrabble trails of life and survived to tell the tale. One gets the sense that Zarzyski is asking himself the tough questions that come only after long decades of putting pen to paper, and in turn, the reader is left to grapple with these same questions. What a joy it is to grab the saddle horn and take the ride.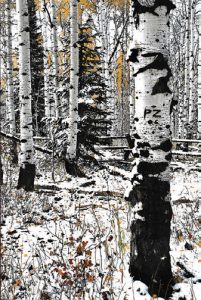 On a Benediction of Wind: Poems & Photographs (Chatwin Books, $18), a collaboration of poetry by Charles Finn and photography by Barbara Michelman, asks us to slow down, to turn off our devices — or better yet, to bury them in the welcoming earth — and remember how to fully look, to truly listen. Finn's short and quiet meditations on the magic of the natural world, the wisdom of the wild, and the perseverance of love meld harmonically with Michelman's rich and layered black-and-white photographs — neither dominating the music, nor dictating the subject of the other. Rather, they are in conversation, simultaneously inspiring and inspired by the other. Finn dances with language as adeptly as Michelman dances with light and shadow. At their best, they come together to form sublime moments of visual and literary affirmation.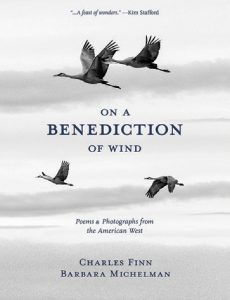 Marc Beaudin is a poet, theater artist, and bookseller based in Livingston, Montana. He has contributed to numerous publications, written two books — Life List: Poems and Vagabond Song: Neo-Haibun from the Peregrine Journals — and his work has been included in anthologies dedicated to environmental and social justice.