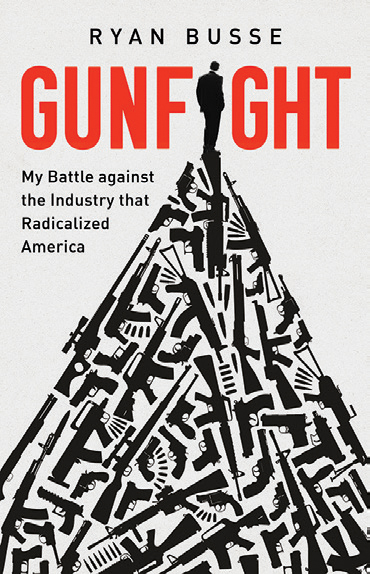 23 Nov

Books: Reading the West

in

Ryan Busse's memoir, Gun Fight: My Battle Against the Industry that Radicalized America (Public-Affairs, $29), provides an unflinching view into the modern gun industry. The origin of Busse's connection to gun culture is perhaps similar to that of many Americans: drawn from a family tradition of respect for the outdoors, a love of hunting, and admiration for finely crafted rifles.

The author fondly recalls his first gun, a Browning BL-22, as well as his father's lessons about safety and the seriousness of wielding a tool capable of taking a life. This upbringing led him to his dream job, selling millions of firearms for one of the most respected gun companies in the U.S. Under Busse's care, his company produced guns he could be proud of, the sort that "would never be found at a crime scene."

But that was then.

Busse's story becomes harrowing as the industry is pulled into extremism, and well-made hunting guns are replaced by cheaply made assault rifles and other "tactical" weapons that are endorsed by the National Rifle Association (NRA) and prized by white supremacist factions and radical militia groups. In the early days of this trend, the majority of manufacturers expressed disdain for these so-called "black guns," which — due to their use of plastics in place of fine hardwoods and steel — Busse and his compatriots termed "Tupperware."

But Busse details how, with each new school shooting or hint of legislation aimed at curbing gun violence, the NRA tightened its grip on gun companies, implementing an agenda based on fear, misinformation, and reactionary politics. Little by little, he found himself fighting against the industry he once championed.

Busse's story will challenge many readers, and enrage some as well, but the vehemence of this rage serves to prove his point: Too many people in our country have been pushed to such extreme positions that any utterance of an uncomfortable truth regarding what gun culture has become is often met with instant, harsh condemnation. And as the author convincingly argues, it's an uncomfortable truth we need to hear and heed.

In Daughter of the Morning Star (Viking, $28), Sheriff Walt Longmire is back with all the grit and thrills readers have come to expect from author Craig Johnson. The latest installment of this popular mystery series brings the Wyoming lawman to the Crow Reservation in southeast Montana to investigate death threats that were made against the tribal police chief's niece, Jaya Long.

Before going missing, Jaya was the standout on the Lame Deer Lady Stars high school basketball team and even better than her older sister, who was once their star player. In tight and agile prose that vividly conjures the stunning landscapes of Crow country, the novel carries the reader deep into a world of dark forces, both real and supernatural, as its characters unravel a mystery that people both on and off the reservation would stop at nothing to keep hidden.

Johnson balances a gripping tale of suspense with a call to awareness and action regarding the plague of missing and murdered Indigenous women. As he details in the acknowledgments, Native women are 10 times more likely to be murdered than those who are non-Native, and murder is the third leading cause of death for Indigenous women. Johnson deftly weaves these and other grim statistics into the story — including the rampant racism and poverty that Native Americans are confronted with — while simultaneously celebrating the strong communities and honored traditions that instill hope and perseverance.
OF NOTE:
Perhaps better known for his fiction, with novels like Hunger in America and Tom Conner's Gift, David Allen Cates proves he's equally adept at poetry with Valentine's Day in the Mummy Museum (Finishing Line Press, $19.99). With lively polyphonies, Cates' poems take on various themes, settings, characters, and memories, and spins them all into tightly locked structures. This collection shines with an inner light reminiscent of Jim Harrison's poetry, which the legendary writer referred to as his "heart's work." Valentine's Day in the Mummy Museum is indeed a work of the heart.
Through her debut collection of poetry, Blood is Not the Water (FootHills Publishing, $16), Mara Panich stakes out an acre of strong ground with works that cut fearlessly into the patriarchal control over women's bodies, as well as perceptions of beauty, strength, and value. Her poems reveal unveiled longing and an almost evangelical pursuit of personal truths, making this book a powerful and welcome addition to collections that include Denise Levertov, Meg Kearney, and Diane di Prima, poets who also document the female experience.
Throughout the pages of In the Weeds (Drumlummon Institute, $25), Montana's newly minted poet laureate Mark Gibbons speaks with the bare, no-nonsense voice of two-lane highways and creaking barstools. The book reads like a late-night conversation — sometimes humorous, sometimes righteously angry — unfolding over whiskey ditches and a howling jukebox. At times, one may wonder if such straightforward language can even be defined as poetry, until Gibbons strikes with lines like, "… all that really matters/is the ecstatic joy we are/breathing mysterious as stars," and, "When poetry/opens its mouth, it sings for free." In those moments and countless others, the surface is breached and the true depth of these works are revealed.