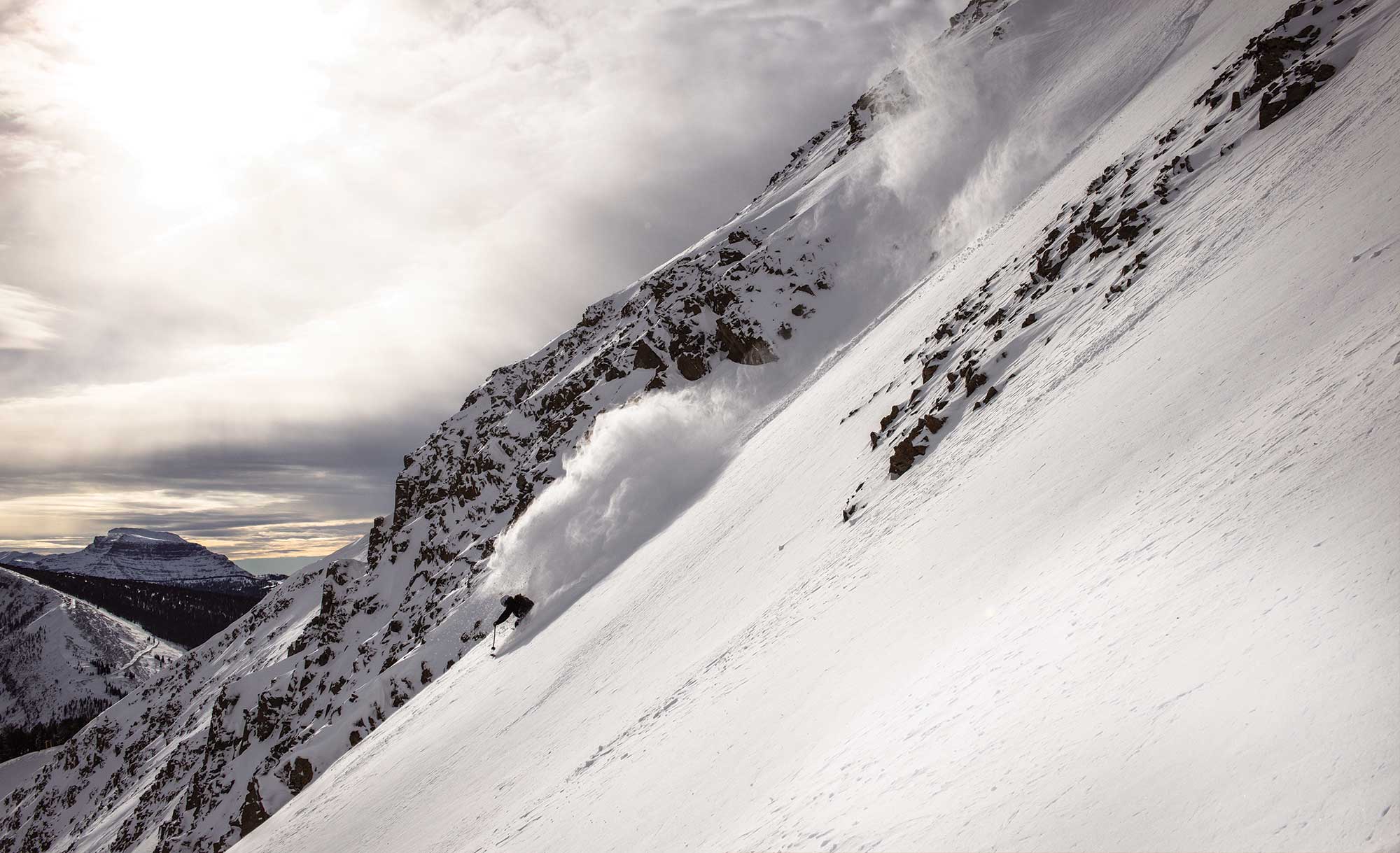 01 Dec

Bonded by Snow

in

"YOU'RE NOT HOOVERING MY LINE!" he yells as he drops into a powder stash we find off Lone Peak at Big Sky Resort. I watch him gracefully link turns, floating on the fluffy snow. Every now and then he lets out a yowl; it's not uncommon for him to sing or yodel his way down a slope. This is my 70-year-old dad, and he's just learned the term "Hoover my line" from some locals; he finds it funny to toss into conversation whenever possible.

My dad is doing his best to embrace my newfound life in a small ski town, one that revolves around skiing and having as much fun as possible. It was not exactly what he had in mind for my post-college years. When most people my age were starting down their career path, I was just trying to make enough money to buy a ski pass and pay rent.

But after a few visits, he started to understand, even respect, this lifestyle. I think he was even a tad jealous. What he didn't realize was that this was entirely his fault. Throughout my childhood, the man was obsessed with skiing. He spent his off-slope time planning ski trips, checking snow reports and looking into the latest gear. And on most trips, from the Alps to the Rockies to the slopes of the Northeast, he brought us along. He pretty much groomed us for ski bum life, so what did he expect?

My dad started skiing during the early 1940s. Raised in Seattle, he and his siblings would take a free train to the newly opened Snoqualmie Pass on the weekends. Throughout high school and college at the University of Washington, as ski areas were popping up all over the country, he expanded his reach to Sun Valley and areas in British Columbia. But it was during his stint in the U.S. Army that his ski world really open up.

Stationed in Bavaria from 1956 to 1958, he convinced his colonel that he should represent the U.S. in the European ski races. Agreeing that it would be good public relations for the red, white and blue, the colonel sent my dad on the ski circuit with transportation, room, board and lift tickets covered. There would be an American flag flying at the events, and my dad could hone his skills.

Flash-forward 20 years, and he was a businessman in New York City where he met my mother, and where my brother and I were raised. As an entrepreneur, work was his focus, but skiing was never far behind. From the time we could walk he slapped skis on our feet, and off we went down the Podunk hills of ice: from the smaller areas in upstate New York to the snowier ones in Vermont, from Switzerland and Austria to the Rockies for school vacations.
On a ski trip to Alta, Utah, when I was 10, he picked me up from morning ski lessons and declared I was ready for High Rustler, a renowned steep and deep run off the front face. After surviving a ridgeline traverse, knees shaking, I peered over the edge at the towering moguls below. The tears started flowing, and they didn't stop until I dropped my body on the ground at the base area, deciding never to talk to him again. I was cross-eyed with anger, and he was beaming, so proud and happy to retell the story to anyone who would listen. "Corinne, she skied down High Rustler when she was only 10 years old," he would say, omitting the part about my tantrum.

When I went to college in Colorado, my dad made frequent visits, and we would explore the myriad ski areas that bless the state. We made father-daughter ski trips to Taos, New Mexico, Jackson Hole, Wyoming, and another to British Columbia that included a day of helicopter skiing. He studied the ski maps in extreme detail, and if there were ski patrollers getting on the lift, he would fight his way through the line to join them, hoping to get the inside scoop. If the lift lines were long, he'd cruise over to the singles lines to pack in as many runs as possible.

When I made my way to Big Sky, Montana, after college graduation, I fed my parents the line: "It's only for one season, and then I'll go find a real job." But then it was two seasons, then three. Like most locals, I would ski every day, get dressed in the closet at work, wait tables, go out for drinks, and do it all over again.

After many visits, my dad got to know the mountain. He loved skiing off the tram on the south face of Lone Peak, looking for powder stashes in the trees. He also got to know my friends, happily participating in the après ski scene. He even made it to the Dirtbag Ball one year, where a king and queen are crowned for their skiing and partying accomplishments. And he was proud when I began dating and eventually married a ski patroller, for now he had full access to the inside scoop on ski conditions.

So when I broke the news that I was ready to move on in pursuit of a real job, my dad was shocked. "I can't believe you would leave this lifestyle," I remember him saying over an after-ski beer down at the old Caboose bar in Big Sky's Mountain Mall. My "real job" search didn't take me much further than Bozeman, and we've enjoyed many more father-daughter ski adventures since.

Dad is 82 now. It takes him longer to get into his ski boots, he's not afraid to ask a kid to carry his gear to the base of the lift. These days he likes to stick to the groomers and take runs with his two young grandsons. Although his tram laps and line-Hoovering days are behind him, he still cruises gracefully through the snow and lets out the occasional yowl. It's pretty clear that being on the slopes still is, as it always has been, his happy place.

Thanks to him, it's my happy place too. When I'm standing on the ridge at Bridger Bowl or looking for the Tetons in the distance off the top of Lone Peak, it's hard not to think about him and our times together bonding over snow.