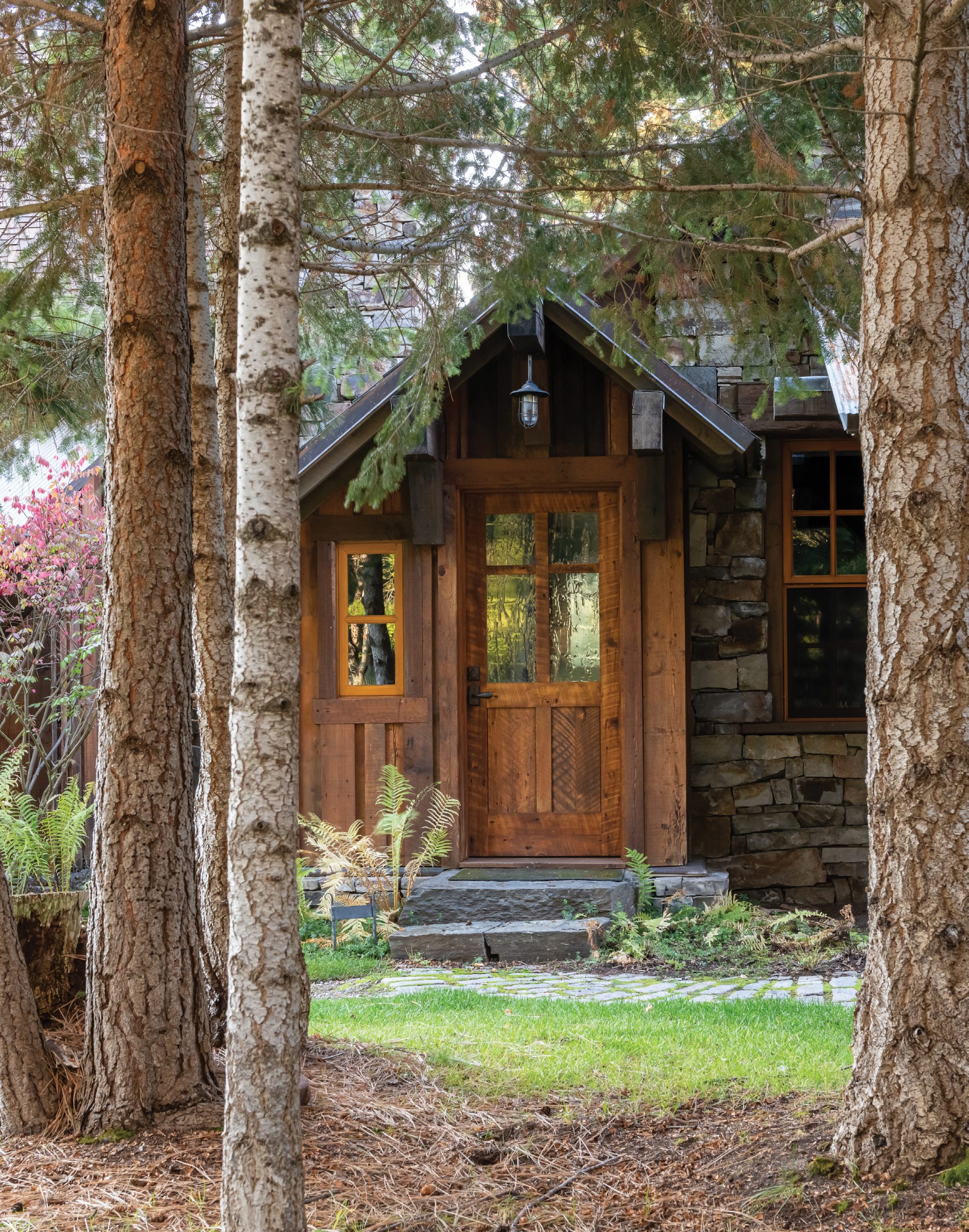 The original, human-scaled entry doors remained during this remodel, evoking the feeling of an enchanted hidden lodge in the woods. All of the exterior and interior doors were custom made, incorporating vintage float glass for the panes.
12 Apr

Blackfoot Canyon Ranch

in

Architecture
Fullerton Architects

Construction
Refined Matters

Interior Design
Laura Fedro Interiors

Sometimes, the most impressive thing about a home is what you don't see. 

The instructions were straightforward: Add a pantry, two guest suites, and expand the primary bathroom in an existing home — and make it look like they had always been there. In some houses, this would be a piece of cake. Knock out a wall here, frame some rooms there, round it out with some drywall, and presto!

But in this case, that was easier said than done. Though built in the early 2000s, the existing home appeared like a well-preserved historical structure. Nestled into the landscape above the Blackfoot River, graced with subtle Craftsman-style elements, rough-hewn timbers throughout, and a cobblestone driveway, the timeless house could easily be 100 years old. "The intent was to make it look like it had been there a long time, and that's why we did all the reclaimed exteriors and stone," says architect Nick Fullerton, who designed the original home along with several other buildings on the property.

"Nick's aesthetic has always been very original Montana, very 'National Park Lodge,'" says Laura Fedro, the project's interior designer and a long-time collaborator with Fullerton. "He doesn't do these big, 'impress the Joneses' designs; his work is about the interior experience and human scale." 

When new owners bought the home, they loved the space's historical aesthetic and intimate feel. "They were very interested in keeping the integrity of the ranch," says Fedro. The only problem was that they needed a bit more space. So, they asked Fullerton to revisit his old design and expand on it — without losing any of the charm and authenticity. "That was the big challenge, to make it look like we hadn't added on," he says. "Everybody was really aware that when you get stuff to look that old, it's not easy to change." 

Fedro acknowledges that the constraints were tricky but they also provided a clear framework for what the design team needed to accomplish. "We easily could have gone in with all new stuff and made it all fancy and shiny, but instead, with everything we did, we had a subtle hand. The challenge was to be able to weave existing finish materials with new finish materials and lighting, right down to the furniture and the fabrics. And, quite frankly, I think we accomplished it," she says.

Exterior walls became interior walls. Rooflines shifted to bring the old in line with the new. Finishes and materials were meticulously matched. Meanwhile, modern updates were added as well: The kitchen was overhauled, the lighting layout was updated, and air conditioning was installed throughout the entire house. "It was the most challenging remodel I've ever accomplished," says builder Jeremiah Covert of Refined Matters. "But with Laura and Nick as the design team, it was a powerhouse. We were able to undeniably make it look like it had never been remodeled. We were able to bluff everybody into thinking it had always been like that."

All three agree that one of the primary hurdles was sourcing materials. "It's hard to go out and find exactly what you need," Fullerton says. "Like the old tin roofs — to go out and find roofing that looks the same. You can lose it in a hurry if you don't take the time. It's got to be dead on the money. So you kind of go on the hunt, depending on what you need." 

Covert recalls similar struggles. "We would go to a reclaimed lumberyard and just pick through bunks of boards, trying to find the right ones," he says. "We made a lot of trips and drove all over trying to find the right timbers for the project."

They were also able to make good use of the leftovers from earlier projects on the property. "There was a boneyard there of existing building materials, with tile and timbers and a bunch of other materials from the original build," says Fedro. "There's so much waste in my business and the construction business at large," she adds. "I just love it when we can use local materials and reuse materials." 

Even older cast-offs appeared in the house: "I found an old car body in the river there," says Fullerton, "and we pulled it out, and that's where we got the old metal that we used around the fireplace. So there's some history to it; it's from the site." 

All three also stressed the critical importance of the builders and craftspeople that worked on the project. "There is just so much stinkin' talent in this state," Fedro says. She recalls some of her favorite handcrafted elements: "We took a bunch of the timber-frame ends from the original construction project and had this fabulous guy named Howard Fly build the coffee table. And there's a master cabinetmaker up there named Tim Swanberg, and he built the two new guest bathroom vanities."

Covert is quick to praise as well. "We look back on it and reflect on all the great craftsmen that we worked with on the project," he says, mentioning Golins Forge in particular. "I've never seen wrought-iron curtain rods that have such elaborate art forged on the ends of them, like beavers and otters and rams. Details like that weren't missed, and it made it super fun." He also acknowledges the deft skills of R&R Roofing. "To be able to tie in those roofs with materials from, arguably, separate parts of the world, and make them come together and make them look like they'd always been there — they did a great job," Covert says, adding, "I feel bad mentioning too many people without mentioning everyone, because everybody on the project was fantastic."

Ultimately, all of the effort and sleight of hand paid off. The team came, they worked their magic, and then they disappeared — like they were never even there.