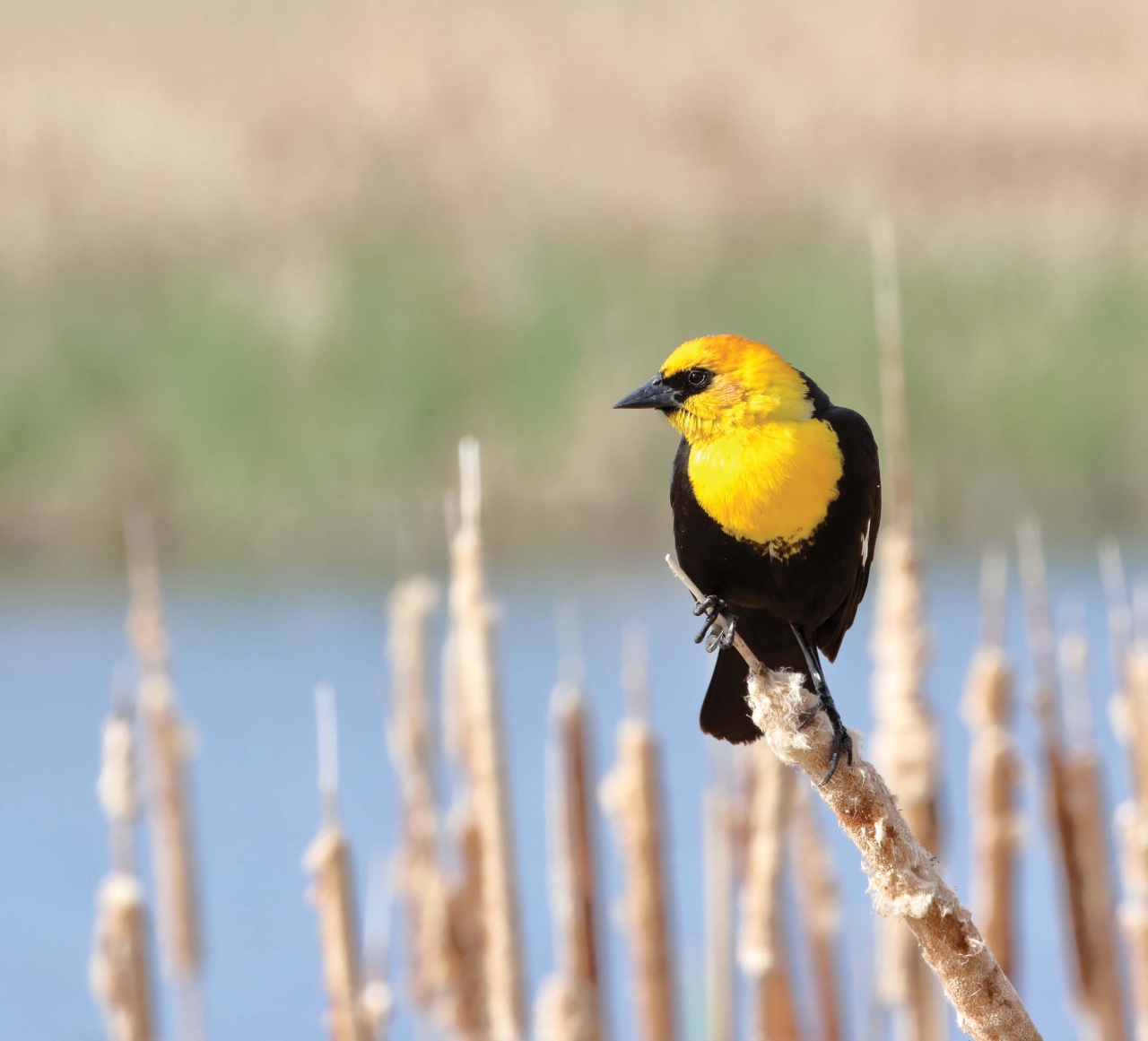 As a denizen of many marshland areas in the Interior West, the yellow-headed blackbird often introduces itself with an unforgettable scolding call.
07 Jun

Birding the Big Sky

in

When my teenage son, Braden, and I climbed out of our minivan, temperatures hovered in the mid-20s and an ethereal layer of mist covered Freezeout Lake. We weren't the first to arrive; a handful of pickups, Subarus, and other mud-splattered vehicles huddled in the tiny dirt parking lot next to the railroad tracks, and a dozen or so people talked quietly in pairs.

With binoculars and cameras draped around our necks, Braden and I looked out across the water. Ice still covered parts of the lake, and we spotted a bald eagle that was perched on a frozen shelf about a half-mile away. But it was the writhing white mass near the far shore that grabbed our attention, along with a cacophony that, while not yet frantic, conveyed a heightened sense of anticipation.

As the sun slowly rose, it splashed an otherworldly glow across the snow-plastered Rocky Mountain Front behind us. And as it kept climbing, the light descended toward the lake. Suddenly, before it struck, the white mass lifted into the sky: snow geese, tens of thousands of them, flying in immense cyclonic swirls. Three seconds later, we heard it — a collective wild war cry of action filling the air. As they ascended, reaching the slanting sun rays, the white birds turned into a fabulous pink cloud that filled the horizon. Braden and I broke out our cameras, and with telephoto lenses to capture close-ups, we each snapped a series of photos. Then we looked at each other and grinned.

Montana's prime birding season had officially begun.

Since we started birding in 2014, my son and I have pursued our hobby in many different parts of the U.S. and abroad, from the Rio Grande Valley in Texas to the steamy rainforests of Ecuador and Peru. However, nothing quite matches the start of a new birding season in the Northern Rockies. It's true that raw species counts in Montana, Wyoming, and Idaho don't equal that of, say, Arizona or California, but our region makes up for it in quality and adventure. In 2020, for example, during our biggest year of birding in Montana, we observed 275 different species.

Due to the unique variety of latitude and landscapes in the Northern Rockies — including mountains, forests, sage, and grassland habitats — the region attracts a host of species that are difficult to find anywhere else in the Lower 48. Northern hawk owls and snowy owls, for instance, dip across the border from their more northerly strongholds, and black-backed and American three-toed woodpeckers thrive on beetle grubs in the area's recently-burned forests. We've found no better place in the U.S. to observe hawks, eagles, and falcons, and, not to be outdone, songbirds flood the region every spring and summer.

While birding in the Rockies often requires putting some serious miles on your vehicle, these missions travel through some of the world's most sublime landscapes and places that feature some of the most extraordinary views — all in pursuit of avian wonders.

Montana wasn't nicknamed "The Treasure State" because of its birds, but perhaps it should have been. The destinations suggested here are perfect for those just starting out, as well as more experienced birders who are new to the region.
Where to bird
Lee metcalf National wildlife refuge
Location: 30 miles south of Missoula
Timing: Year-round
With a pleasant, pedestrian-friendly mix of pond, forest, and river habitats, along with year-round access, this is one of the best places to begin birding in Montana. My son and I photograph ducks, swans, and other water birds here every winter and spring, but it's also common to spot great horned owls, northern harriers, red-naped sapsuckers, sandhill cranes, and imported California quail and ring-necked pheasant. In spring and summer, a large great blue heron rookery can be easily observed from the main road, and the cottonwood trees along the river are a good place to look for the majestic red and green Lewis's woodpecker. (Named for Meriwether Lewis, who passed through the Bitterroot Valley more than 200 years ago, it's one of the only woodpecker species that catches large numbers of insects on the wing.)
Nearby birding hot spots: Travelers' Rest State Park in Lolo; and Greenough Park and Maclay Flat in Missoula
Freezeout lake wildlife management area
Location: 52 miles northwest of Great Falls
Timing: Late March – late fall
Freezeout Lake — perhaps best known as a key spring staging area for up to 300,000 snow geese and 10,000 tundra swans — is actually a mosaic of lakes, ponds, and grasslands that attracts more than 200 bird species. To catch the geese and swan migration, visit in March and plan to arrive at least 30 minutes before sunrise. That said, any spring, summer, or fall visit will most likely feature a wide variety of waterfowl, shorebird, raptor, and grassland bird sightings. Almost 20 species of sparrows can be seen or heard at Freezeout, mostly throughout the summer. And for a special challenge, try to spot a low-flying short-eared owl during a dawn patrol.
Nearby birding hot spots: Pine Butte Swamp Preserve, west of Choteau; and Benton Lake National Wildlife Refuge, north of Great Falls
bowdoin national wildlife refuge
Location: 7 miles northeast of Malta
Timing: May and August, during shorebird migrations
As one of our annual must-go birding locations, this wildlife refuge offers an off-the-beaten-path taste of Montana. With almost 250 species recorded, Bowdoin sits on the Hi-Line region along U.S. Highway 2, just east of the small farming town of Malta. With a tantalizing mix of waterfowl, grassland, and marsh birds, it's a great place to find American white pelicans, white-faced ibises, and grebes. It's also an especially good place to observe shorebirds, so bring a spotting scope — but don't forget to use your ears to find secretive yellow and Virginia rails, sedge wrens, Sprague's pipits, and Nelson's and Baird's sparrows.
Nearby birding hot spots: Trafton Park in Malta, home to Montana's most famous eastern screech-owl and many migrating songbirds; and Bentonite Road near Glasgow for your best shot at spotting greater sage-grouse, mountain plover, and thick-billed longspur (formerly McCown's longspur)
Bear canyon
Location: 73 miles south of Billings
Timing: May – July
Located in the Pryor Mountains, Bear Canyon is one of our newest prized locations. Birders can park at the entrance and take an easy hike up a canyon that's full of sagebrush and juniper. Because of its southern location near the Wyoming border, a number of less common Montana species breed here, including the blue-gray gnatcatcher, green-tailed towhee, gray flycatcher, pinyon jay, broad-tailed hummingbird, and rock and canyon wrens. At night, listen for the enchanting call of the common poorwill, and on the adjacent flats, look for sagebrush sparrows, sage thrashers, and Brewer's sparrows.
Nearby birding hot spots: Riverfront Park in Billings; and the Beartooth Highway for black rosy-finches
Glacier National park
Location: 33 miles northeast of Kalispell
Timing: Late May – early August
Most people visit Glacier to enjoy the stunning vistas and maybe catch a heart-pounding glimpse of a grizzly bear, but our personal favorite National park also contains some of the greatest birding in the Rockies. The Apgar and North Fork areas host a surprisingly dense community of warblers, vireos, and other songbirds in early June. On the main road at Avalanche Creek, we often listen for varied thrushes and hope to spot rare harlequin ducks and black swifts. Logan Pass is home to white-tailed ptarmigans and rosy-finches, while almost any location in the park might score you a peek at an elusive boreal chickadee or a flock of white-winged crossbills. The park's large natural burn areas provide crucial habitat for northern hawk owls and black-backed and American three-toed woodpeckers, and if you listen closely, you might even hear the plaintive call of an olive-sided flycatcher: "Whip three beers!"
Nearby birding hot spots: Creston Wetlands, east of Kalispell; and the prairie potholes (shallow wetlands) along the highway between East Glacier and Browning
Westby & Medicine lake national wildlife refuge
Location: 67 miles from Williston, North Dakota
Timing: May – June
For serious Montana birders, no year is complete without a pilgrimage to the tiny town of Westby. Why? Because it is a birder's best hope to spot eastern migrants as they clip the northeast corner of the state on their way to northern breeding grounds. A seven-hour drive from Billings, the journey demonstrates just how far Montana's borders extend, and birding pilgrims are often rewarded with a host of species that are uncommon in the West, including the orchard oriole, rose-breasted grosbeak, gray-cheeked thrush, black-and-white warbler, and a bevy of other possibilities. A stop at Medicine Lake National Wildlife Refuge along the way is a must, and there, you may get a bonus shot at spotting migrating songbirds along with an impressive array of raptors, waterfowl, wading, and grassland birds.
Nearby birding hot spots: Harry DeSilva City Park in Plentywood; and Spring Lake Park in Williston
Big Sky birders' checklist
Despite the Hollywood hype, Montana is as civilized as anywhere else in the Lower 48. However, the vast distances and sometimes rugged terrain do demand a little more thought than birding in, say, Ohio or Florida, so it's essential to be prepared.
Gear: Binoculars are mandatory, but I also highly recommend a spotting scope for locations like Freezeout Lake, Bowdoin, and Medicine Lake. If you don't want to lug a bird guide around, both the Sibley and Merlin phone apps provide excellent coverage of birds in the Northern Rockies. And consulting the online database eBird will prime you to see as many species as possible.
Transportation: A four-wheel-drive vehicle is not required, but it is suggested, especially when heading down rocky, dirt roads or those that can instantly turn to sticky gumbo after a sudden thunderstorm. Since you'll sometimes be out of cellphone range, the Montana Road & Recreation Atlas by Benchmark is also highly recommended.
Camping: Outside of the more popular parks, camping opportunities are plentiful in most locations.
Lodging: Small towns, such as Choteau, Malta, and Plentywood, have limited motel options, so do your research ahead of time and make reservations if necessary.
Emergency supplies:  Always bring a spare tire, flashlights, spare batteries, a first-aid kit, sunscreen, rain gear, extra warm clothes, plenty of food and water, and insect repellent, especially in the early summer.