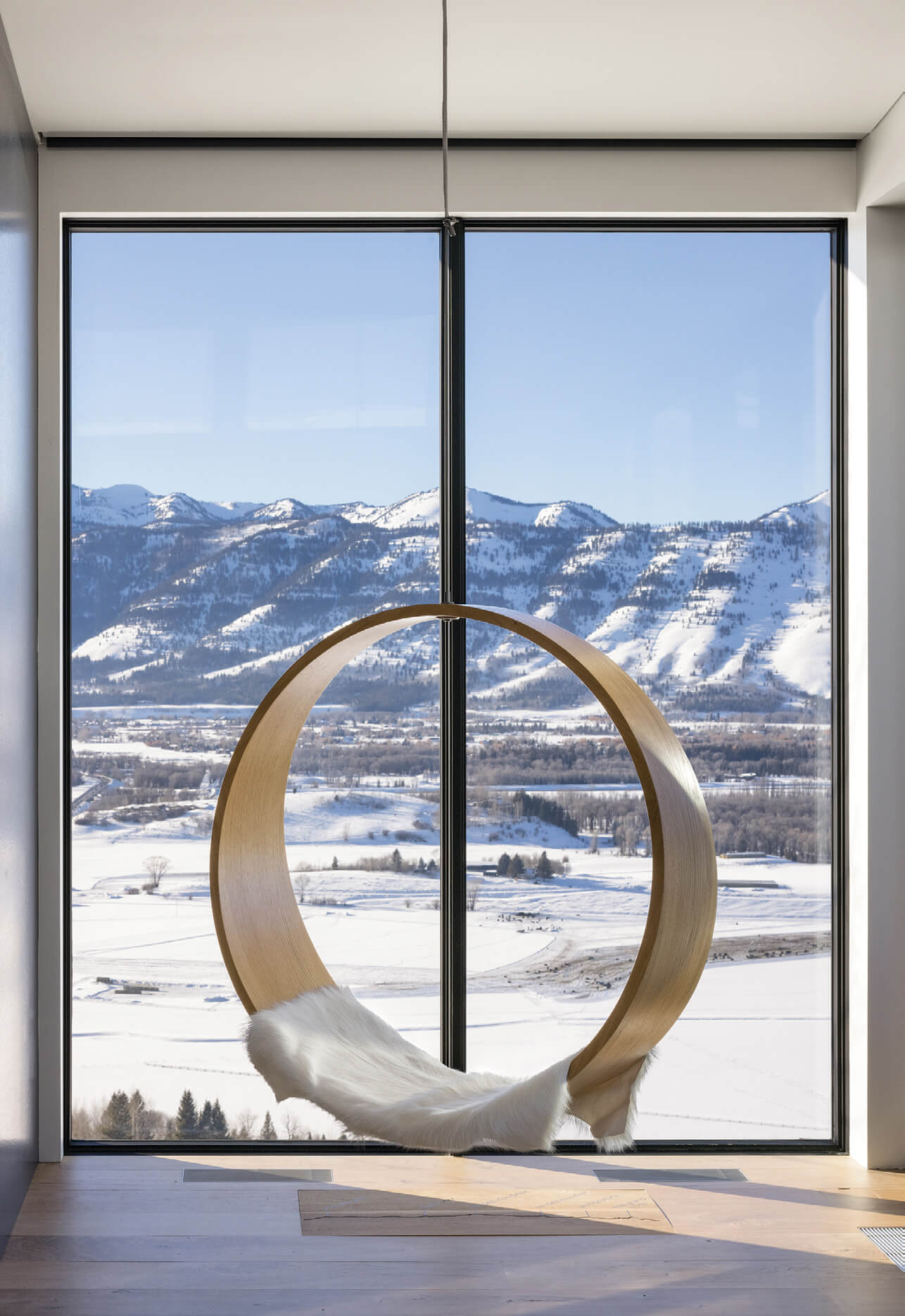 Views are naturally biophilic — this playful swing perfectly frames a vignette of the Teton Mountains.
08 Apr

Biophilia 101

in

Through years of travel and research and a love for the outdoors, interior designer Patricia Kennedy conceived a trademarked "Interiors for Wellness" process, combining the health benefits of nature with the aesthetic appeal of thoughtful design. Employing sustainable, biophilic (nature oriented), and accessible elements, Kennedy — owner of the Jackson Hole, Wyoming-based Rendezvous Design — carefully and intentionally curates finishes, fixtures, and fabrics to create outdoor-inspired spaces that align with each client's style preferences. "By specifically choosing biophilic elements, I can connect the interior with the exterior," Kennedy says. "Finally, accessible design is future-forward planning, like aging-in-place features, that supports the long-term enjoyment of any home."

Once this initial wellness framework is established, Kennedy takes a deeper dive with her clients into sensorial design, a process that addresses all five senses and incorporates components — such as artwork, textures, and colors — that resonate and create an emotional connection with a space, while also meeting specific lifestyle needs. Integrating nature-inspired design into a home transforms the owner's ability to rest, relax, and rejuvenate. "My clients receive a personalized well-being assessment with goals that are then translated into specific design objectives," Kennedy says. "The result is a wellness design package based on human-centricity that truly transforms their daily living experience and is naturally connected to the environment."

According to Kennedy, humans have a primal predisposition toward nature and nature-inspired objects, which have an inexplicable elixir effect on the mind, body, and soul. "When we submerge ourselves in nature, we function better, have more energy, and reduce our stress," she adds.

Kennedy sees the Jackson Hole community as a perfect fit for biophilic design. "I'm very surprised how many homes in Jackson look like they belong in another state," she says. "Here, I can draw from Wyoming's natural environment, bring the beautiful outdoors inside through materiality. When you connect the interiors with the exterior, it inexorably grounds the home, exuding a sense of wholeness and well-being." Examples of biophilic elements might include reclaimed barnwood, natural stone, layered lighting, window glazing, fireplaces, foliage, and the incorporation of colors found in the local landscape.

Ridgeline Log and Timber, also based in Jackson Hole, carries several different types of reclaimed and upcycled wood, including old corral fences, industrial timbers, rafter supports, and traditional barn siding. Kevin Spence, retail manager at Ridgeline, works closely with Kennedy to provide her with biophilic elements that complement her interiors. "We've used several products to ground her home designs through textures and the natural feel of reclaimed products," Spence says. "Specifically, she uses large, reclaimed wood accent walls, custom doors, and some smaller things throughout the spaces that enhance the natural mountain feel of the home. Some of the other items are more upcycled, like fences or roof supports, where we do a bit of milling to make them more conducive."

Aside from the materials, Kennedy uses other elements to round out a biophilic design, many of which she learned about while living in Asia for eight years. During her travels, she was introduced to different cultures and wellness traditions that are steeped in centuries-old philosophies. In Japan and China, she became educated in the spatial awareness of feng shui and an energy flow called qi. In India, she was immersed in the mind-body connection, and in Indonesia, she learned about aromatherapy and essential oils.

When Kennedy returned to the U.S., she earned a degree from the New York School of Interior Design, where she gained knowledge about accessible design and Americans with Disabilities Act guidelines. Not stopping there, she also pursued certification through the Sustainable Furnishings Council and became an Aging-in-Place consultant through the National Home Builders Association.

"Here in Wyoming, it's been so inspiring to merge my global and educational wellness with biophilic design and see it all come together in creating sanctuary spaces where clients can truly relax, recover, and rejuvenate," Kennedy says. "After all, the reason most people choose to move to the Wild West of Wyoming is to enjoy the prevailing nature and beauty here, so what better way to experience this than to bring it inside your home and become fully immersed?"
Design Elements of Biophilia
In order to transform a home into a place that promotes rest, relaxation, and rejuvenation, Kennedy recommends these nature-inspired design features:
Color: Evergreen symbolizes health and wealth, and is proven to improve moods and reduce stress. Easy ways to bring more green into your home include wallpaper, accent cabinetry, and wall-mounted herb gardens.
Texture: Natural materials blend the interiors with the outdoors and establish authenticity. Organic wood flooring, with its variable knots, brings a foundational warmth, natural stone creates a distinctive focal point, and a custom rug can be the basis for a design palette.
Sound: Nature's sounds, with a consistent pitch, soothe the nervous system. By adding speakers around the home, sound therapy can bring a spa-like environment into any room.
Light: Sunlight enlivens the spirit and balances our circadian rhythm, ensuring energy during the day and sound sleep at night. Bring light inside through enlarged windows or the use of clerestory windows for 360 degrees of daylight.
Water: Water is nature's purifier. Focusing on the experience of water with innovative hydrotherapy — such as a chromotherapy soaking tub, an aromatherapeutic eucalyptus-infused steam shower, or a rain-droplet showerhead — increases blood flow and improves immunity.
Al Fresco: Increase time in nature by creating inviting outdoor living spaces. Anchor them with multi-layer memory foam furniture, and add infrared heaters, gas fire pits, throw pillows, blankets, and a shade element to extend seasonal enjoyment. Fresh air brings more oxygen to the bloodstream, improves concentration, and encourages a good night's sleep.
Freelance writer and author Michele Corriel earned her master's degree in art history and her Ph.D. in American art. She has received a number of awards for her nonfiction, as well as her poetry, and is currently working on her latest book, The Montana Modernists.