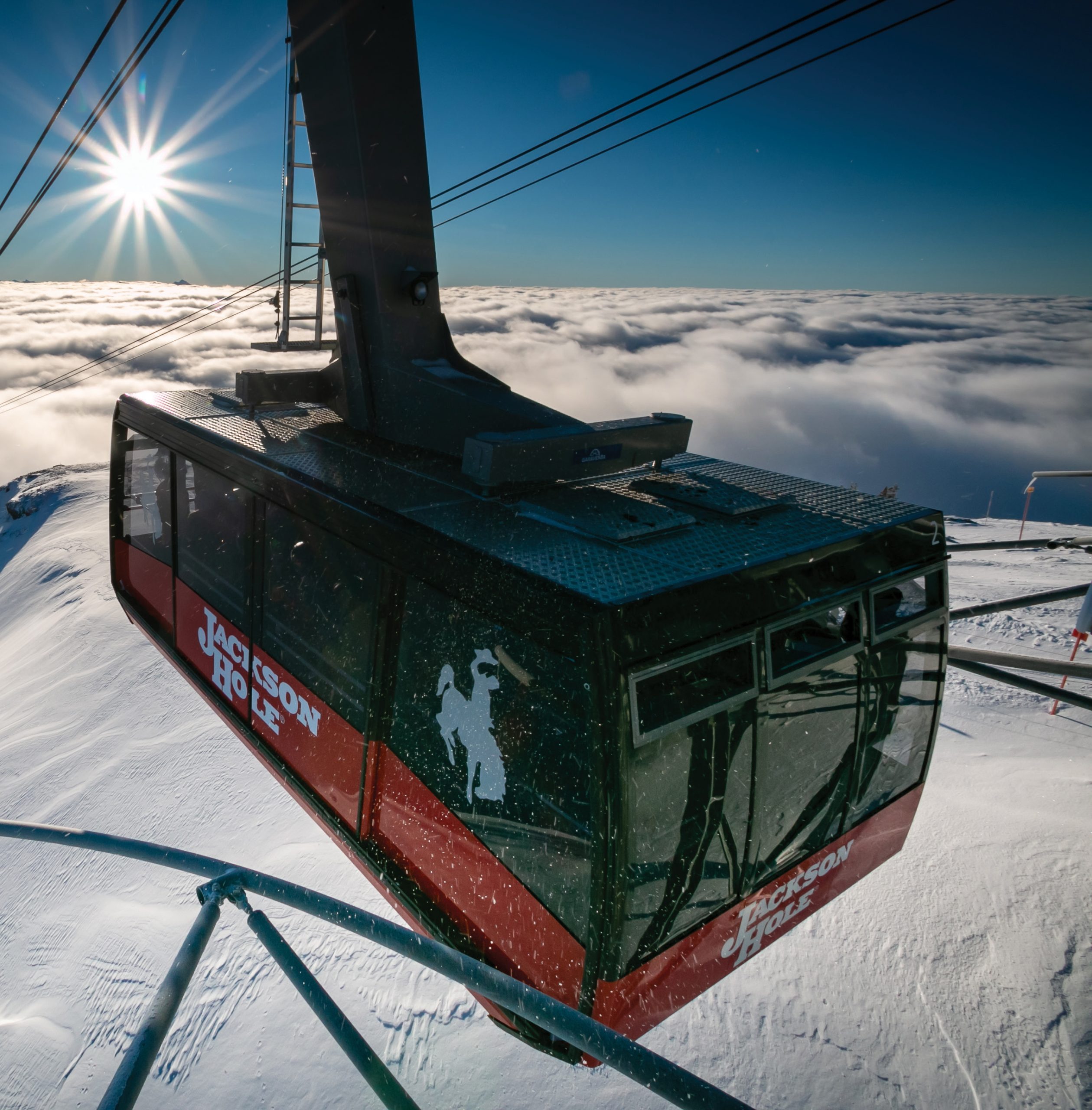 The Jackson Hole Aerial Tram, known as Big Red, takes about nine minutes for it to climb 4,139 feet to the top of Rendezvous Mountain, which sits at 10,450 feet in elevation.
22 Nov

Big Red

in

On big powder days at Jackson Hole Mountain Resort, no matter the day of the week, you can count on the fact that skiers and snowboarders will be in line for the tram even before the sun rises. Some hooting and hollering may be heard, depending on how many inches were received, and the line for a turn to ride "Big Red" — also nicknamed "The Red Heli" — builds further out as the morning goes on. Those waiting are eager to rise 4,139 feet above the valley floor, to an elevation of 10,450 feet, for first dibs on fresh tracks. And the camaraderie is evident, as people chat with friends and decide where they'll head first. When Big Red finally opens for business — after the ski patrol has completed avalanche control — the first 100 people shuffle in for a ride.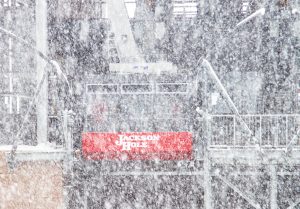 Big Red is a legendary part of the resort, an iconic symbol of Jackson Hole's regular powder dumps, steep and deep terrain, and overall dynamic vibe. It's also a key part of the ski area's history. Built in unison with the development of the resort in 1964, the tram was part of founder Paul McCollister's vision of bringing a European-style skiing experience to North America. The original 52-passenger Jackson Hole Aerial Tram opened in 1966, and, reaching the top of Rendezvous Mountain in 10.5 minutes, it opened up access to vast amounts of terrain.
The original cars were updated a few decades later, with similarly sized, more modern versions. But despite the changes, the tram couldn't last forever, and it was retired in 2006. Bill Lewkowitz, who's worked at the mountain since 1984 and serves as the resort's business development director today, explains that when it was time to replace it, they considered a number of other options, ultimately deciding on a 100-passenger tram that could ascend Rendezvous Mountain in just nine minutes. Lewkowitz says the resort's leaders "realized that the tram was iconic," noting that "to put in any other lift to the summit would not be the same."
Construction on the new tram began in April 2007, the towers were erected and the cables were installed in the summer of 2008, and the new cars were delivered that November. On December 20, 2008, the new Jackson Hole Aerial Tram opened to riders. In total, the project cost more than $32 million.
Big Red has a cable span of approximately 2.5 miles, making it a continuous loop of nearly 5 miles. Both cars are connected to the same cable, and when one leaves the top, the other leaves the bottom, crossing beside each other halfway up the mountain.
In the winter, on the ride up from the resort's base at 6,300 feet to the top of Rendezvous, riders can watch skiers and snowboarders drop into Corbet's Couloir — an extreme chute located beside the tram's path. Once up top, some choose to fill up on waffles at Corbet's Cabin before enjoying 4,139 feet of continuous vertical. Then it's time to hop in line for another lap.
The tram can run in extreme conditions; during winter storms when the wind is blowing hard, it typically keeps spinning even when other lifts are forced to close. While it does shut down, it's usually for skier safety as opposed to mechanical limitations. "Our shutdown is usually [when winds are] at about 65 to 70 miles per hour," says tram maintenance manager Mike Vase, who has worked at the resort since 2009. "And it's not because the tram can't handle it, it's because people can't walk. They'd get blown away."
In the summer months, the tram runs for sightseeing and also to provide access to hiking, backpacking, and paragliding. With a lighter load of 65 passengers, it runs at a slower pace, allowing people to move around the car to take in the views. When wildlife is spotted, the operators tend to slow it down even more to give visitors an opportunity to watch the animals from above.
To keep the tram running safely, Vase, along with his team of three year-round mechanics, conducts daily checks, and performs weekly, monthly, annual, and multi-year inspections and maintenance. And their work is crucial to the resort's overall operations. "The mountain doesn't run without ski patrol, but ski patrol can't run without the tram," Vase says.
While the tram is iconic to Jackson Hole Mountain Resort, a symbol of sorts, the ride itself is a memorable experience. "The vibe has always been huge inside the tram," Lewkowitz says. "People are excited about what they just did or what they're about to do. It just has an aura about it that's incredible. … There was a whole culture built around it."
A number of diehard Jackson Hole skiers are devoted to the early morning, powder-seeking tram ride, and Otto Graves is one of Big Red's biggest fans. He's been skiing the mountain for 35 years during his winters in Jackson. Hitting the slopes around 100 days each season, he estimates he rides the tram about 500 times a year, and counts more than 8,000 rides over his lifetime. "In my opinion, there's really no mountain like it in the U.S.," Graves says. "It has so much variety: the mountain itself as well as all of the backcountry and side-country, and easy access to all of those things."
For Graves and other Jackson Hole skiers, the camaraderie is a big part of Big Red's allure. "A lot of my friends, we're on the tram dock together chatting, we get on the tram chatting," he says. "We'll talk about where we might be skiing, what we did ski. On a big powder day, someone will say, 'Go ski this or that, it's really good.' There is a gigantic amount of camaraderie."
The Jackson Hole Aerial Tram is also a symbol of the changing seasons, and it marks the passage of time. Open for the winter and summer tourist months, locals know that when the tram is running, everything will be busier in town, and when it's closed for maintenance in the off-season, it's time to rest. "It feels like this tram is the heartbeat of the valley," Vase says.