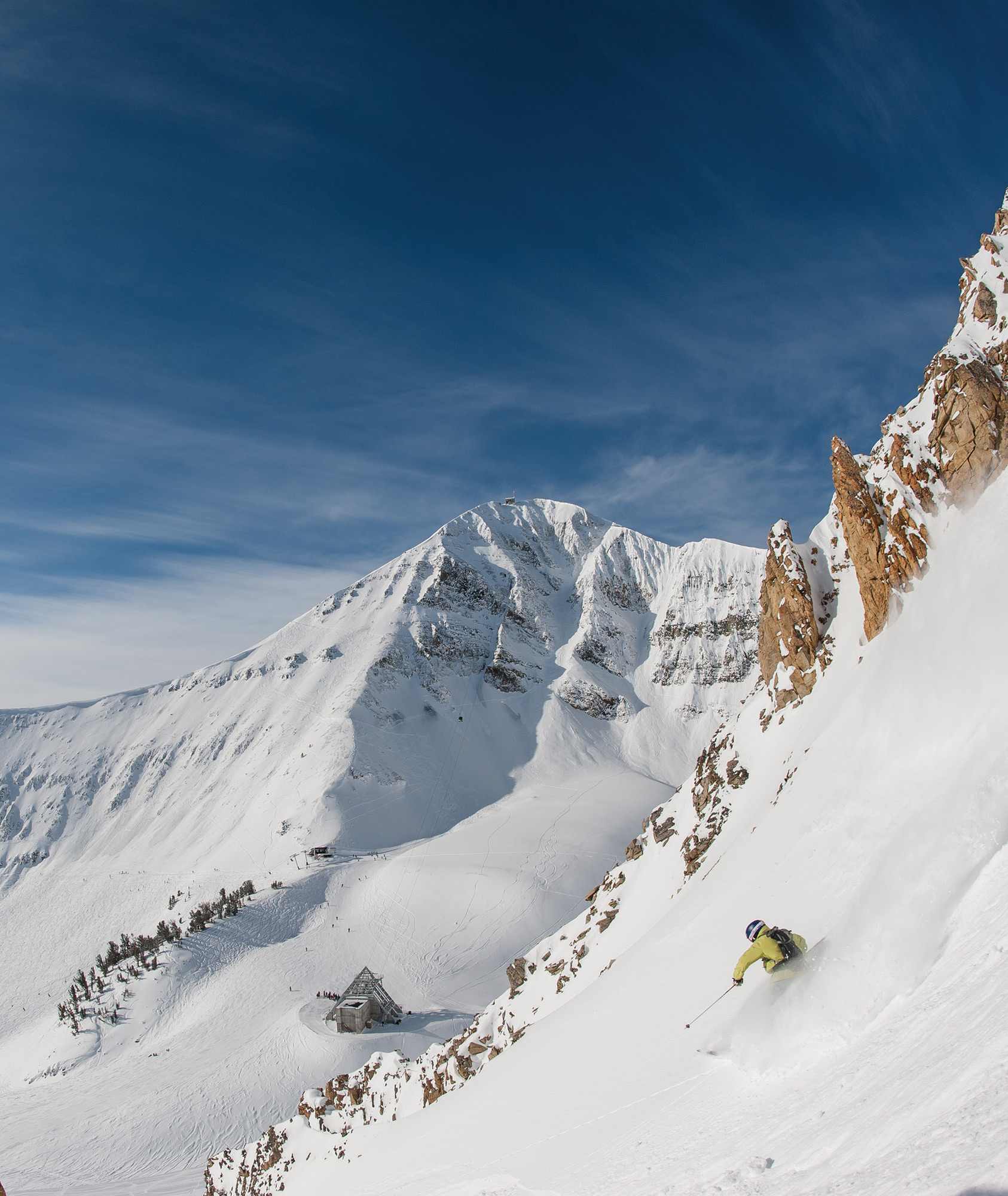 22 Nov

Big-Bigger-Biggest Sky Resort: Ride it Like a Local

in

ON A BLUEBIRD POWDER DAY LAST WINTER, a friend and I made the early morning dash to Big Sky for a chance at some fresh turns on Lone Peak. Of course, we weren't the only ones with that idea, and by the time we made it from the base village to the tram there was already a healthy line. What followed next is a common Big Sky dilemma: Wait in the hour-plus line for the summit or move on to another part of the mountain in search of untracked snow?

Not feeling like waiting, we made the decision to head toward the Challenger double lift, which would take us to a knife-edge ridge filled with numerous options: Hike into the exposed Headwaters Ridge and A-Z Chutes area; rip lines down Challenger's steep face back to the bottom of the lift; or head further north into Moonlight Basin to get away from the crowds. Another Big Sky dilemma, with a 12-minute lift ride to think about it.

Luckily, our decision was made easier by the fact that when we got off the lift the ski patrol had just opened the gate for hiking access to the Headwaters area. There was nobody in front of us. The far edge of the ridge — a zone called Three Forks — was glowing in the morning light, not a track to be seen. Quickly, we loaded our packs and traversed along one of the most impressive — and sometimes, downright scary — inbounds hikes in the country, where you can drop off to the north or south. A half-hour later we were standing on the top of Three Forks, a series of north-facing, 40-degree couloirs that drop 1,000 feet to the bowl below. We carved turns in the fresh powder, then made our way into another, narrower chute below called Whitetail, where the snow and steepness made us feel like ski-film veterans. Looking back up at our tracks from below reinforced that our earlier decisions had been good ones. We snickered to ourselves thinking about all the people still waiting in the tram line.

This is the thing about Big Sky: It's big. Everybody knows it. Skiers and riders from around the world come here because of its bigness. The resort advertising campaign is built around the slogan, the Biggest Skiing In America™, touting that everything in Montana is bigger — the sky, the mountains, the snowfall. Except the crowds, of course; those are actually smaller than other resorts, and that plays into the advertising as well.

And, indeed, Big Sky's stats are impressive. The resort — since it officially merged with Moonlight Basin and Spanish Peaks Club last winter to become the largest ski area in the country — boasts 5,800 acres of inbounds terrain spread out over four mountains, a 4,350-foot continuous vertical drop, and more than 250 named runs that amount to 110 miles of designated trails. And all of this is covered by more than 400 inches of snow each winter. There is also an open boundary policy — skiers must leave the resort through designated gates — which adds even more accessible sidecountry terrain for experienced skiers. With the adjacent Yellowstone Club — a private ski area that adds another 2,000 acres of skiing for those with the means — it almost has a European feel, minus the neon ski suits and strange accents. Although those are becoming more frequent.

The thing that I've grown to realize after living and riding here for nearly 15 years is that the best part of Big Sky's bigness is that it creates what I think of as several smaller ski areas. It can get intimidating if you think of the entire resort as one ski area — deciphering the trail map is like reading a small book — but if you break it down into smaller zones it starts to make more sense. With so many different aspects, elevations and ability levels to choose from, conditions can vary from one zone to the next, meaning that there is always good snow to be found. Hence, the best part of how big the resort is may actually be the smallness that comes with it.

"What I like most about Big Sky is that there are four different mountains all connected by chairlifts, and there is literally something for everyone on each mountain," says Sheila Chapman, public relations manager for Big Sky Resort, adding that the resort's 2,300 acres of beginner and intermediate terrain alone are more than some entire ski areas. "In addition, there are runs for all abilities on each mountain, and I love how the different abilities are intermixed throughout the resort and not just associated with one chairlift."

There are Big Sky locals that ski and hike in the Moonlight area exclusively — the resort again this year offers a Moonlight-only season pass — which combines rowdy expert terrain and mellow, uncrowded intermediate runs. There are those that will only ride the tram, others that swear by Challenger on any given day, more that seek out the gladed trees and hidden pockets of Andesite Mountain, and still more who use the Dakota and Shedhorn lifts seemingly as their own private ski area. Beginners and intermediates can stay in the Southern Comfort area all day and not get bored, while the additional Spanish Peaks trails reward skiers with empty runs and a sense of being well off the beaten path.

The rest of us bounce between these smaller zones based on where we think the best snow can be found. I'm not picky; I don't need to be on the steepest, gnarliest lines all the time. At my age, good powder trumps most everything else. Thinking about the resort on a smaller level instead of a bigger one is the key to my decision-making.

Two other days stick in my mind from last winter. The first is a late season powder day that dumped more than a foot of snow at my house in the meadow. Noticing that the snow was on the heavy side, I surmised that the ski patrol would have their hands full with avalanche control on steeper terrain. I went directly for the lower angle runs on Andesite and enjoyed a morning of untracked powder while others were stuck in lines on Challenger and the tram.

The second is one of my last days of the season, when some friends and I ventured out of bounds into the Lone Lake Cirque area on the far north side of Lone Peak. This area poses serious risk and is not patrolled, but when conditions are good it offers perhaps the most rewarding and challenging terrain on the mountain. Several days after the last storm, we still had fresh tracks down Corner Pocket, a chute I had never ridden. It was unbelievable, one of my best runs of the season.

Standing at the bottom looking back up at our tracks, we were the only ones in the massive cirque, which by all accounts could be its very own ski area. The bigness of the terrain in front of me was real, but I couldn't help but think about the smallness of it all too. This is just one piece of a giant, snow-covered puzzle, I thought; one that might take even a seasoned local like myself years to put together. After all, there are pieces that I have probably not even found yet, and it seems like the puzzle gets bigger every year.