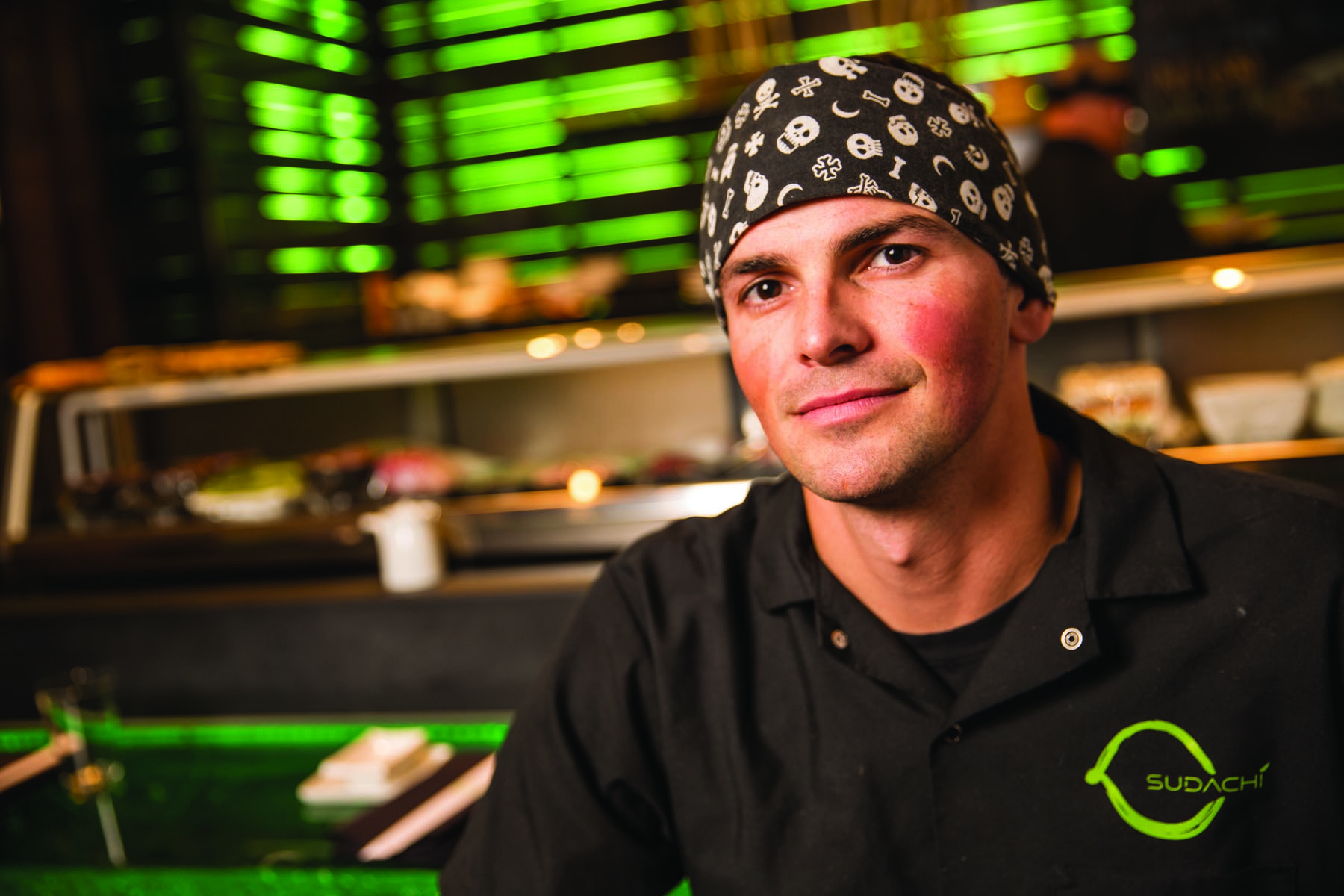 24 Aug

Dining Out: Beyond Sushi

in
---
Get 29-year-old Dustin Rasnick talking about sushi rice and his face and voice get as animated as any 10-year-old boy's when talking about race cars or outer space. "Really good sushi rice — before it comes anywhere near your mouth — you can feel its quality. When we get some in, I dip my hands into the bag and can feel the amount of time the growers spent washing it," he says. "Then it's up to us to cook it right — so that the texture and the temperature are such that it falls apart in your mouth, but also stays together. You should feel every single grain, but over a period of time. The ball shouldn't collapse all at once."
Rasnick, the general manager, head chef and part-owner of Sudachi, in Wilson, Wyoming, spent considerable time looking for what he considers the perfect rice. "Japan has the best short grain rice, but it's just not economically feasible to ship giant bags of rice across the ocean. Not just for me, but for any sushi restaurant in this country. Farmers in California have been stepping up, though, and their rice is right up there now. It did take me a while to find it, though," he says.
The degree of care and concern Rasnick puts into the restaurant's rice alone speaks volumes about the way Sudachi operates. In the years he has spent rising up the ranks at the restaurant, from sushi chef to part-owner, Rasnick has made it his mission to concern himself with the quality of every single bit of food, from rice to uni roe.
"We do dressed-up sashimi and fancy rolls with all kinds of sauces because that's what most people want and expect at a sushi restaurant, but if you use only the best ingredients and prepare them in the best way possible, all you have to do to make something taste its best is something small … just enough to aid the flavor," Rasnick says. Take his personal favorite roll: Kaiware (the sprout of a daikon), cucumber, avocado, wasabi and tuna. The rice is on the outside and sprinkled with sesame seeds. "I eat it almost every day at work," he says. "You taste everything with each bite," he says. "It's pure and simple."
Rasnick's love for the pure and simple doesn't mean his "sauced-up" sushi should be skipped. Whether fish is served simply or sauced up at Sudachi, it's the same quality. This means that rolls like the Marley (soft shell crab, avocado, spicy tuna, scallions, tobiko and a sweet-spicy sauce trio) and the Foie & Tuna (foie gras torchon, yellowfin tuna, cucumber, tempura crunchies and a sweet soy reduction) will be among the best you've ever eaten. The extras — the sweet-spicy sauce, tempura crunchies, sweet soy reduction — aren't meant to mask the taste and texture of fish, but instead to enhance it. Even in Sudachi's more complex sashimi like the Shiro Maguro — Albacore, shogu, crispy onions, cilantro and sweet garlic ginger soy — the supporting ingredients are there only to enrich the fish.
As much as Rasnick likes sushi, he likes challenge even more. "I've been rolling sushi for about seven years now," he says. "It's become comfortable for me. I'm someone who needs challenge and new things. The menu isn't just about sushi."
Sudachi's take on carbonara might be the best thing I've ever eaten. "We've taken soba noodles and mixed them with bacon uni butter and put a seared scallop on top," Rasnick says. "If you don't eat sushi at all, this is still easy to eat." In this dish, the uni roe breaks down in the melted butter, resulting in a simple-looking sauce that tastes anything but simple. I'd be impressed with any palate that could identify the mysterious earthy flavor as uni roe though.
If Rasnick hadn't previously described the dish to me — that childlike enthusiasm again infecting his face and voice — I might have guessed it was butter with shitake mushrooms and orange zest. I didn't think of myself as a fan of uni roe until meeting this dish. Rasnick's inclusion of smoky bacon bits should overwhelm the sauce, but instead briefly shifts the focus from taste to texture: sandpaper happily playing alongside satin.
This winter Sudachi added ribs to its menu. "When I was seven I could sit down and house 30 pieces of tuna sashimi," Rasnick says. "I can still do that today. I can do that with these ribs too. They're one of my favorite things in the world."
It's amazing that Sudachi pulls off dishes like its seared scallop carbonara and melt-in-your-mouth, Asian-style ribs in a kitchen where, because it's so small, "we have to put all of the appliances up high," Rasnick says. "We have one tiny freezer — no walk-in — four burners, one fryer and the tiniest of prep areas."
Since Rasnick has taken over the kitchen he's made it his mission to do as much as possible in the small space. This includes desserts. "My goal is to make as much as we can in-house," he says. "We used to buy a lot of stuff. We didn't even make our own gyozas — and they are super simple." Today the restaurant makes its own ramen broth — rich, creamy, soothing — in a process that takes upwards of 24 hours. Most places are content to buy broth as a pre-made concentrate. "In a restaurant of any size, it's difficult to make everything in-house," Rasnick says. "But it's really a challenge to do in a kitchen as small as ours. Maybe that's why I'm so into it."