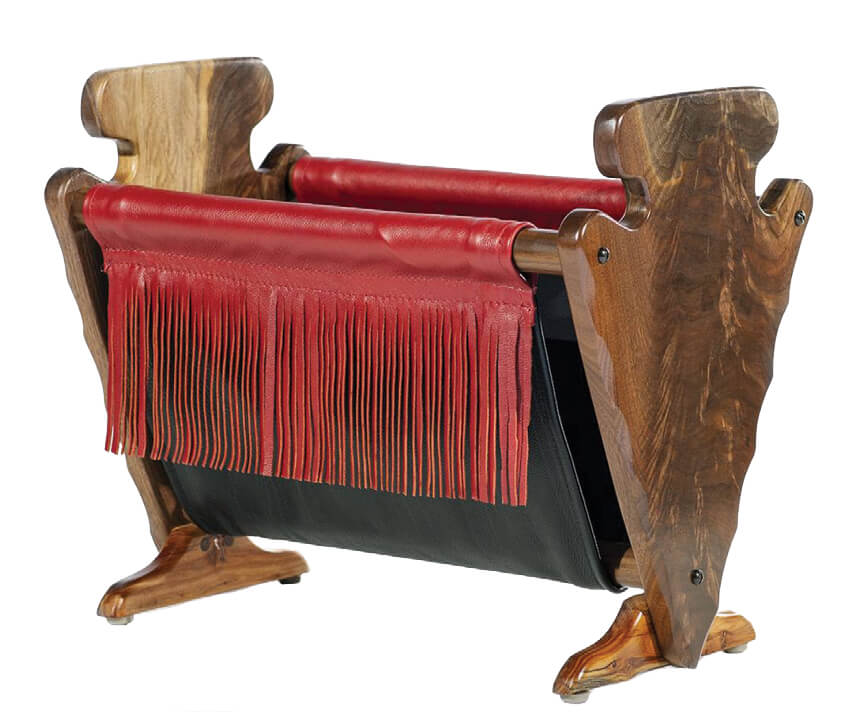 arrowhead rack: From $800 | 11 x 17 x 15 inches
08 Apr

Best of the West

in
Magazine Racks by Norseman Designs West
Originally based in New York, John Gallis traded in a lucrative career building custom cabinetry for Bloomingdale's for an artisan-based way of life through his company Norseman Designs West in Cody, Wyoming. His award-winning, one-of-a-kind pieces are rooted in the Shaker-style with "the flowing curves of art nouveau." He has also focused on Molesworth-style designs for more than 20 years, adding his own unique touches. These magazine racks encapsulate Gallis' expert woodworking skills, attention to detail, and decorative embellishments, resulting in functional pieces with Western flair.
Beaded Rack: From $1,215
21.5 x 8 x 19 inches
Arrowhead Rack: From $800
11 x 17 x 15 inches
Polished Cast Iron Skillets by Butter Pat Industries
Dennis Powell used the cast iron skillet that was passed down to him from his Southern grandmother for many years, until that fateful day when it slipped out of his hands and was damaged. Unable to find newer models on the market with the smooth bottom and quality of the antique versions, he took the task into his own hands. "Over the next two years, I researched the manufacturing process from the late 1800s that made such smooth, light pans from the past," he says. Today, Powell's company, Butter Pat Industries, creates hand-casted, -finished, and -seasoned skillets, which take 21 days to make from start to finish, as opposed to 90 minutes like the mass-produced versions. Lighter weight than most, "uniquely smooth," easy to clean, naturally nonstick, and free of harmful coatings, these can be used for braising, searing, frying, baking, and grilling.
10-inch Heather skillet: $215
12-inch Joan skillet: $325
14-inch Lili skillet: $435

Alpaca Wool Blankets from Alpaca Threadz
When the 2020 pandemic required LeAnn and Brandon Morris to put their travel company on hold, the couple decided to support textile artists in remote regions of Peru and Ecuador whose livelihoods had also been impacted. Their company, Alpaca Threadz, sells fair-trade, hand-crafted alpaca wool blankets, clothing, and accessories made in these Andean communities. While helping to preserve a time-
honored tradition, the couple also gives 10 percent of their profits to local families. These colorful patterned blankets can complement both contemporary and rustic interiors.
$150 to $300 | alpacathreadz.com

Carved Leather Vase by J.L Blair Saddlery
Master saddlemaker John Blair was a participant in the 2020 Made in America Product Showcase at the White House and is a frequent exhibitor at the Western Design Conference in Jackson Hole, Wyoming, where he's been honored with the Best Artist in Leather and Exhibitor's Choice awards. While making saddles has been his profession for more than 40 years, Blair also creates exquisite leatherworks for home decor, including this hand-carved vase with conchos by silversmith Ernie Marsh. This vase required a special mold and the creation of new tools, and Blair says it has inspired him to design additional pieces in this style.
$9,285 | 10.5 x 12 inches

The Sanrok 7 from Cudaway Knives
Why trade function for aesthetics, or vice versa, when finding the perfect chef's knife? Outfitting private and professional kitchens with hand-hewn, high-quality cutlery became a passion for Cudaway Knives owner Morgan Keenan when he realized just how dull — in every sense of the word — the world of culinary knives had become. Cudaway's popular 7-inch Sanrok is made from attractive and durable high carbon, cryogenically heat-treated 440c stainless steel, and finished with a G10 handle — a woven fiberglass and high-pressure epoxy material most often employed in aerospace technology. Each beautiful blade is also backed by a lifetime warranty and sharpening at the Cudaway Knives shop in Bozeman, Montana.
$439 | cudaway.com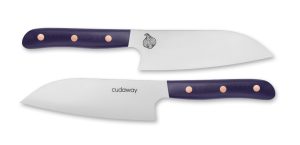 Bandana Mosaic Tiles from New Ravenna
Once described as the "go-to decorator for Manhattan's well-heeled millennial set" by the New York Post, Sasha Bikoff has taken her skills and love of textiles to a new level with these mosaic tiles. New Ravenna paired up with Bikoff to create two versions of bandana tiles, a West Coast and an East Coast style. "I love the playfulness of turning a textile into a tile. The paisley bandana is a print that started in India, but it came to really represent America," Bikoff says. "I like the idea of something that's so common being made into a high-end mosaic." The tile is custom-made and precisely measured for each installation.
Inquire for price | newravenna.com

Leather Door by Quiet Woman Cattle Company
It's rare to find a door as unique as this one, created on commission by Jeff Myers of Quiet Woman Cattle Company. Specializing in architectural leather designs, Myers used more than 43 hides to construct a panel that completely covers the door. As a leader in architectural leather works, he also designs and builds handrails, drawer pulls, handles, and furniture. Custom architectural leather products are on the rise, Myers says, noting the frequent requests he receives from architects and interior designers.
Starting at $15,000 | 9 x 9 feet

Ines Guest Towels by Bella Notte Linens
Bella Notte Linens was founded in 1996 with a mission to create luxury home textiles that could be used daily and — as the first U.S. company to develop elegant linens that were machine washable — cared for easily. Ever since, they've been producing heirloom quality products that are designed, cut, sewn, and dyed in their San Francisco Bay Area studio. Using some of the finest materials from around the world, Bella Notte often collaborates with other artists to create the meticulous embroidery and lace that are the touchstone of their line of guest towels. The Ines Guest Towels feature intricate cotton embroidery on rich, midweight linen and come in a variety of colors.
$110 per towel
26 x 40 inches

Gondola Sauna from the Gondola Shop
The Gondola Shop, based in Fruita, Colorado, crafts made-to-order saunas from repurposed gondolas that have been sandblasted, restored, reassembled, painted for heated surfaces, and outfitted with hand-picked hemlock wood. Each member of owner Dominique Bastien's "Rebuild, Reuse, Recycle Squad" has their own specialty, making craftsmanship a key element and customizations possible. When outfitted with casters, two people can move the gondola; and with its 100-foot cord, the sauna can be installed in a scenic outdoor location. The heater can be programmed with a smartphone app, and each fits four to six people.
$25,700 | 78 x 68 x 80 inches | thegondolashop.com