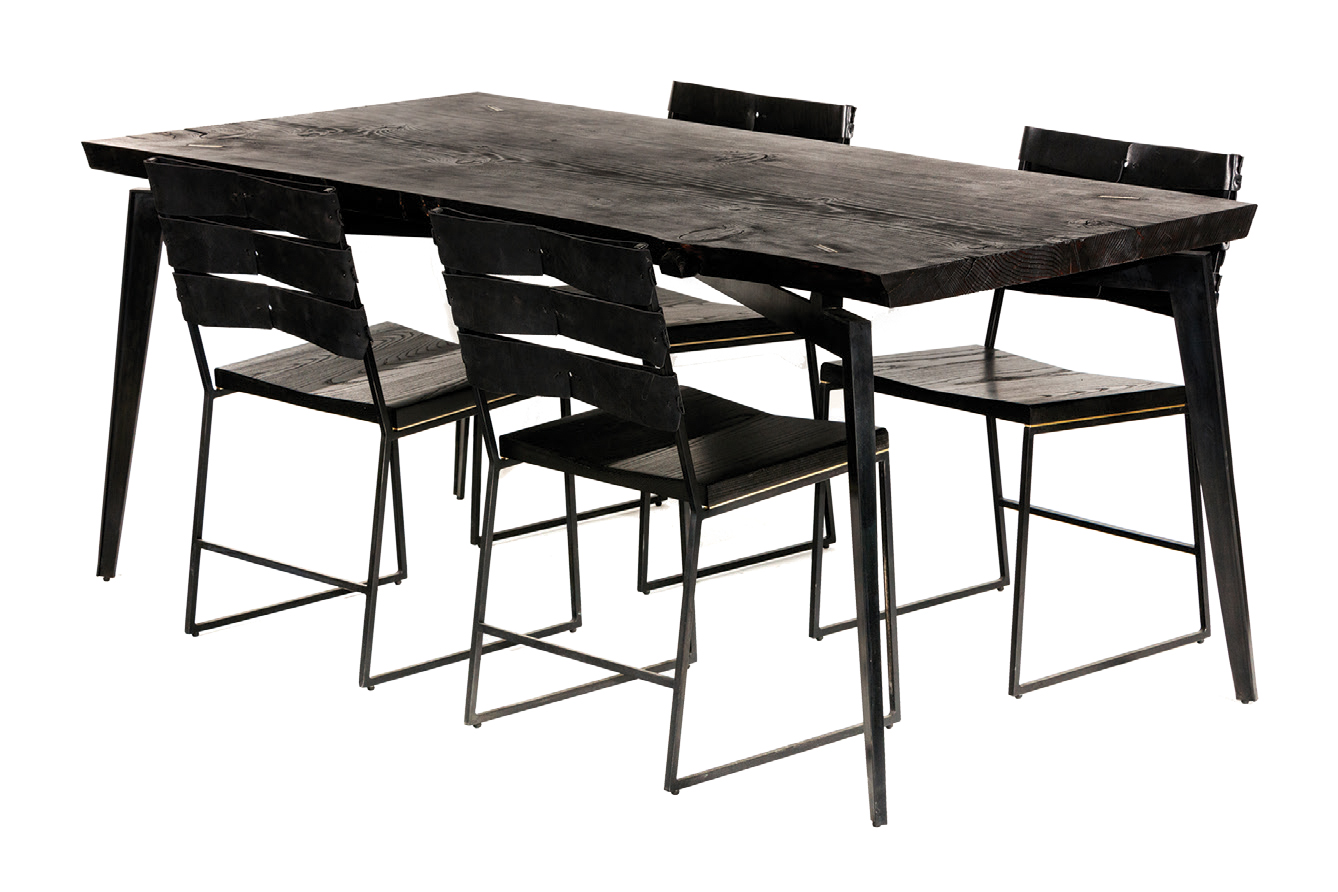 07 Apr

Best of the West

in
Buffalo Hunt Armoire by skyhorse saddles + hughes woodworks
This joint venture between Durango, Colorado-based master saddle makers and leather artists Lisa and Loren Skyhorse, and Huson, Montana-based master woodworker Shane Hughes, is the epitome of one-of-a-kind. The collaboration, which took place over the course of a year, involved immense dedication, as the artists passed the piece back and forth across the Rocky Mountains.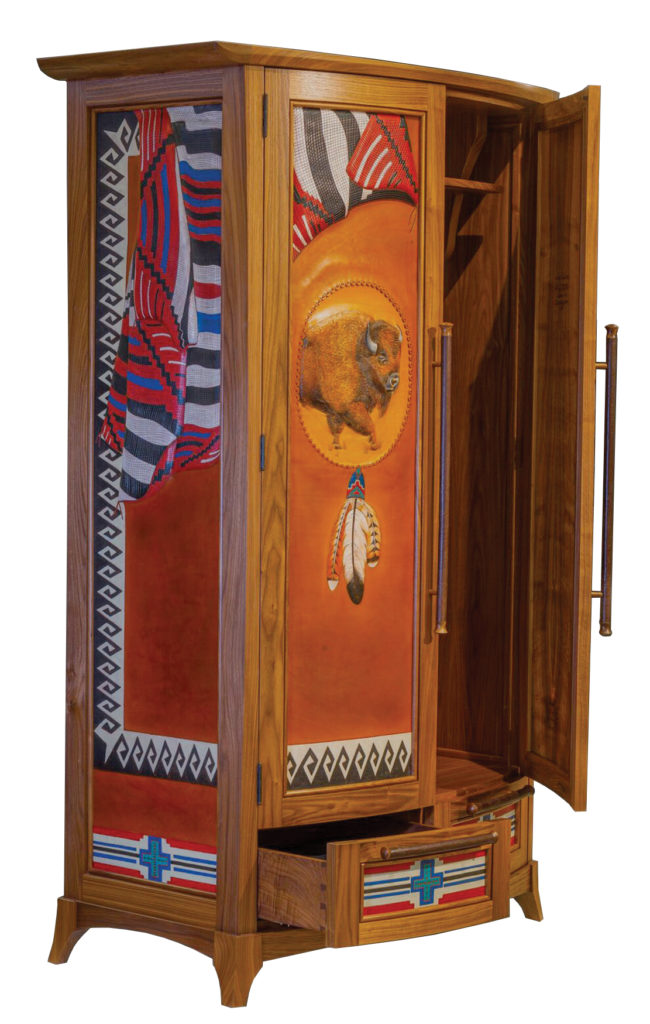 The resulting Buffalo Hunt Armoire aligns with the Skyhorses' classic Western designs, right down to the bison-wrapped handles. Two full cow hides were used to wrap the four 5-foot-tall leather panels, and each features an original design that's hand carved and sculpted to create a 3-D effect, and then hand painted by Lisa. A 1980s Phase 3 Navajo Chief blanket is incorporated into the piece, along with Loren's hand-buckstitched inlaid buffalo hunt images.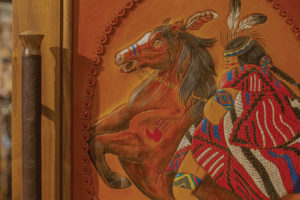 Hughes handcrafted the wooden features from a single walnut log from Western Montana. Along with hand-cut dovetail drawers and traditional mortise and tenen joinery, he incorporated bent lamination construction to create elegant curves.
24 x 48 x 84 inches
$19,000
skyhorse.com
hugheswoodworks.com
The Burnt Forest Collection by MFGR designs
"Just because they look like ski bums, doesn't mean they are. Okay — they are, but they also make rad stuff." That's the opening of the story on MFGR Designs' website, and it sums up their nature-inspired, innovative creations well. Blurring the lines between art and architecture, this Bozeman, Montana-based company's one-of-a-kind furniture collections feature pieces that can tie together a whole room. The Burnt Forest Collection, featured here, was designed with a nod to the forest fires that Montana knows only too well, reminding us that these "natural and necessary" events are what make forests healthy by returning nutrients from the ash to the soil. The Empire dining table features a shou sugi ban fir top and a blackened steel base, along with blackened steel frames, ebonized-ash seats, and hand-stitched leather for the chairs. The Westchester Console and Bookshelf both feature an ebonized-ash case with a maple or walnut front and a steel base; mfgrdesigns.com.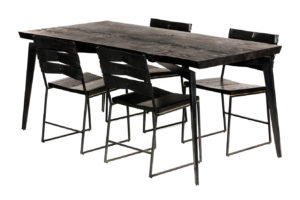 Empire Dining Set: $9,990
72 x 36 x 30 inches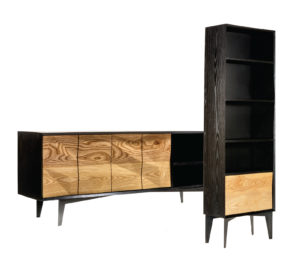 Westchester Console: $4,900
20 x 60 x 22 inches
Westchester Bookshelf: $2,470
12 x 24 x 76 inches
Maynard Dixon's American West: Along the Distant Mesa by Mark Sublette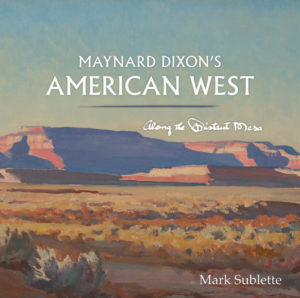 Collectors of Western art are likely are well acquainted with the name Maynard Dixon, for he's a favorite among those who prefer a modern approach to painting. But perhaps the fact that Dixon was acquainted with the likes of Ansel Adams, Dorothea Lange, Robert Henri, Diego Rivera, and Frida Kahlo is less well known. In his new book, Maynard Dixon's American West: Along the Distant Mesa, author Mark Sublette reveals tales of the artist's travels through Western territories for more than 40 years. Learn about how Dixon helped pass the bond initiative for the Golden Gate Bridge and determined its final red finish, a color he described as "eye-fetching." If you love this famed artist, then you're sure to enjoy this informative book.
$95 | Hardcover | 11.25 x 11 inches | medicinemangallery.com
Days Gone By Door Knocker By mark james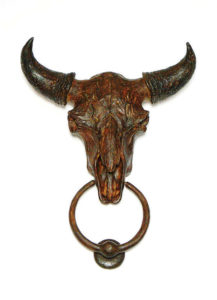 As an avid outdoorsman, Mark James has seen more than one animal skull share the territory he calls home. The Wyoming wilderness, and James' dedication to it as a place to live and work, provides inspiration for the subject matter he portrays in bronze. We love this Days Gone By Door Knocker, a reminder of a time when the mighty bison was free to roam the West. It's available through the Southwest Gallery in Dallas, Texas, which has been in business for more than 50 years.
$1,200 | 11 x 9 x 3 inches | swgallery.com
Painted pillows by Arin Waddell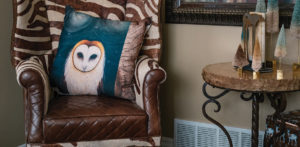 Made from original paintings, the "Art Off The Wall" pillow collection features the works of Arin Waddell. These high-quality pillows add artfulness to any room and are sure to be conversation starters. Beautiful but sturdy, they're printed on eco-canvas, backed with hand-picked velvet or chenille, and finished with a concealed zipper. We love that they are generous in size and filled with down. As the daughter of painter Theodore Waddell, Arin never planned to be an artist but found herself naturally drawn into the world of creativity.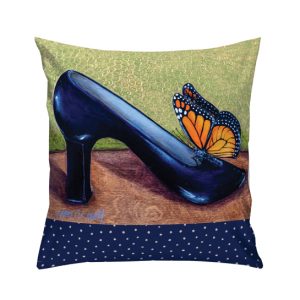 $350 | 24 x 24 inches | arinwaddell.com
Leather & hide table runner By montana leather designs
Since winning the 2012 People's Choice Award at the Western Design Conference in Jackson Hole, Wyoming, Olive Parker's creations have found happy homes all over the world. Due to the popularity of her carved-leather line of personal accessories, Parker expanded her craft to include home goods. In particular, we love this hide and carved-leather table runner that's sure to be a noted centerpiece at any dinner party, whether the table is set with Western accouterments or crystal. Parker hales from the Bitterroot Valley in Southwest Montana. Surrounded by rivers and mountains, she delights in mining sapphires and often adds them to her creations.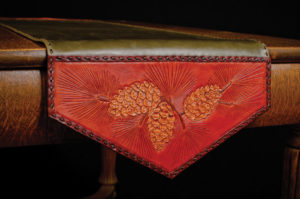 $1 to $3 per square inch
montanaleatherdesigns.com
Snoopy Chair by Eleanor Rigby Home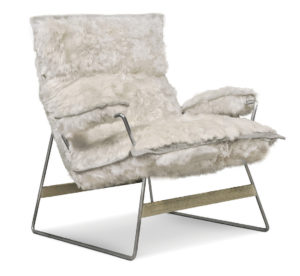 A sleek and chic addition to the living room, this "Snoopy" chair is covered in alpaca hide for the ultimate in luxury and comfort. The frame is made from a combination of hardwood and furniture-grade laminate for a modern touch. And although the ivory-colored Snoopy chair is our favorite, due to the fact that it can blend in with a variety of living room styles, it also comes in an armless style in Storm Cloud grey. Eleanor Rigby Home is a family-owned boutique leather upholstery company. Named in honor of the owners' English heritage (and after one of their mothers), they're known for high-quality craftsmanship and unique innovations. The Snoopy chair is available at Montana Expressions Furniture in Bozeman, Montana.
Price available upon request
29 x 39 x 38 inches
montanaexpressions.com
Traeger Ironwood Grill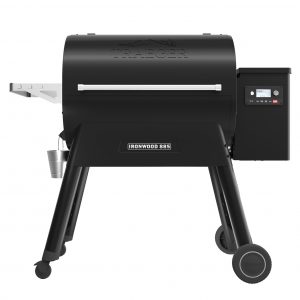 Based in Salt Lake City, Utah, Traeger Grills has combined traditional outdoor cooking methods with new technologies to create high-end grills that result in high-end flavor. They started with a convection-based pellet grill that uses natural hardwood pellets, then added a touch of advanced digital technology to their Ironwood Series 885. The end result is the wood-fired flavor that makes outdoor cooking unique, along with innovative features such as a WiFIRE digital controller that allows users to set and adjust temperatures and monitor cooking from their smartphones, and 6-in-1 functions that offer grilling, smoking, baking, roasting, braising, and barbecuing with consistent results. The built-in main and upper racks feature plenty of cooking space, and the double-walled stainless steel interior maintains even temperatures for consistent flavor in every bite.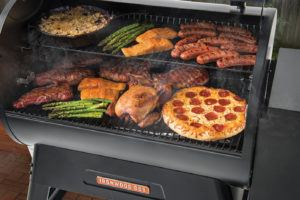 $1,500
Kenyon Noble in Bozeman, Belgrade, and Livingston, Montana
kenyonnoble.com
Owenhouse Ace Hardware in Bozeman, Montana
owenhouse.com
Hisani Table Lamps By ankole living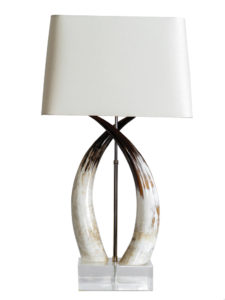 While we love these Hisani table lamps for their natural elements, we also love the story behind them. It all began when Downie and Bobby Mickler were serving as missionaries in Uganda where the "Cattle of Kings," the Ankole, produce unique horns. These horns were generally discarded until the Mickler team founded a collaborative to help turn them into fixtures, creating jobs in an area with a high unemployment rate. Just as each horn has its own color and character, so too does every lamp. And each one is created with artistic care by someone close to the Ankole. The lamps are mounted on thick Lucite and include handmade linen shades.
Starting at $1,700
Various heights
ankoleliving.com
Butte Chair & Ottoman By Forsyth & Old Hickory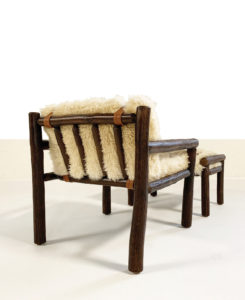 For pioneers and early settlers, hickory wood made strong, sturdy furniture. With that in mind, Old Hickory Furniture Company was founded in 1874, and less than 25 years later, they were shipping pieces across the country and furnishing national park lodges. We love their Butte Chair and Ottoman for its classic silhouette, which reminds us of the chairs at Yellowstone National Park's Old Faithful Inn. Both are handcrafted with mortise and tenon joints and customized with sheepskin and bison leather straps designed by Forsyth. A contemporary take on the pioneer tradition, the chair and ottoman make an undeniably pleasant setting for morning coffee or evening conversation.
$7,600
Chair: 30 x 30 x 30 inches
Ottoman: 30 x 21 x 18 inches
forsythart.com
Montana-inspired Wall hangings by rock on wood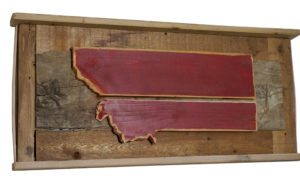 Serving as an artistic tribute to the Big Sky State, these wall hangings are handcrafted from barn wood, stone, reclaimed, and upcycled materials that have been gathered from around Southwest Montana — from the banks of the Gallatin and Yellowstone rivers, the Gravelly and Madison mountain ranges, and various area farms and ranches. Each wall hanging features a one-of-a-kind design, and some are decorated with stone inlays, wood carvings, tile, paint, or epoxy resin. Based in Bozeman, Montana, Nick Seyfert, of Rock on Wood, also creates custom signs, decor, and furniture. His work is for sale at the Emerson Center for the Arts & Culture's Jewel Box Gallery in Bozeman for the month of July.
Starting at $150 | Various sizes | rock-on-wood.weeblysite.com
Decorative security doors By Remo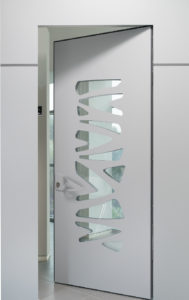 Despite the beauty of these doors, they're no delicate flower. Security doors by REMO protect your family and look classy. A door can be customized to include impermeable materials at its core, offering protection from intruders, fires, and bullets. Available in single- or double-door styles, the variety of finishes include wood, brass, exotic stone, wood veneers, and powder coats in hundreds of colors.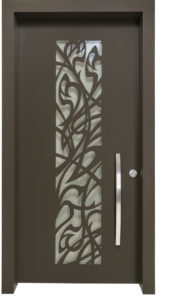 Sizes and prices vary
remosecuritydoors.com
Torche Solar Lights by les Jardins
With the help of strategic lighting, an average outdoor evening can turn into a magical one. Whether set along a pathway or subtly placed among flowers, the Torche Lights by Les Jardins cast their spell. We love that each is solar powered and available in a variety of colors, including teak, red, lime, and gray. With bold colors and attention to detail, this outdoor lighting can make an artful statement.
$259 to $379
From 24 to 46.5 inches
lesjardins.solar