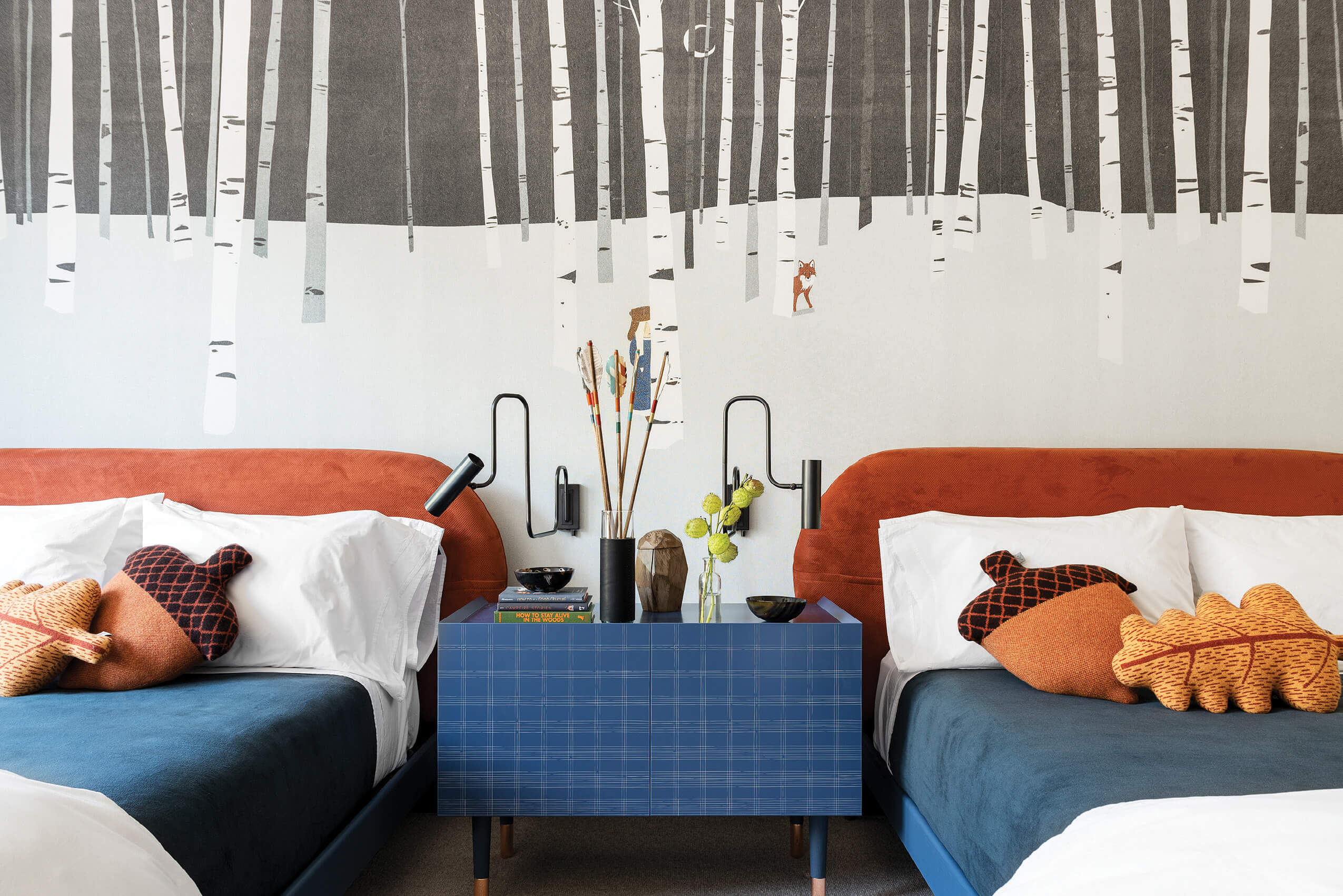 Fun wallpaper adds a whimsical element to this guest room designed by Hillary Asay of Abby Hetherington Interiors. The beds and nightstand are from Miniforms and the articulating wall sconces are from Gentner.
08 Apr

Bedroom Design: Creating A Restful Retreat

in

While much time is often invested in designing the shared living spaces of a home — the great room, dining room, and kitchen areas where people tend to gather — a bedroom can feel like an afterthought. But considering that most people spend an average of one-third of their day in that domain, why not transform it into a luxurious, restful retreat, one that beckons you every evening? Here, two Rocky Mountain-based interior designers — Hillary Asay, with Abby Hetherington Interiors, and Sophia Cok, with Sanctuary Interior Design — share their favorite bedroom design tips.
Find Inspiration
Sites like Instagram and Pinterest are useful tools for finding inspiration and developing a plan. When working with new clients, Asay says she will often use these to get an idea about their preferences and narrow down the feelings they would like the space to evoke. These visual depictions often help determine a starting point for the design. "Finding an image that really resonates is kind of where we begin," Asay says.
Understand the Space
Before purchasing any furniture or accessories, figuring out how much space you have to work with — and how you would like to use it — is key. "Space planning is definitely crucial," Cok says. When designing, she makes sure the plan incorporates ample room for the bed and two appropriately sized nightstands along the wall. Then, she will find the right-sized rug to go below the bed and ensure the lighting is properly spaced.
Thoughtful Lighting
Lighting — both artificial and natural — is a big consideration for bedrooms, adding a restful touch when needed in the evening, and a brighter one during the morning hours. "I think multiple lighting elements are really critical in order to make a space both functional and aesthetically pleasing," Cok says. She points to adjustable lights and wall sconces for bedtime reading, and she chooses a centerpiece fixture if space permits. "If you have the ceiling height, I love to use a beautiful dramatic chandelier," she says.
Dimmers may be useful, particularly when considering functionality. And "having the option to turn the lighting off from your bed is really nice," Asay notes.
Window treatments can also help moderate natural light in a bedroom. "Lots of times, we use dual window treatments, so there would be some sort of a light-diffusing shade and then drapery over top for room darkening," Cok says, noting that these elements can also add texture to the space with materials like woven wood, reeds, and grasses.
Incorporate Texture
Texture is a hot topic in the interior design world for just about every room in the house. And in the case of the bedroom, "Texture is definitely important to keep it interesting," Cok says, noting that she might use solid neutral linen on the bed and add velvet curtains to incorporate more variety. Accent pillows are another great way to introduce patterns, textures, and pops of color, she says, adding that chunky, knit throws are also a fun touch. Additionally, incorporating the right textures can add to the serenity. "You want a soft element in your bedroom, whether it's your headboard or your bedding, to create that relaxing vibe," Asay says, explaining that natural wood nightstands or accents can provide a nice contrast.
Pick the Right Colors
Choosing a color palette is key to setting the tone for a room. "Colors are so psychological," Asay says, pointing out that some clients prefer neutral tones with bright pops of color, while others gravitate to more serene shades. "Some of these are not as shocking to the eye, but can still give a punch," she says.
In her own home, Cok prefers a neutral color palette, focusing on whites and off-whites in her bedroom — with cream-colored drapery and an off-white rug — and incorporating black nightstands and abstract artwork to add contrast. "It makes a really soft, cozy, and serene environment," she says. "You really want it to feel like a space that you can relax and unwind in at the end of a day."
Accent walls can provide another opportunity to add color to a space, according to Cok, who says any number of shades — from deep hunter greens to airy blues — can serve as a backdrop directly behind the bed.
Asay points out that preferred bedroom colors vary widely from person to person, and that the right one is, "whatever makes you feel calm and relaxed, whether it's a bright orange bench at the end of your bed or all neutrals. Whatever resonates with you is what is going to feel the most like you and the most comforting to you."
Add Storage
Incorporating storage in your bedroom design is imperative. "I always try to make sure my nightstand selections have at least one drawer for my clients," Cok says. "Open nightstands tend to look a little cluttered." Managing cords to avoid having them visibly dangling behind nightstands is also important and, in tight spaces, adding under-bed drawers can be a good option, especially in kid rooms and bunkrooms.
Kristen Pope is a freelance writer and editor who covers stories about mountain living, science, conservation, travel, and the outdoors for a number of outlets; kepope.com.