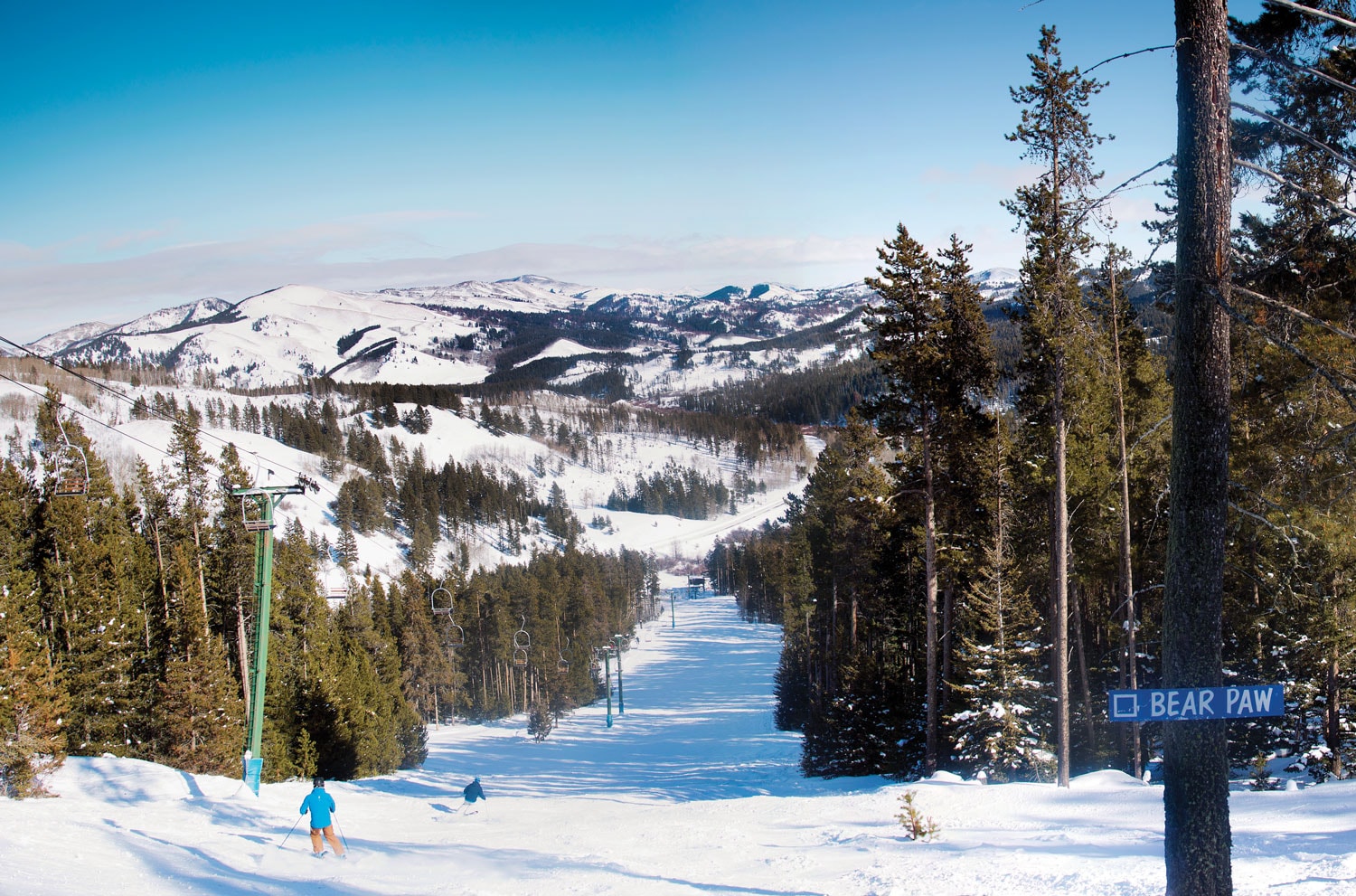 12 Dec

Bear Paw Ski Bowl

in
Montana's smallest ski area is a big part of the community
One Sunday last winter, on the second ski day of a weekend road trip to Bear Paw Ski Bowl, I pulled into the parking lot a little before noon. Making the rather slow, 35-mile drive from the nearest town, Havre, Montana, I wasn't sure what to expect. The skiing the day before was marginal, and the wind was ripping across the high plains like it often does in the middle of February, but I was determined to get another day of skiing in. As I approached the base area — which is basically a small shed with a ticket window — I noticed that the lone double chair lift wasn't spinning. The wind was blowing too hard.
Yet, the parking lot was full. The sun was shining and skiers were hanging out around their cars, geared up and waiting. It had the feel of a tailgating scene. After making the rounds and finding out that the wind would be just too much to open the ski area, my friend and I decided to get back in the truck and explore some roadside backcountry on the way back into town. But this image left an indelible impression on me, and more than anything, it sums up how much the smallest ski area in the state is a larger-than-life asset to the community.
By any measure, Bear Paw is a small ski area. With 900 vertical feet, one double chair lift, and 24 named trails, it reminds many East Coast transplants of their favorite mom-and-pop ski areas back home. But for those living in North-central Montana — known for long, bitterly cold winters — it's the perfect weekend respite. Friendly, unassuming, and downright fun, Bear Paw serves a community need perhaps like no other ski area in Montana.
Michael Garrity, 30, was born in Havre and learned to ski at Bear Paw back when there was a small beginner lift in addition to the double chair. He has many fond memories of spending time there as a kid, and describes it as a place where everyone knows each other. "It's like our own, personal little ski hill," says Garrity, who started the popular Triple Dog Brewing Company in Havre five years ago. "We have it all to ourselves."
Indeed, the first day I showed up after a sporty seven-hour drive from Big Sky — wind and black ice on Montana's backroads certainly will make you run through your cuss-word vocabulary — the ski area was packed not only with locals, but with others from around the state looking for an excuse to head north. But it's the locals — college students from Montana State University-Northern, members of the nearby Rocky Boy's reservation, and those living and working on Montana's Hi-Line — who really embrace Bear Paw.
As a way to drum up business, Triple Dog offers $1 off every pint when someone brings in a Bear Paw lift ticket. During last year's big winter snows, Garrity noticed more people coming into town to ski, and typically, skiers like to drink beer. "We saw a lot of people in here who were checking off all of the ski areas," he says, noting that Bear Paw's stature of being the state's smallest can actually be a selling point. "Quite a bit of people came to town."
Bear Paw is also one of only two ski areas in the country located on a reservation (the other is in New Mexico). It's owned by Rocky Boy's Chippewa-Cree tribe, but operates as a nonprofit run mostly by volunteers, organized as the Snow Dance Ski Association. When it's open (weekends only), it employs about four tribal members each winter as lift operators and ticket takers. Northern Montana snowfall can be unreliable, and Bear Paw was closed for a few seasons before opening again last year when more than 130 inches of snow fell, keeping it open to the public until the end of March. Needless to say, the community was stoked.
"It's fantastic when it's up and running," says Garrity.
Folks have been skiing at Bear Paw since 1960, when a single-person Poma lift was installed on the lower slopes of Black Mountain. In 1977, a double chair was put in at the top of the 6,322-foot summit, giving Bear Paw a respectable 900-foot vertical drop and access to more intermediate and advanced skiing. 
The ski area has always had its financial challenges but has managed to persist over the years. Dave Martens first came to Bear Paw in 1974 after attending the University of Montana, hired by the reservation to manage the ski area. What was once a paid position is now volunteer; but perhaps more than anyone in the area, Martens understands the importance of keeping Bear Paw open, and he's quick to credit the reservation for not letting the ski area go. "Havre is really fortunate because there wouldn't be a ski area if it wasn't for the reservation and the Chippewa-Cree business community," says Martens. "It's kind of a gift from them to the skiing community."
Like any ski area, the quality of skiing at Bear Paw improves greatly when the snow flies. On a powder day, the terrain is legitimate enough for all-day laps on the old double. The main bowl off the top — called The Face — has a great pitch, and the upper and lower North Bowls offer fun, consistent fall lines. Heading straight down under the lift, Bear Paw is a popular run that's steep enough with plenty of jumps to strut your stuff in full view. Four Souls may be the most exciting run on the mountain, offering a few bumps, jumps, and tree lines along the edge as it skirts the area's western boundary. The lift also has a midway station, leading to some nice beginner and intermediate terrain. In a full day you can easily knock off all the runs, even a few in the trees if you're willing to go a little off the beaten path.
When skiers need a break, there's a small shack toward the bottom that serves as the lodge/restaurant/ski patrol. Volunteers grill up burgers on the deck, and the low prices are a refreshing change from the high food costs at bigger resorts. Speaking of cost, a lift ticket will only set you back $25 — or $20 for students and $15 for Chippewa-Cree tribal members. Kids ages 8 and under ski free. "We're fortunate that we can keep lift prices low, so people can afford to ski," says Martens. "The cheeseburgers at other places are as much as lift tickets here."
The Bears Paw Mountains (and, yes, there is an "s" at the end) have the kind of beauty that often goes unnoticed in a state known for peaks topping out in the 12,000-foot range. Blanketed in conifers, they rise up from the surrounding grassy hills and high plains of Northern Montana. Nearby Baldy Mountain, at just under 7,000 feet, is the highest in the range, looming just to the east of the ski mountain.
The area is steeped in history, too, as the final battle of the Nez Perce War was fought here in 1877 — where Chief Joseph uttered his most famous words: "From where the sun now stands, I will fight no more forever." Today, the battlefield is part of the Nez Perce National Historic Park and the Nez Perce National Historic Trail. Baldy Mountain is a sacred place for Native American ceremonies, and the nearby 10,000-acre Beaver Creek Park is the largest county park in the U.S. "There's so much history here," Martens says. "It's a holy place."
Havre is the Hill County seat and the biggest population center on Montana's Hi-Line — a term that refers to east-west running U.S. Highway 2, just south of the Canadian border. This keeps the town of about 10,000 surprisingly bustling, even during the winter. Downtown Havre has an old school Montana feel, with classic steakhouses and supper clubs sprinkled among a few college bars and small businesses — there's still even a computer repair shop. The microbrewery is an after-work hot spot, and an indoor ice arena hosts statewide hockey and curling tournaments. A Wal-Mart draws in folks from across the Hi-Line, and the ever-present trains from Burlington Northern Santa Fe and Amtrak add an industrial element. An underground network of shops dating back 100 years, called Havre Beneath the Streets, is a major tourist attraction.
In truth, it all makes for a pretty cool home base for a ski area.
Back at Bear Paw, the small lodge is busy during lunchtime. The $4 burgers are flying off the grill, and the tables inside are full. I talk to skiers from Helena, Great Falls, and Missoula, all making weekend road trips to catch a piece of Bear Paw's epic season. The spring-like, wind-affected snow wasn't dampening any enthusiasm for the skiing; everyone seemed genuinely happy to be on the slopes that day.
For the coming season, Bear Paw will add a new rope tow to establish a proper beginner zone. It will also offer rentals — thanks to a donation of 200 sets of skis, boots, and poles from Bridger Bowl ski area outside of Bozeman, and snowboard gear and helmets from a Havre pawn shop. Martens also hopes to work with the Rocky Boy's schools this winter to get more kids up to Bear Paw on the weekends. During the summer, volunteers stay busy by doing lift maintenance and clearing runs.
"We're really fortunate to have the reservation helping us," he says, noting that it's a big part of what makes Bear Paw so special. "It's still a community here; it's not a resort. You die here and the whole town comes to your funeral."