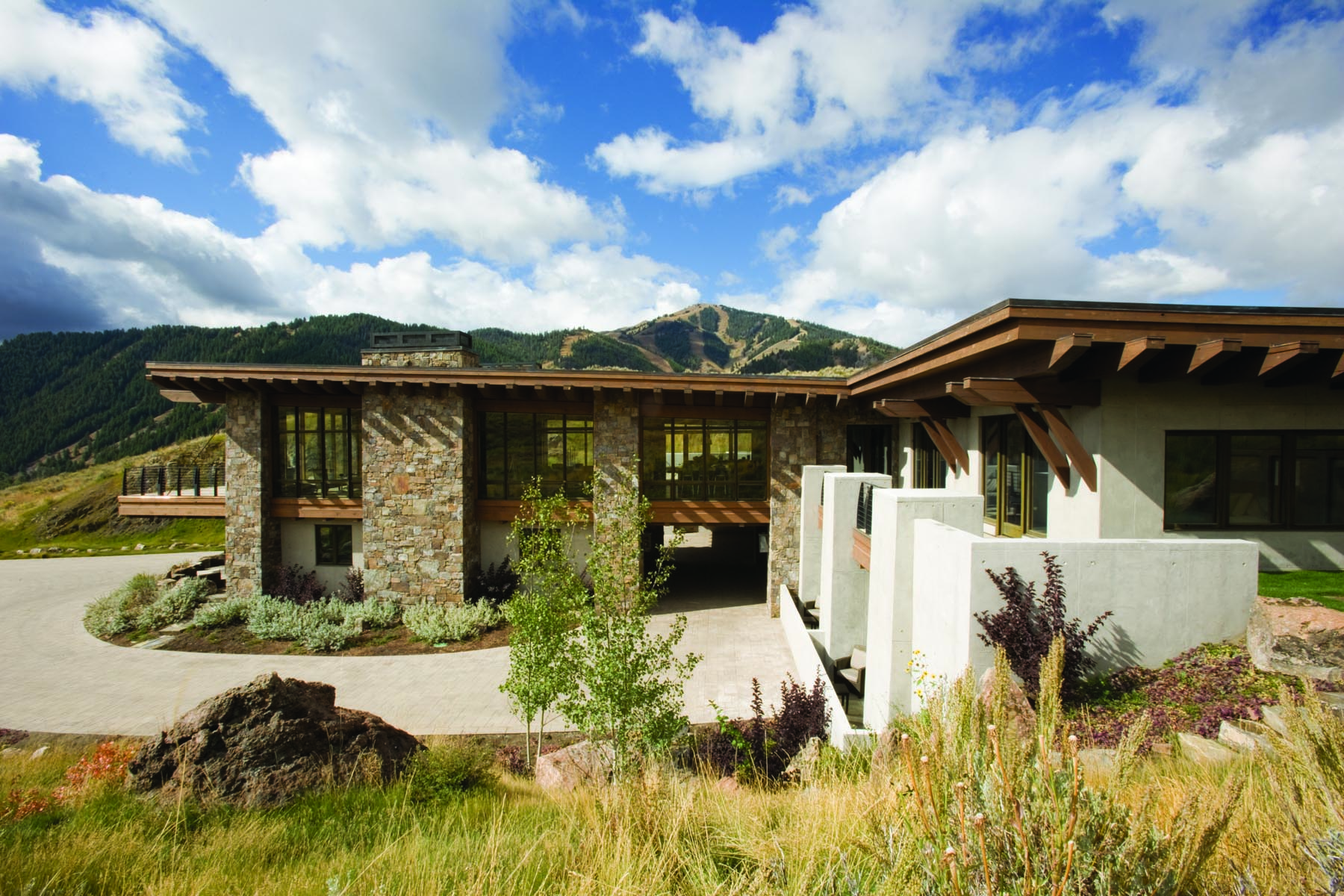 23 Aug

Balanced Contradictions

in

SUN VALLEY, IDHAO, IS NOTHING if not a balance of contradictions. Rich and rustic. Refined and rough in the Rocky Mountains. Historic, yet hip.

With this in mind, one family found a way to maximize its personal "private Idaho" experience while living within a stone's throw of downtown Ketchum. They came to architect Jim McLaughlin and general contractor Gary Storey — longtime Ketchum locals — with conflicting desires for modern lines and rustic aesthetics. They also came with four young children, an affinity for fine art and mind-boggling restrictions on the building site coupled with substantial spatial needs. In the end, ingeniously inspired solutions resulted in a textbook study of precisely balanced contradictions.

An extraordinarily well-matched triad came together — through lyrical fluidity in the ebb and flow of ideas, points of view and cooperative brainstorming — to conceive and create a striking residence that, ultimately, was not just about building a structure, but building relationships as well. It can be rare in the world of construction, but this may have been the perfect match of architect, contractor and client.

This residence — designed and built by McLaughlin and Associates, along with the expertise of Storey's crew — reflects Ketchum's past with respect to the landscape, use of natural materials and local resources, yet nods to Ketchum's present with its relaxed contemporary sophistication.

To the uninitiated, Idaho's Wood River Valley may be best known for its Sun Valley ski resort. Since its opening in 1936, Sun Valley's history has been that of the rich and famous mingling amongst humble local characters in the resort and the neighboring town of Ketchum. Incognito was an easy way of life. No one asked. No one told. No one cared. Small log miners' cabins sat easily next to newly constructed homes in ever-increasing size, expense and trendy features. Things have changed in more recent years with incognito being largely pushed aside, but Ketchum is still a place of concern and respect for the beautiful mountain valley in which it is nestled. That sensibility remained constant throughout the development of this home.

The residence was designed to tuck gently into an extraordinarily challenging site — to be visually quiet in the open landscape, to be unobtrusive in the views from town and yet to take full advantage of the vista from the residence. "The house doesn't appear to be its actual size," notes McLaughlin. "It's a very low-profile house."

Because the seven-acre-plus site is on the edge of an older, well-established neighborhood, it is within easy walking and cycling distance to dining, shopping, cultural events and perfunctory daily errands.

While it is clearly a contemporary structure with crisp modern lines, the meticulous choice of natural materials and precise craftsmanship exudes warmth and comfort typically found in far more rustic homes. Two types of Montana stone, 100-year-old reclaimed beams, wenge cabinetry, walnut flooring, graceful and sculptural cold-rolled steel banisters, rusted steel roofing and solid bronze window frames — now showing "a beautiful patina with a very earthy appearance," according to McLaughlin — create the perfect blend of big city sophistication and mountain town sensibility. Interior spaces blur seamlessly with the exterior spaces through expansive windows, hesitating only momentarily at exterior stone pavers before opening onto the expanse of the Western landscape. The stone, metal and wood details, and even the zinc kitchen counters, are strikingly reminiscent of the valley's mining past.

Gathering together is a regular part of the resident family's paradigm. Often arriving in Ketchum with a sizable entourage of family and friends, the clients sought a balance between their love of entertaining and diligent consideration for the site and the neighborhood. "Unlike a lot of larger homes," explains McLaughlin, "this one gets used to its full capacity. It is most often filled with children, friends and several generations of family." When not occupied by the homeowners, the residence is also generously offered as a venue for charitable functions.

It is the contradictions that make this project distinctive. Form may indeed follow function, but form is certainly no less important, at least to the people behind this project. Aesthetics count. This brilliant juxtaposition of client needs, excellent design and execution, combined with a true appreciation for place, results in a contemporary residence that feels very much at home in this small mountain town.