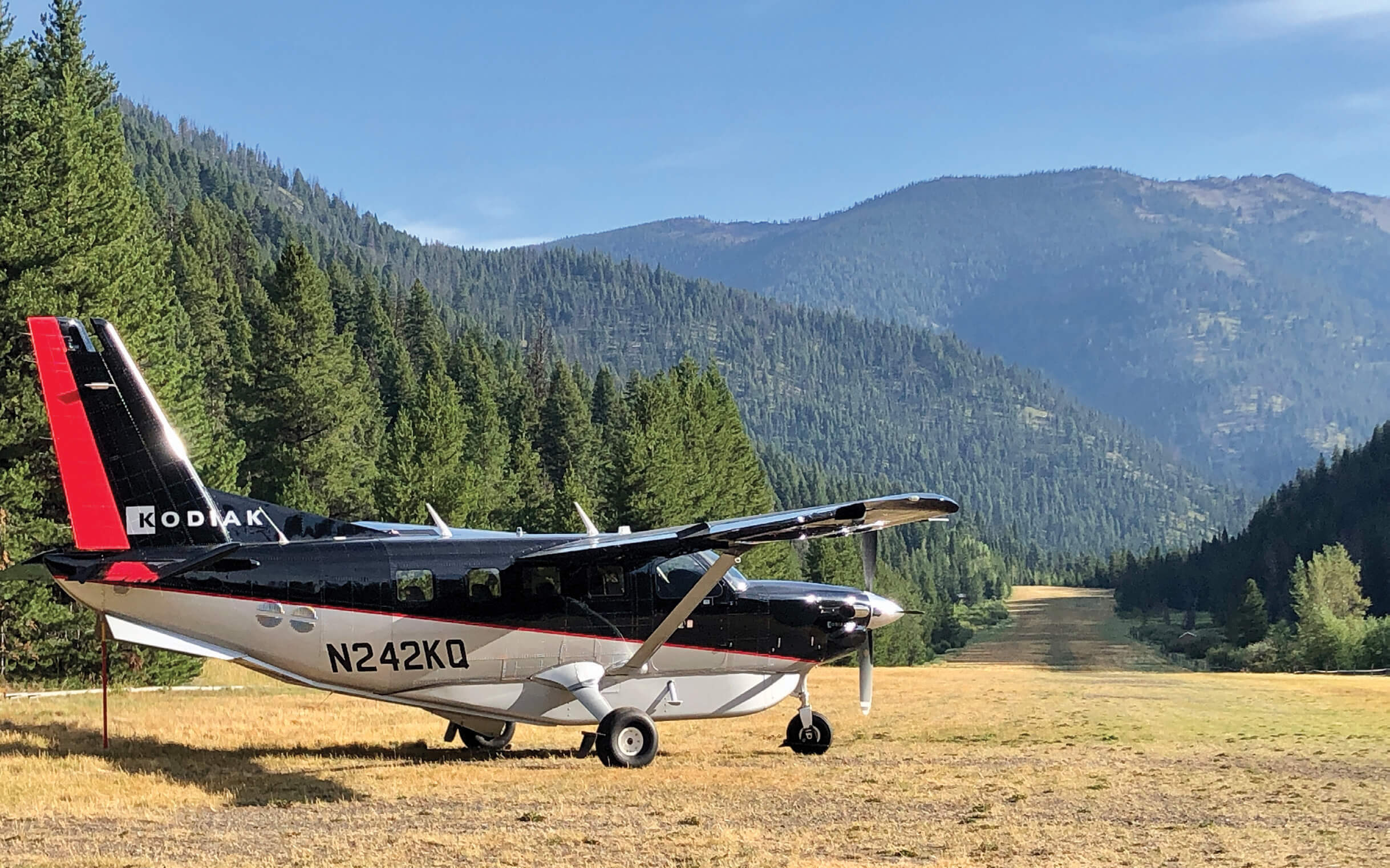 The Daher Kodiak 100 is a modern, turbine-powered aircraft designed specifically as a rugged platform for comfortable passenger or cargo missions. It is used worldwide and built in Sandpoint, Idaho. COURTESY OF ANDREA ELDRIDGE
29 Sep

Back Talk

in

Before a flight, I search the U.S. Forest Service website for the latest fire response and air attack restrictions, scan webcams for measly weather reports from "airports" that seldom report any, and listen carefully to the gems that grizzled backcountry pilots might drop in casual conversation. You can't wing it here; they don't call it the Frank Church-River of No Return Wilderness for nothing.

My early retirement after 26 years with the major airlines lasted about six months. Resettled in Idaho, I dutifully participated in the telling of tall flying tales around the après-ski fire. That's when the job offers started swirling with the smoke. The opportunity to fly a new Daher Kodiak 100 with a turbine-driven propeller boasting 750 horsepower that was designed explicitly for rural flying was worth reconsidering retirement. Ten leather seats with cupholders, air conditioning, and the lack of a uniform requirement sealed the deal. I would be flying to the famed Idaho backcountry strips out of McCall Airport in high style — a dream job by any stretch of the imagination.

Having handled Boeing jets, crossed multiple oceans, and navigated some of the busiest airports in the world, I soon realized that most of my 15,000 hours of aviation experience did not directly apply to flying the Idaho skyscape. Sporting worn KÜHL khakis, my chief instructor pilot seemed less than impressed. His audible sigh may or may not have been accompanied by an eye roll. He was probably kicking himself, regretting ever hiring a rookie. I needed to relearn the pilotage way of navigating — minus the sophisticated, integrated systems display that led me to London Heathrow and Paris Charles de Gaulle airports. I began to familiarize myself with the local landmarks that serve as reporting points on the map — peaks, creeks, and fire lookouts — the lexicon of a landscape. It was a steep learning curve over two months of training, during which the Frank Church whipped my butt.
Big Creek Lodge
In spring, Valley County slowly emerges from hibernation for a gourmet breakfast courtesy of Big Creek Lodge. It's a cush introduction to the backcountry: Depart McCall in the morning with a light load of happy campers, hang out for a few hours over homemade huckleberry pancakes and sprig-colored pistachio muffins, and fly home by afternoon. My first backcountry approach and departure at Big Creek were another story; what an eye-opener.
I start my 180-degree turn to final descent inside the canyon. "Not so steep, shallow out your turn," my instructor barks. I wonder why he wants me to overshoot the centerline. In an airliner, I would have aligned the airplane with the runway miles before landing — impossible in the canyon. It becomes a matter of avoiding granite walls and preventing pine needles from getting stuck in the pitot tube. "Don't fly the centerline; fly the terrain." It's common sense that's easier said than done. Big Creek's grass strip appears 3 feet wider than the landing gear, and my instructor's initial command is quickly countered with, "Touchdown on the centerline." I pull off a smooth landing with room to spare as we taxi uphill to park at my first grass strip in Idaho. 
Given mountain geography, aeronautical "rules" are fractured at Big Creek. At some Idaho airfields, operations proceed without any go-around alternatives. What does this mean? For example, if there's a doe making her way across the meadow or some procedural error in my approach, I don't get to try again; I'm committed. Backcountry landings can be a one-shot deal as there might be a steep cliff or rising mountain at the end of the airstrip preventing any other options. Once you're in, you're all in. 
Likewise, there might be only one preferred entrance and exit to a backcountry strip. You fly out the same route you flew in. So, if I landed with a headwind, as is preferred on a short field, I'd be taking off and departing with a tailwind. This contradicts modus operandi at major airports, where there's a runway oriented in every direction from which the wind might originate — the labyrinth that is Chicago O'Hare International is a great example. Wind is a huge factor when considering aircraft operation. I cannot underestimate how aerodynamic forces and the Kodiak's performance are affected by a tailwind on takeoff. If Big Creek taught me one thing, it's that takeoff in the backcountry can be just as unforgiving a phase of flight as landing.
Indian Creek Airstrip
Idaho has more river miles than any state in the country, and Indian Creek is the Atlanta International Airport of rafters — a hub from which all adventures embark. I've heard a lot of reasons for rescheduling, but today's takes the cake: "Logjam on the Middle Fork." I'm curious, how does this affect my flight? 
Apparently, this announcement rocks the rafting community. All the outfitters are in an uproar getting their groups safely on and off the river on schedule, while simultaneously scrambling to provision new base camps. The resulting portage includes helicopters, mules, and an additional YETI dry bag stuffed with more money. It will take Canyons River Company eight additional helicopter flights to relocate their gear 3 miles downriver. In years past, the Forest Service blasted logjams with explosives, but not so this time. These days, they let nature take its course.
Inbound to Indian Creek, I am informed, "In the backcountry, you're landing either upstream or downstream." I think to myself, You've got to be kidding. How am I supposed to know what direction the rivers flow? Thus begins today's rivers and radio communications lesson: The Salmon River (or River of No Return), Middle Fork of the Salmon, and South Fork of the Salmon flow north. The thought of rivers flowing "up" on a map is somehow a stretch for me. "Can't we say landing to the north or south?" I ask. It seems more intuitive to make a radio call in relation to the cardinal directions of the compass. Alas, my instructor responds in the negative. "No, not unless you want to sound like a rookie. It has to be in relation to the river." Of course it does.
I'm in a 45-degree bank, descending as a part of a tight course reversal back to the airstrip. As I roll out of the turn, a ridgeline topped with trees blocks my view of the runway, so I hook an S-turn. Approaching on a dogleg from the other side, the strip materializes upstream. The airstrip is longer but skinnier than Big Creek. I straighten out before touching down beyond rutted tracks on the first third of the runway. Throwing the Kodiak into reverse, I kick up a little dirt for the peanut gallery loading gear by the riverbank. 
In a passenger jet, I rarely descended without seeing the touchdown point. The airline mantra is a stabilized approach all the way down to the runway: if you see it, land; if you don't, go around. I would venture to say, there is much to unlearn. In the wilderness, if I don't initiate my descent, regardless of whether the runway is in sight, I'd never get down in time to land. What a welcome to our backcountry corner of the ecosystem.
Flying B Ranch
It's not Denver to Dallas; my passengers are content to fly into the River of No Return Wilderness. No baggage handlers or fuel trucks speed toward the Kodiak parked on the Flying B's private strip. After weighing 1,600 pounds of rafting gear back at McCall for delivery to Indian Creek, we retrieve five hunters from the Flying B Ranch. After a week in The Frank, they're returning home with 400 pounds of field-dressed, quartered, and packed meat, and an eye-popping bull elk rack to fit into the cargo compartment.
Most backcountry flying is scheduled for cool mornings, before the wind picks up and the density altitude rises. It's afternoon now and I must constantly monitor conditions, as they change by the minute. As a former airline pilot, I'm well acquainted with high-altitude mountain waves over the Rockies and wake turbulence in the oceanic tracks. But the canyon's more benign-sounding leeward and windward sides can be deceptively more dangerous.
The Flying B requires me to apply all the lessons I've learned up to this point — and then some. Again, wind will not be denied in the decision-making process. Backcountry landing strips usually parallel the rivers, sometimes at a 90-degree angle to the wind. It blows from the west over each ridgeline, then down and back up steep rock walls. Maintaining a constant airspeed throughout this approach and landing is crucial. Today's procedure mandates a power-off descending turn inside Impassable Canyon. The Kodiak is lifted on the downstream (windward) portion of the pattern, then sinks into the valley floor by the downdraft on final (leeward). Both sides of the canyon dump a confusion of air swirls at the bottom. If I don't fly the plane all the way to my intended landing spot, the wind will likely fly it into the ground for me. 
As if I didn't have enough to occupy my mind on final approach to this grass airstrip, my instructor begins his query. "Do you see any big, white runway numbers down there?" "No, Master, I do not." If you search long and hard enough on the Internet, you will eventually locate runway headings oriented to the landing directions for these backcountry strips. I know because I took the time to do it. But that's not his point. He's pressing home the fact that only rookies use runway numbers in their backcountry radio calls.
Today, I'll remember to set the parking brake on the incline, turn the fuel selectors off to keep fuel from sloshing from one gravity-fed tank to the other, and insert the tail stand before the weight and balance shifts as we load the Kodiak with meat and gear. I ask the big boys to sit in front to prevent the center of gravity from falling too far aft. Here, I'm the loadmaster calculating limits, too. I don't want to watch this Kodiak sit back on its rear and laugh at me in front of my fans.
Humble Pie
Idaho backcountry flying is a sporting proposition that hasn't changed much since the 1930s. It's not for the faint of heart, casually committed, or arrogant — the terrain demands respect. My airline career provided me with experience delivering passengers and cargo — it made me a professional. I'm no longer jaded, nor have I anything to prove; I already clawed my way up the aviation industry ladder. But where I made one landing in the five hours it took to fly an airliner across the country, I could make three landings in the one hour it takes to shuttle between strips in The Frank. The question is whether I deserve to fly down the drainages of Idaho's landscape. 
There's plenty of humble pie to be had in the wilderness; and if you dish it out, you better be able to take it, too. Now that my Merrell hiking boots have stepped in a little elk blood, I'm grateful for every extra minute I enter into my logbook. But I recognize that it was only with additional training from rode-hard-and-put-away-wet backcountry pilots that I became comfortable flying the Kodiak, my unbeatable beast of burden. I'll never best the ever-changing Idaho skyscape. But there's a wonderland that is accessible only by airplane, and I intend to view the River of No Return through this cockpit window for a while. 
When snow flurries begin to whitewash the scenery, I'll swap stories with other pilots. I've made plenty of pronunciation errors over the radio, as my instructor handily pointed out, but you won't catch me flying out of Boise with a "ZEE" or Payette like a "PIE" like the tourists. Now, I live here all year — I'm starting to belong. In winter, I'll ski, reflect by the fire, and try not to sound like Ramjet the Rookie. Come spring, I'll accumulate more only-in-the-Idaho-backcountry epiphanies that will continue to challenge everything I think I know.
About The Frank
The River of No Return Wilderness was created in 1980 and includes 104 miles of the Middle Fork of the Salmon River, which splits several mountain ranges as it flows through this protected area. It commemorates the fact that, in the early days, there was no way of navigating the swift rapids back upstream. Congress added the Frank Church name in 1984 to honor the U.S. senator who began his preservation work by sponsoring legislation — starting with the Wilderness Act of 1964 — to secure wilderness areas for future generations. The wilderness area is managed by two Forest Service regions and five National Forests: the Salmon Challis, Payette, Nez Perce, Bitterroot, and Boise. "The Frank," as it is often affectionately referred to by locals, encompasses a total of nearly 2.4 million acres, or almost 3,700 square miles.
Gaining access to this roadless area is an adventure in itself. Intrepid aviators connected Idaho's interior to the outside world, allowing for the possibility of living everyday life in the backcountry. The Forest Service began building airstrips as emergency landing sites to service ranger stations around the 1930s. At this time, they also deployed ground-based firefighters, and smokejumping was established in the Nez Perce National Forest. The McCall Smokejumper program was created in 1943. Their unit now uses a fleet of fixed-wing Twin Otter aircraft. Additionally, ranches were built with airstrips just long enough for a skilled pilot to land with supplies. A grandfather clause granted permission for airstrips existing prior to the wilderness designation to remain open and continue operation.
Founded in 1954, the Idaho Outfitters and Guides Association came to rely heavily on backcountry pilots to promote their outdoor activities. By the mid-1960s, these remote airstrips were actively used; even more so in the 1970s with the boom of the river-rafting industry. The early 1980s introduced the Mountains to Canyons Flying School, one of the first to train technical flying skills necessary to access the Idaho backcountry. Additionally, The Frank hosts private anglers, hunters, and hikers, and their responsibility to respect and protect the environment remains important. Today, those who experience the Frank Church-River of No Return Wilderness are asked to practice the minimum-impact techniques developed using the Leave No Trace philosophy as a courtesy to those who follow in their footsteps.