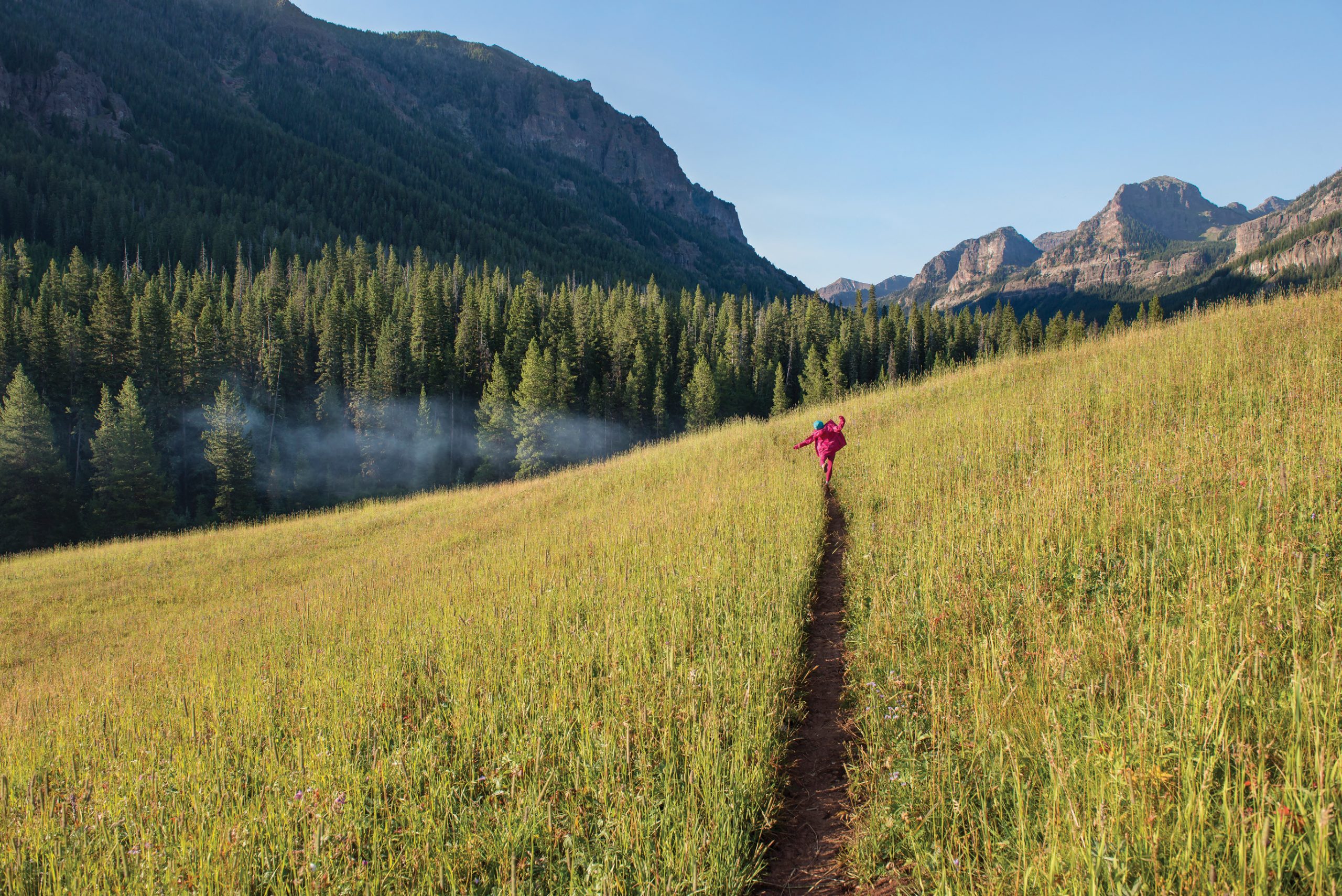 Hiking on a trail near Window Rock Cabin in Hyalite Canyon near Bozeman, Montana.
02 Jun

Away in the Woods

in

I'VE BEEN LUCKY ENOUGH TO STAY AT MORE than two dozen Forest Service cabins around Montana since I moved here nearly 30 years ago. And I've stayed in many of them more than once, some for several days at a time, and during every season of the year. My favorite part: the memories that are created with each visit.

Some stick in my head more than others, like the time a great gray owl sat perched on a fencepost for what seemed like our entire stay at the Ibex Cabin, tucked away in the Crazy Mountains. That same owl (or at least we think it was) was there two years later during another fall visit — but this time we experienced a storm that left a foot of snow behind, and we had to rally our cars up the slick Forest Service road just to get out of there.

There was the time in the winter when we hauled our two young children, with their grandparents in tow, back to the Porcupine Cabin — also in the Crazy Mountains — for another epic snow-filled adventure. And the time we brought musical instruments and equipment, and set up a full-fledged jam space in the East Fork Cabin in the Bitterroot Mountains. And, finally, the unfortunate (but now hilarious) time a friend and I rolled our snowmobile off the trail 5 miles past the Townsend Guard Station cabin in the Big Belt Mountains, and had to hike back to the cabin in the dark through thigh-deep snow to be greeted by our panicked wives. Memorable, for sure.

These cabins aren't fancy vacation homes by any means; they're rustic and often historic log structures — some were once used as fire lookouts, and others housed Forest Service workers — that are part of the Forest Service's long-standing rental program. With nearly 150 cabins scattered across Montana, Idaho, and Wyoming (they exist in other states as well), these hidden gems offer great getaways for reasonable prices — as long as you don't mind a little extra work to make it happen.

"The cabins are unique experiences, different from the more common camping outings on public lands," says Wendi Urie, who manages 26 cabins as the recreation program manager for the Custer Gallatin National Forest in Bozeman, Montana. "Families can stay at cabins without packing tents, tables, chairs, and other equipment, making it easier to get away on a weekend."

Most can be reserved online up to six months in advance, and the popular ones fill up quickly, especially on the weekends. "Cabin rentals have increased in popularity over the last five to 10 years," says Urie. "Many of the easily accessible cabins are reserved for up to 300 nights per year."

Many cabins are accessible by car in certain times of the year, while others are more remote, requiring a hike, ski, or snowmobile mission to reach them. A few have electricity, but most don't, relying on lanterns for light and wood stoves for heat. And the beds in most are Forest Service-issued twins or bunks, and a bottom sheet and sleeping bag are recommended. You'll most likely have to split firewood, haul water (some have a nearby spring that requires filtering), use an outhouse, and cook on a wood stove or over the outdoor fire pit. The reward? Waking up in the woods with a feeling of roughing it, that first morning cup of coffee on the front porch, having the whole place to yourself, and hearing only the sounds of nature.
Hidden Gems: 5 Forest Service Cabins to Try
Sunlight Basin Ranger Station
Shoshone National Forest
40 miles northwest of Cody, Wyoming
With historical significance in an area that the Bannock Indians once traveled through on their way to hunt bison on the plains to the east, and a beautiful, remote location, Wyoming's Sunlight Basin is truly a special place. This three-room cabin, a former ranger station, offers a more modern shelter that can accommodate larger groups. It sleeps eight, comes with a fully equipped kitchen (with electricity), and has a rock fireplace in the living room. Situated in a grassy valley with big mountain views, the site is near Sunlight Creek, which is a great spot to fly fish, home to cutthroats, rainbows, and brookies. The cabin is accessible by car and only available during the summer months.
Swan Guard Station
Flathead National Forest
Highway 83 between Bigfork
and Swan Lake, Montana
One of the nicer cabins in the Forest Service's rental fleet, the quaint Swan Guard Station is located on the south end of Swan Lake in Northwest Montana. Built in 1909, it's the oldest structure in the Flathead National Forest, and it's been fully restored, featuring a refrigerator, sink, cooking range, and a propane heater (but no running water). It can accommodate up to 10 people, and the lakeside location makes it a great spot for recreating and exploring the adjacent Swan Lake National Wildlife Refuge. The cabin is available year-round and is accessible by car.
May Creek Cabin
Beaverhead-Deerlodge National Forest
18 miles west of Wisdom, Montana
The small, one-room May Creek Cabin is a log structure that has been used by forest rangers since the early 1900s. Only accessible by a two-mile hike or ski, the cabin is situated along the Lewis and Clark National Historic Trail on the banks of May Creek, in a beautiful evergreen-filled valley. There's no electricity or running water, but there is a vault toilet outside. It's also near the Nez Perce and Continental Divide trails, providing ample hiking, biking, skiing, and horseback riding opportunities. The cabin's rustic feel harkens back to a simpler time, and the remote location offers a perfect respite from the modern world.
Garnet Mountain Lookout
Custer Gallatin National Forest, 16 miles south
of Bozeman, Montana
There are many old Forest Service fire lookout cabins for rent across the West, but Garnet Mountain Lookout is one of the most popular due to its accessibility and top-of-the-world location, perched at 8,245 feet above the scenic Gallatin Canyon. The two-story structure sleeps four, and features walls of windows on all four sides and a wrap-around balcony. With 360-degree views of the Gallatin Range, Spanish Peaks, and the Gallatin River Valley, there's no shortage of jaw-dropping moments — particularly during the sunrises and sunsets, and when a clear night offers a glimpse of a star-filled sky. Summer access is via a steep, four-mile hike on the Garnet Mountain trail, or a slightly shorter ATV ride on the Rat Lake trail. Winter access requires a 10-mile ski, snowshoe, or snowmobile ride.
Squirrel Meadows Guard Station
Caribou-Targhee National Forest
24 miles east of Ashton, Idaho
Listed on the National Register of Historic Places, the Squirrel Meadows Guard Station was built in 1934. Its location on the Ashton-Flagg Ranch Road — sandwiched between the northern edge of Grand Teton National Park and the southern edge of Yellowstone National Park — makes it an ideal base camp for exploring the surrounding area. The two-room cabin sleeps six, and features a wood stove for cooking and heat, along with a table and chairs. A hand water pump, vault toilet, picnic table, and horse corrals are located outside. The cabin is accessible by car after May 15 for the summer and fall, or via a 10-mile ski, snowshoe, or snowmobile ride in winter.
What You Need to Know
Accommodations: Most cabins are rustic, with no running water or electricity, and an outhouse in back.
Sleeping: Most have a table and chairs, bunk beds, and mattresses, but no bedding. Bring a fitted sheet, a sleeping bag, and a pillow for each bed.
Heating and Cooking: In most, a wood stove is used for heat and/or cooking — although some have a propane stove, and you might be asked to bring some small canisters. Most also feature an outdoor fire pit, and you'll be expected to split wood for use inside and out.
Supplies: Most cabins have kitchen utensils and cookware, so you just need to bring food. Some have propane lights, but plan on bringing headlights, a lantern, and candles.
Reservations: Nearly all bookings are handled online. Once booked, you'll receive specific instructions on what to bring and how to get there. A few days before your stay, you'll receive an email with the combination for the lock and access fence (if one exists). To make reservations, go to recreation.gov.