Cajune got a few tips early on from fly-fishing legend Dan Bailey. Now all his boats have full-length rod holders, are easy to walk on from bow to stern and climb on and off again. "Being able to swim off the boat with my girls is primo," Cajune says.
08 Feb

At Water's Edge

in

IN LIVINGSTON, MONTANA, barely a stone's throw from the Yellowstone River, a handful of fly-fishing craftspeople are at the forefront of a burgeoning movement, creating handmade, utilitarian works of art. Boats. Rods. Flies. Not unlike the pioneering farmers of the farm-to-table movement, these men and women are minimizing the distance between workshop and river. They work with their hands to subvert the norms of consistency, repetition, and mass production. Each boat, each rod, each fly is its own masterpiece.

It's a model that supports both the craftspeople and the community, all the while ensuring fly-fishing fanatics the highest quality gear.
Cajune Boatbuilding
I can't put my finger on what I'm smelling inside Jason Cajune's shop. It's woody, yes. And there's varnish too. But it's more than that, I tell him. It smells clean.
I sniff as we work our way around piles of Alaska yellow cedar, mahogany, white oak, and ash. I smell the Salty Dog Deck Oil too — with pine tar and linseed oil. I keep wondering, asking, but Cajune gives up.
"I guess this is just how it smells in a wood bakery," he says, flipping down the face shield of his welding helmet, finishing off some cup holders so we can get on the river.
Cajune has spent his life around wooden boats. He grew up on Two Medicine Lake in Glacier National Park, where his mother and stepfather ran the boating concession for 35 years. Cajune spent countless summer days aboard the 45-foot Sinopah, first launched in 1926. The old Great Northern log boathouse was his workshop, the lake his playground. For Cajune, it was the start of something. "I could fix things," he says, "but every free second I could find, I was fishing."
In college, Cajune studied architecture at Montana State University, where his father had been the first American Indian to graduate from the School of Architecture. In 1994, during an apprenticeship with a boat builder south of Seattle, Cajune met his future wife, Vedra, and the two traveled around on a motorcycle. They ended up back on Two Medicine Lake and, before long, he was building his own wooden boats. "I wanted a nice wooden boat that could withstand getting beat up on the river," he says.
Vedra supported the couple by working as a chef in Whitefish, Montana, while Jason built boats. After selling just two, he had a waiting list. "And then the Internet happened," he says. For a while, he had seven guys working with him and they were punching out 20 boats a year.
On a bright, icy February day, Vedra and Jason found themselves sitting in a coffee shop in Livingston. The wind was blowing sideways, and people were falling down in the street. The feel of the town reminded them of Whitefish, he says. But sunny. The couple decided that day to move their business and their lives. "How many times in life do you have the opportunity to just move like that?" he asks.
On the river, aboard a sleek, 16-foot skiff he's just spent nine months building, we talk about opportunity. About how Cajune took one of his boats down the Selway, and another down the Colorado. We talk about how he and Vedra and their two daughters had just come off the Middle Fork of the Salmon in one of his boats. And about how proud he had been watching 16-year-old Sophie do a lot of the rowing. He talks about losing almost everything when the recession hit, and how the physical and emotional challenge of being a firefighter in Livingston helped him find the nerve to start building boats again.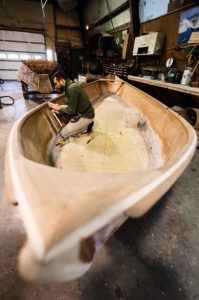 These days, Cajune builds a couple of boats a year with one employee. He starts with a handful of drift boat styles — classic, skiff, and recurve — then customizes each one down to the last detail. One couple from the Midwest prefers not to get out of their boat, so Cajune built in a dining table, cutting boards, and propane heaters. His daughters help with the tiniest things — including decorative metal flies placed just so — and Vedra manages the business details from an office in the family's garden shed. His custom boats start at around $27,000 and there is a waiting list that has been as long as four years.
When we're at the takeout, I gush again about the curves, the tones, the lines, everything that makes the boat so beautiful. I tell Cajune what fun it is to write about artists. "I hesitate to call it art," he says. "These boats need to be on the water."
The same could be said of their maker.
J. Gilmartin's hand-split bamboo fly rods
Gilmartin puts his signature on his finished rods.
When Joe Gilmartin was a boy of five or six, his grandfather put a bamboo fly rod in his hands. They fished together in Florida and Wisconsin, and Gilmartin never tired of it. Fishing became what Joe did between everything else that happens in a life. When his grandfather died, he left Gilmartin the rod. "I still fish with it," he says, more than a half-century later.
In college, Gilmartin studied filmmaking in Chicago, but when there weren't a lot of jobs for directors, he took work as a carpenter, building sets for big-budget movies like The Untouchables and Batman. The work demanded precision. Making doors, for example, that ended up being 20 feet tall on screen, taught Gilmartin that his work had to be done right. "Everyone sees everything," he says.
Between jobs, he kept fishing.
Fast forward a couple of decades and Gilmartin was looking for something to do besides work, as he tells it. In 1993, he saw a magazine ad for a fly rod business that was for sale in Wisconsin. He called owner Dave Lewis and said he'd buy the business if Lewis would teach him how to build bamboo rods. Gilmartin traveled, studying under other masters. When he was ready to retire from the movie business — where he'd worked his way up to senior effects technician — Gilmartin and his wife, Margo, left Chicago and headed back to Montana, where Margo had grown up. They landed first in Melrose near the Big Hole River, then Livingston, and eventually, Paradise Valley on the Yellowstone.
Gilmartin knows his fly rod history, from England and Japan to North America. He talks about the fiberglass era. Then graphite. "It seems old-fashioned and snobbish," he says, but nothing flexes or feels so good in hand as bamboo.
Gilmartin builds 10 to 12 rods a year, plenty of which he trades or gives to friends. He starts with a 12-foot culm of bamboo, flames it for color, then splits it with a mallet. He planes the bamboo with a whisper-quiet hand mill. His shop floor looks like a beauty parlor, honey blond curls of bamboo everywhere. "Most of the bamboo ends up on the floor," he says with a laugh.
Gilmartin heats the bamboo, then tapers it, which he says is the key to the rod's action. He uses silk thread for the guides, choosing colors because he likes them. He builds cork handles using tiny rings of cork, glued together and turned on a lathe. He designed his own varnish machine with old copper pipe, and lets each rod cure for three months or so. Such precision at every step allows Gilmartin to fit a rod to a hand, to an angler. He recently made a pair of rods for a father and son with slight variations based on their size and preferences for flex.
Gilmartin's rods come in two or three pieces, and in 3-, 4-, and 5-weights. Each one takes around 90 to 100 hours to craft. He loves what he does and takes great care with it, but Gilmartin isn't precious about his work. "These are beautiful things," he says, "but ultimately they are hammers."
For Gilmartin, the work is about process more than product. He still gets out fishing every week — on the Yellowstone, the spring creeks, or up Mill Creek — and he and Margo head to Florida to fish each winter. But every time he gets to his shop, Gilmartin is right where he wants to be. "I get an opportunity to work with my hands and create something," he says. "That's what gives me joy."
Hatch Finders Fly Shop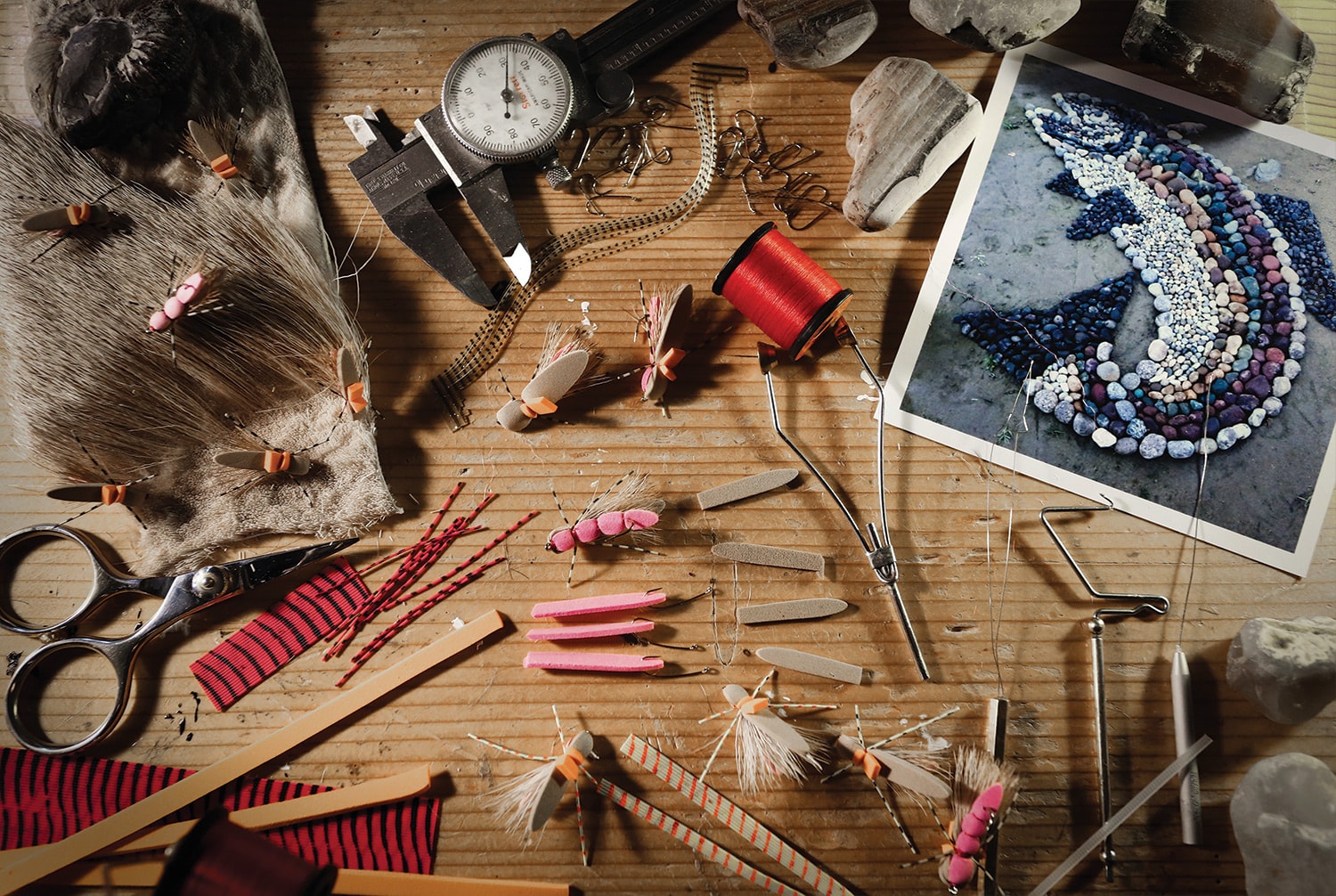 Dean shows up to the shop every morning to turn the coffee pot on. He doesn't tie much after a shoulder replacement surgery in 2017. Instead, he catches up with customers when they wander in, and watches his daughter tie her own kind of magic at the vice. One of her designs — a streamer tied on a midge hook — won Dandy the third annual Iron Fly Contest at the International Fly Fishing Fair. Dandy ties all the flies in the shop, 193 patterns at last count. She ties six days a week in summer, five the rest of the year.
"Our niche is custom flies," says Dandy. "There are four fly shops in Livingston, but none of us can carry everything." Along with her dad, Dandy researches flies, their colors and sizes. She's spent a lot of time in and around Yellowstone National Park, just looking at bugs. "I grew up on the riverbank," she says.
The Pink Pookie — a foam hopper variation invented by Dean and named for his beloved Maltese — has been the shop's bestseller for 15 years. "I don't tie something if it doesn't work," Dandy says.
Before joining her dad at Hatch Finders, Dandy worked in a coffee shop. "Boy, people are grumpy at 6 a.m. when they haven't had their coffee," she says. It's a far cry from the exchanges she has with her customers these days. "Almost everyone who walks through my door is very nice," she says. Most are regulars. The shop is small with wood-paneled walls, bins of colorful flies, and just a few other staples — the basics, as Dandy calls them.
In the summer, the whir of the ceiling fan is the only sound for hours at a stretch. In the winter, Dandy ties by her gas stove. "It's a nice job," she says.
Still, there are weekends in winter, and Sundays in summer. On those days off, what does Dandy do? Like anyone, she's got laundry and groceries and a cat box to clean, she says. But plenty of times, she just goes down to the Yellowstone she grew up on, the water she makes her living from, and she just sits there, watching the river go by.