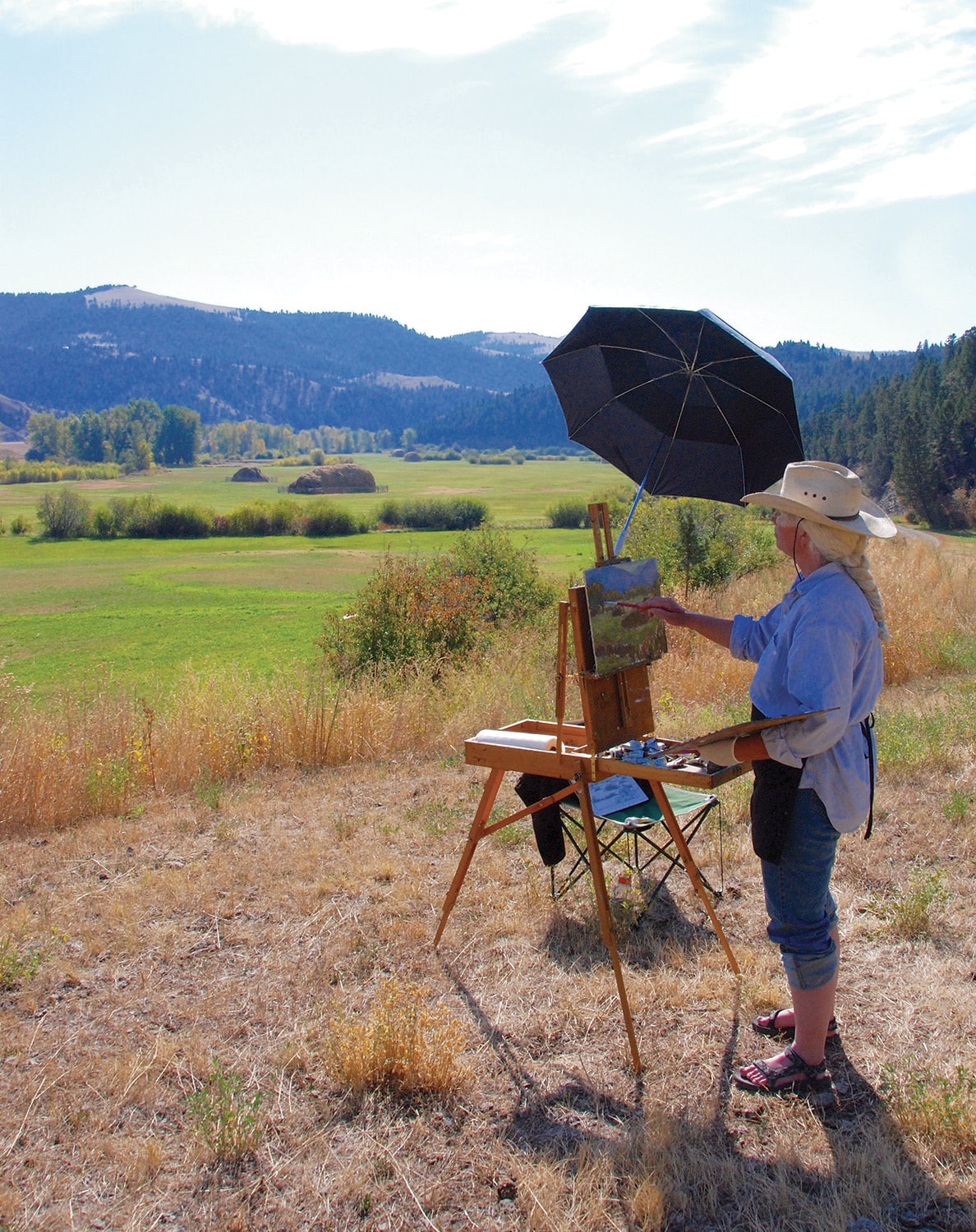 Deb Schmit paints at her portable easel in the Haystack Valley for one of the Montana Painters' Alliance gatherings.
11 Aug

Artists of the West: The Montana Painters' Alliance

in

Twice a year for the last 12 years, a group of about two dozen painters converges somewhere in Montana to brush light against canvas, sweep the colors of fields onto paper, and carve water-channeled streams in oils. These weekend "Paint Outs" are about more than the art, although that's the theme. It's a time when like-minded artists can share their experiences, laugh, get some painting done, and enjoy each other's company.

Plein air painter Tom English founded the Montana Painters' Alliance using another historic club as his guide. "The California Art Club is 100 years old, and the first president, Edgar Payne, the outdoor painter, was one of my heroes," English says. "We didn't have anything like that in Montana. At the time I was in an informal group that painted every Thursday and had lunch. I enjoyed the camaraderie."

Through the years, English met other artists he respected, and thought it would be nice if Montana artists had a formal group, with designated times for gatherings where they could all paint together. Eventually English and a few friends began to hash out ideas for what would later become the Montana Painters' Alliance.

"First off, we decided we would not handpick our friends to be in the group," English says. "It needed more variety."

They came up with the idea of having a core group of artists. That group then asked two or three other artists to join, and those 12 people became the founding group.

"When we first got started, I contacted some other groups around the country and asked them for advice. One thing people said was not to grow too fast, stay small for a while to see if this would work," he says. "A lot of artists are not group people. They like their independence. The members did not want too many rules so it could be fun and easy."

English was elected president. Although they tried to keep the rules to a minimum, they did come up with a solid set of guidelines. For example, how many guests could a member bring to a Paint Out? At first there was no limit, but now each member can bring one guest.

"There are other painting groups around, but none like ours," English says. "Our focus is on our gatherings and our interactions with each other, seeing new parts of the state. We talk about everything. We're happy to share techniques. And we invite young people from the communities to intern with us."

Watercolorist Diana Brady, a member for 11 years, loves being part of the Alliance. "Everybody brings their different talents and personalities to the group," she says. "We enjoy each other's company a lot, that's really the best part. Painting and learning from each other is part of the purpose, but the camaraderie is the most important part. It's always a fun experience."

For each Paint Out weekend, one member takes a turn making arrangements, finding a good place where everyone can spread out, and emailing maps of the area to the other members. On a Thursday, the first of a four-day weekend, they meet and explore the designated site.

"We'll bump into each other at certain places but it's never everybody painting in the same place," Brady says. "Usually you'll end up meeting up with somebody, though. Then we talk, paint, and give feedback during the course of the day." Since the Paint Outs are planned ahead of time, there's no way to know if the weather will cooperate.

"This fall we painted in the Lewistown area and it was pretty rainy the whole weekend," Brady says. "I scoped everything out and knew where I wanted to paint, but with the rain, it wasn't working out so well."

Instead of depicting an old truck near the barn as she'd planned, she found a silo to paint. Brady stayed in her car and worked on the piece from there.

"The painting ended up being better than the ones where there are ideal conditions," she says. "It forces you to try new things. On a rainy day, in my car, I can get effects with my watercolors that I can't get on a beautiful day."

At another Paint Out near Glacier National Park, Brady found herself working on the banks of a river when a doe and two fawns came to stand right in front of her.

"It made the back of my neck tingle, they were so close," she says. "Weather moved in quickly. They left, and I'd just gotten a painting started. I hurried and put on some slap-dash color and ran to my pickup. On the way to my truck, the painting got rained on and the paint ran all around. It ended up being the best painting I've ever done. If it hadn't been the Paint Out weekend, I wouldn't have chosen to be out that day."

Brady says working like that, forcing herself to paint when she might not have gotten out her watercolors, improves her end result. "You work quickly," she says. "It's like I teach my students: Don't get involved with details when you're outside. But it's a lot easier to teach that than to do it."

At the end of the weekend everyone takes out their work and puts the pieces on their tailgates.

"It's become a tradition," Brady says. "That also puts a little pressure on us to have something to show. You go for a weekend and you want to go home with something that you can sell. That for me is a goal."

Steve Oiestad, a 12-year member, says that the Paint Outs allow him to visit places he would never get access to any other way. The other advantage to being in the Alliance is that the group puts on at least one show per year. "I used to work for the C.M. Russell Museum," says Oiestad, a pastel artist. "Every other year the Alliance would have a show there. One year we did a show of historic Montana ranches. That was one of the best shows we had. We'd marked — on a big map dated from Charlie Russell's time — where all those ranches were located."

The Alliance also did a show called "Study to Studio" where each artist presented a field study as well as that same painting redone in the studio. At the show, both pieces were displayed together.

"Having the shows with the Paint Outs lets us get to know people from all over the state," Oiestad says. "We had a Paint Out in Butte, not ordinarily somewhere I would go to paint. But we really had a great time. They have a lot of historic buildings and the people of Butte were terrific."

The Montana Painters' Alliance 
at a recent Paint Out. The group meets at 
different locations at least once a year to 
talk art and enjoy the company of fellow 
plein air artists.
This July, the Alliance went to Lewistown, and the show of that work will be at the Lewistown Art Center this winter.
During each Paint Out, one in the spring and one in the fall, the members hold a formal meeting to discuss group business as well as to accept new members. Potential new members must live in Montana, and submit images and a short bio to the membership committee. If the committee approves, they're then invited to two formal Paint Outs. After that, the whole membership votes on the status of a potential member.
"They're looking for a degree of professionalism, and that the artist is pursing art with a mind to being the best artist they can be," English says. "Not only are we looking for artistic intent, we're looking for a good fit with our organization. We want to know that they're like-minded, interactive, someone who brings something to the group."
Because all the members who attend the Paint Outs work very hard — going out in the morning and only coming back for the evening meal — there's a social aspect to it as well.
"There are members from all over the state, and we don't get to see each other very often," English says. "We're looking for people with a good sense of humor, who are good storytellers. We really enjoy each other's company and we're careful to make sure that it stays that way."