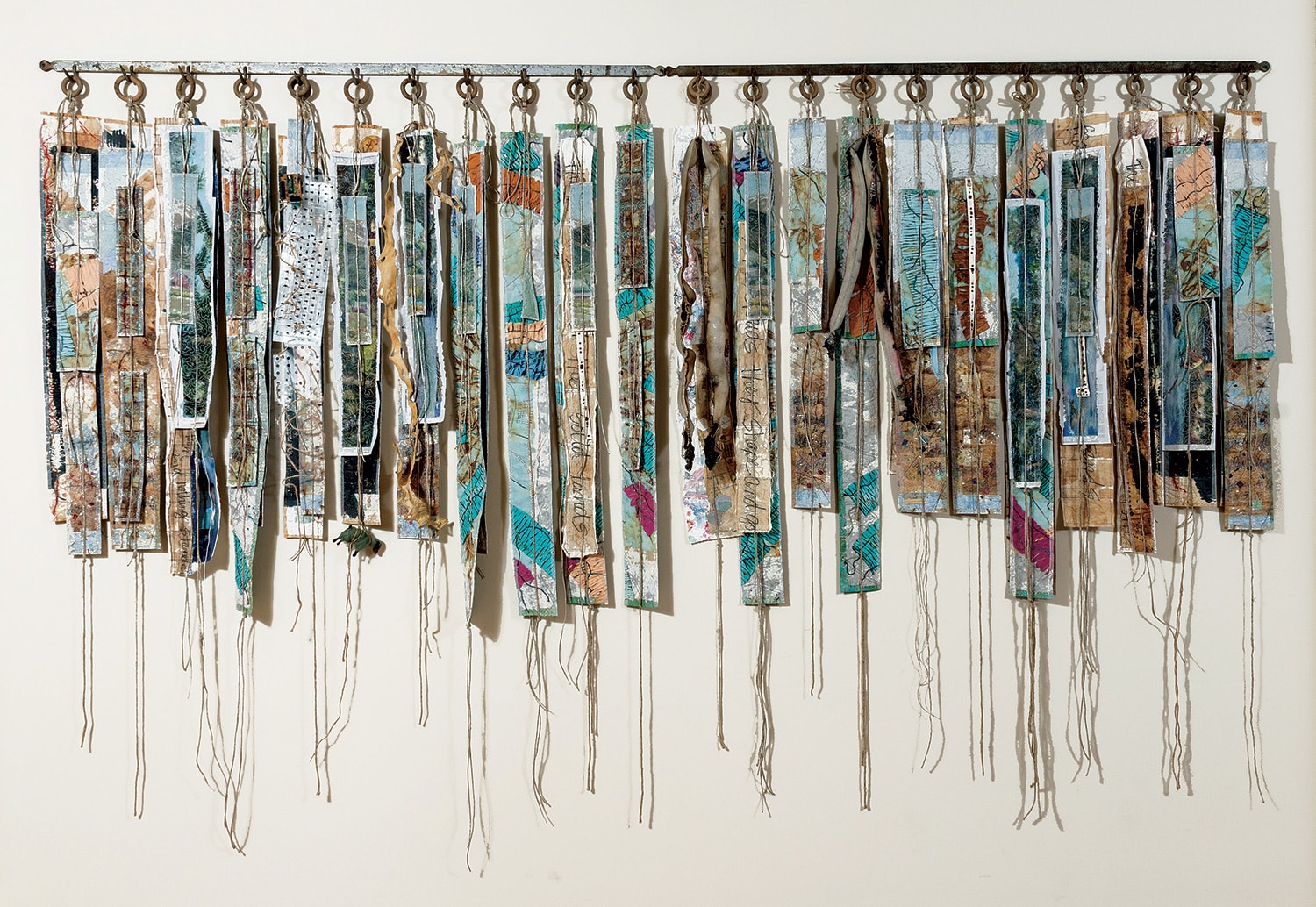 "Fractured Landscape" | Brooke Atherton | Fiber
09 Aug

Artists of the West: The Montana Triennial offers artistic glimpses of the Treasure State

in

Every three years, artists from around the state are chosen to participate in the Montana Triennial, a curated art show representing Montana through painting, sculpture, ceramics, video, and photography. The Triennial first was organized and presented as a juried exhibition by the Missoula Art Museum in 2009, with subsequent exhibitions in 2012 and 2015. This year, for the first time, the event will be held at the Yellowstone Art Museum (YAM) in Billings.

"The idea for moving the show from the Missoula Art Museum to Billings was to attract more artists from this side of the state," says Amanda Daniel, assistant curator at the YAM. "I think it's important to show people what contemporary artists are up to these days; it's not always stuffy and traditional. As the largest city in Montana, we get a lot of people coming through in the summer, and it will be really important for them to see what Montana artists are doing."

The first show in 2009 presented 60 artists, while this year's show will be smaller, featuring the work of 40. "The work that's represented is very diverse," Daniel says. "There are political statements, feminist statements. … Montana artists are thinking about things other than the typical Western perspective."

Nicole Herden, curator of art at the Boise Art Museum, worked independently to jury more than 150 applicants and the nearly 600 pieces of art submitted for the Triennial. Herden looked for artists who convey different perspectives and artistic practices in Montana. From those 150 applicants, only about 25 percent were accepted to the Triennial, and choosing the work was a complex effort, she says.

"It's never an easy process, it can be overwhelming at times, just because there's so much work to comb through," Herden says. "The number of applicants was fantastic. I was really pleased with the number and the quality. Personally, I'm not that familiar with artists from Montana so it was a very unique opportunity and pleasure to get acquainted with the wonderful creativity that is in the state. As I was going through that process, I really tried to think of Montana and the artists presented in front of me: what they individually submitted and their artist statements."
"American Fork #15″ | Sandra dal Poggetto | Mixed Media on Canvas
Herden felt there was a wide range of conceptual and formal considerations to take into account. As the show is a triennial, she looked for work that struck her as relevant to the larger context: the conversations going on across the country in contemporary American culture. "I selected work that was remarkable and exceptional, outstanding and arresting in their own right," she says. "Various mediums and conceptual explorations were selected. I wanted it to be representative of the candidate pool, but of course, it needed the quality."
One of the participants is ceramic artist Robert Harrison, whose site-specific installation Triple Divide is made of three arches spanning six, 9-foot columns. The arches, made from chicken wire, hold pieces of collected bisque (meaning, only fired once) ceramic vessels.
"I had a phone call last year from a woman who found all this material ceramics in her grandmother's house," Harrison says. "I went to Butte and collected it all in a pickup truck." The pieces, from the 1950s, were all bisque-fired and all white. "I felt like it fell in my lap from out of the sky. I felt so strongly about her work that I dedicated this piece to her."
Harrison's work speaks to space as well as place. "Space is a primary component of my work and the consideration of interior or exterior space is elemental to the challenges of working in any scale, be it monumental projects or the intimacy of a hand-held studio object."
Other participating 2018 Montana Triennial artists include Dana Boussard, Catherine Courtenaye, Sandra Dal Poggetto, Josh DeWeese, Phoebe Knapp, Kevin Red Star, Barbara Van Cleve, and Willem Volkersz, among many others.
Looking at an overview of the applicants, Herden saw both similarities within the international art community and some works that referenced Montana specifically. "I truly saw there was not a geographic boundary for object makers in the 21st century," she says. "I saw a circling back to include a sense of place and one's connection to it. There was a large presence of landscape and how personal it is, which was very apparent to me."
The Missoula Art Museum founded the Montana Triennial in 2009, and also hosted it in 2012 and 2015. The Holter Museum of Art in Helena will host the exhibit in 2021. Courtesy of the Missoula Art Museum
For many of the artists who did choose to interpret their artwork through the landscape, some chose a traditional approach, while others were more abstract. "I was pleased with the exploration of craft. By that, I mean ceramics and fiber, wood sculpture, and some metal sculpture. I also was intrigued by some diverse approaches to the figure as well as conceptual narratives," Herden says. "Those are the large themes; sprinkled throughout is an exploration of mediums: photography, oil, watercolor, mixed media, and paper. It runs the spectrum."
---
Editor's Note: The fourth Montana Triennial will be presented at the Yellowstone Art Museum through Oct. 14, 2018.