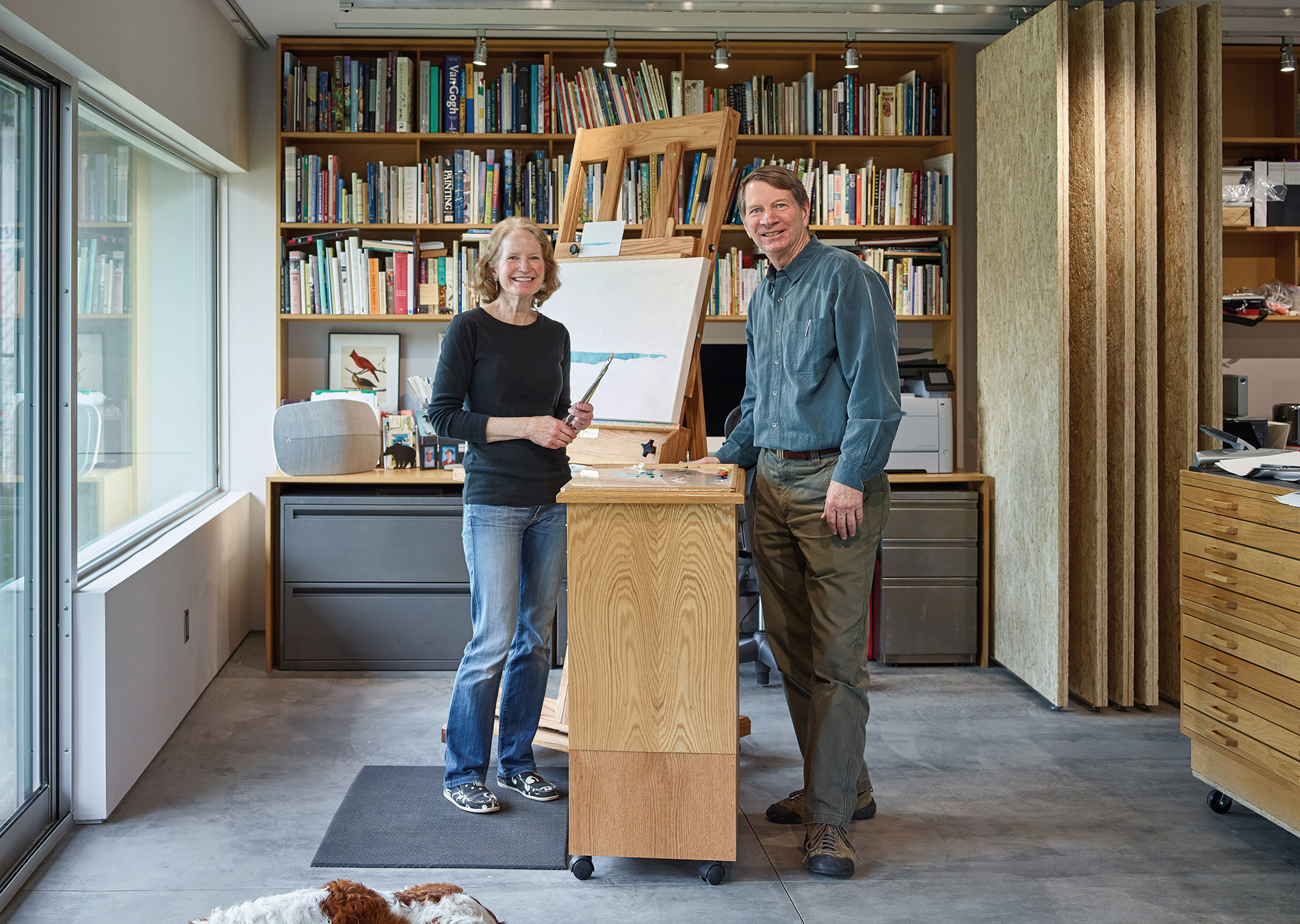 26 Jul

Artists in Paradise

in

"The purpose of art is washing the dust of dailylife off our souls."
—Pablo Picasso

ED RIDDELL, A RECENT GRADUATE from Stanford University, was walking to his job at an advertising agency in San Francisco when a man stopped him for directions. After providing the directions, Ed asked, "Where are you from?"

"Someplace you've probably never heard of — Jackson Hole," the man said.

A passionate naturalist, Ed had worked as a park ranger in Grand Teton National Park the previous summer, and dreamed of one day living there. "It's one of my favorite places!" Ed replied.

The two struck up a conversation. The man turned out to be chairman of the Teton Science School board of directors, a new environmental education center founded in Jackson, Wyoming, to connect people, nature, and place through education, science, and stewardship. They were looking for someone like Ed: a jack-of-all-trades who could help with marketing, understood the workings of the National Park Service, and was an ardent nature lover; someone who could help launch the nonprofit. One month later, Ed was living in Jackson, creating brochures, taking photographs, "doing all sorts of stuff, whatever the director and founder Ted Major needed," Ed recalls.

Lee Carlman was a Chicago native who first came West on a trip when she was 15 and decided she wanted to live there one day. Although initially interested in interior design, her love of nature led her to enroll in Utah State University's notable forestry program — where she quickly realized that she couldn't see trees merely in terms of board feet as her instructors did. She switched majors to environmental studies — which allowed students to design their own programs — and followed an interest in exhibit design that enabled her to take classes in both science and art.

One day the environmental design program had a visitor from Jackson, a man named Ted Major, interested in hiring interns for his new school. Lee applied and became the Teton Science School's first intern.

Lee arrived in Jackson driving her 1952 green Chevy pickup out to the Teton Science School's Kelly Campus in a raging snowstorm, where she promptly got stuck in a drift. Abandoning her truck, she continued the journey on skis, not realizing that her vehicle was blocking the entrance.

"I remember Lee opened the door and blew into the lodge," says Ed. "Later Ted was yelling, 'Someone parked in the driveway and the snowplow can't get in!' Little did he know it was his new intern. Lee certainly made an entrance."

One night, when weather conditions were just right — a full moon, clear skies, and a crust on the snow that allowed skis to glide on top — Ed and Lee set off with their friend Van, the school's handyman, to skate-ski to Kelly Warm Springs about 4 miles away. Midway through the trip, Van decided to turn back, leaving Ed and Lee alone to ski on to the springs.

"She was just so different than other girls I knew," says Ed. "An ardent feminist who loved the same things I did: hiking, skiing, the outdoors … and she drove that 1952 pickup!"

"It is true that I was very independent," says Lee. "Ed captured my heart and my imagination with his curiosity, his creativity, his love of adventure, and his playfulness. And his patience. There is a lot to be said for being best friends."

Ed and Lee were the first couple married at the Teton Science School, on June 11, 1977.

At Stanford, Ed had been a precocious student. Working on a bachelor's degree in communications, he specialized in journalism and film, and as a freshman became the head photographer for the Stanford yearbook — unheard of for a freshman. "In my junior year, I was meeting with the head of the photography department and I said, 'I'd like to take some photography classes but I think I already know a lot of what you are teaching,'" Ed recalls. The statement might have come off as arrogant delivered by some students, but with his infectious smile and Boy Scout appearance, Ed got away with it.

"The director said, 'Show me what you've done,' so I showed him and he agreed that the undergraduate classes weren't right for me," Ed says. The director recommended an independent study program that included a graduate seminar in photography, and soon Ed was enjoying the more rigorous program — which included a weekly presentation at the faculty club by Ansel Adams. "He'd drink too much, play the piano, and impart incredible words of wisdom," Ed says. "I attached myself to him, following him around, asking questions, pestering him." Ed tried to learn everything he could from the master.

A few months before they were married, Ed opened Riddell PhotoGraphics, creating photomurals for hotels with a large-format view camera. Lee was working for the Jackson Hole News & Guide as a graphic designer, creating ads. They lived in a log cabin rented for $75 a month and had to ski in during the winter. When Lee joined the business, they renamed it Riddell Advertising+Design, combining Ed's knowledge of photography with Lee's love of design. They worked in tandem to create a business that became one of the region's most successful advertising agencies. Riddell Advertising+Design won national recognition from every major industry publication.

Ed and Lee worked hard, skipping vacations for many years, as their agency continued to grow. They worked on their own art at every opportunity, vowing that one day when the time was right they would sell the agency and focus on their creative work. In 1999, that day arrived and they were able to devote themselves full time to pursuing their art.

Ed's fine art photographs, often with the iconic landscape around his Jackson home as subject, have appeared in numerous publications. In 2005, Clark City Press (owned by Russell Chatham) published Ed's first book, The Range of Memory. The book is a large, coffee table format, featuring 58 beautifully reproduced black-and-white photographs as well as essays by nationally acclaimed nature writer Terry Tempest Williams. Ed and Williams first dreamed of doing such a book back in 1975 when they met while working at Teton Science School. The Range of Memory was updated in May 2016, with new photographs by Ed and new essays by Williams.

Ed, in the obsessive way he dives into a subject, recently became interested in letterpress printing and owns a Vandercook flatbed letterpress. He designed a special room for his large format Epson 12-color archival inkjet printer and the letterpress, where he recently produced a second book — this one in a limited edition of 50 copies, also with text by Williams. Peace Is, Olive Trees Are features photographs taken by Ed in Italy. The Tuscan village of Montalcino, Italy, has become another home base for the couple.

Ed and Lee recently moved from Wilson, Wyoming, to a new home they designed with architect Will Bruder in the heart of Jackson. At this stage in their lives, they want to be in the thick of Jackson's vibrant arts community. From their new location they can walk or bike to anywhere in town. The two-story home accommodates their joint studio space on the ground floor — a room that can be customized with moving partitions to host shows of their own work as well as that of other artists. Ultimately, the space may be used as an apartment for a caretaker — complete with a small separate kitchen and bathroom — allowing the Riddells to age in place. To facilitate that idea, an elevator provides access to the second floor, a novelty not found in many Jackson homes.

These days, Ed and Lee's lives are filled with creative pursuits, exploring Jackson's natural beauty on hikes with their dog, Tosca. "We are outdoor people. That is what informs our work," Ed says. "The landscape is the source of inspiration in every part of our lives, and our painting and photography are based on landscape. In order for my work to have heart, it has to have that connection."

Lee, a plein air painter, says, "Each painting is my celebration of the design in nature. My paintings are like me, quiet and simple and full of love." At home she finds herself surrounded by inspiration — including from children's books that she collects for their beautiful and simple stories and illustrations. "They relate to how I see the world," she says. "Simplicity is one thing I strive for in everything I've done." And she finds it in nature, in subjects ranging from Wyoming's sudden dramatic storms to a tiny delicate hummingbird's nest.

Ed's latest work, a series of large-format botanical photographs, is inspired by the passage of time. "This current series is something I wouldn't have made when I was trying to be like Ansel Adams," says Ed. But these days he's content being Ed Riddell. "I listen to the landscape, looking for settings and compositions that possess a quiet beauty. When you stop at a place while driving down the road, you stop there for a reason — the place evokes a feeling. I try to put that feeling into a photograph. It takes years to be able to do this. That's really it, to make you feel something, not just take a pretty picture."

Ed's fine art photography and Lee's paintings are shown at WRJ Design in Jackson.