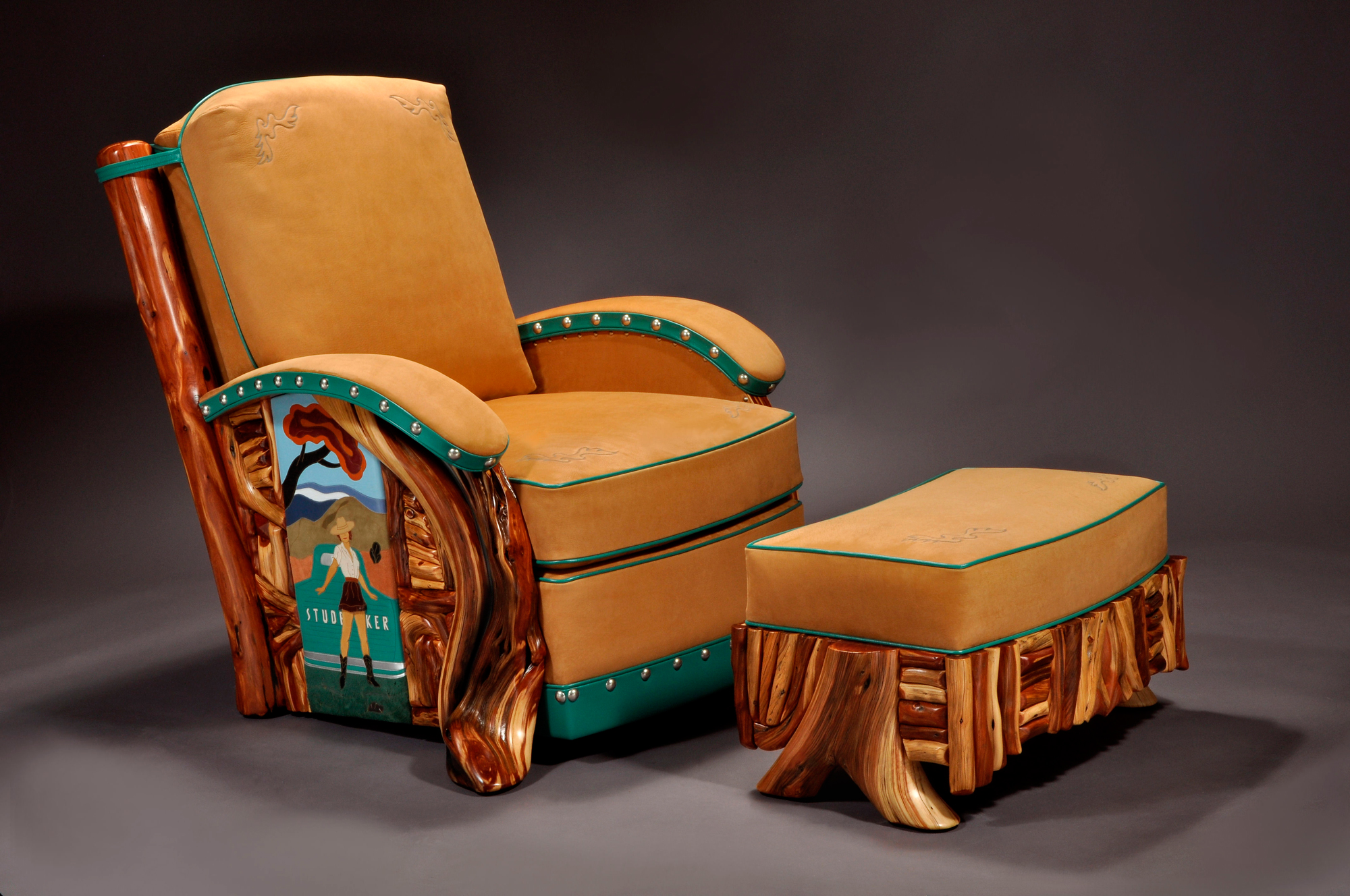 15 Jul

Western Focus: Artistic Furnishings

in
The Molesworth Tradition:  Marc Taggart & Co
Marc Taggart remembers attending a furniture show in 1989 that changed his life. It was titled "Interior West, The Craft and Style of Thomas Molesworth," and he was taken by the large, sturdy chairs with gnarled burls that sought to create a feeling of whimsy about the American West.
He had grown up with this same furniture in his grandparents' home in Cody, Wyo., where some of his "fondest memories" took place in their living room with the woodsy aroma from the fire and the rich smell of leather. He discovered that this feeling of comfort he felt at their home was in part a product of Thomas Molesworth's creativity, who designed distinctly Western furniture and interior décor in the 1930s.
"I remember being in that house with the warm fire burning, and I'm reminded of some of the best times of my life. It gives me a warm and happy feeling to be around this kind of furniture," Taggart said.
Thomas Molesworth started Shoshone Furniture Company, in 1931 in Cody. His design aesthetic included wood burls, some of which seem to bubble up from the ground, furnishings that were grand in stature, and sturdy armchairs with a variety of side panels. Some pieces included Chimayo weavings on the back of the upholstery and others artwork, like silhouetted images of cowboys, Native Americans and wildlife. There was a thematic element to each piece, and Molesworth's distinctly Western style lead him to furnish homes as notable as the Rockefeller Ranch in Jackson, Wyo. and Dwight Eisenhower's home in Gettysburg, Penn.
Taggart's grandparents were some of Molesworth's first clients in the 1930s. And his father, Lloyd Taggart, became one of Molesworth's close friends, exchanging around 100 letters during their lifetime. In 1991, 14 years after Molesworth's death, Lloyd established Sweet Water Ranch in Cody, a company dedicated to restoring original Molesworth furniture and building authentic reproductions. Taggart re-established the family business in 2000, renaming it Marc Taggart & Co.
Today, Taggart provides custom designs in the Molesworth tradition along with restoration and custom accessories. The style of the furniture is the same, but the technology and equipment have improved, for example, Taggart makes chairs more comfortable with inner box springs and ultra down cushions, as opposed to the springs wrapped in cotton, which Molesworth used.  In addition, Taggart includes some of his own design elements, such as hand-painted cushions. He collaborates with upholsterers in Montana, woodworkers in Wyoming and artists in California to achieve his aesthetic.
"Molesworth didn't just design furniture, he designed an entire look, and that's why his things are sought after and collectible. Almost all of the things he did, were one of a kind," Taggart said. "I just love everything about it, and of course, every time I see a piece, even if it's an old piece, in my mind's eye I think, 'what can I do to improve that?"
---
Passionate Craftsmanship:  Norseman Designs West
John Gallis pays close attention to every detail created in his refined Western furniture business, Norseman Designs West. His thoroughness stems from a genuine passion for craftsmanship, and he compares his job to riding Harley Davidson motorcycles or taking childhood adventures.
"It's never, ever been like work. I've been doing this for 40 years, and I just love what I do," he said. "It's like when I was young, I loved building forts in the woods and these are my forts now. Life can be really great if you are doing something you love."
Gallis opened his company in Cody, Wyo., in 1995, and named his shop for the Vikings because he considers them to be the first great woodworkers and craftsmen. Prior to that, he was the chief cabinet maker at Bloomingdales in Manhattan, New York for 14 years and created their specialty interior design pieces. He was known for his ability to "put 10 pounds of potatoes in a five-pound sack," meaning he would often exceed client expectations when they'd ask for large furniture pieces to accommodate a tiny Manhattan loft.Today, he creates custom furnishings that reflect the Western taste of his clients and that showcase the beauty of the wood. He adds accents like smooth antler handles, brown suede leather, or paintings from renowned sporting artist Tim Tanner from Jackson Hole, Wyo.. He applies that careful attention to detail that is always a mark of true craftsmanship.
He jokes that the company is probably known as the "desk guys," for their specialty desks that include petite pieces for women, "where someone could sit and write a love letter," along with beautifully detailed fly-tying desks for the fishing aficionado.
Gallis enjoys making furniture because it's a personal experience — the feel of the wood as he shapes it into his conceived vision, or walking through the forest to find the right piece of juniper. His other favorite part of the job is working with clients.
"We just get to meet some really nice people. We have a Rolodex (of clients) and every one of them I could call and say, 'I'm coming to your area, can you put me up?' and there's no doubt in my mind that they would. We are building furniture for friends," he said. "And it's always the same result when we deliver the piece. They say, 'John, it's better than I expected."
---
Sophisticated Rustic:  Brad Greenwood
Brad Greenwood creates sophisticated rustic furniture from his studio located in the Sierra Nevada Mountains of northern California. He takes an innovative approach to the craft, and in some pieces he incorporates mechanical components or carved images of natural scenes.
"I get a lot of inspiration from antiques and, believe it or not, old artifacts that can be used in furniture. I like to use old parts. Those kinds of things really inspire me, but something about the wood does as well, with its patterns, and sizes and shapes. Wood can definitely get your thought process going," Greenwood said.
Greenwood has worked as a full-time furniture maker since 1985, and his well-composed pieces are mostly made from naturally-felled California hardwoods, such as walnut, oak, elm and madrone. He prefers California hardwoods because they tend to be more vibrant in color, and he likes to mix a variety of hardwoods to avoid the "monotone look that a lot of manufactured furniture can have."
Along with considering the color of the wood, he adds artistic elements by carving detailed images into his furniture pieces, including bears that roam through the woods or a telegraph rider on horseback with free-standing fence posts.
There are also elements of surprise in his work, and some pieces include antique mechanisms, such as coin-operated animatronic shows, a repurposed prairie dog shooting game or hidden compartments with different locking mechanisms. He also "hides" a signature aspen leaf somewhere on each piece.
Similar to using naturally-felled wood, Greenwood enjoys giving found objects and old machinery a second chance.
"One thing I really like about the coin operated pieces and antique machines, is giving them a new theme and a new life," Greenwood said, explaining that he recently brought to life a gambling game created during the Depression. "I think that makes it a lot of fun, and it makes it interactive. It kind of engages you to touch it and find the hidden drawing or aspect to it."
His work is represented by the Trailside Gallery in Jackson Hole, Wyo.; by Tierney Fine Art in Bozeman, Mont.; and Montgomery Lee Fine Art in Park City, Utah.