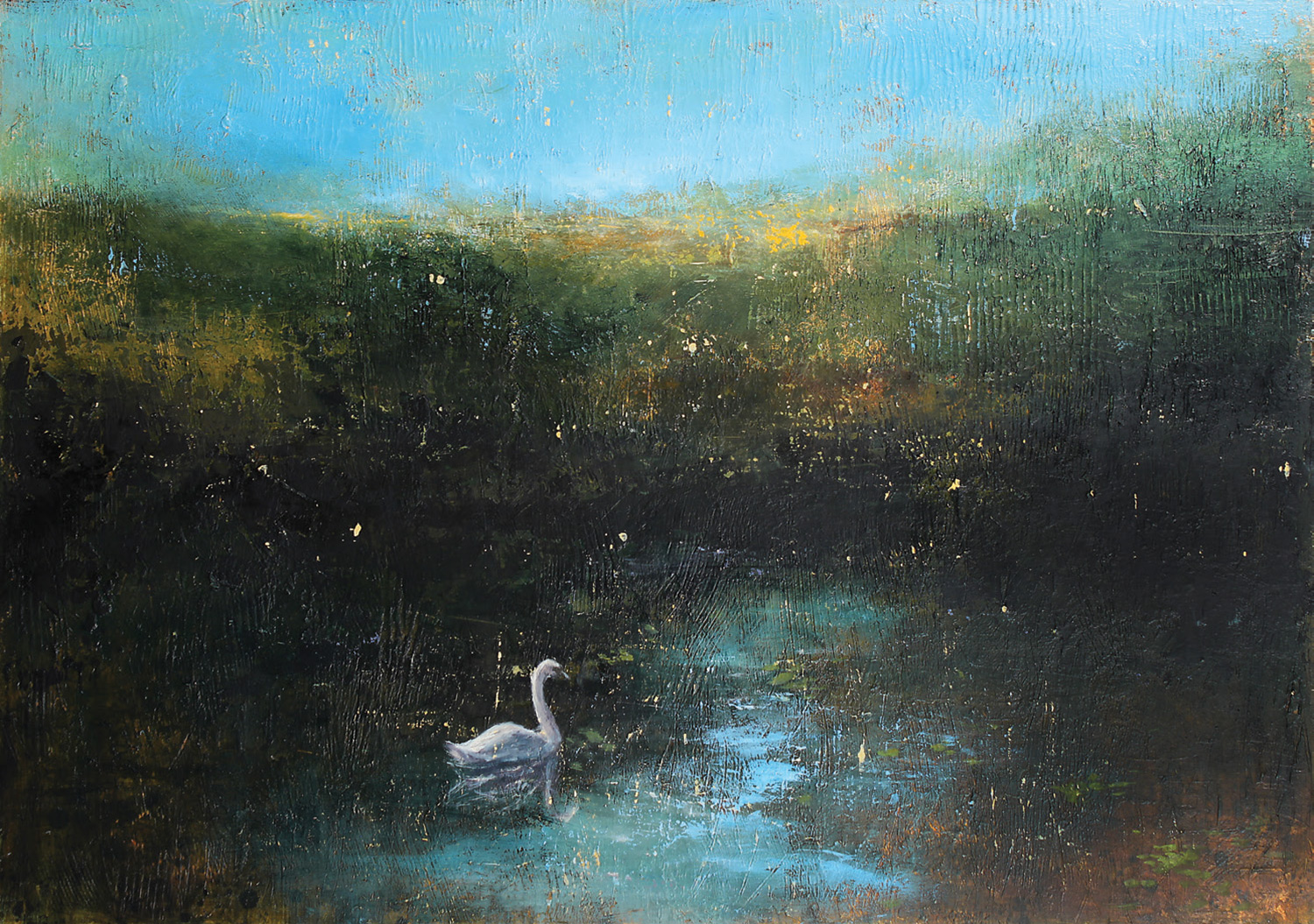 "Lovely, Dark & Deep" | Oil and Mixed Media on Panel | 30 x 42 inches
05 Oct

Artist of the West: Matt Flint

in

Matt Flint interprets tangible places on our behalf; using layers, glyphs, scratched surfaces, and repeated patterns, he demonstrates new ways of understanding the natural world. Powerfully emotional, he tethers the transient human experience to the land; by following the natural process of growth, decay, and rebirth, he relates the world as it is. Like a glimpse not only at the landscape but down through it as well, each piece conceals as much as it reveals.

Flint works with his own recollections of remote trails and roadways, wild or tamed, and brings mementos to his paintings as well as images, like traces of soil or the scattering of marble dust; it is as if he is growing skin on his work.

"I have to tie my process back to its conceptual underpinnings," Flint says. "I work intuitively. I know my subject matter when I start, but it changes quite a bit during the painting process. I start off abstractly with big shapes and then let the painting talk to me."

By entering into a dialogue with what's happening on the canvas, Flint allows his voice to become clear. For him, process takes precedence over everything else. "I want to be surprised when I finish a piece," he says. "I don't want to know what it's going to end up like."

Flint trained to be an illustrator, where each assignment demanded a tightly conceived idea. Now he allows his fine art room to breathe. This freedom enables Flint to discover new methods and materials, to delve into a narrative.

"I try to stay as open as possible," he says. "I do that for a couple of reasons. One, I love the idea and excitement of not knowing where I'm going. The second reason is that I like to create a struggle at the beginning, something I have to deal with right away. I can always fall back on my illustration skills, but this way I can challenge myself and go back to the notion of surprising myself. It's like a big puzzle — which is different from laying out and following a plan."

Flint never set out to work in this way, but when he allowed himself to follow his curiosity he knew it was the right way to go. By bringing in reference materials from remote places he's hiked or encountered in the wilderness, he can combine them into new experiences.

"Ideas of change, fragility, and interconnectedness traverse my work," he says. "I believe our personalities lead us in certain directions and for some reason this way of working is always my preference."

Nikki Righter Todd, owner of Visions West galleries in Bozeman and Livingston, Montana, Denver, Colorado, and Jackson, Wyoming, represents Flint and has watched his technique grow over the years. "When I first saw his work, his textures and layering of the surface along with the animal imaging really spoke about the West," she says. "In a way it recalls the old truck that sits out and has been painted over a thousand times. It had that immediacy in the rich textures and surfaces, but it also spoke to that feeling where place and time converge. They seem old but feel fresh and new."

Todd notes Flint's recent use of marble dust as an additive to paintings, a technique that can be traced back to the ancient Romans who used it in frescos to heighten the brilliance of the paint and provide a more interesting surface. "He made a big jump recently by incorporating marble dust as well as gold and silver leaf," she says. "There's a depth there beyond the paintings of horses and other wildlife. He's painting these encounters but is also creating a raw state of nature."

The shining surface quality reflects changes as the viewer moves, but it also changes throughout the day, depending on the natural light.

"They have a duality," Todd says. "Because although the surfaces create a tension, a lot of his work has a calming sense. He often makes use of a foggy patina. They're very atmospheric."

In one piece, The Matriarch, Flint paints a close-up of a deer staring at the viewer. But it also easily could feel like the viewer is inside looking out at the deer through a rain-streaked window, diffused with weather, laden with the distinction between living outdoors and the warmth and comfort of life lived inside. The deer stands a bit too long, looking at the viewer. What does it mean to be wild? To be tame? What is dependence and what is the price paid?

"In that painting, the animal looks haunted; you feel like you're really engaging with the painting as well as the subject matter," Todd says. "But there is a sense of abstractness to it as well."

It is the abstractness that allows the viewer to wander within the confines of the paint, to linger. And in fact, Flint begins each painting grappling with the impalpable.

Starting with a Baltic-birch and bass-wood panel, Flint begins in a traditional way by prepping the board. He prefers the wood surface to the canvas due to his aggressive style of layering.

"I love the intangible quality of painting. Whether or not you see the underpainting, it adds an energy to the piece," Flint says. He likens it to an old wall where plaster builds up over time, giving the room a history that can't be replicated. "That's what I'm going for … an accumulation of thoughts and mistakes and whatever happens along the way."

Flint usually works on 10 paintings at a time, so when one gets to a good stage he can put it aside and focus on something else. "When I come back to it, it speaks to me differently," he says. "Sometimes it may be three or four layers before I lay in my subject matter. I'm never at a place where I'm afraid to alter the whole thing. I'm responding to what's there. I try not to overthink that part of the process."  Flint works to create art that reflects his own experiences, and is at the same time something completely new. "Once the subject goes in, maybe the acceleration slows and I'm more thoughtful about what I'm putting down," Flint says. "Texture, smoothness, light versus dark, are all still considerations, but I leave room for something a little bit reckless."

Maren Mullin, owner of Gallery MAR in Park City, Utah, connected with Flint about 10 years ago when she saw his work in a small show in Jackson, Wyoming. "There is something honest, gritty, and real about his work," Mullin says. "He's taking a piece of the natural world [and] recreating it on the canvas in a new way. When he approached me, it was kismet. It felt like a perfect opportunity. It's been very successful. We can't keep his paintings in the gallery."

For Mullin, the best part about showing Flint's work is being able to share it with her clients. "Seeing the variety of people that respond to his work is a joy," she says. "We have collectors from all over the world who love his work. His process is mysterious. We live in a world of checklists; for Matt, that's not the way he works. How the piece ends up is always a mystery until the last moment."

Flint searches for meaning in the natural world through a connection with the land and wildlife, as well as through solitude. His work provides reference points for places that don't actually exist; instead they are places that travel with us. As we affect the place where we stand, that place also affects how we think of ourselves. Though his process may be a bit elusive, it is exactly that process that enables him to situate us on his map.