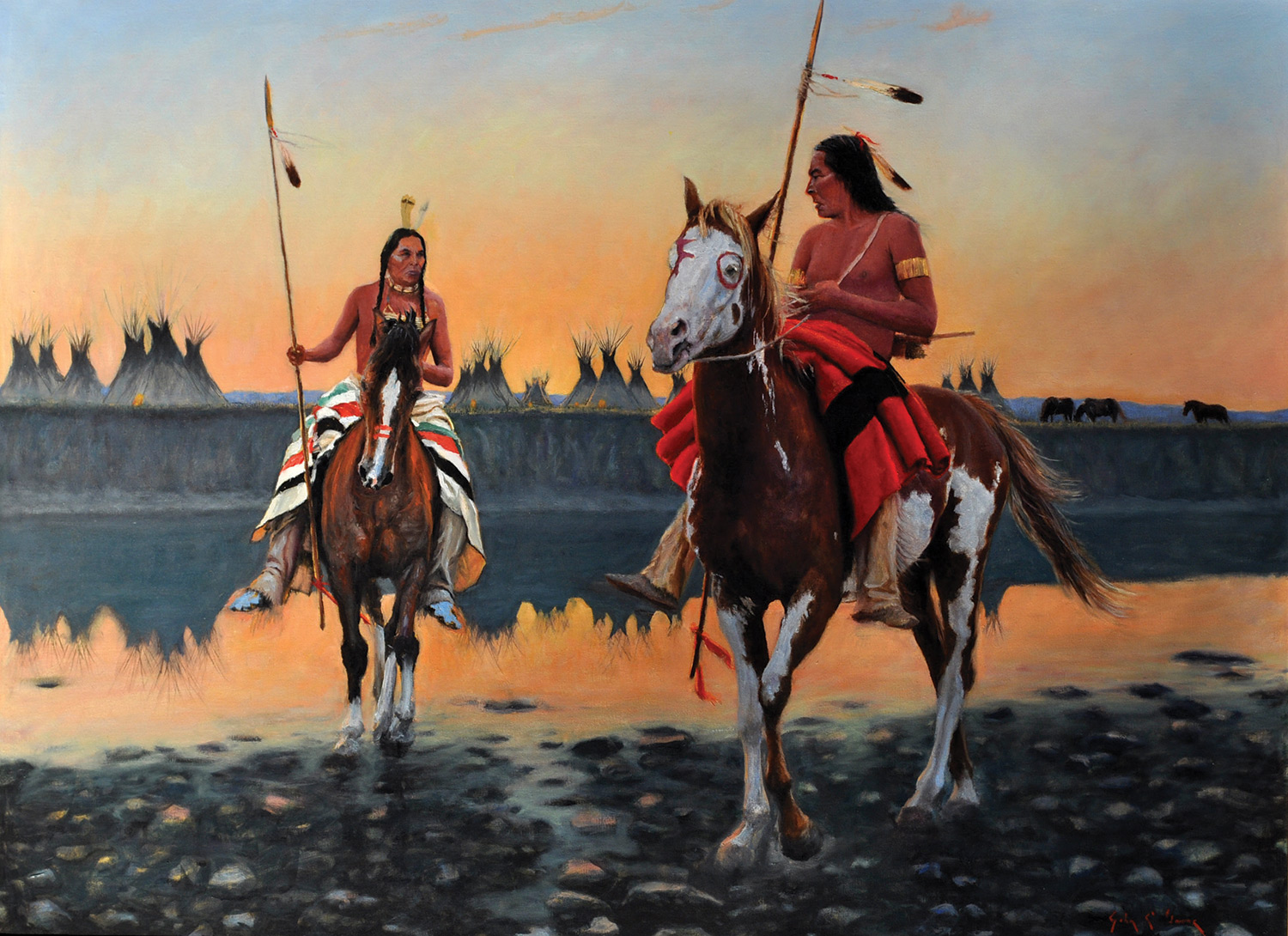 "Night Watch" | Oil | 28 x 36 inches
05 Oct

Artist of the West: John C. Gawne

in

In terms of career transitions, oil painter John C. Gawne has experienced perhaps one of the more drastic ones: from 20 years as an accountant and stockbroker in Chicago to a full-time, award-winning artist and member of the C.M. Russell Museum's prestigious art circle, the Russell Skull Society.

"I came to art later than most," Gawne says. "I didn't get into it until I was nearly 40. I can't say I grew up always wanting to be an artist. As a young adult, I graduated with an accounting degree, but I was never into the business thing. I muddled along for 20 years until I jumped into the art process.

While still in his 20s, Gawne took a trip to Yellowstone National Park and the Snake River Canyon, and while there, he found himself enthralled with the landscape, people, and history. Living just outside of Chicago, he began spending all of his vacations in the West, camping and visiting the open vistas he would later paint.

In the late 1980s, while he was a hobby artist focusing on drawing, Gawne started to gain attention in the art world with his sketches. In 1991, he quit his job and shifted his focus to art. He hasn't looked back.
"Passing of A Way of Life" | 
Oil | 30 x 50 inches
"My connection to my love of the West comes from spending my childhood with my grandpa," Gawne says. "He had a little summer cottage on the Fox River southwest of Chicago that was surrounded by forests,
farms, and rivers. For a child, it was like the wilderness. And I realized that my first trip out West reconnected me with the love of  the wilderness I discovered at the cottage."
Gawne's sentimental images of an imagined West stem from his love of place and of a time gone by. "Stepping back in time and working with a nostalgia for the West that no longer exists is an expression of my love for times past and, perhaps, a simpler life," he says. "Native Americans set a good example of having a relationship with the land that's nourishing and not destructive. After a while, I got attached to the people who inhabit the land."
When working on one of his oil paintings, Gawne usually starts with the figure, and through the use of photographs, he realizes a full composition. "For years, I've gone to photo shoots in South Dakota, specifically set up for artists," Gawne says. "That's where I've gotten 90 percent of my material. Then, over the years, I've become friends with some of the [Native] models.
Robin Stoner, fine art consultant for the Beartooth Gallery in Red Lodge, Montana, represents Gawne's work and feels that he is a living master painter. "His work is extremely detailed oriented, and he's a historian in his own right," she says. "His work is very complicated to produce, and he has a great use of light."
Gawne has a large collector base and Stoner notes that the gallery never seems to have enough of his work on hand. "His subjects are from the West, and he works with models to re-create the scenes," she says. "I have the utmost respect for his work. We had the Best of the West Art Show with 16 artists, and John was honored. We had all the top collectors in to meet the artists and talk to them about their process. It's really neat, because that kind of interaction doesn't happen very often. We've found the collectors look at a piece differently now."
"Hostiles" | 
Oil | 24 x 60 inches
For Gawne, the land itself is what drives his art. "It really feeds my soul," he says. "Connecting that to the art, why does a person paint? There's a wordless center that the artist can put on canvas. Sometimes these things are calling me, and I paint them without putting the reason into words."
Painting Native Americans in bucolic scenes can elicit some criticism. At a show at the C.M. Russell Museum in Great Falls, Montana, a woman spoke up, claiming that his work takes on a form of cultural appropriation. Since then, Gawne has thought long and hard about it.
"Believe me, when a young Native woman confronted me a few years ago, I was really shaken," he says. "While it is a sensitive subject, we as a society need to discuss these issues. We as a society and a country have done a terrible injustice with the way we treated the Native American, in all of the Americas. Although there is a greater awareness of the injustice today, we still haven't come to grips with the issue, which brings us to the question of my art."
In many ways, Gawne feels as if art chose him, as did the West. "Unlike most artists, I didn't grow up wanting to be an artist, although I did have some interest in creating art as a child," he says. "I was called to be an artist because of subject matter: the American West. When I finally answered this calling, I didn't choose Native American subject matter, it chose me. I didn't choose this subject to profit off it. It chose me in order to express the beauty that spoke to me. My work comes from a place of honoring the Native peoples. … I hope that my work conveys the beauty of the human spirit I see in the people I paint. What I would say to the Native American who might be offended is that we are all part of the human family. We are all human beings connected to this one earth."
"Summer in the Beartooth" | 
Oil | 30 x 36 inches
Brad Hamlet, owner of the Wrangler Gallery in Great Falls, met Gawne at an art show 30 years ago and has represented him ever since. "I was impressed with his work and got him to come to my ranch and stay a few days," Hamlet says. "He was interested in learning all he could about the West. He's one of these artists who is always trying new things, and he's appreciative of other artists."
Over the years, Hamlet has watched Gawne's work develop, incorporating more animal portraits in addition to those of landscapes and people. "Horses are a real strength for him," Hamlet says. "He's very strong on landscape and the human figure, and he can paint somebody as they really look. Not every artist can do that like Charlie Russell did. He's not a painter of generic people. He paints people as they are."
Since Gawne's acceptance into the Russell Skull Society, which was founded by the C.M. Russell Museum in recognition of living American Western artists whose work celebrates the themes of the Old West, his range of collectors has expanded, garnering him a larger audience.
"One thing about John, he is a gentleman," Hamlet says. "And that comes through in his paintings and his body of work. He cares about how he portrays the West and how he portrays the people of the West."