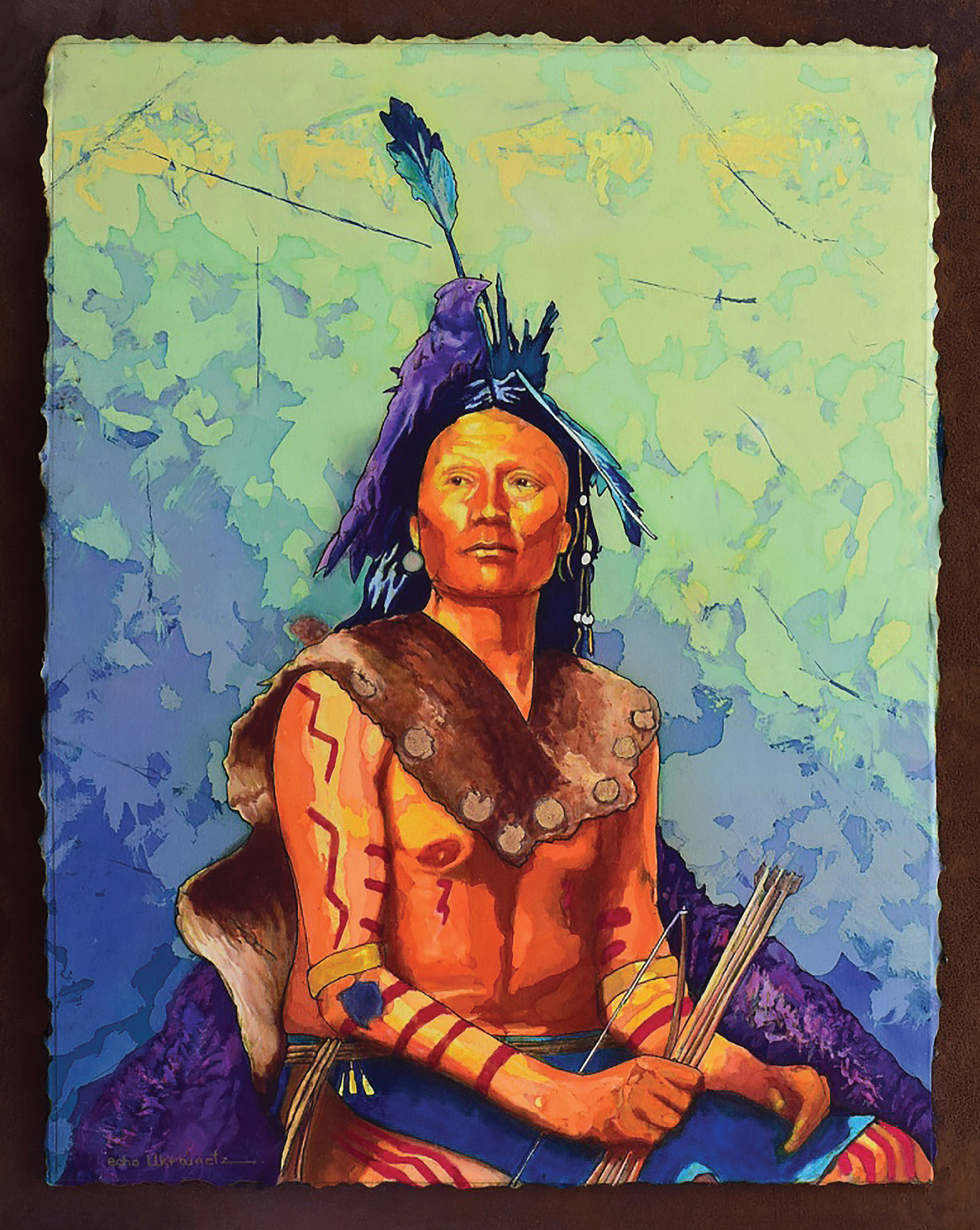 Omaha Southern Sioux | Batik & Gold leaf | 25 x 19 inches
17 Oct

Artist of the West: The Many Layers of Echo Ukrainetz

in
HONORING THE PAST THROUGH VIBRANT COLOR
Gallerists are typically adept at singing the praises of the artists they represent — it is, after all, their job. But rarely do they make such abundant use of superlatives as two recent curators did while discussing artist Echo Ukrainetz's work: "In my opinion, what she's doing is amazing," says Zack Terakedis, owner of Terakedis Fine Art in Billings, Montana. "She does the most extraordinary work, it's a miracle of artistry and craftsmanship," adds Colin Matthews of Creighton Block Gallery in Big Sky, Montana. "It's still a bit of a mystery to me how she can bring from fabric such marvelous artistic statements."
At a glance, the work of Great Falls, Montana-based artist is both striking and captivating. Trending mostly toward portraits of Native Americans depicted in saturated colors, her pieces initially command the viewer's attention simply through their sheer vibrancy. But upon closer inspection, they reveal their true complexity. "People are drawn in by the colors," says Terakedis, "but then they realize it's something different — they know it's not a watercolor, it's not an oil painting, so they have to come in and look closer. You see people starting at a distance, and then they get closer and they're hooked."
Ukrainetz works in batik, an ancient art form in which the artist applies alternating layers of dye and wax resist to fabric to create patterns and designs. While batik is best known as an Indonesian cultural tradition, Ukrainetz has taken the basic techniques and turned them into something entirely her own. It's not a widely practiced medium, so the fact that she got into it at all is something of a happy accident. "A friend and I wanted to make some extra money, so we started making crafts to sell at fairs," she recalls. "It was in the early '90s when those [batik] flags outside of houses were popular, so we said, 'let's try that!' We ordered some dye and some fabric, and she didn't like it at all. But I did; and I loved the unpredictability of it and the cool results, so it just grew from there."
Ever since, Ukrainetz has been honing her technique. She completes sketches of each piece first, including a detailed rendering of the face, then hangs the sketch up and tapes paint swatches to it to get a sense of the color palette she intends to use. Then, rather than dipping the piece in subsequent dye baths, she stretches the cotton fabric on a frame and focuses on each section individually, brushing on the wax and dye by hand. Meticulously, she adds layer upon alternating layer, creating a dynamic interplay of color, texture, and happenstance. When the work is complete, she places it in a large, heated press between many pieces of paper, to melt and absorb the wax.
The results are bold and bright, yet intimately detailed as well. They celebrate the subject while allowing Ukrainetz's sensibilities to come through exuberantly. "Echo herself is an extraordinarily vibrant, happy, high-energy soul, and there's something about a lot of her work that carries that spirit," says Matthews. "It's hard for me to look at a piece of Echo's work without her smiling, friendly energy filling the space."
The process itself is demanding, and the pieces are impressive all on their own. But what sets Ukrainetz apart is her diligent attention to the stories behind her subject matter. "I love history," she says, "so I started looking up historical photos, and doing portraits." She was inspired in part by the work of her husband, Ron Ukrainetz, who is a painter and expert on mountain man culture, with close ties to the Blackfeet Nation.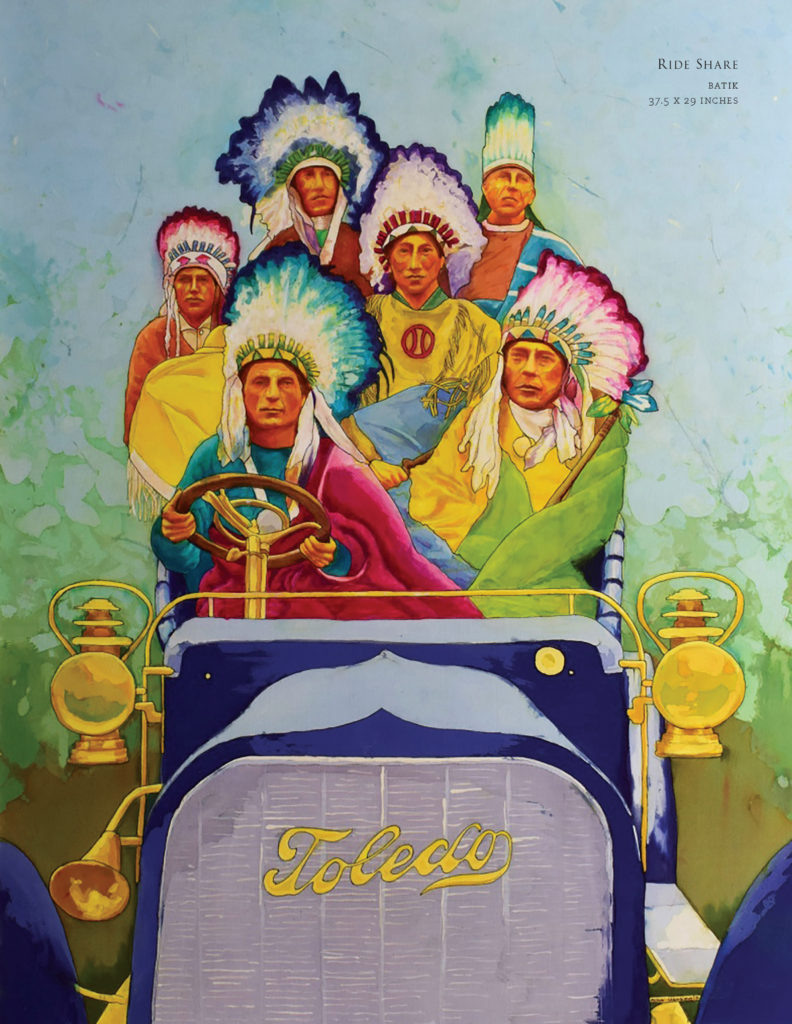 Unlike Ron's work, Ukrainetz's depictions often stray from historical accuracy in terms of color. "Ron always says, 'Echo! Those feathers wouldn't have been that color!' And I say, 'I don't care!'" she says with a laugh. But the artistic license ends there, as she sees it as her duty to represent the people and their historical setting with accuracy and care.
"There's a thick packet of information that goes along with every piece she produces, because of her interest in representing her subject matter with historical accuracy," says Terakedis. She'll include information about who took the original photograph, who the subject is, where the photograph was taken and in what context, along with the historical background. "She's so authentic to who she is as an artist, and that authenticity in honoring the past — it could be a model for a lot of the cultural appropriation issues we're seeing in the art world," continues Terakedis. "Even though she takes some artistic liberties, her passion is to be true to the story behind every piece."
Matthews concurs, and highlights the fact that the subject matter and representation complement each other well. "It's very much art forward," he says, referencing her dynamic, painterly style, "but resting on this historical foundation that adds another whole level of charm and storytelling interest."
Along with Creighton Block and Terakedis Fine Art, Ukrainetz's work is represented by Frame of Reference Fine Art in Whitefish, Latigo & Lace in Augusta, and Winston Gallery in Great Falls.
---
Melissa Mylchreest is a writer and maker based in Western Montana. Her work appears regularly in numerous regional venues, including High Country News, Big Sky Journal, and Western Art & Architecture. She enjoys cooking, making functional art, and playing outdoors.