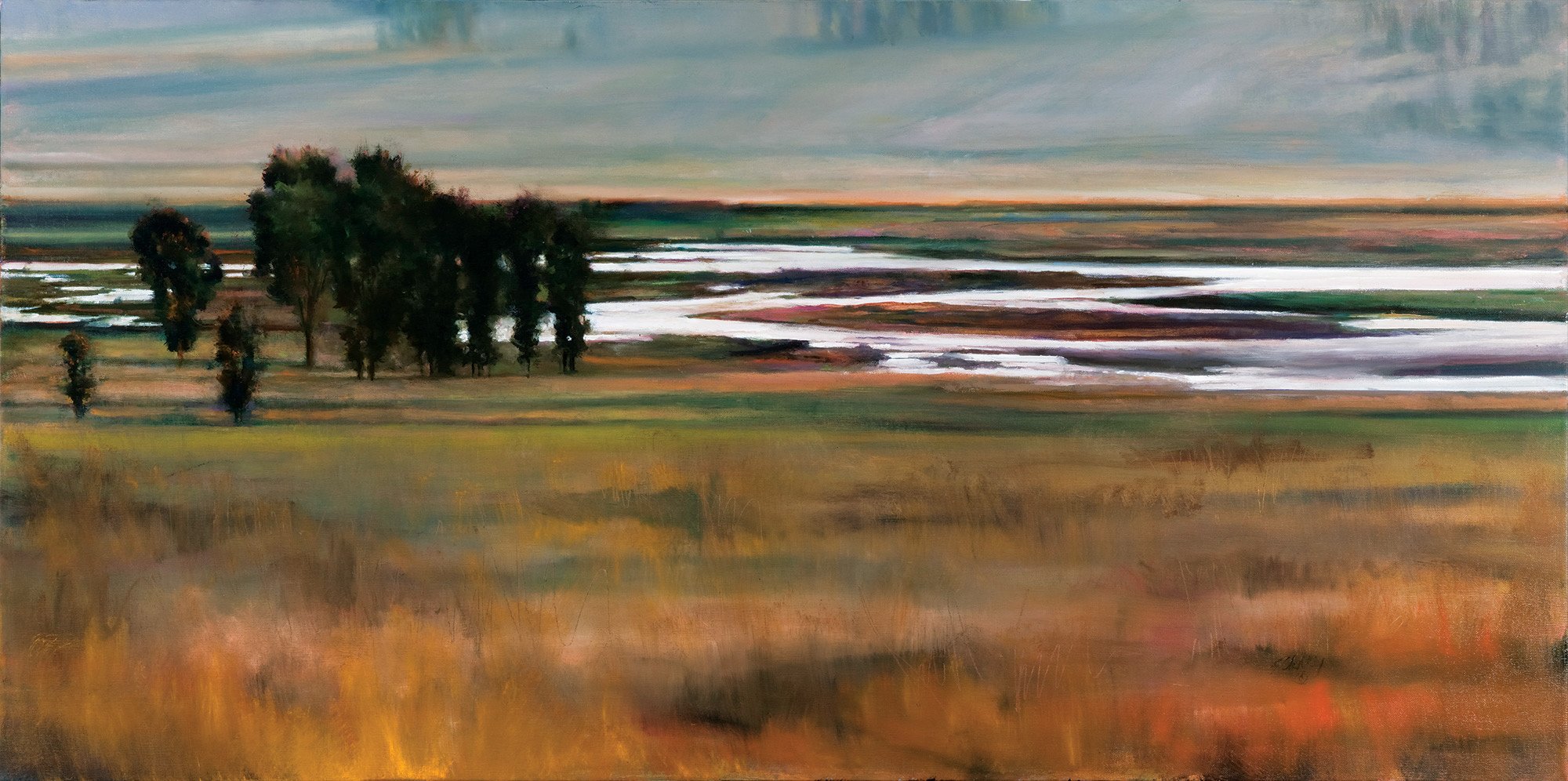 04 Oct

Artist of the West: Shirley Cleary

in
---
For more than 40 years, Shirley Cleary's passion for fly fishing and upland bird hunting defined her paintings. As one of the first women to tackle the genre of sporting art, traditionally the purview of men, Cleary's work had to speak for itself.
"It was hard to get taken seriously," Cleary says, sitting in her Helena studio surrounded by several works in progress. "It wasn't hard to be a woman artist, but as a woman painting sporting scenes? Men didn't want to think about women intruding on their turf."
Although there were quite a few female watercolorists depicting pastoral landscapes, to find a woman who loved fly fishing and bird hunting, and who could paint those scenes with an honest eye, was rare.
Even today, Cleary stands in a class of her own. Her impressionist style of catching the light just right combines with her eye for including the details of a place. To those who know the good fishing holes, the details within her paintings recall memories of days tossing a line into slow moving ripples.
Her studio is a busy, tightly packed room. Easels compete with recycled aluminum cans overflowing with brushes and clamp lights secured to railings and tables. Dozens of half-finished canvases are stacked here and there, leaning against the furniture and walls.
Getting ready to work, Cleary centers a 10-by-28-inch horizontal landscape on a small desk easel and then chooses a short, hard-bristled brush from a nearby collection of brushes. Various groupings of brights and darks crowd the plastic tray palette. Cleary dips and dabs at the mounds of color until she finds the mix she needs.
"I've never found a color I didn't like," she says. Her instincts for color — what will work, and what will not — have become part of her process. It's not something that she consciously thinks about; she allows herself to be led by her intuition.
Working mainly with gouache, acrylics, and oil sticks, Cleary's attention goes to a smaller field study that takes her back to Omarama, New Zealand, and the moment she got inspired to commit it to canvas. With tiny strokes, she works an edge of color into the piece, placing a bit of red the size of a sprinkle next to a bit of pink, next to a bit of green.
"I like to play the colors next to each other," she says. "Because I'm placing the brushstrokes of color so close together, those colors will blend in the viewer's eye. It makes the line between light and dark pop."
She will usually start with sketches done at the river or in the woods, small sketches at first, to see if it's going to work. When she gets back to her studio, she begins to flesh out her ideas by "mushing on color" and then, toward the end of the painting, she'll refer to photographs taken on-site.
"The last time I went out, I forgot to bring my brushes," she says, getting up to dig through a tote bag hanging on the doorknob to her studio. "So I had to use my makeup brushes."
David Kettman, owner of the Ghost Art Gallery in Helena, Montana, has represented Cleary's work since 1991. "She's been our bestselling artist over the years," Kettman says. "We really enjoy her work and her choice of medium — the gouache. It's a little more unique." Kettman says her use of color and portrayal of light sets Cleary apart from other painters of the genre.
"She does a lot of panoramic landscapes of Montana, places people can identify with, which works well for us," he says. "The Missouri River is the most prolific trout stream in this part of the country, so a lot of her pieces are done there, between Yellowstone and Great Falls."
Because she keeps the number of fishermen in the paintings to a minimum and focuses on a specific landscape, many of Kettman's clients can relate on a personal level to Cleary's work.
"For trout fishermen, Emigrant Peak is something that is meaningful for them," Kettman says. "Last Christmas, we asked her to do a painting for us of Park Lake outside of Helena, near Clancy. It's unusual as it has Arctic grayling in it, so it's popular for fishermen. She made it exclusively for our gallery. We did a series of giclée prints from it, and it was quite popular."
According to Kettman, Cleary's work appeals to conservation-minded people, fisherman and outfitters, although for some reason, there are a lot of area dentists who collect her work.
"Any time she has a new oil painting they will pick it up immediately," Kettman says. "Over the years, I've come across a lot of artists. When I find an artist who is easy to work with, and prolific, I keep them around. It's been a real nice relationship over the last 25 years. She is a really talented artist."
Cleary moved from Washington, DC, to Montana in 1971 with her first husband, and stayed because she fell in love with fly fishing — and later a second husband.
Her early work, lithographs of abandoned farm machinery, drew national attention; then, she was noted as a painter of landscapes and "found objects that highlight the mystery and beauty of the American West outside the conventional historical tradition," according to a 1981 article in American Artist.
"When I first moved to Helena, there were very few galleries besides the Montana Historical Society," she says. "It was difficult to get a career going, but I wanted to paint the things no one was painting." That was one of the reasons she chose to use gouache instead of watercolors.
Over her long career, Cleary has garnered many distinctions, including being named artist of the year by Trout Unlimited and having five paintings in the Arts for the Parks Top 100. She has also seen work included in such public collections as the National Parks Foundation, the Federal Reserve Bank, the Federation of Fly Fishers' International Fly Fishing Center, the Herning Hojskole School in Denmark, and the Hokonui Museum in New Zealand.
Susan Maclin, an avid Cleary collector who appreciates all the accolades but loves Cleary's work for personal reasons, has two large pieces and a number of her miniatures. "I am really drawn to her miniatures," Maclin says. "She paints beautiful scenes, and wonderful pieces that capture the light in such a tiny space."
Maclin lives on the Missouri River, and a couple of Cleary's paintings on her walls depict the area around her cabin. "One of them shows a sunset scene and a meadow with the cottonwoods by the river that all of us drive by a lot. It has all those front range colors we love."
Maclin bought her first Cleary piece at a Holter Museum art auction and has followed her work ever since. "I see her paintings every day," Maclin says. "I walk through the house and these beautiful things pop out from the room, and they always remind me of someone or something, and that makes me smile."