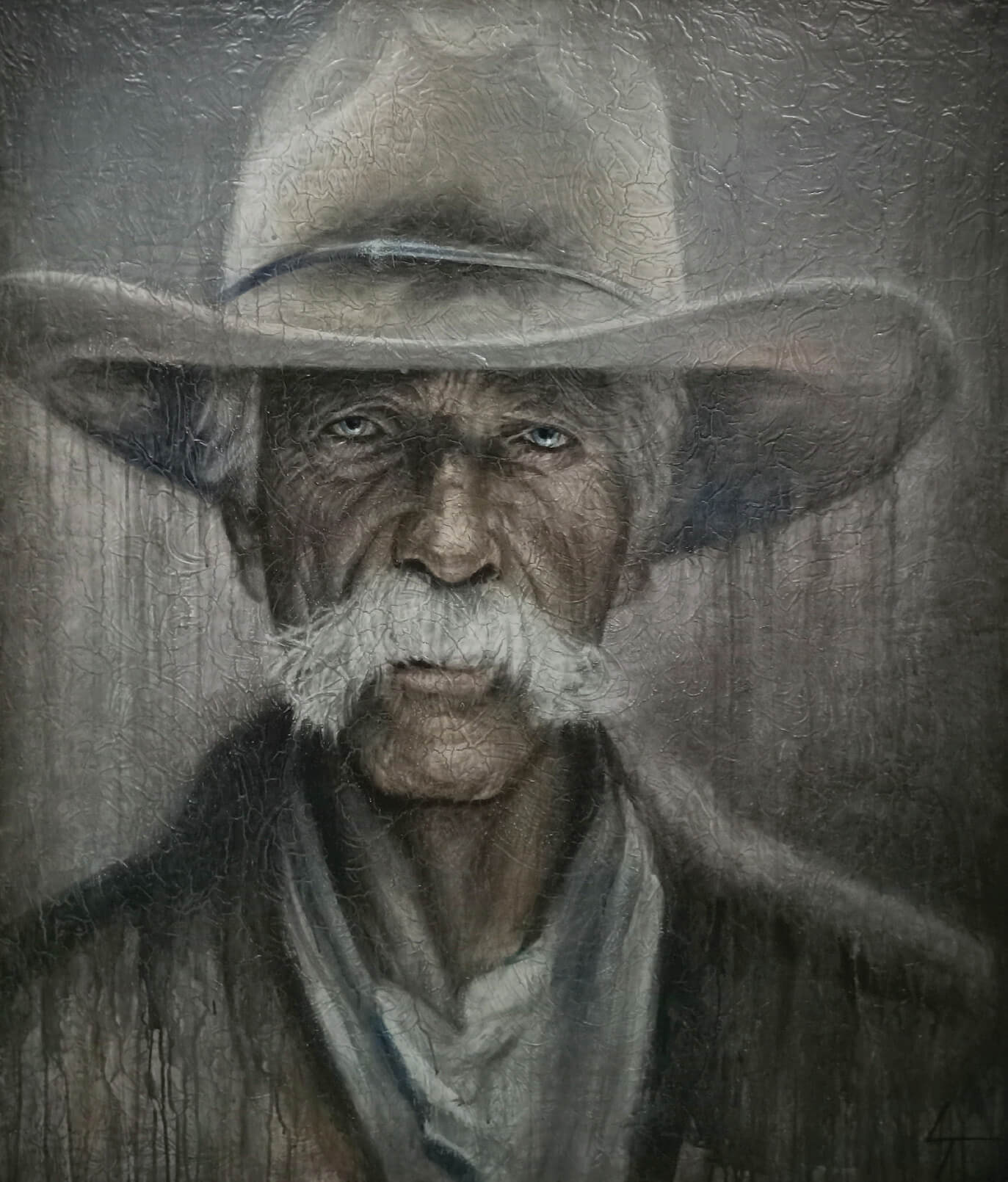 1883 | oil on canvas | 54 x 46 inches
01 Jun

Artist of the West: Lane Timothy

in

Lane Timothy rekindled his love of painting when, after years of mainstream commercial success, he realized he needed a change. What he needed was Montana. In this return home to find himself, he would leave slick magazine covers and photo shoots to dig into his art, listen for resonance, and trust his process.

His new oil paintings feel like hand-colored tintypes washed in memory, with faded blues and single areas of red flashing through a sepia focus. The abstract textures reel the viewer deeper into the frame, while the monumentally sized canvases seem to barely hold his subjects'    outsized personalities, tinged with the familiarity of Western lore. "My new work is bringing me back to who I am," Timothy says.

This body of work throws out everything that came before: the high photorealism and jet-setting of Madison Avenue advertising during his career in New York. "I did a cover for a magazine called American Traveler; they wanted something that looked like a Norman Rockwell. I painted this image called The Honeymooners, and it blew up. I liked doing it. I was buying vintage clothes and shooting models in these old settings. But I just got to the point where it was not inspiring me anymore."

Timothy started painting in grade school, and at age 7 he sold his first painting for $10. "I'd say the only thing I've ever done is art," Timothy says. "I've been doing it since I was a kid. Even then, I wrote about how I wanted to be an artist. I started by selling my work to neighbors."

Mostly self-taught, he's learned through trial and error, and by going to Europe to study the greats. In the end, he came up with his own techniques. "They're the opposite of what you're supposed to do," he laughs.

As the saying goes, be careful what you wish for: Timothy's success in commercial advertising began to take over his life. It overshadowed his own creativity and left him wanting. "My work got so much attention that it reached the point where it was overwhelming," he says. "Being from Missoula, I just needed to get back to my roots."

Upon returning to Montana, Timothy was drawn back to the Western themes he grew up with. "But now I'm using a completely different technique compared to the perfectionism I used to paint, where only realism could 'show' people how good I was."

The key, he found, was letting go. "Now, I'm approaching the work in a looser way," Timothy says. "I grind my teeth looking at a drip of paint running down a painting. Usually I would try to fix it — run to grab a Q-tip. Now, I realize art is completely about expressing myself. I don't care about approval. It's like letting myself out with this new work."

Timothy's new work focuses on portraits of gritty men, cowboys, ranchers, and farmers. His deeply textured surfaces dovetail with the sun-dried faces of those who spend their days outdoors, regardless of the weather. "I developed a unique texture that I build from various materials," he says. "It looks like plaster. I run it around with my fingers or palette knife; I sand it … it's really like being a kid again, ignoring the rules."

Timothy is represented by Courtney Collins Fine Art in Big Sky, Montana. "Lane Timothy was known for his vintage Americana style," Collins says. "This new direction feels very free, like an old soul with a modern twist. It's exciting in different ways." She points to the distinctive technique and the powerful subject matter. "And those portraits with that long gaze looking at you — they're very powerful pieces with messages."

Collins talks of Timothy's artistic aspirations as a child, saying it's "the biggest gift anyone can have. He was born with it; it's unbelievable. He also listened to his heart when he was growing into his career, took a leap, and stepped away from the big-time art scene. To go back to his roots, go back to his studio and paint what he loves — a lot of people are scared of it. He gets up and just has to paint it. And before he knows it, [he] has an incredible start to a painting. And that's one reason he's so successful."

In particular, Collins points to the piece Then God Made a Farmer. "You don't know what to look at first. The texture is the most unique thing I've ever seen, layer upon layer, big crackles, unbelievable," she says. "So much time has gone into each piece. You can feel that. The layers of wash, in gentle colors that he applies … it almost feels like a sculpture."

In the painting, Timothy applies a subtle halo of gold behind the farmer. "People walk in and stop in their tracks," she says. "And they stare at it for a long time. The light really opens up the painting. I haven't been this excited for a while."

Freelance art writer and author Michele Corriel earned her master's degree in art history and her doctorate in American art. She has received a number of awards for her nonfiction, as well as her poetry. Her latest book is Montana Modernists: Shifting Perceptions of Western Art (Washington State University Press, 2022).