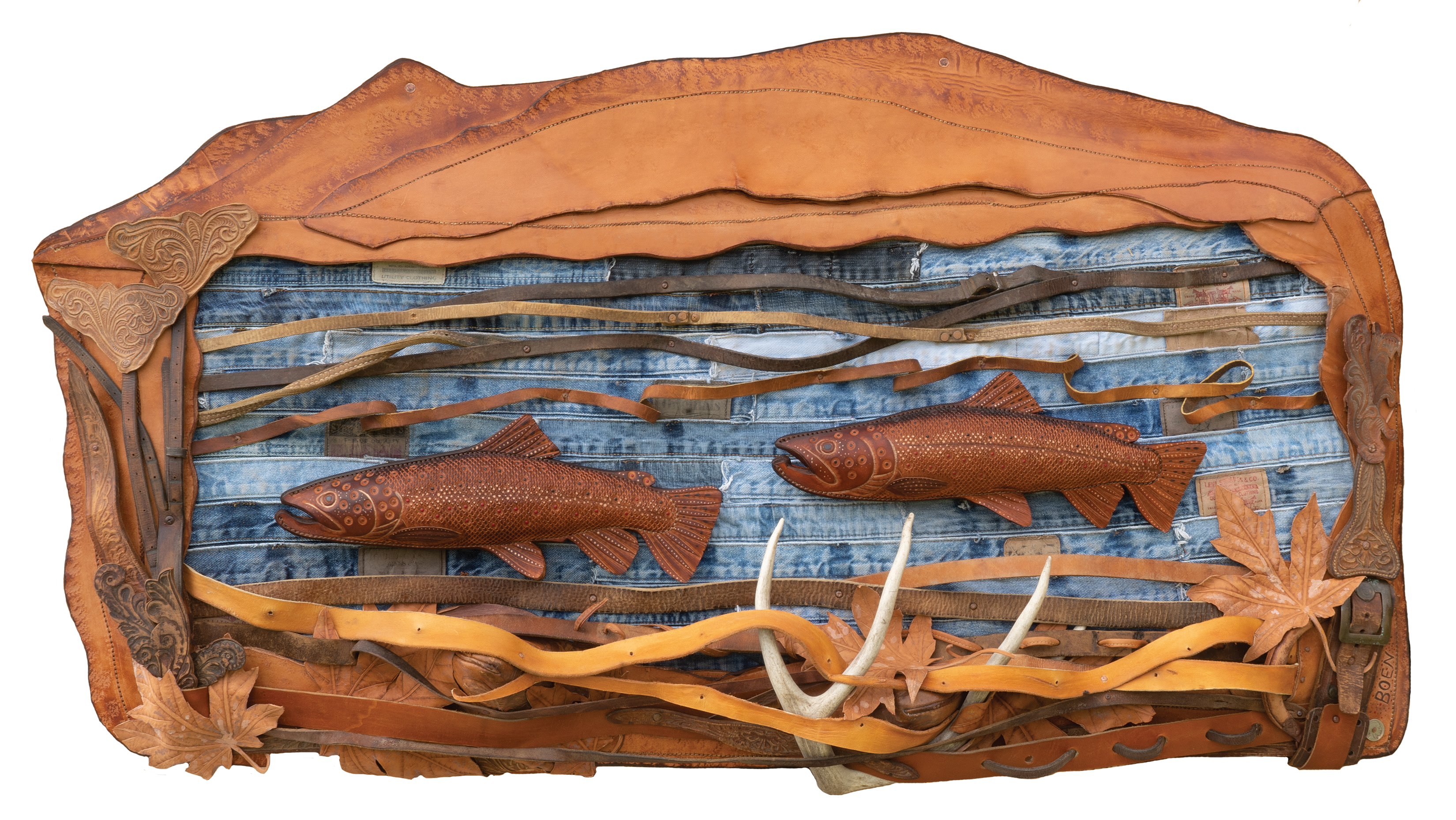 Trout on the Levi River tooled leather and mixed media | 50 x 28 x 8 inches
04 Feb

Artist of the West: Angling for Beauty

in

Early on a summer morning, while the rest of the family sleeps, a small boy makes his way alone to the overgrown banks of a nearby mountain stream in California's Eastern Sierra. He tosses a worm-baited line just right. Soon, he's using all his might to reel in what, for his size, are enormous trout, one after another. When he returns to his grandfather's vacation cabin with his catch, his family is amazed.

For Lance Marshall Boen, this boyhood experience replayed itself over and over. And always, it was about much more than the fish he carried back. He remembers those mornings as magical times, alone with the smells of water and the filtered sparkling light, with the sounds of the cascading stream and his imagination hungry for the underwater world of trout. By age 12, he was learning to fly fish and tying his own flies.

Today, at 47, Boen incorporates all the aspects of fishing he has loved his whole life into his singular art form. Beyond that, he gathers special memories and experiences from other anglers or collectors and weaves them into one-of-a-kind custom pieces. In either case, his labor-intensive works feature aquatic environments, fishing paraphernalia, whimsical elements, and nostalgic touches — all within the delicately hand-tooled or painted leather body of a fish.

Boen's journey from pint-sized angler to internationally collected sculptor began at his family's home near Mount Baldy in Southern California. From a stocked stream, he would catch small trout and deposit them into a large pond in his yard to watch them grow. On weekly class outings through elementary and middle school, he learned hands-on skills, including blacksmithing, ceramics, and gardening. From his father, who collected paintings and sculpture, he gained an appreciation for fine art, while his stepfather was a musician whose circle of friends included artists. Boen's parents and stepparents, between whose homes he alternated weekly, all encouraged his creative inclinations. "They wanted me to do what I was excited about," he says.

In high school, Boen enjoyed advanced placement art classes, and by his senior year he was putting together a portfolio. He earned a Bachelor of Fine Arts from the University of La Verne, with an emphasis on painting. Yet, during his undergraduate years, his work became increasingly sculptural, involving assemblage and armature. By the time he entered Claremont Graduate University, his art had "come off the wall," leading the artist to focus on sculpture for his Master of Fine Arts.

Living in Los Angeles following graduate school, Boen produced conceptual works that often incorporated found objects, resin, leather, and sewn elements, which he exhibited in group and solo gallery and museum shows. On the side, for fun, and often as gifts for friends, he began using leftover leather to make three-dimensional fish. The activity reconnected him with anglers and the sport, and over time he was asked to create larger and more elaborate works. "Because leather was alive at one time, it lends itself to fish sculpture," he says. "I felt fulfilled by making the fish."

These days, the artist, his wife, and their teenage daughter and son live not far from the seasonal Carmel River, 12 miles from the Pacific, near Carmel Valley, California. The artist fishes whenever he can, sometimes "charging my batteries by fishing all day for a week straight," he says. But the multiple time-consuming steps involved in his art require a high level of discipline, and often his enjoyment of being on the water takes vicarious forms, through listening to collectors' fishing tales and designing commissioned works.

Boen's creations emerge from two approaches, each of which begins with a large piece of heavyweight cowhide worked flat and then shaped into an anatomically correct three-dimensional fish. In one style, which he refers to as "mural scenes," he uses acrylics to paint the fish, generally in naturalistic hues, but sometimes with color emphasizing finely tooled imagery of the creature's life cycle or its world.

In the case of a large, colorful dorado crafted for a collector couple, the sides are covered with imagery reflecting both the fish itself and aspects of the owners' experiences: their boat, local landmarks, and a map of the area in Mexico where they live part-time and fish, as well as other creatures the couple often sees on fishing trips — dolphins, giant manta rays, and seabirds.

"It's all about stories," Boen says. "The fish itself can be a once-in-a-lifetime one they caught and either let go or harvested, but they have this memory to keep." On other mural-sided fish he uses tooling and paint to represent that species' environment: underwater vegetation, other sea or river creatures, even predators, including bald eagles or larger fish.

Boen's other approach is more monochromatic and involves assemblage. Vintage leather objects are used to reproduce elements of aquatic environments. Antique baseball gloves or old leather boots, belts, wallets, or saddle tack become moving water, riverbed cobbles, swaying water plants, or streamside rocks and leaves. In some cases, the fish itself is wearing a tooled custom saddle, with holsters carrying fishing gear.
"It's not about recycling found objects; it's more about how those objects blend in to become part of the story. It's about the underwater world," Boen says, adding that in commissioned pieces, objects meaningful to the collector may be incorporated — perhaps a saddle the collector had as a kid or a grandfather's old baseball glove.

Always, Boen begins with thick, soft leather and initially works flat as he creates texture and imagery. Over the years, for various species of fish, he has developed patterns he knows will retain a sense of accuracy in the transformation from two dimensions to three. "The pattern-making has become more intuitive. Now I can do it almost freehand," he says. Once the surface imagery is complete and the fish is ready to become a sculpture, Boen stitches the pieces together with a specialized sewing machine, then shapes the form wet and packs it with fiberfill material.

When it dries, the fish is sturdy and stout, with smooth, fluid lines. "Leather is a beautiful medium to work with because it has so many applications with textural detail, there's no limit to size, and it can be manipulated — it's not fragile," he says.

His largest wall-mounted leather fish so far is a 10-foot-long, saddle-wearing steelhead trout weighing several hundred pounds, commissioned for a restaurant banquet room in Grants Pass, Oregon. And from February 5 through 8, Boen's artwork is at Safari Club International's 2020 Convention (booth 2761) in Reno, Nevada.

The artist is also creating public art on a monumental scale. For the city of Monterrey, California, he's collaborating with a ceramic artist to create a 15-foot abalone in concrete and clay. One side will be textured and earthy, while the other will be beautifully pearlescent and tell stories in imagery on clay tiles. At some point, he also envisions producing his fish in bronze. "I've never felt limited to just leather, although it's good to have a focus," he says.

After 17 years near Carmel Valley, Boen and his family plan to move to Flathead Lake in Montana within a year. Relatives live in the area, which is also home to a number of collectors, anglers, and outdoors people. And while he'll be farther from the sea, nearby stream and lake fishing opportunities will be more plentiful. "It's the fishing, but I think what calls me most is the water, the beautiful locations — stream, ocean, or lake," he says.