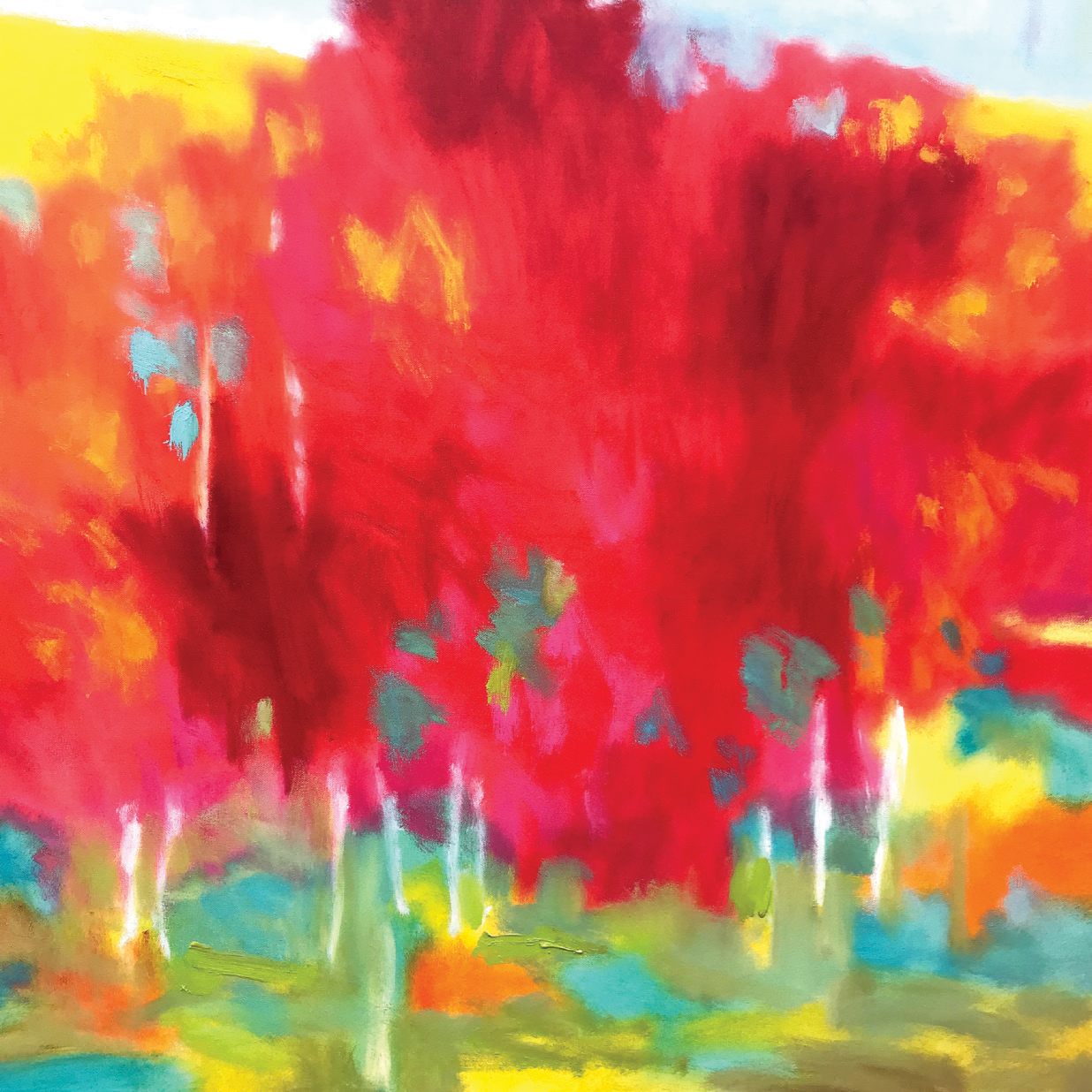 Beneath A Yellow Ridge | Oil | 36 x 36 inches
23 Nov

Artist of the West: An Infatuation with Color

in

Marshall Noice's richly chromatic paintings have a stained glass effect: Light seems to come through the colors, which are at once deeply saturated and enchantingly translucent. His landscapes inspire a renewed sense of delight in one of nature's most ubiquitous and easily overlooked life forms. "Trees," Noice explains, "have always been a big part of my life. When I was a kid, my family had a cabin on a lake in Northern Minnesota. I don't think there was one kid my age on the whole lake. I was just on my own all the time." During solitary rambles through the woods, Noice says that he spent many hours "lying on my back looking up through the trees into the sky."

These companions from his childhood became muses in his adult creative life. Initially, landscapes — and the trees that inhabit them — played a significant role in Noice's photography, which he pursued in his 20s under the tutelage of Ansel Adams, when he served as the photographer's workshop assistant and benefitted from his critiques. "That was an extraordinary experience," the artist recalls. "I learned to see the landscape in a more rigorous fashion from working with Ansel. He was a huge influence."

For Noice, shifting his focus from exclusively black and white photography to painting catalyzed a deep devotion to color. "Part of my infatuation with lots of color exists because I had related to the landscape almost exclusively through shades of gray for a long time," he says. "When I started painting the landscape, color became almost an obsession for me." So much so, that he found it to be "extremely intoxicating."

For Noice, it's not only the colors themselves but their relationships with each other that imbue his paintings with feeling. "The adjacency of colors is of great interest to me," Noice explains, "because that's where the emotional impact of color really is strongest. When you see quinacridone magenta next to cadmium orange, for instance, the conversation those two colors have triggers a lot of emotion for me. Another thing I'm really interested in is soft edges versus hard edges; they change the way the colors in the painting interact with each other, as well as how they communicate something emotional to me and, hopefully, to the viewer. We all are emotionally affected by color, and no two people are affected in the same way."

Although color is a language that speaks to each of us differently, viewers of Noice's works tend to experience similarly medicinal effects. "I think of being around Marshall's paintings as somewhat analogous to the Japanese concept of forest bathing: immersing oneself in the sights, sounds, and fragrances of the forest to foster optimal physical, emotional, and mental health," says Wolfgang Mabry, a consultant at Ventana Fine Art in Santa Fe, New Mexico. "People want to feel the way Marshall's paintings make them feel — alive, colorful, free, and exactly where they want to be." On a similar note, Merritt Miller, co-principal of Merritt Gallery and Renaissance Fine Arts in Baltimore, Maryland, adds, "The words we hear most from our clients about Marshall's works are 'joy,' 'happiness,' 'peace,' and 'sunshine.'"

The above terms are also apt descriptions for Noice's own experiences as he spends time outdoors creating field studies of the landscapes around his home in Kalispell, Montana, and on his travels. His paintings are born outside, and they grow in his studio, where he develops these studies onto larger canvases in either pastels or oils, the two media bringing out different dimensions of Noice's dynamic sensibility.

"Sometimes I'm feeling fiery," he says, "and sometimes I'm feeling delicate." One of his oil paintings, titled Hyde Park Pathway, features aspen trunks of exquisite slenderness, their surfaces glinting with shades of rose, ochre, orange, and gold. In contrast, the pastel field sketch for Beneath a Yellow Ridge is a bold rendering of crimson foliage. In both pastels and oils, however, Noice's emotive, non-literal use of color sheds fresh light on the shapes, moods, and wonders of trees and their surroundings. By painting landscapes in deliciously unexpected hues — dark violet, vivid teal, tender pink, ripe fuchsia, and juicy orange — Noice lifts them out of the realm of the familiar and into the sublime.

"To view one of Noice's works is to have a window into the way he sees the world," says Rachel Rubin, co-principal of Merritt Gallery and Renaissance Fine Arts. Indeed, Noice's vision is contagious, one that stays with viewers even as they walk away from his paintings and move outdoors to step among the trees. Suddenly, the hues of their trunks and leaves are freshly nuanced; the colors of the surrounding landscapes, toward which the trees gesture with their branches, are bright. And making it all possible, of course, is light.

"It's really all about light," says Noice, referring to the translucent oil paints he favors, and to the art of landscape painting itself — an art that, in his hands, infuses the natural world with all the colorful beauty of a cathedral.