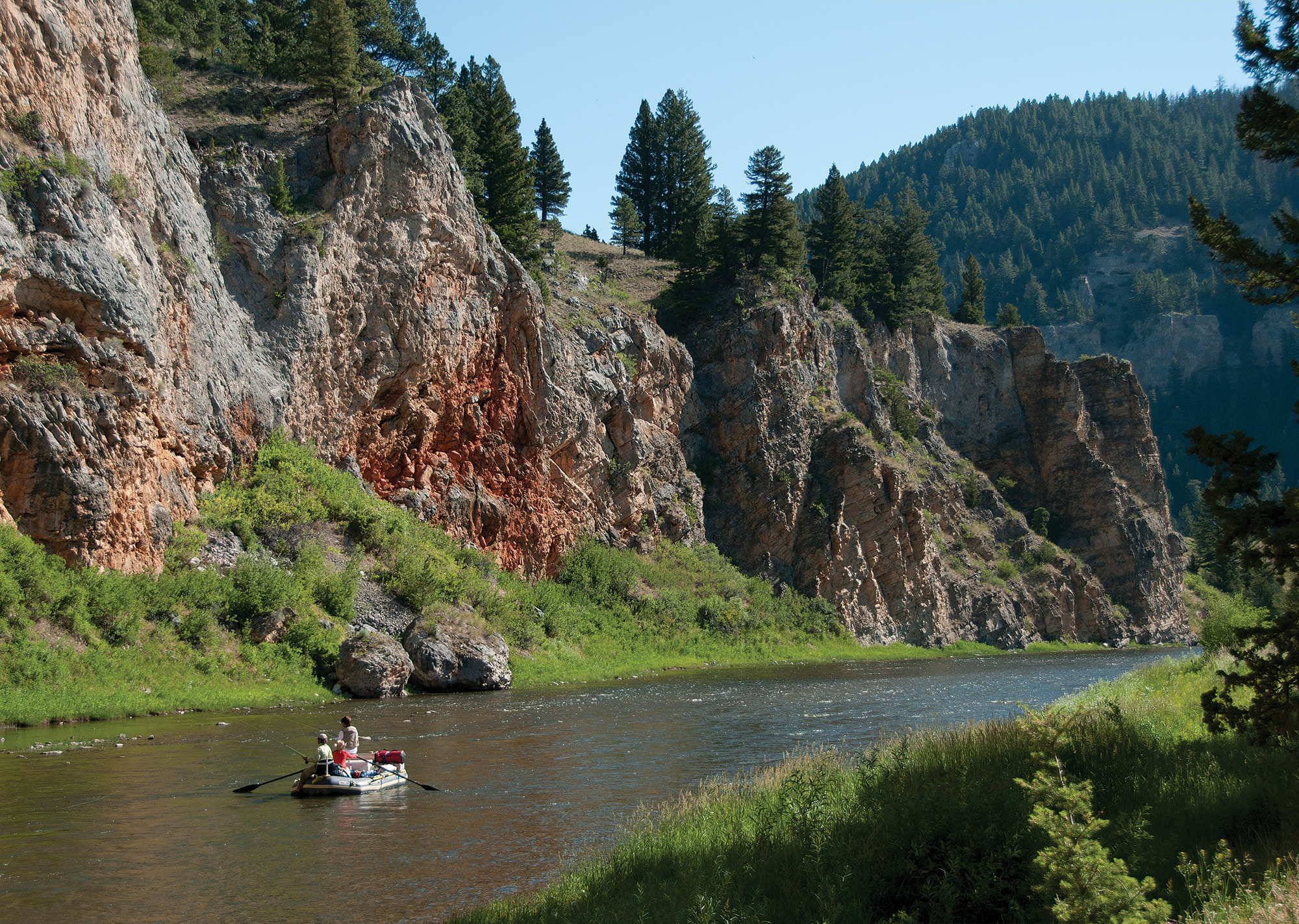 02 Oct

An Ode To Limestone

in

SOARING CLIFFS, CLOUDS AND CAVES spin kaleidoscopically above us. My wife Mary happily works the oars, while I kick back in front with a Big Sky IPA. The trout could wait for my reverie and memories to subside. Mary back-rows adeptly from a bluff, rounds a meander, then pulls off at a perfect campsite we know well from an earlier float trip with my dad — Paradise Bend.

No one whose raft has twirled lazily though labyrinthine canyons like those rimming Montana's Smith River will forget the sublime scenery produced by eroding and dissolving great sheets of limestone. When the sun hits just right on the gorge's craggy temples, it's like floating through a pristine landscape painting by 19th century masters like Thomas Moran, Frederic Church or Albert Bierstadt. The serpentine trip echoes a line from the Lewis and Clark journals describing the sandstone White Cliffs further downstream on the Missouri River: " … it seemed as if those scenes of visionary enchantment would never have an end."

So too, will anyone who's bounced a woolly bugger off concave cliffs into a deep undercut pool have an enduring memory of the 20-inch brown that raced out of the shadows like a missile to intercept it. The truck-sized rubble that breaks loose from the limestone precipices creates trout hotels around every curve.

Less obvious is the role Rocky Mountain limestone plays in creating water chemistries, temperatures and flows that foster fecundity. An enduring gift from ancient sea creatures — deposited over millennia, compressed and uplifted even to mountain tops — limestone-generated springs produce prolific aquatic insects as well as the fish that feast on them. And while not all limestone-influenced streams gain most of their flow from springs, they all represent a timeless metamorphosis and reincarnation. Fossil-filled limestone presents a perfect angling metaphor for the Shiva-like transformative cycle of life, destruction and rebirth.

Limestone creates habitat for highly specialized plants and animals adapted to the bizarre, Swiss cheese-like landscape: sinkholes, fissures, caves, underground rivers and percolating seeps. For thousands of years, these features have shaped human life too, both materially and psychologically.

I am by no means the first angler to notice why limestone rocks. In Jerusalem Creek, author Ted Leeson reflects on limestone, living and untimely death. In his masterpiece Trout, the venerable fly fishing writer and researcher Ernest Schwiebert explains the effects of limestone on water chemistry. And noted fly fishing author Tom Rosenbauer proclaims in The Orvis Guide to Prospecting for Trout, "Geology determines the entire character of a trout stream."

The world's most productive natural trout waters flow through and are fed by limestone. While some might argue that factors like climate and humans contribute as well, Rosenbauer elaborates on his point: "A glance at the surrounding terrain can tell you how big the trout will grow, how much food is available to them, and how they will be distributed in the stream; it also helps you predict their feeding behavior and even what flies will work."

Between 65 and 600 million years ago during the Paleozoic and Mesozoic eras, sedimentary layers of limestone, dolomite, shale and sandstone were deposited across much of what is today Montana, Wyoming and Idaho, when the region was covered by shallow, warm seas teeming with life, waxing and waning across the landscape. Limestone, especially, is readily dissolved by the natural acidity of rain and groundwater: The calcium carbonate (or calcium magnesium carbonate from dolomite) that precipitates out is a chemical building block for creating extraordinarily productive new watery environments, important for aquatic plants, insects, crustaceans (like crayfish) and scuds (like freshwater shrimp).

Limestone increases the pH of water, making it more alkaline, with important consequences for liquid life. Waters rich in lime can result in habitat that produces as much as 60 pounds of fish per acre, according to Schwiebert. Some of the country's finest limestone streams in the Rockies, Pennsylvania and the Driftless Region National Wildlife Refuge of the Upper Midwest can be even more fertile, producing an astonishing 300 pounds of fish per acre.

In addition to influencing water chemistry, limestone has beneficial moderating effects on stream flows and temperatures. The porous, fractured rock acts as an enormous sponge, absorbing precipitation then releasing it in steady, trout-friendly increments. Similar to famous trout tailwaters like the Bighorn and Missouri, streams heavily fed by limestone aquifers are less likely to whiplash between extreme floods and drought-stricken trickles.

Limestone springs cool streams during summer heat and warm them in winter, creating optimal conditions for trout. The temperature of groundwater discharged from springs mirrors the area's mean annual air temperature: In Montana, this tends to range around 50 degrees F. Trout require chilly water because it holds the high levels of dissolved oxygen they need to survive; extremely cold water, though, inspires dormancy. Because trout don't feed or grow much in water temperatures below 45 or above 70 degrees, limestone-fed springs help keep temperatures in the sweet zone, where trout feed like famished pigs.

Ultimately, advises Schwiebert, "Each river has its own fingerprint, its character and chemistry, its unique mixture of the physical and the metaphysical." Trout biology and chemistry reflect their environmental context, in the same way that classic wines are shaped by where the grapes are grown. The French concept of terroir — loosely translated into a "sense of place" — refers to how great wines like those from different regions in Bordeaux, Burgundy or the Rhône River valley are forged by the specific geology, geography and climate of the locale. And just as Hugh Johnson's masterful The World Atlas of Wine illustrates spatial aspects of wine regions — "the better the wine, the more exactly it locates its origin" — so too a close study of geological maps of the West helps anglers locate their limestone Holy Grail.
Limestone watersheds in Montana and Wyoming
So what do maps suggest about where to find limestone-based streams in the Northern Rockies? In Montana, some of the most expansive limestone concentrations rest in the Big and Little Belt mountains in the west-central part of the state, along with the Big and Little Snowy mountains to the east, where fossil sharks have been discovered. These ranges feed estimable trout streams like the Smith, Judith and Musselshell rivers, along with the fruitful Belt, Sixteenmile and Big Spring creeks. Much of the area is covered with 350-million year old Madison limestone, which supports major aquifers across the Northern Rockies.
A peculiarity of this region is how portions of the South Fork of the Judith River and Dry Wolf and Belt creeks seasonally disappear underground when they hit a permeable bed of bedrock limestone. After a long underground journey, some of this "lost" water likely resurfaces at Giant Springs along the Missouri River in Great Falls. Noted by Lewis and Clark in 1805, it is one of the country's greatest upwellings of spring water — 156 million gallons per day — emerging at a constant, trout-friendly 54 degrees.
There are great bands of severely uplifted limestone in northwest Montana, helping form iconic features like the Rocky Mountain Front and the Chinese Wall in the Bob Marshall Wilderness Area. Streams draining these formations include the Sun, Spotted Bear and South forks of the Flathead River.
In the Paradise Valley south of Livingston, the Yellowstone River slices through a bed of Madison limestone, where artesian fountainheads feed Montana's best-known and most challenging limestone streams — the privately-managed Nelson, DePuy and Armstrong spring creeks. According to Rosenbauer, the latter ranks as "… one of the world's richest little trout streams, in both insect life and trout population."
Further up the Yellowstone, a limestone-fueled oddity lying near the Montana-Wyoming border is the influx of calcium carbonate into the Gardiner River from scalding thermal runoff threading down from Mammoth Hot Springs. When the aptly-named Boiling River emerges from its Hades-like travertine cavities, it dramatically changes both the Gardiner's chemistry and temperature — benefiting downstream trout.
To the east, the alluring Boulder River also cuts through a band of limestone in dramatic fashion. South of Big Timber, the river flows over the dramatic Natural Bridge Falls; the river used to cascade through a natural arch during low flows, until it collapsed in 1988. Nonetheless, the bathtub-like plunge pool below remains filled with hungry trout for anglers up for a scramble.
The largest configuration of Madison limestone in Wyoming rears skyward in the Bighorn Mountains, feeding jewels like Shell, Ten Sleep and Medicine Lodge creeks, along with the Powder, Paintrock and Tongue rivers. Among the best case studies of how limestone bolsters trout fisheries lies in the latter watershed, where at first glance the North and South Tongue seem like twin sisters. Yet their personalities are surprisingly different: The South Tongue flows through an infertile silica-based granitic landscape and mostly produces pan-sized brookies; the North Tongue, conversely, is fed by limestone springs and surrenders surprisingly large cutthroats, which drift up circumspectly and — just maybe — inhale a monstrous Chernobyl ant.
The east slope of the mighty Wind River Range is blessed with an abundance of limestone too. In addition to its namesake river, the Winds in the Lander area produce the forks of the Popo Agie River: At Sinks Canyon State Park, the Middle Fork disappears into a limestone cave, gushing forth in a spring a mile downstream. Enormous trout lurk in the pool below … fun to watch, but off-limits to anglers.
There is also a plentitude of limestone near the Idaho border, from the western edge of the Tetons to the southern tip of the Salt River Range. On the outskirts of Jackson Hole, Flat Creek's circumlocution through the National Elk Refuge provides some of Wyoming's finest (and most technical) public fishing for sizable Snake River cutthroats. Further south, the Salt River benefits from groundwater infusions like the amazing Periodic Spring; due to idiosyncratic plumbing, it gushes on and off at relatively predictable intervals, like a coldwater Old Faithful.
One of the Cowboy State's richest limestone streams — Sand Creek — is actually at the prairie-fringed eastern boundary of the state, on the edge of the Black Hills. Flowing north to the tiny town of Beulah, N.D., this lovely spring creek is packed with undulating aquatic vegetation and insects, supporting thousands of spooky trout per mile. Affording a break from this challenging fishing, the nearby Vore Buffalo Jump site preserves a limestone sinkhole into which Native Americans used to stampede and harvest bison, as many as 20,000 over hundreds of years.
Limestone: A curious natural and cultural history
Dissolving limestone forms a honeycombed landscape geologists call "karst" topography. The caves, sinkholes, vanishing streams and springs that characterize karst are a paradise for trout anglers.
The best example of this formation is in the Lewis and Clark Caverns, perched on a mountainside overlooking Montana's Jefferson River. Spectacular stalactites and stalagmites dazzle visitors; equally fascinating are forms of life specially adapted to caves. The caverns — protected in a state park — are home to Montana's only known maternity colony of western big-eared bats.
Among Montana's most unusual limestone caverns are the ice caves in the Big Snowy and Pryor mountains, where refrigerator-like interior temperatures keep ice formations intact during summer heat. In some locations, chilled, damp air around cliff-side cave mouths offers habitat for life that survives nowhere else. Cool cascades of limestone spring water from these orifices also shelter aquatic plants with very specific environmental requirements. Watercress — which makes a tasty and nutritious salad rich with antioxidants — is one of the signature plants residing in limestone springs, thriving amid plenty of dissolved calcium.
Among the most remarkable karst-related features in the Northern Rockies is a remote sinkhole — Natural Trap Cave — located near Bighorn Canyon. For millennia, the precarious opening was the demise of prehistoric animals that blundered over the edge and tumbled 80 feet to the bottom. Paleontologists have uncovered thousands of specimens from the mound of bones on the floor, including Pleistocene-era mammoths, camels, lions, cheetahs and short-faced bears — extinct creatures that prowled North America during the last ice age. In 2014, scientists rappelled into the depths with ropes to take DNA samples from the remains, which have been well-preserved in the meat locker temperatures.
While Natural Trap Cave was too inaccessible to be inhabited, pictograph-filled caves like those overlooking the Smith River provided shelter for Native Americans for thousands of years; springs offered a bounty of fresh drinking water for Indians and settlers alike. Limestone supplied the cement and stones that built our towns and neighborhoods, including the century-old Helena home Mary and I share, located in the shadow of foothill lime deposits.
Back around our campfire with Mary and friends that evening on the Smith, after searching for fossilized coral, crinoids and brachiopods amongst the beach cobbles, I ponder Natural Trap Cave. As light fades from the canyon walls, squadrons of bats emerge from their own limestone grottos high on the cliffs, competing with feeding trout for remainders of the evening's abundant hatch.
We are sharing a special wine from France's Rhône region, an inky Syrah blend which displayed its limestoneterroir — as much a product of its geology as the rising trout around us. But as darkness settles, a swirling wind sweeps in with fury. Thunder-growling, bruised-purple clouds gather and sheets of rain lash us. Lightning flashes spark and send us scurrying to the tent.
That night I dream about replenished cold water winding through mysterious subterranean depths, eventually emerging into daylight from springs, as if gushing from the earth's subconscious mind. My visions morph to my late father, who shared this same camp with us not long before on his final float trip. As evidenced by limestone, components of the living world seemingly die for us, but not in a long-term atomic or geological sense: They are just resurrected into something new and beautiful, like a fat trout — or the sleek river otter that eats it.
By the next morning the storm has rumbled east toward the Great Plains. The first sunlight illuminates the upper limestone spires of a canyon cathedral, setting them afire against an azure sky. Memories are echoes and fossil traces — ghostly thunder off limestone escarpments — shifting fragments lovingly tended and arranged to create our lives' stories. As the Roman philosopher Cicero observed, "The life of the dead is placed in the memory of the living."