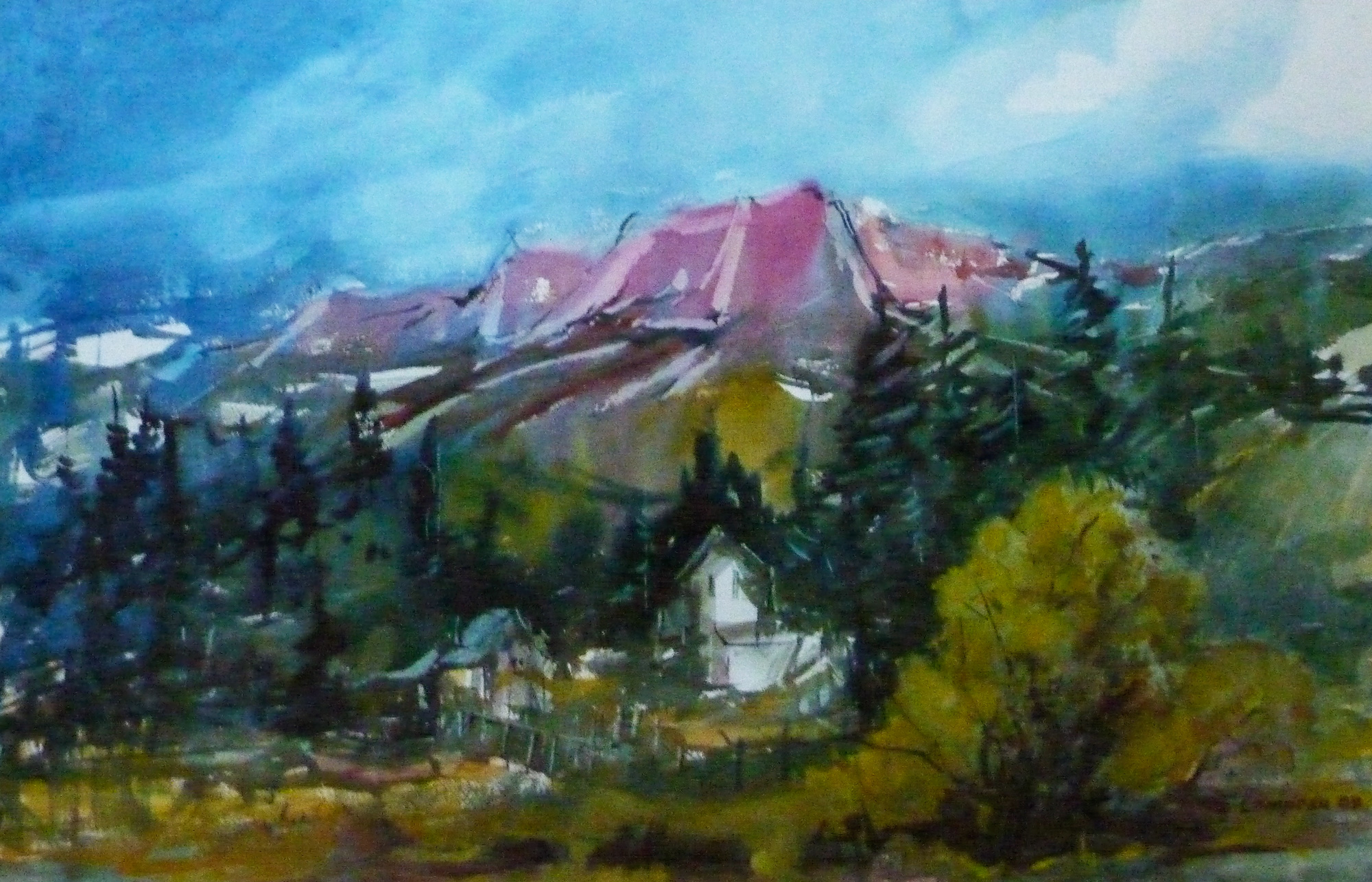 14 Jul

Artist of the West: Ambassador of Art: Ray Campeau

in
---
THE HOUSE, BUILT IN 1892, is drenched in apples. Cooking apples, baking apples, the aroma of brown sugar and cinnamon partner with the heat radiating from the heart of home — the kitchen. Here painter Ray Campeau and his wife Kay sit before the beautifully historic stove and Ray remembers finding his way onto the art scene in the 1950s.
"I was born in Butte and raised there," Campeau says with obvious pride. "I came to Bozeman to go to college in 1951, to be an architect."
But it wasn't the college experience he'd been hoping for and ended up joining the Navy at the tail end of the Korean War.
"When I came back in 1954 I enrolled at MSU and met two incredible teachers there," he says. "Bob DeWeese, who I took painting classes from — he was a crazy, funny man. And a man from Florida who had a school in Virginia City. His name was Hilton Leech. They both were people who were so happy with what they were doing, so sure of themselves, I thought that's what I want to do. So I switched from architecture to art."
Ever since then, he's been pivotal in creating an environment where art is not only appreciated but inspiring. Campeau has brought artists to Montana, and he's taught art to many more.
He's got plenty of stories. Stories of meeting artists, putting on shows, collecting art as well as teaching art at Bozeman High School for 33 years. In the late 1960s Campeau and a partner, Rand Honadel, opened The Ketterer Arts Center, in downtown Bozeman.
"We used the family name, the original owners who were blacksmiths," he says. "We bought the house and turned it into an arts center. We had a ceramic studio in the basement, a kiln in the backyard and we had painting studios on the third floor. We taught dance, writing and painting."
There were three classes a day with 50 people in a class.
"Everybody in Bozeman was going there," Campeau says. "It was a real art center."
From the onset, the Ketterer Center was a place like no other. Maybe the salons of Paris. It was a gathering place. A learning place. And a place for exploration.
"We had all sorts of exhibits," Campeau says, climbing two flights of stairs to get to his own studio. "We had shows where I had to sleep in the gallery because somebody had to be with the artwork at all times."
He made a special effort to bring in artists from outside the state.
"We even brought in Claes Oldenburg and his show, Claes Oldenburg's Sketchbook, he says. "But the show wasn't sketchbooks, it was silkscreens made to look like sketchbooks. They looked like pages."
He stops at the top floor. The walls shout with paintings by nearly every Montana contemporary artist that has come to the forefront over the last 50 years: Freeman Butts, Hilton Leech, Frances Senska, Jessie Wilbur, Rudy Autio, Pete Voulkas, and Brian Pursha to name a few. It's also where he keeps shelves and shelves of teapots. They line the walls and fill the cabinets.
Campeau's studio is down the hall, a great room with shag carpeting straight from the '70s. He paints mostly in watercolors but a few years ago he discovered house paint.
"I was out with one of my students and he was painting out of these jars," Campeau says, standing next to his set-up. "I asked him what kind of life expectancy does house paint have and he said, 'Well, it's used on the outside of a building.' It's not light sensitive and it has a great texture."
He opens a small container, one of a dozen colors he usually works with. The paint is viscous.
"I have 12 colors here, but I could have 60 if I wanted," he says. "It smells good and it keeps. I mix them on a wax palette and I can get any color I want."
He uses the pure pigment, the concentrate they squirt into the big gallon cans at the paint store, so his colors jump off the brush.
"The medium, acrylic latex, does not respond like oil, watercolor or acrylic paints and therefore offers a new challenge with every mix or brush stroke," he says. Campeau stands back from his easel. "Every time I complete one of these paintings I wonder who did it."
Leaning on the big couch in his studio is a large piece, recently finished. Campeau's grays lay over the landscape like a veil. His deep greens breathe with light.
But today he's going to do a little watercolor work. He moves to the kitchen and opens his sketchbook. Flipping through the pages of black and white images he finally settles on a quick outline he'd done of a farm while traveling through Michigan.
With a pencil, flat side against the thickly textured 18-by-24-inch paper, he looks at the sketchbook and marks his place, his lead skritches against the paper with every stroke.
"The sketchbook is the story of my life. I use it as a jumping off point," he says, beginning to get absorbed into the work. He opens the Russian color set and his 14-hued, dried-glycerin watercolors. With a wet brush he dampens the paper and refers to the sketch again and then silently to his own thoughts.
He leaves the kitchen to get a bigger brush from his studio.
"Sometimes I paint dry, sometimes I paint wet on wet," he says, more to himself than anyone else. Today it's a wet on wet day.
He dips into a rich cerulean blue. A touch here, a quick line down the side. "I like to be able to finish something," he says, as the lines and the edges take shape. Yellows turn to browns, and a rare pink appears in the foreground.
Mixing colors on the back of the lid he flourishes a gesture, something suggesting a form or a feeling.
Water. Sky. The molecules of air contain water, a perfect reflection of what air really is, expressed by a medium of pigment and water through the free expression of his hand.
The edge of the brush, a bleed of color, a red barn, brown building, green pastures, and the sunlight, warm lush sunlight on the ground. Soon the page is patterned with color and windblown skies.
There is a tension in the piece, of stillness versus movement.
Then he grabs a knife and scrapes the tip against the paper. A fence line.
It's not just his work, which expresses the landscape intimately yet objectively; his paintings are invitations to come a little closer … no closer. But Campeau's talents don't stop there. It's his ability to get people to see art in a new way.
Jerry Schmidt, aqua media artist, has watched Campeau's work since high school when Ray was his teacher.
"Through meeting Ray I decided to become an artist," Schmidt says. "By watching what he was doing in class I was inspired by it."
Even at the high school level Ray related to his students like they were adults. He often brought in high caliber artists in order to add to the conversation about art.
Valfred Thelin, a renown watercolorist, came to Bozeman High School for a day.
"When I saw him paint I'd never seen anyone who used India ink and a razor blade, dipping the razor into the ink and making lines," Schmidt says. "I couldn't believe how our imagination could build off of just a few lines."
Campeau spread his art like a picnic blanket, welcoming everyone to sit down and enjoy it.
"He utilized whatever was available at the moment to get me to see and understand how all of art was related," Schmidt says. "He wanted to open the minds of other people to see what art is and what it can become. He could find a way to make you excited about something even if you weren't. He could find a way to make you think and to realize it's not the end result but the process that's important. You have to experience every minute of every day to make your art real. That's the contribution I saw Ray make, it wasn't confined to a particular method, it was a totality."
But it wasn't just that Campeau talked the talk. He walks the walk. His art, so immediate and so personal continues to touch people. He has a gallery in Butte and recently was given The Harold McGrath Award, for an outstanding Butte citizen who has made an impact on the community with his artwork, by significantly enhancing the quality of life in the Butte-Silverbow area. The award was established by the Butte-Silverbow Chamber of Commerce and the Butte-Silverbow Arts Foundation.
The Park County Friends of the Arts and the Danforth Gallery in Livingston are planning a spring event to honor gallery co-founder Ray Campeau. The artist will personally be giving out the first annual Ray Campeau Award this spring to an emerging Montana artist.
"You would be hard-pressed to find someone that has positively affected the art movement here in Montana like Ray," Randy Chambers, PCFA board member and event coordinator, says. "He truly is a great ambassador for artists across Montana."
Campeau continues to show his work at the Danforth, and recently had a very successful show that featured some fused stained glasswork he's been dabbling with. For Ray, the learning never stops — it's the process that's important — whether it's watercolor, house paint or explaining a favorite painting to a friend.
Ray Campeau's work can be seen at www.campeau-artist.com, at the Danforth Gallery in Livingston or at the Phoenix Gallery in Butte.