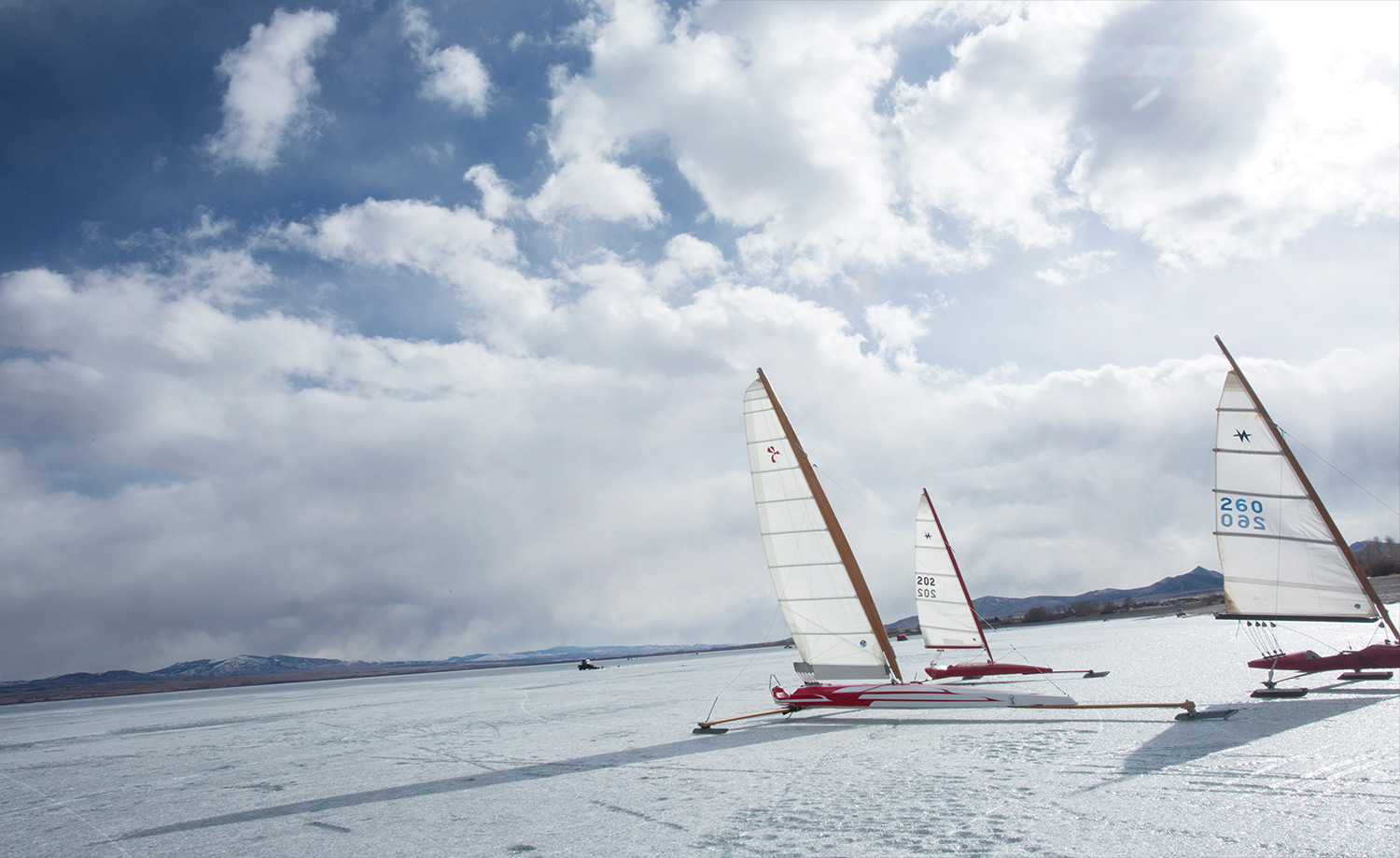 Many area ice boaters choose to leave their crafts on the lake throughout the winter.
30 Nov

Alan Kallio's Need for Speed

in

When Alan Kallio was in high school, he was transfixed by an image of an ice boat he saw in National Geographic. Not long after, he was working in a lumber yard and able to gather enough pieces to build his own craft, basing it on the crumpled picture he'd kept lying around. "I was always fascinated that you could sail on ice," he recalls. "I couldn't tell the dimensions from the photo, but I could tell the proportions, and made a sail out of a piece of muslin. It was incredibly crude, but it could sail fast enough to hurt you. That boat even sent me to the hospital once!"

That wasn't enough to deter Kallio from the adrenaline-fueled thrill of careening on ice at extremely high speeds; now, at almost 70 years old and with much sturdier boats, he's still looking for that same rush. On good days, when the ice is smooth and the wind just right, he finds it on Canyon Ferry Lake.

When he built his first boat in 1971, Kallio of Helena, Montana, didn't know anyone else in the state who had an ice boat. Then he heard about some Dutch farmers up in the Choteau area who had brought the sport with them to Montana. "I started paying attention, sailing with them," he says. The farmers had DN-60 models, a type that was developed during the Depression when The Detroit News sponsored a contest to find an ice boat model that could be built at home, something affordable to help pass the time through long winters. "This revived the sport of ice boating," Kallio says. "Now there're a lot of them out there; if you only own one, you should have this one."

Kallio's passion for sailing, both on water and ice, turned into a career when he took over Helena Boat Works in the early 1980s, where he fixes and builds boats. He built his most famous — and fastest — ice boat here, a two-man model called the Woodpecker. "When I designed it, I had two people lay on the floor, and I drew chalk around them," he laughs. "It's the same proportions as a DN-60 but 22 feet long."
Kallio sits in a manufactured fiberglass boat made by Nite. Although this one belongs to a friend from Washington, Kallio takes care of it in exchange for occasional use. "It's a nice boat for giving rides in," he says. "I have had it close to 80 miles per hour."
It was in this boat, careening down Canyon Ferry with a passenger hanging on for dear life, that he broke a personal speed record that also could very well be a state or regional record, clocking in at 95.6 miles per hour on a modern GPS system. "When we got done, he [the passenger] got out of the boat and kissed the ice," Kallio laughs. "I thought, 'I'm going to stop now, I think we got away with something.'" Since then, and unofficially, he reckons he's cracked 100 miles per hour at least a couple of times.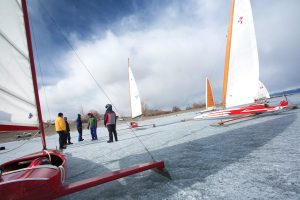 "The thing most people are amazed by is the acceleration," Kallio says. "You give it a little shove and next thing you know, you're going 25 miles an hour."
Once the ice is stable, boats of various colors, shapes, and sizes sit side by side near the Silos launch ramp on Canyon Ferry. They stay there for the winter, looking almost like a yacht club of sorts. "It's a really old sport, but I think it's dying," Kallio says. "We used to average 30 to 35 boats on the ice, but last year there were only around 14. Young people don't seem to have an interest in it."
Stop by Canyon Ferry on a windy afternoon in February, and you'll likely see Kallio and his cronies either zooming past or standing around their boats, sipping beer. You're also likely to see the appeal of spending a day on the ice. Ice boating offers a desolate sort of beauty. The world is sparkling white as far as you can see, and makes the colors in the sky, the blues and the sunset hues, ever more vibrant.
"It's really quite stunning how beautiful it is when you get out on the lake in the winter," says Jim Crichton, a retired doctor from Helena who is one of Kallio's frequent ice boating companions. "The light is really stupendous, and I always think, why doesn't everyone do this?"
For Kallio — sure it's beautiful, and it's a great way to pass the time — but he's here to go fast.
"A typical sailboat on water will go 7 to 8 miles an hour, and these go 70 to 80," Crichton says.
He also says that many passionate ice boaters like Kallio are consumed with the science. "It's interesting to think about how the boats work and how to get one to run better and be faster," he says. "There are complex aerodynamics involved."
For the Canyon Ferry ice boaters, February is typically the best month. Kallio's record winter included 42 days of sailing. Sharon Walker, who runs the Silos RV store off Highway 287 near Townsend, Montana, maintains a weather station, so most days in the winter, Kallio checks in to see what that day will bring, ready to drop everything for a good wind.
Sailing is easy, according to Kallio, but with no brake system, the boats are hard to stop. "You have to point them straight into the wind and wait for Mother Nature to stop you," he says.
"You need ice and wind and a day off all at the same time," he says. "We will boat in almost any conditions. If it's blowing 50 to 60, most people won't sail, it's too risky, but I can carry two people and have a storm sail for heavy winds. I might be old but I'm still pretty gutsy."