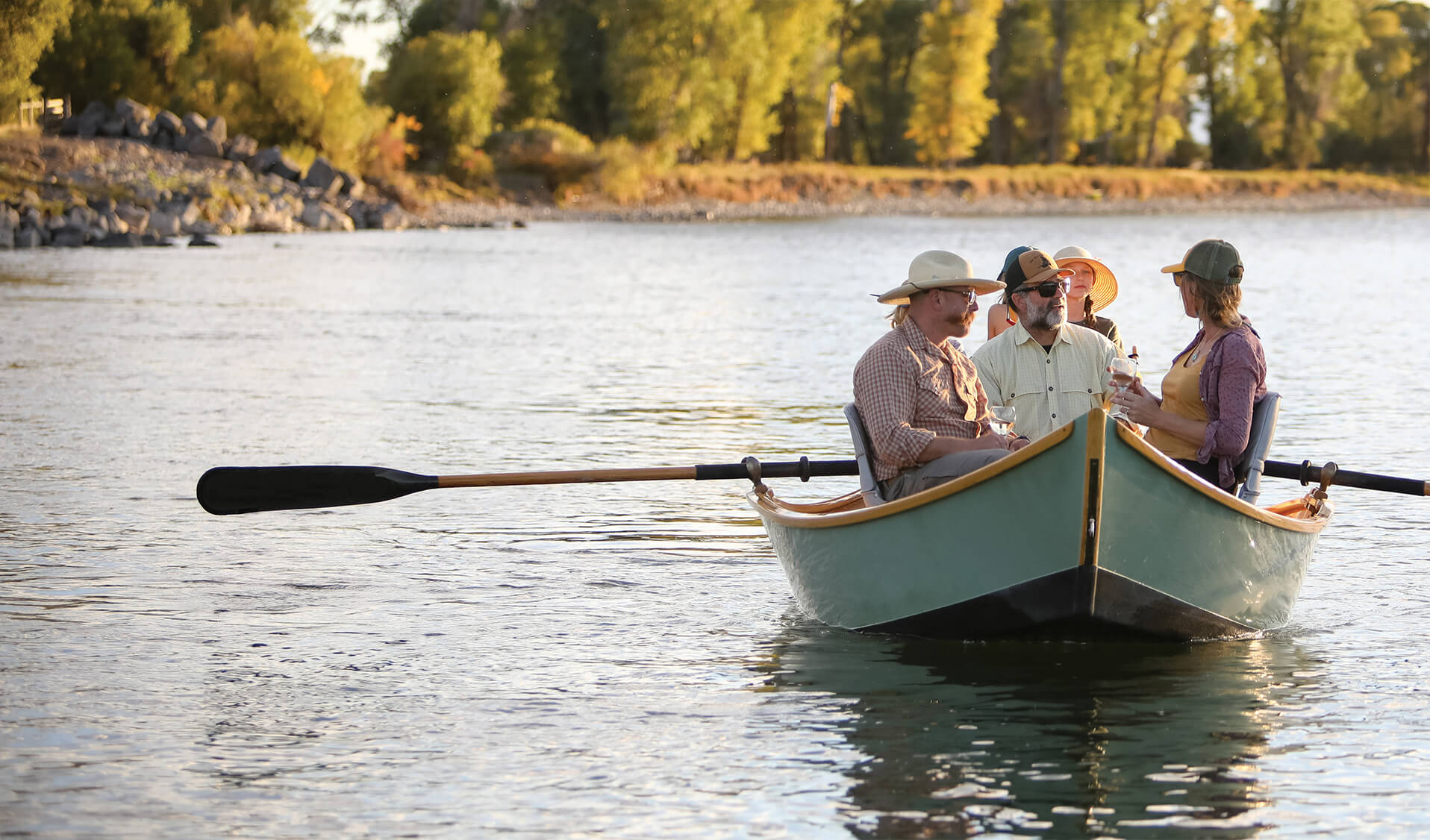 Photographed by Melanie Maganias
02 Feb

Adrift

in

When you drift down the Yellowstone in a wooden boat, you know it: The momentum is different. There's a glide through the waves instead of a pull. On a July afternoon, it can smell like the trunk of a sun-warmed cedar. A wooden boat sounds different, too. River static whispers as pebbles beneath the boat's double floor tumble, lifting and falling, rolling with the current. There is no hollow slap of aluminum, plastic, or fiberglass. Drifting in a wooden boat is like floating in the dint of a maple leaf. 

Jason Cajune has been working on wooden boats since he was a child in Glacier National Park, where he spent every summer on Two Medicine Lake. His family ran the boating concession for 35 years, and Cajune learned every inch of the 45-foot Sinopah, a boat that will be 100 years old in 2026. The Sinopah, though, was only the first in a string of wooden boats that have charted the course of Cajune's life. 

For the last 26 years, even before he retired as a city firefighter in Livingston, Montana after a life-altering injury, Cajune has been building wooden drift boats: classic, skiff, and recurve. And all of them are works of art. He took what he knew about classic boats like the Sinopah and added luxe features like cupholders, dining tables, and even a place for a propane heater. But this is Montana, and Cajune is a Glacier kid. These beauties had to be bombproof, so he worked out a way to build boats that could withstand the rigors of bigger water. Cajune has taken his wooden boats down the Selway, the Colorado, and the Middle Fork of the Salmon. Imagine a Lipizzaner that can rodeo. 

At one point, Cajune was working with a team to build several boats a year, but his waiting list grew annually. Now, he's content making one perfect boat every 12 months or so. The price tag starts at around $50,000 and the waiting list can exceed eight years. "I've quit taking deposits," he says. 

But that doesn't mean Cajune is off the water. Far from it. 

In the summer of 2021, one of the luxury resorts in Paradise Valley, just south of Livingston, asked if they could put one of his boats in their lobby. When guests saw it, they invariably asked for a ride. Cajune hadn't guided for years, but few things give him more pleasure than being out on the river, showing people what he loves about this place. It didn't take much convincing. 

An absolute wonk when it comes to Montana maritime history, Cajune knows about Salish and Kootenai boatbuilding traditions that long predate Montana. He's eager to talk about the 200-foot steam engines that chugged their way up the Missouri in the late 1800s to what was then the world's innermost port in Fort Benton, Montana. And he can tell you about the Zillah, a lopsided wooden boat that was shipped in pieces to Yellowstone National Park from Minnesota in 1889 and docked at Thumb Bay in Yellowstone Lake. It took tens of thousands of tourists to the Dot Island Zoo to see the bison and elk that had been enclosed in a fence on Dot Island, one of seven named islands in Yellowstone Lake.

This past year, Cajune was an expert witness in a federal lawsuit between the U.S. and the State of Montana, helping to clarify land rights around dams based on the navigability of various rivers when Montana became a state in 1889.

He knows where they built the boats back then — up Mill Creek and at Benson's Landing in Livingston — and he knows how they used them. "More than half the gold that came out of here was shipped down the rivers," Cajune says. "And for every person who did well out here, there were plenty that lost everything and had to get home." The boats — carrying everything from buffalo robes and animal pelts to people — ran the gamut, from small crafts and regional vernacular to the big steamboats, he says. History here may look like gold mining and cattle ranching, but we've always been boat people, too, Cajune says. 

It should come as no surprise, then, that Cajune would name his new endeavor the Old Montana Boat Company. Every day, from April into October, Cajune and his guides put some of his modern maritime masterpieces on the Yellowstone and show people the river on two- to three-hour sunset cocktail rides, morning birding tours, and a variety of custom trips. Guests can sign up for floats through various lodges in the valley, but private groups can arrange almost anything a la carte, Cajune says. It can be so many things, he says, but he is clear about what it's not. "It's not a fishing trip," he says. "Fishermen don't always look up." These trips are about noticing where you are in the world. 

Indeed, the Old Montana Boat Company tours give up to four people at a time the opportunity to experience the Yellowstone River in high style. Evening tours can include beer, wine, and a panoply of elegant hors d'oeuvres, or anything else the guests order ahead. There have been wedding parties, family reunions, fishing widow (and widower) trips, and bachelorette parties. But the common denominator is an opportunity to float flat-water sections of the Yellowstone in one of Cajune's incredible boats — complete with a place to set your wine glass — and experience the colors, sounds, and feel of the place. 

Whether it's seeing bald eagles or watching an aptly- named romp of river otters, an experience on the Yellowstone is never the same on any given day, Cajune says. And seeing it through the eyes of guests who are experiencing it for the first time is a delight for him. "I've never had a bad day on the river," he says. "And I've never met anyone on the river that I haven't liked." 

It's a long season and there are no days off, but Cajune remains undaunted and grateful. Time on the water makes everything worthwhile, and Cajune remembers those early days on the Sinopah in Glacier. "A lot of times, my dad was the only one there. He'd collect fares, do a tour for an hour, drop off hikers and pick up fishermen, then get back to the dock and start all over again. He'd do it five or six times a day all summer long." Cajune likes the way the Old Montana Boat Company takes him back. "Knowing that summer's so short, and that it's your season, you just go. If my dad can do it, I can do it," he says. 

Something tells me that this work, this tradition, feels a little like love.