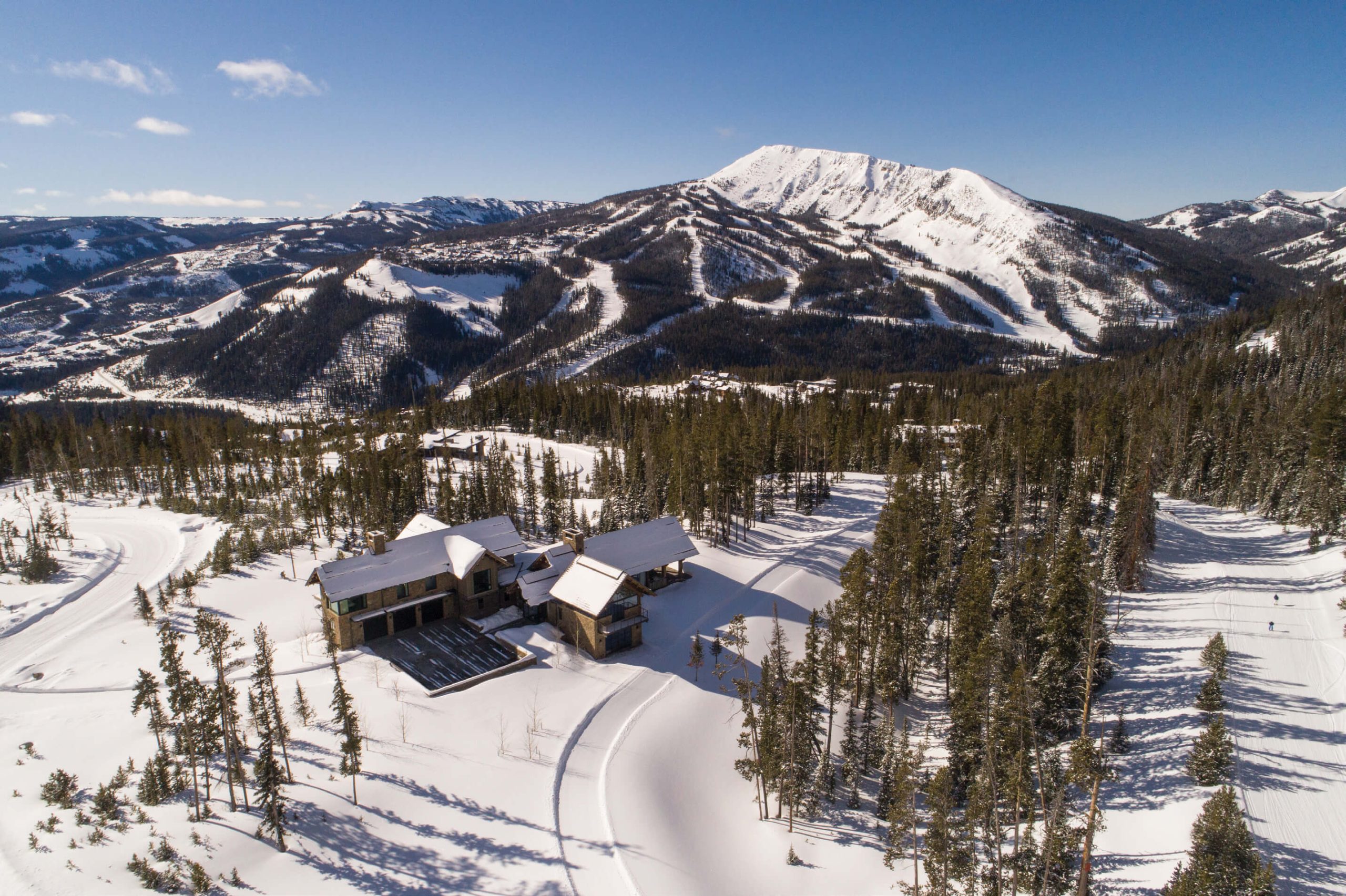 The six-bedroom residence by Daryl Nourse of Reid Smith Architects is perfectly positioned to behold and access the snow-clad peaks and world-class ski runs of the Yellowstone Club in Big Sky, Montana.
12 Apr

A Yellowstone Story

in

Architecture
Reid Smith Architects

Construction
Big Sky Build

Interior Design
WRJ Interior Design

Specialty Lumber
Montana Reclaimed Lumber

Poised on a ridge in the heart of the Yellowstone Club, a renowned enclave of ski-in, ski-out estates just west of Big Sky, Montana, a six-bedroom retreat created for an international couple tells a compelling story of the Rocky Mountain West's past, present, and future. At once sophisticated and kick-off-your-shoes casual, state-of-the-art modern and down-home rustic, seriously elegant and irresistibly playful, the home effortlessly serves every need and fulfills every dream its family and their friends may desire.

Lead architect Daryl Nourse, a principal with Reid Smith Architects in Bozeman, Montana, set the scene with a lodge-like design that echoes tradition using elements such as open gable and shed roof forms — perfect for a snowy climate — as well as materials like moss rock and reclaimed timbers and weathered gray corral boards gathered from locations across the West by Montana Reclaimed Lumber. Yet, overall, the structure, which came to fruition through the expert efforts of John Seelye and his team at Big Sky Build, is also streamlined, expressing a modern lifestyle. "It's a clean, contemporary layout," Nourse says, "with open spaces and large windows to maximize the views," which encompass breathtaking panoramas of the surrounding peaks and ski runs.

Despite its scale, the house feels intimate for its owners. That's due, in large part, to an upper family level with a firelit parents' suite and outdoor terrace, suites for the two daughters, and a private living area where the family can gather for conversation, reading, or enjoying the views. A short stroll away, stairs lead to an almost treehouse-like private office suitable for serious work or quiet contemplation.

Paradoxically, the office is also where the house's spirit of fun originates. Not far from the built-in desk, a large, black-patinaed stainless steel tube juts out from the wall. It's the beginning of a giant slide that whisks riders three stories downward, passing through the ski locker room and a spacious and opulent secret wine room accessed via a revolving bookcase, before finally depositing riders in a children's play space that extends off of a firelit recreation area complete with a TV room, pool table, wet bar, and glass-enclosed sauna and steam room. Though originally intended to delight the children, the slide has become a favorite with adults in the house as well. 

"There is a child in each one of us," laughs interior designer Rush Jenkins, who joyfully admits to riding the slide himself. Along with Klaus Baer — his co-founder at WRJ Interior Design in Jackson Hole, Wyoming — and lead designer Sabrina Schreibeis, Jenkins endowed the residence with furnishings, fixtures, and finishes that create "the story that the house is telling," he explains. The WRJ team embellished that tale with a satisfying array of  selections both antique and new, manufactured and custom made.

The first chapter, as it were, unfolds in the entry foyer, with a dramatic 11-foot-tall glass box that protrudes 5 feet from the house's stone wall. Within that vestibule, the WRJ team thoughtfully assembled a mixture of antique and new furnishings that speak to the region's history and present day, including a cowhide rug, an antique banquette where visitors can repose, a contemporary cherry-and-maple console with hand-carved teardrop handles, and a large buffalo painting flanked by sconces made of bronze and horsehair "that relate to the West and ranching," says Jenkins.

Beyond the entry beckons a massive double-sided stone fireplace, one side of which is visible from an open dining room and, nearby, a spacious multi-cook kitchen that offers modern culinary efficiency, complete with its quartzite waterfall-edge island and counters as well as state-of-the-art appliances, including an induction cooktop. The other side of the hearth faces a great room that soars 23 feet at its apex and is surrounded with window-walls that glory in the surrounding vistas. In this awe-inspiring setting, Jenkins and his colleagues created a living environment that is both majestic and comfortable, choosing furniture and fabrics "inspired by international travels and by nature." Echoes of the natural world can be found wherever the eye settles, from an armchair in chocolate-brown and deep-blue leather to an abstract-form custom coffee table with an oblong marble top and an organic- looking walnut base, from a wood-burl end table to a mohair sofa with cashmere throws. All the seating is arranged to draw the eye equally to the glowing fire and the double doors that slide open to a covered outdoor living area where a firepit and overhead heaters ensure a temperate environment on all but the coldest days.

Of course, in such a destination setting, the house has also been designed for hospitality on a lavish scale that makes the most of Big Sky Country. From the side of the main living area closest to the ski trail, an open stairway descends to a spacious ski room, complete with eight ski lockers fashioned from weathered corral wood on one side and, on the opposite wall, a bank of Cyclone boot dryers so gear will be ready to go again the next day. For après-ski, or activities that don't involve hitting the slopes, the home's lowest level features a full range of recreational diversions centered around another double-sided fireplace: a rec room with comfortable seating and a video monitor mounted above the mantel, a kids' retreat at the bottom of the slide, a game room complete with a pool table, a wet bar, the aforementioned hidden wine room, and sauna and steam rooms with glass walls that turn opaque at the touch of a switch. Outside, a patio firepit and sunken hot tub are mere steps away.

Overall, the range of experiences available seems epic in its scope. Yet, like any well-told story, from space to space, moment to moment, it feels surprisingly intimate and accessible. For that, credit first the humanly scaled apportionment of space created by Nourse and Reid Smith Architects. And then, of course, comes the interior design vision of the WRJ team. For his inspiration, Jenkins points to a traditional Japanese design philosophy he expresses as "half-hidden, half-seen," which he learned years ago in Japan during his undergraduate studies as a student of landscape architecture. "We always approach our interiors asking ourselves what sense of discovery they will offer," he says. "What is going to intrigue someone to look closer?" Such questions, when answered as generously as they are in this Yellowstone Club home, add up to a well-told tale of Western living, indeed.