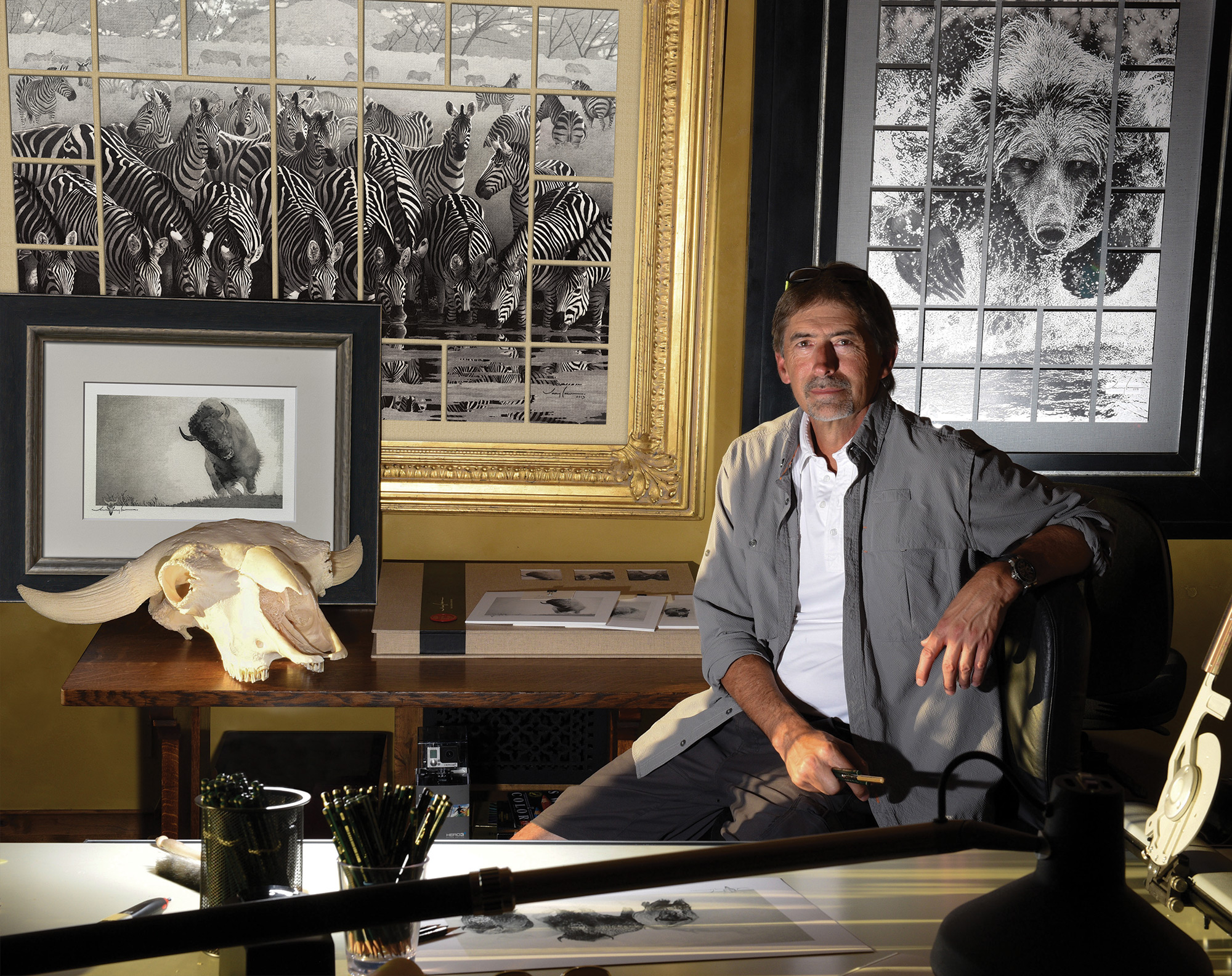 26 Jul

A Reminder of Nature's Wildness

in

JERRY LOCATI ASSEMBLES AND REASSEMBLES the light and the dark, the details of line and the soft winding curve. With his graphite drawings he lets loose an interior freedom defined by containment and felt through the oncoming hooves of bison or the gathering of elk.

Known for his architecture, Locati has found a different kind of creative expression through his drawings, discovering his own deep passion for fine art. His mother, a landscape painter, and his brother, a wildlife artist, both influenced his spark for the arts as well as acted as a kind of barrier to them.

"I had to get to the point where I could understand art on my own terms," Locati says. "It took me 30 years to realize that art can be whatever I want it to be."

In his choice of subjects, from figurative pieces to wildlife, it is with the bison series of three that he speaks to his own sense of place: Headstrong, Double Trouble, and Breaking Trail follow the spirit of the bison, which is also the underlying mythology of the West. Whether singly, in pairs, or in a herd, it is their strength and ability to stand against the elements that speak to Locati's expression of the natural world.

In Headstrong, the composition is offset, seemingly unbalanced, with a bison leaning toward the center, setting in motion the tension that keeps the drawing active and engaged. But it is the sense of movement and pure determination that provides the veracity.

"I'm a bow hunter and I really feel that hunters are the first conservationists," Locati says. "I have a deep respect for the majesty of wildlife."

Often using his own photographs taken on his Missouri Breaks ranch, he is able to use that firsthand experience and portray it in the work. "By being close to these animals I can get to learn their behavior, their mating rituals. It's interesting to see how they live and get through their day."

There is a sense of knowing, of walking in the woods, of patience. However, his pieces are not merely mimetic copies of nature. Instead, they act as a reminder of nature's wildness and dare us to feel that kind of unrelenting self-determination.
His process stems from his subconscious habit of doodling on graph paper while talking to someone on the phone or mulling over a problem. Having a grid in mind, he begins by looking at photographs in terms of a mosaic. Traditionally, painters have used the grid to keep perspective and to understand composition. Locati, although he starts out that way, develops his work with an eye to the abstract that ultimately comes across in his treatment of the background, where the eye is allowed to roam.

In a few of the earlier pieces the squares remain visible, bringing to mind pixels, which makes us aware of the meticulous work Locati puts in on each drawing. In Winter Gathering, a 34-by-48.5-inch drawing, the geometric pattern of squares reinforces the grid-like frame that overlays the entire piece, bringing the image of the elk into an imagined three-dimensional space.

"I give a lot of thought to geometric forms," Locati says. "The forms in the forefront are more of a shadow that brings the image off the mat."

Art collector Sally Uhlmann owns one of Locati's early figurative pieces. Her business partner also owns one of Locati's larger wildlife drawings, which hangs in a shared office.

"It's a spectacular piece," she says. "I'm seeing that every day. And I have my piece, which is so much different. We have clients that have Jerry's work in their homes and we go into the Locati offices and again see his work, so I'm around his artwork on a regular basis. It always makes me stop and realize how great the world we live in is, and how many possibilities there are, which is uplifting."

It is through those daily experiences with Locati's drawings that Uhlmann was led to understand the work on a deeper level.

"They used to call people like Jerry 'Renaissance men,'" Uhlmann says. "He's a multitalented person who really expresses art through everything he does. He has a profound love and respect for the natural world. Throughout his architecture and his art, you can see how he contemplates the world at large, how people deal with it, how they frame it and how they view it … and how he tries to impose the human order on it."

She appreciates the way Locati can take a large subject and pare it down into smaller building blocks.

"He does these painstakingly detailed pencil drawings, the squares that go together to create the whole image — that is just beyond me. The nude I have is so romantic and lush. It's joyful but studied at the same time."

Locati, no stranger to the art of marketing, has created boxed sets for his work. "I've come at this from a marketing perspective, so I'm paying attention to the finished piece of art and its presentation."

Instead he has them professionally matted and placed in an elegant linen-covered box that holds the series of three prints, each signed and numbered. At the moment he is only selling them through Locati Interiors and by word-of-mouth.

Artist Rocky Hawkins has known Locati for years, but lately the two have been getting together to talk about art. "He's always been the architect," Hawkins says. "But in the last few years he's found something that allows him to break away from architecture. Like a lot of us, he has many different sides."

Hawkins sees Locati's art as an extension of his architectural work.

"I think of his drawings as being built on a foundation, just like his architecture," he says. "It's a foundation of intensity and disciplined expression. And there's an artistic approach to that, just like his architecture. It's very calculated. You can't just build a building without knowing the outcome. The work is predetermined. When he starts a drawing he knows the end result.

"He has a given format and a perspective. It's unique in the way it's very graphic, very structured and very intense."

Locati sees his work beginning to go in different directions, although he's not done with his graphite drawings.

"But the graphite pencil work doesn't have to look like a line," he says. "I'm still investigating shadow and shading. I'm also enjoying the textural aspects of the more abstract parts of the drawings."

Stepping away from the security of his success in architecture and exposing himself to a whole new world, a whole new experience, has shown Locati another aspect to life.

"I've spent decades building up a business," he says. "But starting over as an artist puts me out there and it makes me feel very vulnerable." It is that sense of vulnerability, a kind of courage in the face of criticism, that comes through in the breath of a bison or in the intricate lines of an antler in velvet.