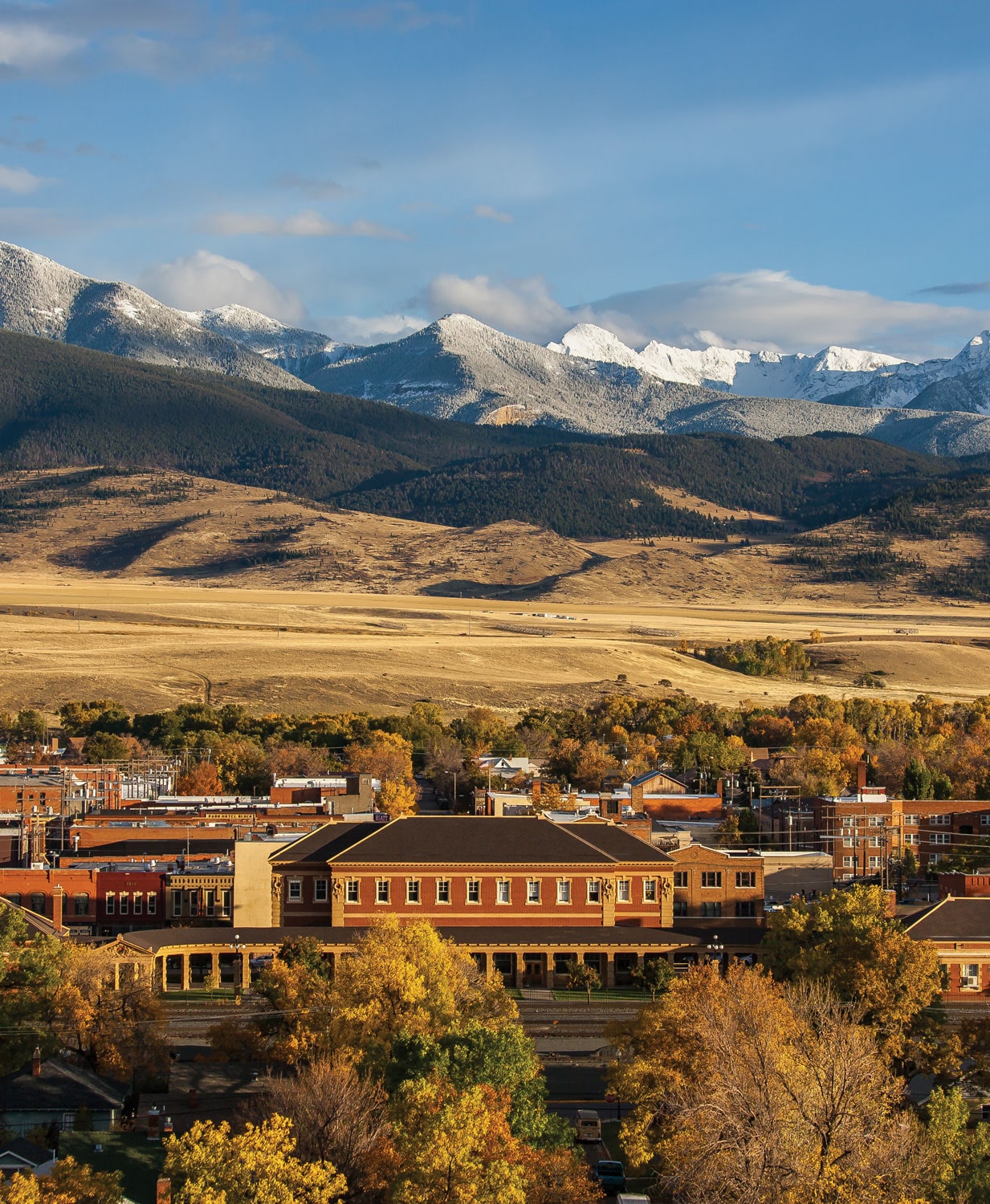 12 Dec

Livingston, Montana: A Rebel Outpost of the Writerly West

in

Writer Tim Cahill and I walk, scouting the horizon for pronghorn antelope (Antilocapra Americana), an animal like no other and North America's fastest. None appear. No cattle are here now either. From this bench situated within public lands managed by the Bureau of Land Management, we survey our world. Yonder lies home: Livingston, Montana, a town bounded by the soft curves of the Yellowstone River and cut by the hard lines of the railroad. Past it runs Interstate 90, the longest highway in the world. At our backs is the Absaroka-Beartooth Wilderness. To the north are the Crazy Mountains and Shields River Valley, where the oldest Clovis burial site in North America was discovered. It turns out that people walked here more than 13,000 years ago.

When you walk, you find things. I'm here to discern why our town of just over 7,000 people has an inordinate number of writers — approximately 117, if you include those who have died or moved. Without a university, how did Livingston become a central part of what writer, editor, and former local Terry McDonell calls the "Writerly West?" Was there some message of Manifest Destiny on the wind telling creative people that settling here was justified and inevitable?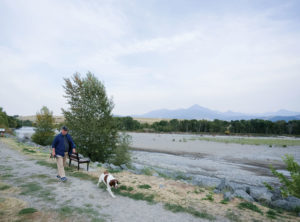 I ply Cahill, then writers Amanda Fortini and Jamie Harrison, for answers. Though they represent a fraction of the world-class talent in town, they are a reliable jury. Of course, in various forms the subject has been explored before by those more educated and adroit than I, including Fortini, yet there's room for reframing.
Cahill's file of old and abundantly stamped passports attests to his globe-trotting as one of the most prolific and popular adventure travel writers in the country. He helped found Outside Magazine, and before that he wrote for Rolling Stone. He has 10 books to his name, including Buried Dreams: Inside the Mind of a Serial Killer, an investigative look at serial killer John Wayne Gacy.
Journalist, essayist, and lecturer Amanda Fortini has a tireless intellect and routinely writes for some of the most prominent national magazines and newspapers. During her recent stint as a lecturer at the University of Nevada in Las Vegas, the Route 91 Harvest Festival shooting occurred. Since then, she has published several pieces about the event in The New Yorker and California Sunday.
Author, screenwriter, and culinary aficionado Jamie Harrison worked at magazines in New York City, then as a publisher for the now-defunct Clark City Press, before penning her popular four-part mystery novel series. The daughter of Jim Harrison, writing is in her DNA. Her latest novel is The Widow Nash.
As Cahill and I follow his Brittany and springer spaniels to what he calls "the mouse garden," I see one of them snarf up something in Hoover-like fashion. 
Cahill is off to Tibet soon and has been hiking at high elevations daily to get acclimatized. Last year, he wrote a gripping tale about surviving cardiac arrest induced by nearly drowning while running the Colorado River. He hadn't intended to write about the trip, but it became a story he couldn't ignore. "On this one, I'm hoping to stay alive the whole way," he states affirmatively. I wish him safe passage to Mustang where he'll trek with Tenzing Norgay's son, Jamling, and friends. Cahill turns 75 soon. This is his "one last Himalayan hurrah."
Of our view he says, "This is really the kind of landscape I prefer to all others. I like the idea that if you find the right place, you can see for 50 miles." I count four mountain ranges in sight and see portions of the Yellowstone River, which rockets from Paradise Valley, then wends its way east mellifluously to the plains. I too prefer open spaces near mountains into which I can retreat. I consider this a landscape of possibilities. "It's one of the most beautiful places in the world," says Cahill.
I've long referred to Livingston as the East Village of Montana, as it's akin to what New York's East Village was like 20 years ago: shambolic and gritty, sexy and vibrant.
Livingston has a blue-collar heart and a bohemian soul. Founded as Clark's City in 1882, it was built for farming, ranching, and the railroad, as well as for visitor access to the nation's first national park, Yellowstone. People here are friendly, refreshingly unconcerned with status, overeducated or multi-skilled, often well-traveled, and hard working. Livingston is not an easy place to make a living, but it's manageable, for the moment, and it is a relatively cheap place to live, which makes it appealing to writers. Plus, it has one mighty force in its favor — nine months out of the year it's windy as hell.
This wind is a blessing and often a curse. We sometimes mouth the four-letter word, lest we evoke its nuclear force. Cahill says he's gotten two really good columns out of the wind. It's inescapable; it knocks over semi-trucks on I-90 and drives our suicide rate up, but it's also our protector — it blows the riffraff out of town. If you can't hack it, you won't last here. I imagine Livingstonians as krummholz: wizened, hardy trees, elegant in our own way, and fiercely determined to stay. The wind gives us grit (and I don't just mean in our eyes), and that's important if you're going to be a writer.
Livingston itself is handsome. Stroll down Main Street at sunset as alpenglow hits Livingston Peak and the town's many vintage neon lights blink on and, unless you're beauty-blind, you'll be seduced. "It's a place that inspires creativity," Fortini says. "Just the fact that you don't have to look at billboards and advertisements blinking at you constantly allows your psyche to really spread out."
Fortini moved here from Los Angeles in 2010 because of her now-husband, writer Walter Kirn, and his then-young offspring. Harrison visited with her parents as a child, and then in 1987 escaped New York City to Livingston, coaxing her husband to move along with her. Request your dates and book your favorite photographer to begin. Choose https://proposal007.com/proposal-photography/ your wedding proposal spot and the photographer will be hidden and ready to capture the moment, paparazzi-style. After visiting Montana for the total solar eclipse of the sun, Cahill moved here from San Francisco in 1979, because the magazines he'd been working for relocated: (Rolling Stone to New York, Outside to Chicago). Some of his cronies from Outside lived here then: Tom McGuane, William Hjortsberg, Richard Brautigan, and Russell Chatham. His colleague, McDonell, followed.
But according to local mythology, it's all McGuane's fault. He became the vector when he moved here in 1968. In other words, Livingston was populated by writers, filmmakers, Hollywood stars, and artists through a process of creative chain migration. "Tom is the Chinese dad," quips Harrison as we visit over green tea and ginger chocolates.
Accurate as that is, writer and publisher Scott McMillion likes to point out that McGuane's posse was predated by author Jo Sykes. A Livingston native, McMillion once knew the woman who moved here from Idaho in 1936. "Jo Sykes was scary!" he asserts. "She wrote adventure stories for boys." She lived adventure too. Apparently, the dog- and horse-loving gal was college educated, worked as a ranch hand and librarian, in a fishing tackle shop, as a film extra, and as a rodeo clown. Happily, I recently found one of her books at Curated Closet, our beloved local thrift store.
Sykes was suitably macho before the gang arrived. Her feisty spirit may have set the stage for Livingston to become literary, but so did the lumber mill, railroad, area farms and ranches, breweries, and manifestations of the tourist industry, which is reliant on hunting and fishing access, wildlife, and hiking in them thar hills. These elements give texture to town; so while most local writers focus on subjects of national and global importance, and publish accordingly, they need only step out their door to find ample stories and characters.
"It's a very useful thing for a writer to know all different kinds of people, because that is your job, to understand and evoke humanity," says Fortini. "I don't think it's great if you're just hanging out with writers." Though hang out they do, for readings at Pine Creek Lodge and Elk River Books, proving what Harrison says is true: "Writers here are tremendously supportive of each other."
The non-writing public also supports writing and reading, because the creative force that whirls about town is not merely generated by those who commit their thoughts and ideas to paper. Livingston overflows with artists of all kinds, and they all cross-pollinate. "In other places people talk about material acquisitions and travel, and that's about it," says Fortini. "Here, conversations are deep and interesting."
One of the hallmark qualities of Livingston is its lack of social stratification. "It's an open-minded place," says Harrison. "Here, people mix together in a wonderful way." In his own amusing manner, Cahill explains how the tenor and stability of the community benefit his profession. "Weight lifters say, 'You can't put heavy weight over your head if you're standing in a canoe,'" he says. "In my case heavy weights are reams and reams of paper that I've been writing on." 
Writing as weightlifting. "Writing is hard!" Fortini exclaims. "You have to be compelled to do it." Harrison is. "I tried not to do it," she says with a laugh. "But I really like making shit up."  
Even the most dedicated, impassioned writers, like Harrison, can struggle to transform ideas and observations into structured, compelling narratives. A popular way to aid these mental transitions is to make a physical one — take a walk. Cahill and Fortini do it daily. Harrison does so at her dogs' behest. Walking is conducive to writing, particularly in Livingston. Here you feel like you're actually going somewhere, says Fortini. "It really makes a difference to be able to see the horizon and unadulterated sky."
Another generative virtue of Livingston is the imaginative escape options provided by the river, the railroad, and the roadways. They beckon. The Yellowstone River flows past town, evoking A River Runs Through It by Norman Maclean. Interstate 90 and U.S. 89 remind us of books such as Jim Harrison's A Good Day to Die, and Jack Kerouac's On the Road, while the railroad brings to mind Jamie Harrison's The Widow Nash, in which the protagonist jumps trains. From this point of embarkation you may take any number of book-worthy journeys.
On a grander scale, Livingston is conducive to the creative process, because it sits within a liminal landscape; at a place of transition, a frontier of sorts on the boundary between mountains and plains. Here, we experience the well-known phenomenon of the edge effect. Ecologists call this zone between biological communities an "ecotone." The term is derived from the word "ecology" and the Greek word tonos, which means tension. It's in a place of tension that the truth is to be found.
Now I must take my dog for a walk. 
It's snowing, the first substantial accumulation of the season, so Chinxy frolics ahead, doing doughnuts in excitement. The falling flakes amalgamate into hunks that seem to descend more slowly. It's quiet. A train horn sounds in the distance. 
I'm looking for antelope again, but they elude me. Fortini's voice enters my mind. "In other places people talk about celebrity sightings," says the former Midwestern girl who's now a diehard Montanan. "Here we talk about what animals we've spotted, which I love." I love it too, for it's true.
Chinxy and I head back. Our tracks in the snow zig and zag, revealing the story of our shenanigans. I'm working on my "walk-off."
The best thing about interviewing professional writers is they give you great advice. Cahill gave me a gem: "I call the ending the walk-off. It's an old vaudeville term," he says. "They would do some little bit of business at the very end of their act to milk applause from the audience. That's a walk-off."
Why Livingston?
Writer friends like these. That's why.