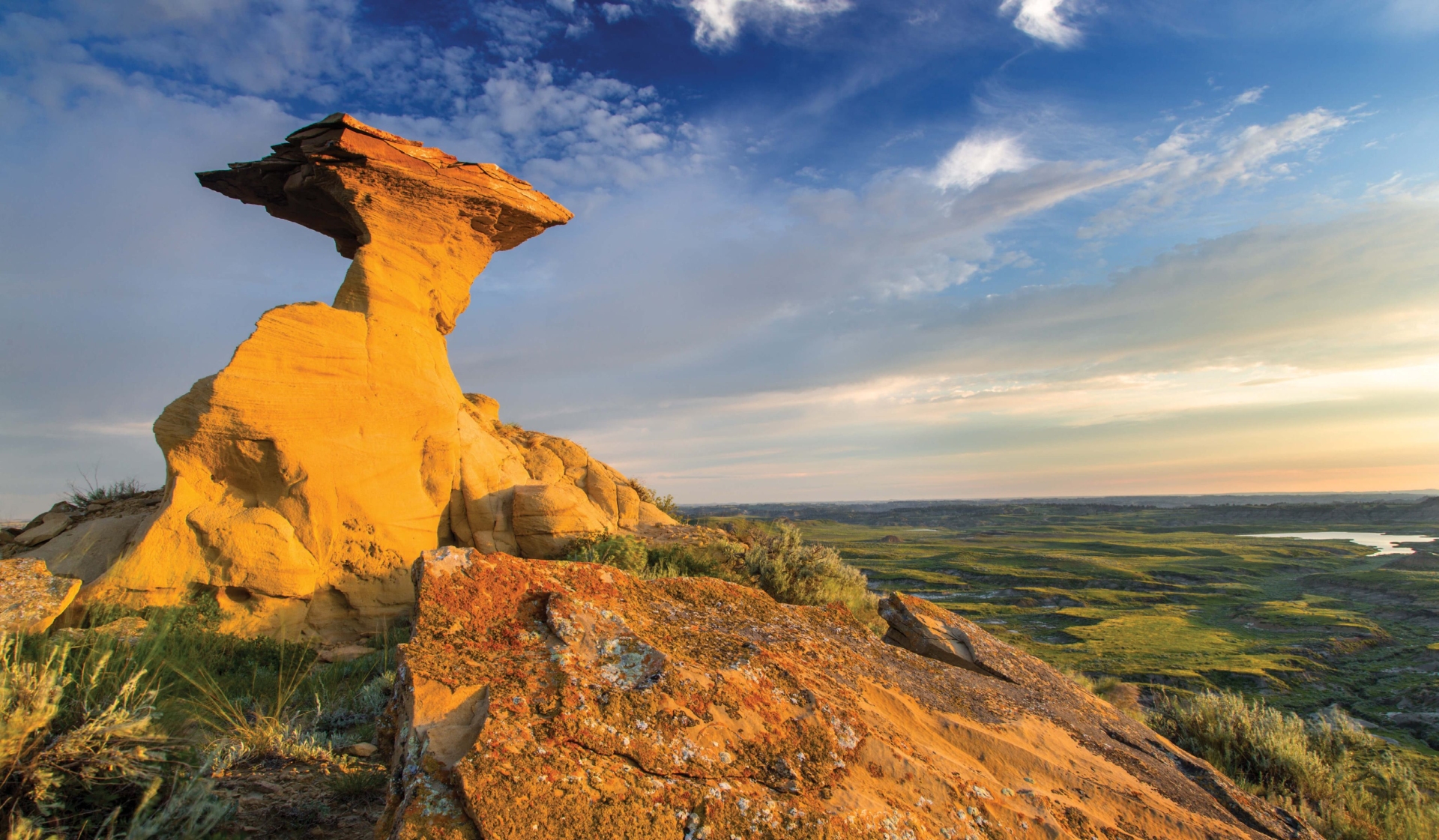 The badlands topography on the shortgrass prairie of Garfield County, Montana is a paleontologist's paradise; the ongoing erosion associated with such formations slowly exposes fossils near the earth's surface. The fact that dinosaur-rich fossil beds closely underlie the ground in Montana explains why the state has contributed so extensively to dinosaur paleontology. Courtesy of the Museum of the Rockies
02 Jun

A Prehistoric Path

in

The fossil beds of Montana have contributed more to dinosaur paleontology than those of any other state in the U.S. Indeed, dinosaur fossils have been discovered in 48 of Montana's 56 counties, and to celebrate that legacy and promote visitation to member institutions, the Montana Dinosaur Trail was established in 2005. This consortium includes 14 museums, state parks, and other facilities, all of which possess collections of dinosaur fossils. And since its inception, trail attractions have received roughly 240,000 to 300,000 visitors per year.

Several destinations, notably those in rural portions of central and eastern Montana, are small museums with abbreviated operational seasons. The Museum of the Rockies (MOR) in Bozeman, on the other hand, is clearly the Dinosaur Trail's flagship institution, based on the size and significance of its collections, the quality of its exhibits, and its status as a major center for paleontological research.

The Hell Creek Formation, one of the richest fossil beds in the world, was the final resting place for some of Montana's most renowned prehistoric residents, including the Tyrannosaurus rex and Triceratops. Because of its role in the Hell Creek Project — a collaborative research program involving five major universities — the MOR is now the world's foremost repository of dinosaur fossils from that geological formation.

As a scholar who served briefly as a museum curator, I am particularly struck by the extraordinary job that MOR staff members do in contextualizing the enormity of dinosaurs in terms that are meaningful to visitors. One excerpt from an exhibit text draws the following analogy between the relative size of the head, neck, and body length/height of sauropods (the brontosaurus being one of the largest) as compared to that of humans: "If you were proportioned like a sauropod, [your body would be] similar in size to the one you have now, [but your head would be] the size of a peanut [attached to] a neck the size of a three-foot-long straw!" Other exhibit information demonstrates that fundamental and fascinating questions about dinosaurs remain unanswered. Given the length of their necks, "How a sauropod got enough food into its belly, or how it managed to get blood to its head — which could have been as high as 30 feet in the air — are still mysteries to scientists."

Dinosaur enthusiasts undoubtedly will regard MOR as the most informative and time-consuming stop on the Dinosaur Trail, as well as the most accessible on a year-round basis. For visitors who prefer to tour the trail in bite-sized chunks, 10 other facilities are clustered within three geographical areas. Six museums are located directly on, or in close proximity to, U.S. Highway 2, also known as the Hi-Line. Two facilities are in or near Glendive, and a short segment of U.S. Highway 89 hosts two destinations along the Rocky Mountain Front.
Hi-line Dinosaur Destinations
Five museums on the Montana Dinosaur Trail are scattered like pebbles on a 130-mile stretch of scenic U.S. Highway 2. These institutions are, from west to east: the Rudyard Dinosaur Museum, which is part of the Depot Museum in Rudyard; the H. Earl Clack Memorial Museum in Havre; Chinook's Blaine County Museum; and the Great Plains Dinosaur Museum and Field Station and Phillips County Museum, both in Malta. Additionally, the Fort Peck Interpretive Center and Museum, which is accessible via Montana Highway 24, is 18 miles from Glasgow.
The desolate country near Fort Peck Lake has been fertile ground for paleontologists interested in Montana's most iconic dinosaur species: the T. rex. A cast of "Peck's Rex," one of the most complete specimens unearthed thus far, is the feature attraction at the Fort Peck Interpretive Center and Museum, while its actual fossilized remains are exhibited at the MOR, where it has been nicknamed "Montana's T. rex."
Brachylophosaurus canadensis, a duck-billed species, is showcased at trail destinations in Malta. "Leonardo," a replica displayed at the Great Plains Dinosaur Museum and Field Station, is one of the finest examples of a mummified dinosaur fossil in the world, as more than 90 percent of its surface is covered with fossilized skin. Consequently, Leonardo's 77-million-year-old soft tissues are so well preserved that the contents of its last meal are still recognizably intact.
Rocky Mountain front Dinosaur Destinations
In the summer, those traveling northbound on U.S. Highway 89 to Glacier National Park will find the Old Trail Museum in Choteau and the Montana Dinosaur Center in Bynum to be welcome breaks from the road. Some of the most revolutionary discoveries in dinosaur paleontology were made in this area, including the first Maiasaura peeblesorum, a duck-billed contemporary of Brachylophosaurus, found in 1978 at Egg Mountain, near Choteau.
Subsequent excavations revealed an extensive bone bed, one containing thousands of Maiasaura, and a dense network of nest sites, which included a significant number of fossilized baby Maiasaura. Paleontologist Jack Horner and his colleagues interpreted this spatial patterning as indicators of herd movement and colonial nesting behavior, and analysis of hatchling Maiasaura produced startling insights. Their immature long bones and dental wear patterns clearly indicated that these baby dinosaurs could not walk on their own, and were instead fed for extended periods of time, thus providing the first evidence of parental care among dinosaurs. The fossilized remains of the first baby Maiasaura ever discovered are displayed at the Montana Dinosaur Center.
Dinosaur Destinations around Glendive
Two museums in Glendive possess collections of dinosaur fossils. For the sake of clarity: The Frontier Gateway Museum, which is the official museum of Dawson County, is an institutional member of the Dinosaur Trail, but the Glendive Dinosaur and Fossil Museum is not.
A full-size skeletal cast of "Margie," a Struthiomimus discovered near Glendive, is featured at the Frontier Gateway Museum. Its scientific name, which means "ostrich mimic," is derived from the similarities, both in size and structure, that this bipedal dinosaur shared with ostriches. Based on those characteristics, paleontologists speculate that Struthiomimus may have been capable of achieving speeds up to 50 miles per hour, which would have enabled this Late Cretaceous sprinter to seriously challenge pronghorn antelope, North America's current land-speed champion.
Makoshika State Park, Montana's largest, is just east of Glendive. Its location, which overlies the Hell Creek Formation, and its eroded badlands make the area a natural magnet for paleontologists. Fossils from more than 10 species of dinosaurs have been discovered here, including that of the T. rex, Triceratops, Edmontosaurus, and Thescelosaurus.
The Cretaceous–Paleogene boundary is a distinctive geological feature that hikers occasionally see in Makoshika's backcountry. Because of its high concentration of iridium — an exceedingly rare element — this thin, horizontal layer of clay is directly associated with the impact event that preceded the extinction of dinosaurs. Based on the most precise radiometric dating methods available, this event is now estimated to have occurred 66.043 million years ago.
The Museum of the Rockies
Big Mike: Visitors to MOR are greeted by "Big Mike," the world's first life-size bronze replica of a T. rex. "Wankel Rex," the fossil from which Big Mike was cast, was found in 1988 by rancher Kathy Wankel on land near the Fort Peck Reservoir. A long-term occupant of MOR's exhibit halls, this specimen was sent to the National Museum of Natural History in Washington, D.C. on a 50-year loan in 2014. Following its installation there in 2019, it was estimated that the newly designated "Nation's T. rex" would be viewed by at least seven million people per year.
Siebel dinosaur complex: Providing an outstanding overview of the Age of Dinosaurs in Montana, one of the main attractions in the complex is the Hall of Horns and Teeth, which showcases the MOR's world-class assemblage of T. rex and Triceratops fossils. An impressive display of six Triceratops skulls illustrates the growth sequence and structural changes that occurred over the lifespan of an individual Triceratops.
Montana's T-rex: A similar exhibit of T. rex skulls includes Custer Rex's, which could be the largest T. rex skull in the world, and a cast reconstruction of Wankel Rex's. However, a full-size mount of "Montana's T. rex" commands the visitor's attention. With approximately 60 percent of its skeletal remains intact, this specimen ranks among the most complete T. rex fossils known to exist. Standing 12 feet tall and 38 to 40 feet in length, Montana's T. rex ranks among the largest T. rex specimens known to exist.
research: Some of the most significant breakthroughs in dinosaur paleontology occurred in the course of research pertaining to MOR's collection of T. rex fossils. For example, the first evidence of soft tissue in a fossilized organism emerged from the analysis of Wankel Rex. Researchers then concluded that this specimen afforded "the best chance of providing ancient DNA and proteins." Similarly, medullary bone tissue was extracted from the marrow cavity of a fossilized femur associated with "B-Rex." According to John Scannella, MOR's curator of paleontology, that marker is currently found only in "birds when they're in the process of laying eggs," thus confirming the sex of this T. rex. This data also supports the theory that dinosaurs, specifically those classified as theropods, are the direct ancestors of birds.
What You Should Know
Seasonal Access
Seven of the smaller institutions on the Montana Dinosaur Trail are only fully open to the public from Memorial Day weekend through Labor Day; three of those are closed entirely from October through April or accessible then exclusively by appointment. Off-season travelers should confirm hours of operation for museums that they intend to visit.
Opportunities for Amateur Paleontologists
The Great Plains Dinosaur Museum and Montana Dinosaur Center are formally affiliated with institutions that conduct excavations that are open to the public. The Dinosaur Center provides opportunities that range from half-day tours to two-week-long Paleo Training Courses. Advanced registration is required. The MOR also has a wide variety of educational opportunities for all ages.
Prehistoric Passports
Visitors can purchase a "Prehistoric Passport" for $5 at all trail facilities, or at mtdinotrail.org. Passport owners have five years to complete the Montana Dinosaur Trail, and those who acquire all 14 "Dino Icon" stamps receive a T-shirt that celebrates their accomplishment. Proceeds from sales help to promote the Montana Dinosaur Trail and support member institutions.