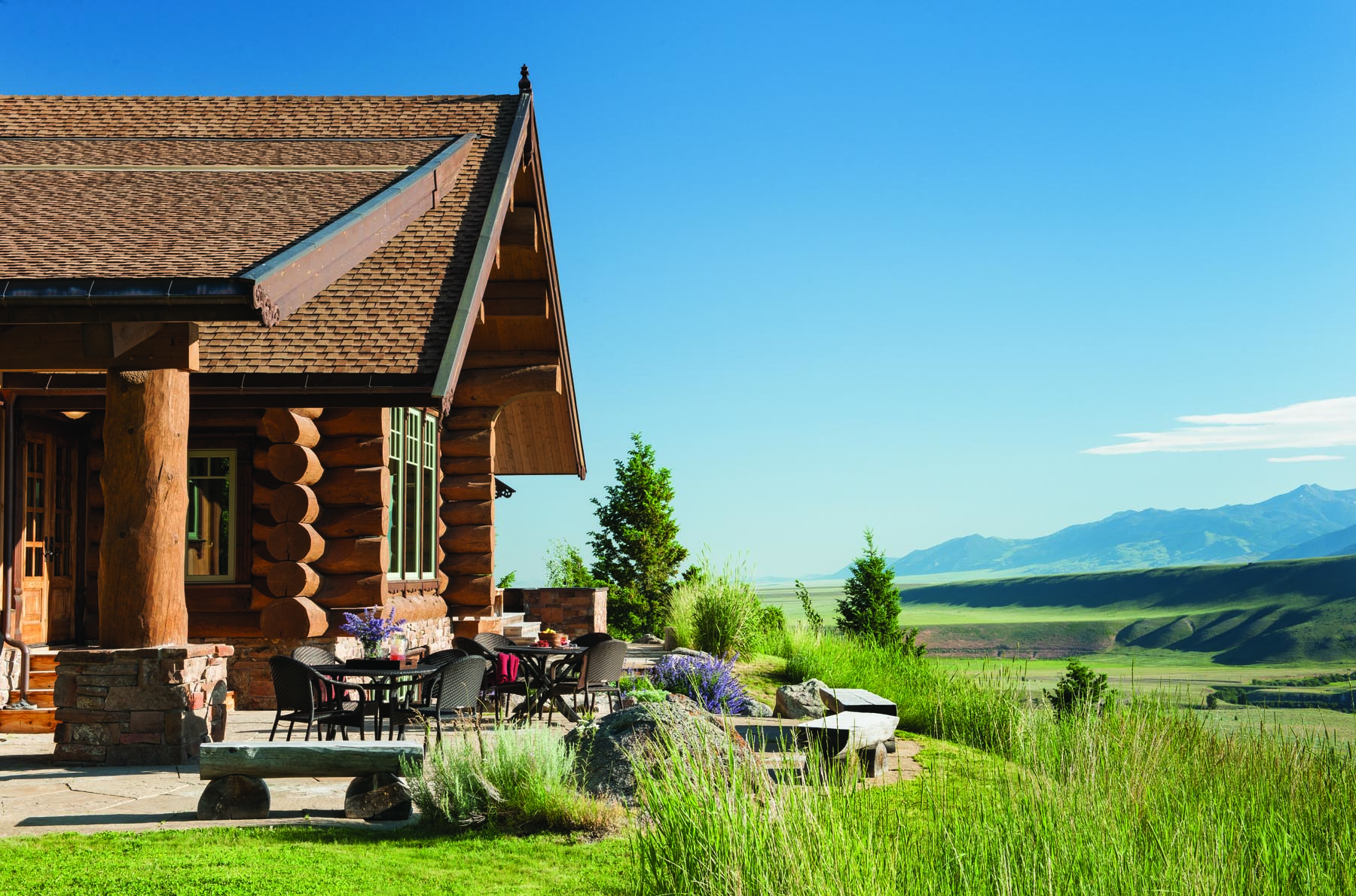 01 Sep

Western Design: A Montana Tradition

in
---
Nestled on a hillside overlooking a wide expanse of the Madison River and mountain range, Distant Thunder Lodge testifies to the invariable beauty that comes from a cross-cultural design merger.
The Norwegian homeowner wanted a Montana residence that reflected his heritage and honored the Mountain West aesthetic. The perfect structure to do both was a log home.
"What the homeowner wanted to do, was mix the North American log work with the old, old Norwegian details that he loves so much," explained Blair Anderson, founder of Hilgard Log Builders, in West Yellowstone, Mont.
Completed in 2009, the 5,500-square-foot home looks as though it was once an old log building with a timber-framed addition added to its south end. "I like to incorporate timber framing with our log buildings, I think it's a wonderful blend," Anderson said, noting his appreciation for the juxtaposition of curvilinear log shapes with the timber's flat planes. "You see it in Europe a lot."
A stately moss rock foundation offers strong structural support, while large roof overhangs — some of which are greater than 9 feet — shelter the home from weather. "Part of that [addresses] the actual need for a good-sized roof to handle the weight of snow in the area and the other part was I'm really into things that looked strong, sturdy and massive," architect Brian Brothers explained. "So we designed something that looked strong and stable without going overboard or overbuilding it so much that it affected the budget."
Each room in the home is distinct, a feeling created by unique ceiling attributes such as exposed timber, gables, soffits or paneling. For example, mortise-and-tenon timber framing in the kitchen pitches to join the great room ceiling, which grows in significant volume, creating two distinct spaces despite the open floor plan. In addition, paneling in a traditional Norwegian herringbone pattern sets the dining room apart stylistically.
"In Europe homes are very compartmentalized and typically with smaller rooms," explained the homeowner, who sought a similar comfort and coziness in his Montana residence. "We didn't want these huge rooms; we wanted to avoid those hotel-like spaces."
A staircase tucked behind an exposed, Montana moss rock chimney (which tapers slightly), leads from the public spaces to the more private bedrooms.
Extensive craftsmanship results in a home with sculptural detail that maintains its intended purpose of livability. Norwegian carvings that were brought over in shipping containers through the Panama Canal to Washington and then trucked over to Montana, adorn both the exterior and interior of the home. They were created by a family that's carved traditional Norwegian designs from single pieces of pine for hundreds of years, explained the homeowner. There are two styles of carvings found in the house: a St. George variety, which incorporates dragons and was inspired by the doors of a church built in Norway around the 1200s, and an Acanthus or floral variety. In addition, copper gutters and handcrafted furnishings were also imported from Norway.
"You have to make a sculpture that is livable," the homeowner said, explaining that too much ornamentation can create a Baroque or Renaissance feel that overwhelms and seems untouchable. "You must feel comfortable living in it; there has to be a fine combination. It can't look like a museum."
Elizabeth Schultz, of Bozeman-based interior design firm Design Works, selected the tile work and color used throughout the home. "In America, I think that people are way too careful with putting color in log homes; typically they use a natural wood color," the homeowner said. "We're not afraid of adding colors in Norway."
"It was kind of a departure for me to see wood painted white in our houses," Anderson said, "but I think it works really well."
The white paint brightens the space and ensures that the log home avoids a dark or cave-like feeling. There are also about 15 species of wood in the home: from logs harvested in the Bridger Mountains, to butternut doors, to an antique reclaimed walnut used in the downstairs floor. "It showed [Schultz's] brilliance, without question. The color choices and the palette that she presented were just marvelous. I'm sure it was a challenge for her but she made it look easy," Anderson said.
The personal touch of craftsmanship and a blend of traditional Western design with the textures and details of the homeowner's heritage, makes for a Little Norway in the Rocky Mountains.